Cultural immersion assignment on Experimental Journey
Question
Task: Write an essay on cultural immersion assignment reflecting on the experimental journey and cultural disruption.
Answer
Introduction
The concept of cultural immersion explored in the cultural immersion assignment refers to the indulgence with multiple cultures that helps in expanding the cultural awareness and help enhancing the empathy and sensitivity towards different cultures. The activity of cultural immersion helps in increasing the learning about culture from the experiences one gathers (Canfield et al. 2009). One is able to immerse themselves in different cultures throughout their experiences and help develop cross-cultural relationships. The cultural immersion assignmentreflects into the experimental journey and cultural disruption that I have been involved in throughout the term that helps me gain cross-cultural relationships and personal insight.
Discussion
As noted herein cultural immersion assignment, there was various cultures and tradition that I came across throughout the term where I either visited places for personal reasons or recreation. Each cultural immersion allowed me to learn something new and get a closer experience about cross-cultural relationships. I also noticed that there are some common attributes shared by two cultures that bring them closer to each other. I am setting forth a visual portfolio of images where each pictures holds significance in my life in various ways that I will be grateful throughout my life. Theexperiences were unforgettable and surprising. I never came across such multi-cultural experiences and never thought about culture so closely.
In this cultural immersion assignment, I would like to start sharing my cultural integration that I went through in this term is with my native place where I belong to or the culture that shape my identity. The house and the food (Image 1 & 2) hold a huge significance in my life and my memories. It is something that I can feel closer and makes me feel nostalgic. The house and the food shown in the picture resembles the tradition I belong to and that has bound my family together for years. It was this house that I have inspired me and helped me become what I am today. As evident in the cultural immersion assignment, my grandparents and all other generations has been a part of this house that resembles the scene of a perfect old Indian houses with a courtyard.
During this term I was busy spending my time with my friends in Melbourne and suddenly made a plan to visit my ancestor's place. All my friends were excited to experience the Indian culture and the traditional value it holds. Within a week we made our way to India to my place and I was filled with nostalgia. I was visiting the place almost after years and that made me feel emotional. It is discussed in this cultural immersion assignment that as soon as we reached we were surrounded by our relatives and friends that our close to our family. They were overwhelmed to see me and my friends from Australia and greeted us with extreme pleasure.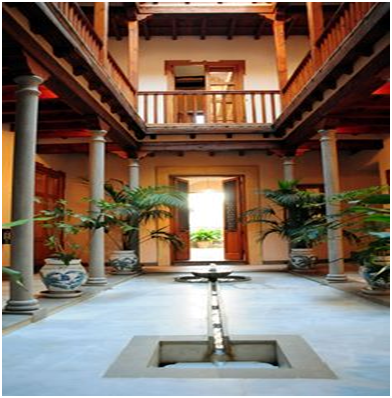 Image 1

I would like to mention in this cultural immersion assignment that the greeting received by my friends made them feel excited to know about Indian culture of greeting. They asked me to share some information on the significance of greeting in India and the ways it varies among cultures. I did some reading to share a detailed knowledge about greeting as the cultural identity. I shared with them our culture of "Namaste" as a common greeting term and the ways the greeting culture varies in different parts of India such as "Vanakam" in south and others (Samanta 2020). Indian has also adopted some of the foreign ways of greeting such as "Hello". I explored and realized that greeting is India is vast and forms an integral part of intercultural communication (Deardorff2011). I am proud to be from such a multi-cultural country where all cultures are valued. That value for others culture is seen in my behavior today. Each and every scene is portrayed in this cultural immersion assignment clearly.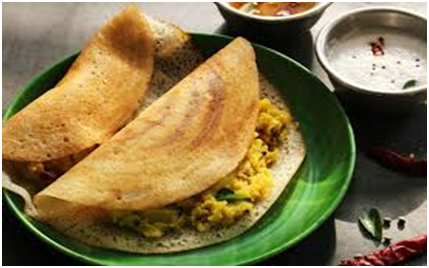 Image 2
This Food (Image 2 in cultural immersion assignment) is also a part of my memory lane and I experienced it when I visited to my ancestor's house with my friends. This was another part of tradition that connects me to my family and ancestors. My friends were happy to have such Indian foods and they planned to visit again with me. Sitting in my courtyard during my visit I spent time exploring about the food eating culture of India. It is the widest food culture present with huge variety of foods and taste to experience. The food culture of India is the most diverse one in the world with every corner having some new taste to offer. I promised my friends that our next trip to my place will be focused on tasting foods and getting a strong sense of Indian foods. I have also tasted such ancient taste of Indian foods after long and it was only possible for my friends who encouraged me to take this trip (Nandy 2004). Exploring has always been a passion of mine; however, I never explored my country so well.
My passion for exploring places as presented in the cultural immersion assignment helped me to get a look at the Malaysian houses and the uniqueness it holds. Image 3 & 4 links me back to the time I paid a visit to one of my dearest aunt who has been my inspiration and holds an equal place in my heart like my mother. She is our dearest family friend and close to all my family members. After her husband's transfer she shifted to Malaysia many years back. It was back in 2019 when I was devastated to hear the news of her sudden demise. She was suffering from blood cancer and like a warrior she fought till her last breath. At a very early age of 50years she has suffered a lot and that wrenched my heart. I took the flight within two days and paid visit to my aunty. As soon as I reached there I saw my family was already present there and some of the Malaysian neighbors of my aunt was there.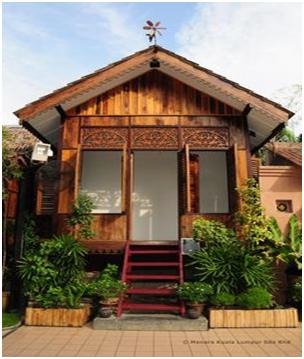 Image 3
After all the rituals were over I decided to sit back and spend some time learning about the Malaysian culture. I have visited this house of hers many time, however, today I decided to explore some of its part and discover the significance of such Malaysian houses. Suchhouses was spread across the lane and they looked almost similar. While I explored I figured a unique relationship between traditional houses and sustainability (Kamarudin 2015). The Malaysian traditional houses were made of wood and this help them preserve sustainability that modern construction of houses strive for.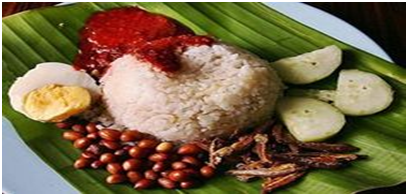 Image 4
This image (Image 4 in cultural immersion assignment) is the result of my exploration in Malaysia where I tasted their traditional dishes. Looking at their traditional dishes I realized that there is a cross cultural relationship in food habits (Johnson and Cullen 2017). This is because food habit of Malaysia and South Indian cultures. The most common thing that they both use is the banana leaf for serving the food. This resembles that cultures across the globe do link with each other in some way or the other. I was happy to visit this place and get a last touch of my aunt's rituals and explore my close connection with Malaysia.
These people mentioned in the context of cultural immersion assignment (Image 5 in cultural immersion assignment) are the tribes of Andaman whom I interacted during my expedition to Andaman and Nicobar Islands. This place has always attracted my attention since the time I was in school. I never got a chance to visit these islands, especially to explore about these aboriginals. I got this chance during my expedition when I was involved in researching about these tribal or native people of Andaman. It was early in the morning that we were allowed to visit this place where these people live. I was lucky to have an interaction with some of them.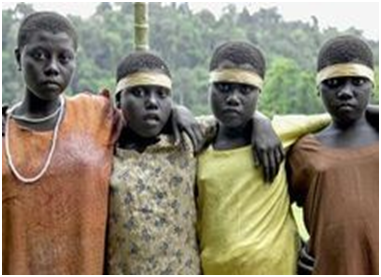 Image 5
The picture mentioned above within this cultural immersion assignment shows some of the tribes of Andaman who are called "Jarwah" there and these were few among them that are being given some sense of normal living. the native people that lives in the interior still does not have access to enough facilities and sense of modern living and dressing. They were unable to communicate, however, felt very excited to see people, as we looked different to them. However, the expedition made me explore the uniqueness in the ways these tribal people live and the extent of backwardness they are facing. I made an effort to understand their behavior; however, our guide did not allow us to talk much.
I would like to mention in this cultural immersion assignment that I realize the importance of relationship between aboriginal people and social inclusion. Social inclusion is missing in most of the aboriginal parts of a place. The process of social inclusion is slow with some areas giving education and teaching such people about the modern ways of life. It was my pleasure meeting these people and explore the condition of aboriginal social inclusion (Kumar et al. 1858). I love exploring new things and this passion of mine has always been an integral part in my learning about culture and cultural immersion I experienced over the term.
This event (Image 6) as it seems is the oldest food festival event that takes place in Australia. Staying in Melbourne this event has always attracted my attention to explore the taste of Australia and its traditions. This event took place few months ago where the specialty of the event was the traditional and tribal taste of Australia. It was a great pleasure and an opportunity to get closer to Australia where I am recently a part of. The event as it looks was always planned with such beautiful themes and colors. The crowd in the event is immense and people from all over Australia visit here with their family and friends.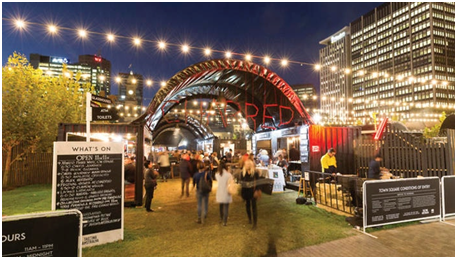 Image 6
I approached to purchase the ticket of this event very late,however, I managed to get the tickets for my friends and myself. As the day arrived we were all very excited to visit the event and explore the foods. I explored myself into different tastes and varieties and experienced the crowd in the event. While enjoying my food I engrossed myself into thoughts about the cultural dimensions of Australia. Looking at the event and the type of food being served I realized that Australians keep close relations with their traditions and concerned about their culture. This means that Australia is a normative society where change in traditions are not accepted much (Hofstede 2020). This must be the reason behind organizing such food events every year to keep hold of Australian traditional foods.
I was looking around the ways families and people were interacting in the crowd and noticed a pattern among the people of Australia. This further made me explore into my knowledge and connect myself to different theories. I could connect my knowledge about Australian culture and individualism (Hofstede2020). I saw that the people of Australia was busy with their own family and closed ones and did not show any interest in interacting with others. This meant that Australian society is loosely knit where people look after themselves. This made me feel lucky that I attended such food event at that time where I could learn about so many things about Australia and its people.
Conclusion
From the above analysis on cultural immersion assignment it can be concluded that the term has been highly beneficial for me to immerse myself into different cultures and traditions. I came across different habits and way of living of people that differed from one culture to another. I also realized that I came across new things about my own native place as well, which never attracted me before. Moreover, I learnt about the culture of Australia where I am staying presently and this will help add in my experience in this country. Cultural immersion experience is the best way to expand cultural awareness and learn about cultural identity and intercultural issues. The pictures are the reference about my learning about three four different cultures during this term. Each culture was different from the other in many ways; however, there were some similarities as well such as the food serving style of India and Malaysia. In addition to this I was also able to connect cultural experience with different theories such as social inclusion, individualism, long term orientation, cross-cultural relationships, intercultural communication and sustainability. Overall my experience was unforgettable and helped me improve my competencies while communicating and interacting with people from different cultures.
References
Canfield, B.S., Low, L. and Hovestadt, A., 2009. Cultural immersion as a learning method for expanding intercultural competencies. Cultural immersion assignmentThe Family Journal, 17(4), pp.318-322.
Deardorff, D.K., 2011. Assessing intercultural competence. New directions for institutional research, 2011(149), p.65.
Hofstede, 2020. COUNTRY COMPARISON. [online] hofstede. Available at: [Accessed 2 June 2020].
Johnson, J.L. and Cullen, J.B., 2017. Trust in cross?cultural relationships. The Blackwell Handbook of Cross?Cultural Management, pp.335-360.
Kamarudin, Z., 2015. Long-roofed houses of northeastern peninsular Malaysia: sustainability of its identity in the built environment. Procedia Environmental Sciences, 28, pp.698-707.
Kumar, U., Sahu, B.P. and Laskarº, B.I., 1858. Inclusion or Exclusion: A Case Study of Primitive Jarawa Tribe of Andaman Islands-The Social Justice Issue.
Nandy, A., 2004. The changing popular culture of Indian food: Preliminary notes. South asia research, 24(1), pp.9-19.
Samanta, S., 2020. "Namaste" the Indian Culture Plays Important Role For Prevent Corona (Covid-19) Virus: An Appraisal. Cultural immersion assignmentStudies in Indian Place Names, 40(74), pp.450-459.