Contemporary Leadership Assignment on Reflected Best Self Statement
Question
Task: Your contemporary leadership assignment has two components: drawing on the Industry Guest Speaker and the self-analysis tools and techniques. This assessment involves you developing an RBS (reflective best self) statement.
Reflection One: Based on the Industry Guest Speaker you will link the theories and concepts covered in the subject and apply them to both the Industry Guest Speaker and to yourself.
Reflection Two: Be a self-analysis of your leadership style and ways that you can develop your own leadership skills. You have undertaken several personality and leadership styles tests and been exposed to a range of ideas and concepts to support your future leadership development, your current skills gap and development of your "reflected best-self". You need to refer to a range of tools/tests and leadership theories to support your answer. You must include a minimum of four academic references to support your ideas.
Answer
Introduction
The key purpose of this contemporary leadership assignment is to reflect based on the Industry Guest Speaker (Week 6) and the creation of a statement on the Reflective Best-Self (RBS) (Week 12). However, reflection one will cover the key concepts of the Guest Speaker that are linked to the statement of RBS and related activities. On the other hand, reflection two will focus on identified leadership style and are related to the RBS. Hence, it can be said that the overall assessment will focus on the process for developing the RBS statement by drawing upon the Industry Guest Speaker who had to say about people culture and Leadership.
Reflection one
The Industry Speaker Guest in Week 6 was Michelle Gheorghiu, who has had shared her academic qualifications and her working experiences in different sectors. As per the video conversation, it has been known that Michelle Gheorghiu's current role is as a CEO, and she is sharing her experiences by linking her career with her academic background.
Key Concepts of Guest Speaker
The key concepts of the Guest Speaker, i.e. Michelle Gheorghiu, has been focused on six categories wherein she stated that when we are at our best, we can do whatever we want and change our career if we are flexible and competent enough to adapt to change in career.However, my RSB statement is "whatever we want, we can achieve if we have a passion, dedication and consistency on work we focus on". Hence, the key concepts of Guest Speaker have been drawn below: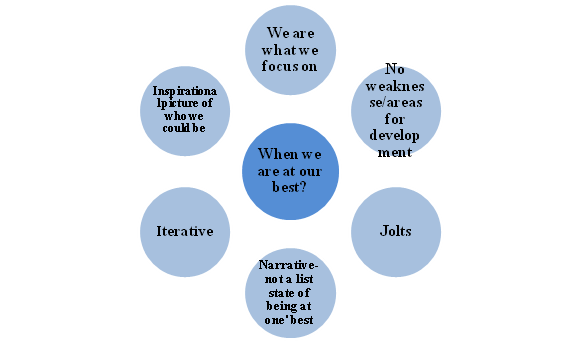 Fig 1- Key Concepts of Guest Speaker
Sources- (Week 6)
Understanding of the key concepts of the Guest Speaker
The key concepts that have been shown in figure one above reflect that in the particular career of ours, we need to focus on the areas of development on whatever we choose to do in future. Hence, the first concept reflects that there should no weakness or areas for development that should always be focused on for better performance on what we prefer to do.
The second concept focuses on pushing ourselves on whatever we desire or prefer to do in our career or in future. The third concept states that we should come out of our comfort zone to see the best version of ourselves and to examine the capabilities that we have had within ourselves. The fourth concept of the guest speaker focuses on the iterative wherein we need to be constant on the same process to gain the fruitful outcome for the efforts we will make for future career endeavour. The fifth concept reflects that we should always be inspired by what we do and what will start to make a brighter and effective career. Also, in order to achieve something in a future career, it is important to have an inspirational picture of what we could be in future. Lastly, the Speaker Guest believes that we are what we focus on; if a person believes that he or she cannot do things and are seemed to be difficult without even trying, then they cannot do anything in future. Hence, it generally means that every person has the potentiality to do something in different ways. Thus they need to focus on how to achieve it that reflects the RBS. However, it can be said that the Guest Speaker had have struggled and every challenges as she steps forward in her career, as she had an academic engineering background but had worked in several business organization and currently working as CEO in a particular firm. She believes that if you are flexible enough to adapt to change, you can achieve anything in your career in future, but we must follow what we are interested in and passionate about, and this generally reflects the RBS statement.
Reflection Two
This section will focus on the self-analysis of Leadership and the ways that I can develop my own leadership skills. Throughout the trimester, I have examined several personalities and their leadership tests and been exposed to various level of concepts and ideas to facilitate my future leadership development, my current skills gap and the development of my RBS.
Identification of Leadership style
The tool/test that has been conducted previously is visual representations, audiovisual recordings and journals. Based on these tools and observing several personalities and their particular leadership style, I believe that the transformational leadership style will best and suitable for me.Transformational Leadership is one who directs a firm towards growth and development by adapting existing procedures, thoughts and culture. I believe that adapting cultural change in a particular workplace where I will be working will be more effective to maintain a healthy relationship with my associates as this helps us to grow together and achieve the shared goals as well as individual goals. However, there are several theories of leadership that focuses on innovation and productivity of the employee such as Charismatic leadership that uses a skills of communication, persuasiveness and charm to influence others, Transformational leadership focuses on change and innovation for productivity and strategic leadership shows a strategic vision for the organization by motivating to meet the set vision. Leading by example, engagement, and inspiration, the transformational leader, will look for ways to get the effective performance and opportunity of each team member. As per (Suyanto et al., 2019), it is stated that it takes audacity to be a transformational leader because he is the one who challenges old methods of performing innovative and contemporary things in favour of better, more effective, and more sensitive strategies.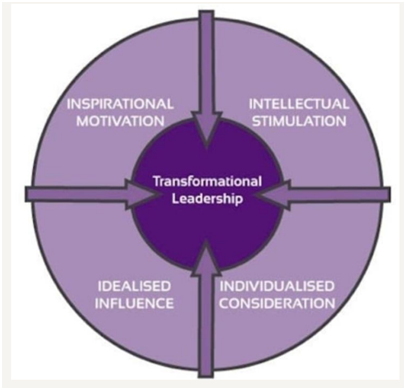 Fig 2- Aspects of transformational leadership style
Sources-(Week 12)
The above figure shows the aspects of transformational Leadership wherein it reflects inspirational motivation, intellectual stimulation, idealized influence and individualizes consideration. As a transformational leader, it is important to focus on the above-mentioned factors that are the key concept of a transformational leader(Yaghi, 2017).
However, I believe that transformational Leadership are closely and directly linked with the RBS statement that I have made in the reflection one wherein it has been stated that whatever we want, we can achieve if we have a passion, dedication and consistency in work we focus on. On the other hand, the current skills gap that I have identified within me is attention to detail as it allows me to improve my workplace efficiency, productivity and performanceand hence, this will help me to develop my RBS statement in my future career. Thus, I believe a transformational leader is the only Leadership that could motivate positive changes in those who pursue innovative changes to inspire themselves and others for effective outcomes. Also, this Leadership generally is the reflection of energy, enthusiasm and passion for things that they are thirsty of getting it and not only are these leaders are involved and concerned in the process, they are also concerned on supporting every member of the group accomplishment as well(Malloch, 2014).
Reflected Best Self Statement
The RBS can be defined as an individual's cognitive illustration of the characteristics and qualities that an individual shows when one is at their best. Hence, considering the guest speaker experiences and the leadership style I have chosen focuses on the change that I can adapt in my future career to get a version of my competence and flexibility that I have within me as the RBS is based on the past experiences and directions the processing of individually suitable information provided in the social world. For instance, an individual who shows flexibility and determination in regards to being deprived of employment promotion, chemotherapy, and a mishap on a church building might involve her competence to persist in the adversity's face as an integral factor of her RBS.
Here, I want to share my personal experience considering the leadership theories which mostly focused on transformational leadership style. We had a group project in our university wherein 8 students were grouped in for the completion of the project. In this particular scenario, I was given the role of managing the team in which I have to allocate a specific task to everyone. As per study, it has been found that at an initial phase, considering the same I was worried how to manage team but gradually I started having conversation with each member of the team and know their individual perspectives. Thus, I got to know their concerns and helped them to manage it with all of that I have within me and motivate them for better remarks for the project. As a result, it can be said that when I interact with the team members I go to know about their viewpoint wherein I had used the transformational leadership theory to motivate and helped them to complete the task.Moreover, it can be said that though I have to take responsibilities of the entire team member wherein I have to work late night to allocate and assign them the particular work which is a negative experience for me but I learned how to manage the team and gained a positive experience of handling the group and their different perspectives.
However, some of the contemporary real-world examples of transformational Leadership we can see today are the well-known entrepreneurs such as Bill Gates, Steve Jobs, Disney Walt and Mark Zuckerberg. All these leaders raise awareness amongst people, helps them to look beyond self-interest, helps an individual understand that they need a change, adopts a comprehensive viewpoint as well as builds trust and concentrates resources where most needed(Anderson, 2018). Hence, I believe that throughout my journey in the university as well as in my future career, I can follow all the qualities of transformational leadership styles wherein I will help people when they are in need, motivate them for better outcomes, and share every knowledge within me.
Conclusion
In conclusion, it can be said that the RBS statement had helped us to reflect more about our experiences that we gained throughout the trimester wherein an industry guest speaker shows a great effort to share her academic and career experiences. However, the overall assessment is based on the interaction of the industry guest speaker, wherein I have observed a transformational leadership style when she addresses that people do have the flexibility to adopt change and deliver effective and best results.
References
Anderson, K.D. (2018). Transformational teacher leadership: decentring the search for transformational leadership. International Journal of Management in Education, 2(2), p.109. Malloch, K. (2014). Beyond Transformational Leadership to Greater Engagement: Inspiring Innovation in Complex Organizations. Nurse Leader, 12(2), pp.60–63.
Suyanto, U.Y., Mu'ah, M., Purwanti, I. and Sayyid, M. (2019). TRANSFORMATIONAL LEADERSHIP: MILLENNIAL LEADERSHIP STYLE IN INDUSTRY 4.0. ManajemenBisnis, 9(1).
Yaghi, A. (2017). Adaptive organizational leadership style.International Journal of Public Leadership, 13(4), pp.243–259.
Appendix
Notes taken from then Industry Guest Speaker
The guest speaker shares us her journey on how she moved to Australia and her overall journey of career and where she mostly focuses on for the better outcome and improvement. She believes that she was flexible enough to adapt to change for effective results. Here, I observed that her experiences generally reflect the transformational leadership style wherein she focused on innovation, change, development and motivation for others. She believes that it is better to work with people from a different culture as this will help us to grow and know certain things that we are not aware of and these things can make a huge difference in collaborating with people from different nationalities and culture and can gain life-long experience where we can learn the lesson and make the journey more effective and easy.