Complex Project Management Case Study on Solid Waste In Australia
Question
Task: Case Study: Solid Waste management in Australia: Wicked Problem
"As more developing countries reject plastic waste exports, wealthy nations seek solutions at home". Australia is exporting around 390,000 ton of solid waste per month accounting for around 80% of the total Australian waste. Top countries receiving waste exports from Australia are Vietnam, Indonesia, China followed by India and Malysia. With the new waste import restrictions which these countries have implemented or are planning to implement, the risk of piles of recycled materials being sent to landfill is getting high and there is a need for way forward.
This seems to be a wicked problem. Australian authorise keeps recycling the waste and dump it to Landfills since they are not sure about these countries future attitude. They may change their minds and reimport the waste any time! Meanwhile, recycling waste and sending to landfill is troublesome and generates double cost and effort.
You are requested to investigate the solid waste management issue from the complex project management prospective using the build up knowledge from PPMP20014 mainly. Your tasks are as follow:
What is the scope of the problem?
Investigate the context and the scope of this waste management issue using all available published resources. You mainly need to highlight how wicked this problem is. This means using the complexity factors and ICCPM outcomes to link them back to the waste issue
Define the scale of the problem through defining the amount of waste generated in Australia, types of waste (paper, plastic, E-waste… etc.)  and how this could be a challenge.
Discuss how it is managed right now, what percentage has been recycled, dumbed to landfill, incinerated, reused…. etc.
What are the risks associated from the current management practices?
The main stakeholders involved in the waste management. You may need to provide a Stakeholder matrix with full list.
Investigate the level of complexity of the current problem. You can use Delphi method (refer to Week 4) or scorecard to estimate the complexity level. This need consulting your peers to get weights for each parameter and to rank them.
Evaluate the factors contributing to the waste management complexity refer to week 5 slides: Characteristics of complex project slide, Do you think the factors have same weights? Explain why /why not.
Draw radar diagram representing these factors and then another radar diagram mapping these characteristics into the four main complexity types (structural, technical, temporal and directions). 

How to manage this problem?

If you are to manage this issue, you may need to optimise the management practices. Using minimum of THREE alternatives for management practices and the sub criteria for each, develop an optimisation multi criteria analysis tool.
List all possible sub criteria involved in these alternatives (refer to the Week 4 multicriteria analysis). Minimum of 5-7 sub criteria should be created.

Assign weights showing relative importance of these sub criteria using your own judgement in addition to your peers' voices. You may need to provide a table a Table to show who are your peers, names, their actual weight Report.
Answer
Abstract
The present complex project management case study deals with the management of solid waste in Australia. The complexities experienced in managing waste project are included below. Research about waste management and its complexity is described. Solid waste are first collected and processed for disposal so that adverse effects are reduced in Australia. Management of waste is mainly done with the aim of conversion. Literature review are conferred in the article with the attempt of answering different questions related to previous study, benefits and any limitation observed. Complexity of project mainly depends on the size and technology used. Frameworks are designed so that each task has specific time limit and accomplishment of task are done successfully. Planning and time allotment facilitates the project operation. Restructuring of plan can be done when required.
Methodology section describes the process implemented in waste management. Evaluation process is mentioned with the assistance of delphi and scorecard method. Both determine the complexity of project which further facilitates the planning and structuring process of trash management in Australia. Delphi method represents the complexity present in moderate, high and low level. It makes it clear that complexity of trash management is moderate to high as it operates in considerably high scale. Scorecard assigns from different perspective which assists in correct evaluation. Radar chart is explained and is represented with different variables of trash management. All contents in this particular article state the complexity and different methods for determining it. Attempt to provide a clear picture about project complexity is done through this project.
Literature review
Sr no

Types of complexity

A previous study for viewing complex project

Benefits and gaps

Previous study or data

1.

Industrialization growth in population leads to maximization of solid waste. Tons of solid waste is dumped or used in purpose of land filling. This process of land filling described in the complex project management case study does not follow any precautions. Proper infrastructure and updation in outdated technologies is needed. Solid waste consists of all the rubbish including domestic and industrial waste.

 These wastes are toxic and non-compostable. The area required for dumping these huge amount of waste is vanishing from cities. Decomposable and non-decomposable waste has been dumped in colonial areas. New processes like aerobic composting which consists of composting of wastes.

Organic elements present in waste reduces its volume upto 80 percent. This method can be implemented manually or mechanically. Increased demands and reduced resources are one of the major reasons behind solid wastes. 

Serving quality products and managing resources available is a vital factor in solid waste management. Micro enterprising must be introduced to cut off the costs in an effective manner (Leist et al., 2000). 

2.

Solid waste generation rate is increasing at a rapid pace. Geographical factor and lack of facilities are causing these increments. Organic waste also has a significant percentage in solid waste. Environmental issues must be promoted to raise awareness.

  Increase the amount of illegal dumping is becoming a prominent problem. It is harming public health. Developing countries are major sites for illegal dumping. To achieve a practice having zero waste is not possible in a country having reserved amount of resources (Song et al., 2015).

 Adlilade or San Francisco is implementing these motives of zero waste cities. They are among the highest waste collectors of Australia. Companies across the countries must be committed to produce zero waste. 

New echo designs and technologies and a well settled loop supplying management can be effective in the management of zero waste. These kinds of practises are ongoing in developing countries and is undoubtedly a desired goals

3.

Sustainability in production is currently a global demand. It will help in enhancing long term economic and environmental stability. Australia is currently practising various methods for recycling of wood. 

 The recycle wood contributes in management of solid waste. Wood residual is the leading contributor of bioenergy. In factories of engineered wood, it is directed towards recycling and impurities. Companies involved in furniture business always focuses on quality and environmental concerns.

 Different types of waste generated from woods are engineered offcuts, savings, sawdust and solid offcuts. These waste range from 7 to 35 percent in different companies. Dumping cause involves the cost of transportation and land filling charges (Daian and Ozarska, 2009). 

Implementation of accounting evidence is necessary. Flaws in technologies and other additional cost in buying raw materials needs to be minimised. Transportation costs involved in dumping too high.

4.

An interconnected resource motivates the demand of environmental worldwide. Through waste management sustainably can be achieved. It also reduces the effects of the greenhouse effect. The process through which companies manage their solid waste is a point of concern.

Complexity in solid wastes is the most alarming problem as it involves mental, physical and social health of society. New and improvised steps must be taken to cut down the production of solid wastes. Use of biodegradable substance can be promoted as a substitute.

 Attitude of corporates towards managing waste needs to be positive. Ontology building processing improved sources of getting insides of corporates regarding waste management. Management of energy associated with organisations needs to be improvised. Clean technologies must be introduced.

Studies have shown that automated approaches are not much effective. As it does not have guidelines regarding exclusion or inclusion of a particular decision. Learning gaps of texture data is also one of the important sites. All the concepts associated with it must be kept in mind.

5.

Debate over the sustainable development for minerals and mining is more than   a decayed old. Different industries we're focusing if maximization of production. All the developed technologies directly or indirectly depends on mining which evolve material of non renewable nature. Different frameworks were introduced for the efficiency of eco ecosystem.

Full containers needs to be replaced by lunchboxes, CO2 emissions must be achieved via golden grove

Different industries were focusing on maximization of production. Material of non renewable nature must not be given preferences over renewable ones.

 Minimization of waste, prevention of pollution and other system which helps in balancing the ecology of industries needs to be introduced. To minimise the consumption of non renewable materials we must apply common changes in our daily life (Van Berkel, 2007). 

 

Debate over the sustainable development for minerals and mining is more than   a decayed old. Different industries we're focusing if maximization of production. All the developed technologies directly or indirectly depends on mining which evolve material of non renewable nature. Different frameworks were introduced for the efficiency of eco ecosystem.

6.

World's population is shifting towards urban area. With increase in population designs related to sustainable cities is becoming challenging. Waste management includes all the aspects of society including social, economical, environmental and political.

 Waste generation is interconnected with resource depletion. Studies have been initiated in different cities to provide waste management strategies which can be effective. 

The base generation per capita is increasing rapidly (Zaman and Lehmann, 2011). 

The new introduced idea of waste management is somehow influencing waste management of cities.It is important to know the reason behind the production of this much waste. 

Outdated technologies are responsible for increasing wastes changes in been initiated in societies regarding generation of management of waste.

Cities are not only over populated but are also responsible for depletion of finite resources. 

It might be an idea to compromise lifestyles and limiting economic developments to establish sustainable developments.

 

7.

 

Increasing population in Australia is a major reason behind pressure on resources, land, waste management. Local government has played a significant role by managing approx one third of solid waste produced. Environmental management is a procedure which involves analysis identification and collection of growth data and work accordingly.

 The complex project management case study illustrates that earlier studies have shown that environmental management is a very important aspect which can provide a quality access towards environment. No particular perspective is been used for environmental management. 

 These process of management is transforming cities by providing motivation and strategy. Local governments and people living in NSW are actively participating in it.

 No particular perspective has been used for environmental management (Qian et al, 2011). 

 From the research it is found that despite the fact that local government is not totally aware of the methods involved in ''ENVIRONMENTAL MANAGEMENT ACCOUNTING'', it is used in it's waste management.

8.

Human health also gets affected by management of waste. Different human activities is also a source to generate wastes. This issue becomes very important with increase in population. MSW must focus on treating solid waste. The amount of waste produced is gradually going all over the world.

The waste which is radioactive and is produced via mining of mineral or by recycle of nuclear fuel is getting dangerous. 15 percent of the world's electricity is produced by nuclear fuel. It also produces around 11 thousand tons of waste along with electricity (Giusti, 2009).

 A series of incidents invoked the discussion regarding inappropriate management of radioactive wastes. Epidemiological evidence is effective in disposal of radioactive waste. It also leads to some major physical treats like cancer. 

Though minerals provide advancement in technologies. It also affects the health of the masses. Public acceptance regarding dumping of radioactive waste is still very low.

9.

One of the most rapidly growing wastes is electronic waste. It is increasing at a rate of around four percent per year. Mobile phones and other technological gadgets. It is not the issue only faced by solid waste management but is also a matter of concern for its composition.

 The wide spread technological field of Australia is the highest contributor of e-waste. Australia is facing a rapid growth in the use of computers, around 90 percent of businesses in Australia runs on computer. Computer consists of irregular composition of different equipment (Herat, 2009).

Australian government which is federal in nature issued strict guidelines regarding import or export of electrical equipment. The sleeping giant of solid waste sector is IT industry. Urgent policies must be developed to cope with resalarming amount of toxic wastes. These toxic wastes can be hazardous for society; it must be treated with utmost care.

Policies were created to deal with rising e-wastes. Australia still needs to improvise its e-wastes management policy. Agreements between industries and government is been signed regarding reduction of packaging impacts. 

10.

With rapid growth in production of olive oil by Australia, demand of different mills also increased. Olive Husk and cake of olive is produced by olives as a solid waste. Australian industry associated with olive oils is producing around 63 thousand Mg of solid waste annually. 

 These wastes including solid and liquid is highly polluting. Management of these wastes is necessary for continued growth in the industries related to olives. A few methods have been introduced for the treatment of olives waste which includes pellieting, briquetting  and pyrolysis (El Hanandeh, 2015). 

 Briquetting is an easy way through which production of biomass can be increased at an economical cost. Imitation of displayed energy must be stopped to improve performance. . Another concern is space requirement for the storage of fuel. 

 Studies have shown that cost of installation associated with bio masses higher than that of electric More advanced technologies for utilization of waste needs to be introduced. 

 

.

11.

Food waste treatment is another waste related problem which is arising at a rapid pace. Around 40 percent of the produced food gets wasted. Australia sends major part of its food waste to landfill. Food waste is disposed in many informal ways; developed countries don't adapt most of them. Awareness must be spread regarding positive use of food waste.

Most of the individuals don't have access to landfills for disposition of their food waste. Food waste can be used in feeding animals or the poor. Municipal composting is a major source for disposing food wastes.

Charitable, animal feeding, compost are some of the methods through which foods can be effectively disposed. These ways of treating food waste is also ethical as it contributes in social cause.

feeding, compost are some of the methods through which foods can be effectively disposed. Studies suggest that food waste disposed via informal method is 15 times that of food waste disposed in landfills. An Australian authority needs to spread awareness and form loss regarding useful disposal of wastes created by food.

12.

Around 9 million tons of wastes in Australia has been dumped in landfills. Three million tons of wood products is also included in it. Wood waste when decomposable in landfills possesses threats associated with production of greenhouse gases.

 As per the  research initiated for the complex project management case study, studies have highlighted that anaerobic decomposition of products or wastes associated with wood is good for environmental health. Data regarding the composition of wood waste in landfills can be traced via dumped calendars and newspapers (Ximenes, 2008).

 Analysis based on physical and chemical aspect shows that it consists of starch and solubilized protein. All the samples of wood recovered from filings are wet. Most of them show no sign of detruation. The amount of decomposition is found to be extremely low.

 If this report is significant then landfills can be treated as a major option for disposing abandoned amount of food products. Wide range of examination of landfills suggest that no significant loss of dry mass is been noted. Landfilling of food waste is also a way to decompose it but it is not an effective one. 

13.

Waste disposal is one of the major concerns in Australia. Waste is driving a country towards major climatic changes. Wastes sector is responsible for more than 3 percent of methane composition. 

Analysis shows that waste management is necessary to release burdens from environment. Waste disposal method captures a significant part of the economy has the cost involving transportation and decomposition is high (El Hanandeh, A. and El-Zein, 2009).

 With growth in population wastes also growing year by year. Wastes analysis generally does not involve waste generated by spetails sectors. Different strategies for the management of wastes have been developed.

Three major concerns if waste disposal is to keep health, economy and environment prosperous. A combination of landfillings and aerobic decomposition and recycling are favourable management practices. Creation of organic waste is a good diversion strategy.

14.

Vermiculture is a traditional practice of waste management. Sustainable agriculture, regeneration and detoxification are also important aspect vermiculture. Earthworms act as crusher, grinders, erators and biological estimators in the soil. Action provided by earthworms increases the pace of waste decomposition by around 70 percent.

 Studies show that earthworm increase moisture, nad pH value of the soil. Vermiculture is practised to increase earthworms. These earthworms help in decomposition of wastes. 

 Earthworms are bisexual hense they grow rapidly. Reach organic waste and nitrogen is source of nutrition for earthworms. Wastes like vegetable or fruit,rice or pulses, breads or chapatis, meat and tea coffee residuals can be easily decomposable with help of earthworms.

According to the studies vermiculture was discovered in India but it is also followed in Australia. Dark and humid condition favours the activities of earthworms population is directly proportional to biodegradation activities.

15.

It is important to check whether plans associated with waste decomposition of strategies to minimise wastes can help in significant environment benefits. Waste management must be cost effective. Studies have shown that refurbishment projects are successfully implemented in different countries including Australia. 

 With the success of refurbishment projects demolition products also rises. The whole process including designing, manufacturing, installation and successful disposal needs to be re-evaluated.

Early initiated which drives the process of waste management is implemented by the federal government of Australia. State government also designed frameworks to minimise waste. Waste minimisation in construction sector is been widely accepted. Participation of individual is necessary for sustainable management of wastes. 

Renovation of buildings is likely to create equal portions of waste when compared to new construction,it must be avoided to enhance the environment performance. These management procedures must be kept in mind. On the basis of this management procedure new ways can be inculcated.

16.

Waste management of construction residuals is also important as it has a significant share waste. Construction wastes have dredious impact towards natural environment. Understanding of concerns regarding constructional wastes has been improved. 

Sometimes surplus materials which is to be treated as contructional equipment is treated as waste. CND waste must include only wastes which have no use in future. Most of the countries successfully shown declined in wastes with the help of successful implementation of waste management. 

Landfillings is an important waybig disposal as constructional waste mainly include natural or synthetic substance.  Studies predicted that these wastes can be minimised if knowledge regarding waste management is delivered. 

Reports tried to convey important and beneficial factors of waste management which is also influencing these sectors. If management was done accordingly it leads to economic benefits. These benchmarking and extension is economics can be treated as subject or future studies.

17.

The inter connected environmental resource get affected by masks in any sector. Enhancement in technologies also creates a lot of Wastes

Waste management plays a key role in balancing the ecological system. Attitude and behavior of masses is important factor in recycling and decomposition of waste

 NGOs, government and related organisations were looking for new means of waste decomposition. It involves lots of capital and time in discovering new methods to dumb the residuals

Studies have shown that different procedures including recycling,reusing and landfillings are effective in the management of wastes. However sometimes they also create problems regarding environment health.

18.

Roadside wastes or solid waste disposed openly are major problems in dissolving countries including Australia.  A broad range of wastes were classified as the municipal wastes. Collection and procedures of decomposing wastes were carried from country to country. Australia generally uses the process is  landfillings

A habit associated with disposal must be developed among countrymen. It will helps in minimising solid residuals. This process can also incur the habit of recycling. Organic residuals can be decomposed by the method of waste decomposing developing countries have huge amount of organic wastes

These combination of procedure provide essential environmental impacts on poor management of wastes. It also positively affects health and social impacts. Informal habit involves different problems hence it must be prohibited by law. Practical methodologies must be implemented t0o cope with the arising challenges.

Studies have shown that the decomposition or recycling process involves the substitution of product which is followed by its conservation then the necessary changes were made in the product composition. Input material can be changed into desired product by following these procedures.

19.

Sydney has a population of around four million. The production of solid waste by the state is gradually increasing with its population. Waste management system in Sydney is aiming to manage technical economic, technical, regulatory and environmental factors. Effective measures must be uncalculated to deal with the rising problem of waste management

Life cycle analysis properly known as LCA is a processor to evaluate the burdens of environment which is solid waste.  It is conducted once in twenty years to identify the threats related to solid wastes

The hierarchy mentioned within the complex project management case study suggests that the incarnation is a better choice as it is the result based upon various researches. Still it may be notable that those nations may not be true while dealing with large amount of data. Solid wastes decomposition must be based on awareness of society as it involves mass participation.

Studies suggested different waste management strategies to keep up with the increasing amount of waste. Some of the strategies incur based on economic, political policy and other social backgrounds. It is important to manage all the different aspects of waste management as it provides a clear data regarding management (Leao et al., 2001).

20.

Landfills were introduced as a major site for solid waste disposal. But houses situated around landfills are prone to hazardous diseases. Due to the production of harmful gases from different types of solid wastes including nano ,chips and other e-wastes

Epidemiological studies based on issues related to help around landfills sites say that chances of cancer increases due to the union of radioactive rays. Other community health surveys reported that irritation on skin , nose ,eyes also rises

Previously landfills were contributing in maximum decomposition of solid wastes but the major gap associated with it in the concern of health issue  which is dissolving

Studies have suggested that different methods need s to be introduced in order to conquer issues of health. Recycling of products reusing of products is the beneficials methods. Different ongoing studies were also suggesting new measures
Methodology
A framework, resources, and tools: This complex project management case study is performed to manage the complexity of solid waste administration and management. It comprises all the activities of treating the waste such as generation, collection, processing and ultimately disposing of the waste. Management of solid waste consists of planning, financial, administrative, legal function and engineering activities. A framework of waste management changes according to the situation and success of project depends on it. Project managers along with other members must have a clear idea about the framework. Waste disposal and its management have become vital otherwise its impacts are directly seen in the health of Australian society.
Framework used comprised of four steps which are an initial stage, strategic planning, designing, and final execution. This institutional framework is adopted in conducting research for solid waste. It assists the project workers in identifying the potential opportunities and expected risk. Strategic planning of differentiating the waste and processing each waste respectively stimulates the framework. It also implements regulatory factors. Execution is done with stakeholder's engagement by stating concise rules. The framework altogether support different activities of project management.
Methodology used in researching the complexity involved in project management is descriptive. Data and information were collected from secondary sources such as literature and articles. These literature and articles comprises of authentic studies based on complex management of solid wastes. These are pre-existing sources and are considered secondary. Waste management needs information which was acquired by interviewing Australian community and through a survey (Sinha et al, 2002). Solid waste was exposed with the assistance of this method along with pulling out different adverse conditions increasing in Australia. The techniques implemented were quantitative as numbers were needed for analysing the waste. The analysing process makes it easier for management in dealing with complexity of project.
Tools needed in the management of project and complexities associated with are many. Managing solid waste is typically a challenging task and along with it comes to complex responsibilities. The tool available makes the project management simpler as it provides assistance in executing the assigned responsibilities and accomplishing tasks. Tools are selected according to project requirements. In waste management study "Program evaluation review technique (PERT)" is implemented as it is mostly used in project management. The main purpose of PERT within this complex project management case study is to plan and control activities which are necessary and important for project completion. CPM charts are sometimes used in place of PERT. The only visible difference between the two tools is computation of tools. Implementations of PERT as project tool are:
Identification of milestones and specific activities: Project activities are the main task of a solid waste project. Milestones are instances used in projects for marking the activities beginning and completion.
Determining exact sequence of different activities: Integration of step one with this step can be done as a sequence of activity is evident. Task also requires analysis for determining the correct order of activities placement.
Construction of network diagram: sequence information is used for network diagram. Diagram is constructed for showing the sequence of tasks and activities. It also shows the parallel activities which need to be performed by the project manager.
Time estimation required: Each activity needs certain time for its completion. Project managers mostly use week as time units. PERT has the ability in dealing with uncertainty caused in project discussed within the complex project management case study. It is because of the three different time estimates of a single activity. Estimated times are:
Optimistic time: It is the shortest estimated time for completion of an activity.
"Most likely time": Highest probability of completing the assigned activity.
Pessimistic time: It is considered as the longest time in which accomplishment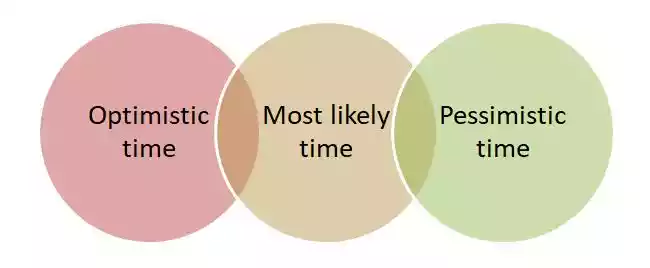 FIG 2: Estimation of time
(Source: Self-Created)
Determining the critical path: Addition of time is done in each sequence. The purpose of this is to determine the project's longest path (Rodríguez et al., 2018). Critical path calculates the total time needed for project completion. Solid waste must be well planned as it needs ample time for disposing and reducing.
FIG 2: PERT Steps
(Source: Self-Created)
Radar diagram and its application
Radar charts are used by managers and different professionals for doing a comparison of several quantitative variables. It makes the process simple as the variables having the same value are lined together. The outliers present in the entire set are also identified. Radar charts are implemented in project management with the purpose of identifying different variables with their respective scores. Variables scores are determined by low and high. The process makes the variable scoring step ideal for presenting performance of each variable. Variables are set in an axis of radar chart which originates from the center. All the axes present in the radar chart are arranged radially that means each axis is placed within the same distance. Gridline's main purpose is to connect several axes. Project managers and users use the grid lines as grids. It is a visual method which shows the relationship between different variables of solid waste and its management.
Radar charts are competent in project management because data quality can be easily compared which further assists in the analysation of data and decision making. Visual representation makes it easy to identify the variable performances. This chart also comes handy because different variables can be represented with the same resolution. The effectiveness of radar chart present in this complex project management case study totally depends on the comparison of one variable performance with the group or standard performance (Dao et al., 2016).
Radar diagram is applied to "project management complexity" factors. The diagram is implemented in a solid waste project so that measurement can be done in a detailed way. The application of the diagram further assisted the management in identifying the values of each variable. Different variables which are allocated in the axis are cost estimated for waste management. Schedule of each activity like collecting, processing, recycling or disposing of other variables placed is finances and budget, Cortex and the technical factors. Other factors which are placed as variable are the political condition and legal laws of Australia regarding the waste disposal. Web lines are used as designing segments and chances of reconstruction. Problem arises when several web starts to appear on the chart. This problem is not considered as a major one as it can be done by lowering the opacity of the polygon. Measurement of different variables becomes a problem sometimes as different variables are often measured in different units. Viewers often get the radar chart representation wrong as the entire focus is placed on the polygon area.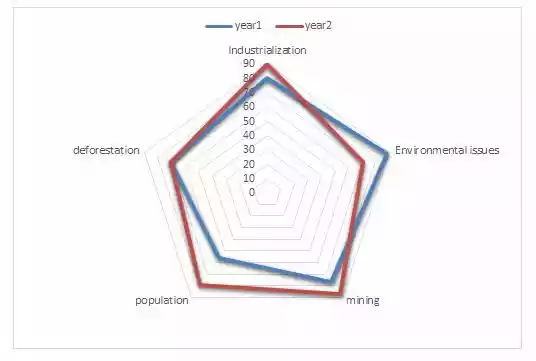 Figure 3: Created by author

How scorecard and Delphi method evaluate project complexity of complex project management case study?
Evaluation and measurement of project complexity can be done by implementing Delphi method for solid trash projects. Rounds of a questionnaire survey can be done in Australia for measuring the degree of complexity present in the project. The probable measures which are identified with Delphi method are building structure, construction, function, project urgency, size, and scale. Other measures are geographical conditions and environment of neighboring countries. All these factors can create a finding which assists the project managers in understanding the project complexity (Ameyaw et al., 2016).
Scorecard can be implemented for evaluation of project complexity as it allows to measure from a different perspective. It facilitates the process of assessing the complexity level and project's risk. The weight of scorecard can be measured at a moderate, low and high level. Complexity of managing projects can be measured with these weights and the same can be done for the project risks. Scores are assigned from from different perspectives which are customer, financial, internal and growth. The persons with whom meeting is required are Australian citizens for customer perspective, financial professional for financial view and higher authorities and management for internal perspective. Scores assigned can be used to present the complexity level (Sainaghi et al., 2019)
Results
Research factor
With rising urbanization the development level of consumption is increasing rapidly. Due to this high increase in usage system are not capable of handling that much pressure. Rapid growth in population is one among the major reason behind increment in solid wastes. Development in different sectors provides a major plot for solid wastes, like creation of non renewable and non decomposable nanochips. Due to their uncapability of handling whole process starts malfunctioning. Researchers share a common perspective on this problem according to the reason behind this problem is human deportment and ultimate solution to above-discussed issuer can only be attained by bringing a change in human deportment. As summed by performing above research some factors that are responsible. Improper education and negligence plays an utmost important role in improper management of residuals (Kutsch et al., 2015). Eradication of negligence and inculcation of responsibility among citizens can play a very essential role in the management of residual.
Second most crucial factor discussed in the present complex project management case study is behavioral aperture. Residual bears different meaning to people, like rag pickers consider residuals trash as an opportunity for generating revenue. On contrary for majority of population trash is considered as an issue or burden that must be removed at their earliest. Another negligence carried by citizens is that they are of the view that just bringing a change in their habit will not bring any change. Therefore they do not tend to do so. Management of trash in Australia must be handled with utmost priority.
Complexity factors
Level of management of projects is a true indicator to know factors of complexities. Assignments which are typical demands extra methods for management. It also helps businesses to take part in only such assignments in which they are capable of delivering best results. Factors that contribute to factors of competitiveness are vagueness; it is observed that participants of projects are not familiar with the project. They lack information regarding project which further causes non-alignment among participants. The issues rising due to this factor can be conquered by managing and organizing projects with high level of diligence. Next factor outlined in the present complex project management case study is the size of assignment, how long the project needs to attain its ultimate completion. Highly crucial factor is risk. It is highly unpredictable and this can lead to high losses. Risk is directly proportional to the chunk of money invested. So higher investment means higher risk in project. It is concluded that assignments of managing solid trash is a typical job as it encompasses all 5 factors of complexities.
Reasonable estimate
Estimation of different variables is done by implementation of the Delphi method or the values assigned in scorecards. Estimation of trash management complexity is reasonably determined at three levels. These are moderate, low and high levels of complexity. Same is done with the risk factors. Trash management which is solid waste in our case is moderate to high because its operation is conducted at large scale. According to the scorecard, the estimation and values assigned are from customer, finance and internal management perspective. Radar diagram presentation
Stakeholders
Numerous stakeholders play a very crucial role in the management of trash. With the course of time, these authorities innovate better ways to cope with proper management of trash. Some key stakeholders are citizens, planners, NGOs, municipalities (Pollack and Adler, 2015). It is an obvious fact that trashes are also produced by stakeholders who take part in managing level of trash. Generation of trash cannot be stopped completely but it must be reduced and decomposed properly. Trashes when left open or not decomposed in appropriate manner causes various issues for Homo sapiens and for living organism.
Management tools
Management of complex projects can be handled with DSM "The Designed Matrix". Best part of this is that it has a very simple interface and suits both types of planners. Few management tools are:
Developing budgets
Sophisticated dependency
Optimization of DSM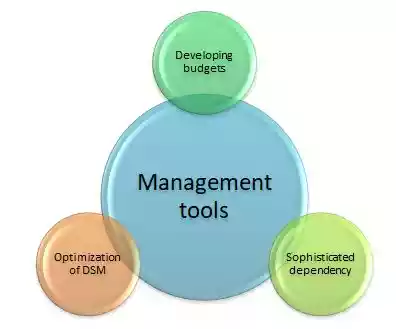 FIG 4: Management tools
(Source: Self-Created)
Conclusion
This complex project management case study focused on the complexity experienced in project management. Literature review aims to give the answer to gaps of approaches along with the similar study if performed previously. Activities in association with decreasing resources, storing, generating, discarding of trash include management of trash. In order of achieving balanced sustainable trash management these all factors must be managed. Evaluation according to Delphi and scorecard provided the result that complexity level is moderate to high because of its operational level. The literature is obtained from secondary sources and is theoretical. All the literature has some demerits or significance which is entailed. The methodology used is descriptive as the idea of this complex project management case study is to describe and discuss all the complexity faced by project management while performing. Australian society has to go through adverse health conditions due to which waste has become wicked evil. Management of waste can not only dispose of the trash but it tries to find different ways to make the solid trash valuable. The radar chart is described as one of the most used and best methods for visual presentation. The axis and web lines describe the importance of each variable. Results are depicted in the most reasonable estimate. Tools of management are also described in the project as it assists in the optimisation of process. Complex project management case study are being prepared by our project management assignment help experts from top universities which let us to provide you a reliable assignment help online service.
Reference List
Song, Q., Li, J. and Zeng, X., 2015. Minimizing the increasing solid waste through zero waste strategy. Complex project management case study. Journal of Cleaner Production, 104, pp.199-210.
Daian, G. and Ozarska, B., 2009. Wood waste management practices and strategies to increase sustainability standards in the Australian wooden furniture manufacturing sector. Journal of Cleaner Production, 17(17), pp.1594-1602.
Van Berkel, R., 2007. Eco-efficiency in the Australian minerals processing sector. Journal of cleaner production, 15(8-9), pp.772-781.
Zaman, A.U. and Lehmann, S., 2011. Urban growth and waste management optimization towards 'zero waste city'. City, Culture and Society, 2(4), pp.177-187.
Qian, W., Burritt, R. and Monroe, G., 2011. Environmental management accounting in local government: A case of waste management. Accounting, Auditing & Accountability Journal, 24(1), pp.93-128.
Giusti, L., 2009. A review of waste management practices and their impact on human health. Waste management, 29(8), pp.2227-2239
Herat, S., 2009. Electronic waste: an emerging issue in solid waste management in Australia. Int. J. Environ. Waste Manag, 3(1/2), pp.120-13
El Hanandeh, A., 2015. Energy recovery alternatives for the sustainable management of olive oil industry waste in Australia: life cycle assessment. Journal of Cleaner Production, 91, pp.78-88
Ximenes, F.A., Gardner, W.D. and Cowie, A.L., 2008. The decomposition of wood products in landfills in Sydney, Australia. Waste Management, 28(11), pp.2344-2354
Sinha, R.K., Herat, S., Agarwal, S., Asadi, R. and Carretero, E., 2002. Vermiculture and waste management: a study of the action of earthworms Eisenia fetida, Eudrilus eugeniae and Perionyx excavatus on biodegradation of some community wastes in India and Australia. Environmentalist, 22(3), pp.261-268
Dao, B., Kermanshachi, S., Shane, J. and Anderson, S., 2016. Project complexity assessment and management tool. Procedia Engineering, 145, pp.491-496.
Rodríguez Montequín, V., Villanueva Balsera, J., Cousillas Fernández, S.M. and Ortega Fernández, F., 2018. Exploring Project Complexity through Project Failure Factors: Analysis of Cluster Patterns Using Self-Organizing Maps. Complexity, 2018.
Sainaghi, R., Phillips, P. and d'Angella, F., 2019. The balanced scorecard of a new destination product: Implications for lodging and skiing firms. International Journal of Hospitality Management, 76, pp.216-230.
Kutsch, E., Ward, J., Hall, M. and Algar, J., 2015. The contribution of the project management office: A balanced scorecard perspective. Information Systems Management, 32(2), pp.105-118.
Ameyaw, E.E., Hu, Y., Shan, M., Chan, A.P. and Le, Y., 2016. Application of Delphi method in construction engineering and management research: a quantitative perspective. complex project management case study. Journal of Civil Engineering and Management, 22(8), pp.991-1000.
Pollack, J. and Adler, D., 2015. Emergent trends and passing fads in project management research: A scientometric analysis of changes in the field. International Journal of Project Management, 33(1), pp.236-248.
Get Top Quality Assignment Help and Score high grades. Download the Total Assignment help App from Google play store or Subscribe to totalassignmenthelp and receive the latest updates from the Academic fraternity in real time.