Discussion On Coles Strategic Analysis
Question
Task: Using the organisation chosen for Assessment 1, students are to apply their learnings from the capstone topics and apply them to the organisation by undertaking additional research.
Again, assuming the role of an organisational consultant, students are to write a report that clearly articulates the organisation's strategy and business model and outlines a detailed approach to Competition Strategy (Week 3), how the chosen organisation's performance is/can be measured against their strategies (Week 4). Students will also be required to prepare a balanced scorecard for their chosen organisation (Week 7). Attention should be paid to the use of secondary research and insights (Week 8).
Findings should be presented in a report of 2,000 words (+/-10%). Areas covered should include:
• An executive summary.
• An introduction that summarises the purpose of the report.
• A summary of the organisation's strategy.
• A specific outline of the Organisation's approach to competition strategy, performance measurement and balanced scorecard.
• A summary of recommendations that identify areas of focus and opportunity to enhance the organisation's performance in the future.
• A conclusion.
• References.
Students are encouraged to use a wide variety of information sources that include, where possible, primary research such as interviews with staff or executive members within their chosen organisation as well as the use of an appropriate mix of strategic and business analysis tools and references.
Answer
Executive Summary
The purpose of this paper is to perform a Coles strategic analysis which is an Australian organization. Coles is a leading retailer in Australia and it is owned by West masters. The paper has used multiple frameworks in order to analyze its strategies. With the help of Porter's generic Strategy analysis, it has been found that Coles uses the combination of cost leadership and product differentiation strategy to acquire competitive advantage. On the other hand Coles uses pricing and marketing strategies to beat its competitors. Lastly, through the Balanced Scorecard approach it has been found that what kind of strategies Coles uses in areas like financial perspective, customer perspective, learning and development perspective and Internal process perspective.
Introduction
An organizational strategy is basically the summation of all the business actions considered by an organization in order to achieve its pre-determined business goals. All together these business actions are called Coles strategic analysis. Usually Coles strategic analysis of plans take one year to complete (Baruah and Ward, 2015). Usually the top management of an organization creates larger organizational strategy and the smaller management and subordinates address small goals in order to full-fill the overall business objectives. In order to make strategic plan, it is very important to perform Coles strategic analysis for both internal and external environment of an organization. Coles strategic analysis includes planning for different business areas, such as strategy for competing with the competitors, production strategy, marketing strategy, selling and distribution strategy etc. (Coles Group, 2020). The purpose of this paper is to perform Coles strategic analysis in order to analyze the decisions taken by Coles in order to run its business with continuous achievement of competitive advantage.
Organizational Strategy
In order to analyze Cole's overall strategy, Porter's Generic Strategy framework can be used. Now, based on the framework, it be said that there are three core strategic areas, which Coles considers, such as cost leadership strategy and differentiation strategy.
Cost Leadership Strategy
First considering the cost leadership strategy then it basically refers to how a company can get competitive advantage by reducing cost of its business. Cost leadership is the main generic strategy which Coles uses in several consumer markets. There are different ways, Coles use its generic strategy, such as:
The basic reason behind implementing this strategy is to maintain the leadership position in the market by providing the highly valued products to the consumers.
This particular strategy helps Coles significantly in terms of targeting the customers who belong to middle class economic background. The biggest advantage of this is that this particular consumer base holds a huge section of the total customer matrix in most of the countries. Usually the middle class consumers deliver higher degree of interest towards an organization's pricing and in this regards cost leadership strategy plays significant role (STPTAX, 2020).
In most of the countries Coles strategic analysis focuses on accessibility and affordability of its products which significantly leads towards higher growth in brand awareness and sales.
Apart from lowering the business and operational costs and making the profitability higher as well as making the supply chain efficient the company also provides frequent offers to address higher competitive pressure in the market (Coles Group, 2020).
From the discussion of Coles cost leadership strategy, it can be understood that it effectively delivers certain benefits to the company, such as quick brand recognition, customer base expansion, product accessibility and affordability etc. In a broad way, the cost leadership approach plays an important role as a major source of competitive advantage for the brand.
Differentiation Strategy
Differentiation strategy is also a commonly used generic strategy by Coles, and it is used to achieve competitive advantage over its competitors. More specifically Coles uses its differentiation strategy along with cost leadership so that it can achieve maximum degree of competitive advantage.
There are several ways; the company uses differentiation strategy, such as:
The adaptation of differentiation strategy as the second most important generic strategy allows Coles to attract its target customers based on its unique product features.
The main focus of this differentiation strategy is to implement innovation, to make their products unique and different from other competitors. As an example it can be said that after Coles strategic analysis has extended its product category. The extra ordinary combination of cost leadership and differentiation strategy has significantly helped the company to build a strong brand value and potential customer base.
With the help of the differentiation strategy, the company Coles makes its products unique and positively different from its existing competitors. Coles uses this differentiation strategy, in order to reduce the pressure from other brands (Elmas, 2018).
Cole's Overall Competitive Strategy
In order to beat its biggest competitor, that is Woolworths, the company has adopted a new Coles strategic analysis. The brad has shifted its focus more on wealthy customers, which oreviously the company did not use to do. Along with addressing the needs of wealthy customers Coles is now also targeting tech enthusiast millennial shoppers. In the initial stage of the in next two years, the company was on the path of "putting out the fire" strategy which was significantly focused on getting the retail basics right for example stock availability , making assured car parking and staff levels were freshly painted and made the pot-hole free (Hatch, 2018).
Now, within competitive strategy Cole's marketing strategy can also be considered. In order to analyze Cole's marketing strategy, 4Ps of marketing mix can be used. In order to deal with the existing competitors, Coles has a wide range of product categories. For example it delivers liquor, groceries, fresh food, general merchandise, financial and fuel services. Coles business segment includes Coles online, supermarkets, Coles express, Coles liquor, Bakery, Dairy, fresh food and Veg, Coles mobile, Heston, Gift cards etc.
Next is the competitive pricing strategy which plays a significant role in terms of giving significant competition to the brand. Through competitive product pricing Coles deliver premium quality products but in the most affordable prices. This particular strategy attracts the customers significantly and made them interested to buy from Coles stores.
Now coming to the place, or distribution strategy, Coles has a wide range of physical oyutlets to provide products what the customer require. Apart from so many physical outlets, Coles has its own online services as well, through which it delivers products to its customers' door steps, which is the most unique competitive step the brand has taken.
Performance Measurement Strategy
When it comes to performance measurement strategy, there are so many types of strategies available, but among them Marketing Evaluation Matrix can be the most effective one. Within the marketing matrix, there are certain measures which significantly identify, compare and analyze the marketing performance of an organization. This particular evaluation process over all analyses the performance and attitude of a brand. Now, there are certain measures within the marketing evaluation strategy, and all of these measures have considered by Coles Supermarkets Australia Pvt. Ltd. Coles uses this strategy to measure its overall performance in all types of markets.
Now the first component or measure of marketing measure matrix is 'behavioral matrix'. Coles strategic analysis uses this particular measure to analyze the consumer behavior and it is measured with the help of both primary and secondary data associated with consumer behavior. The data is usually collected through performing surveys and by taking reviews from the customers after they make purchase.
The second component is known as 'financial matrix'. It is the most important matrix within this tool. Coles use this particular matrix in order to analyze its financial performance to measure its results with "profit = sales revenue – direct cost".
The third measure is called 'memory matrix'. With the help of this measure Coles Supermarkets Australia Pvt. Ltd. usually measures how the consumers think and have impression about the company through utilizing qualitative and quantitative facilities it provides. This memory matrix basically includes brand awareness, customer satisfaction and their attitude towards the brand.
The fourth one is called physical availability matrix. This particular metrics relates to a strategy where making the brand available at a noticeable distance will underwrite to its financial revenue. The implementation of this matrix within Cole's business refers to the availability of vegetables, fruits and baby products under a same umbrella with accurate labels and identifications.
The last matrix is called "customer profile matrix". This particular measure allows the brand to describe the behavior and perception of the customers for Coles. Campaigns like Flybuys' started by Coles Australia Pvt. Ltd. assistances the organization to arrange data of its consumers counting personal data, purchasing attitude, buying veg or non-veg foods and other data helps the company to analyze and make required changes (MPK, 2016)
Balance Scorecard
Balanced Score Card is one of the most efficient strategic planning and management system the usually the organizations used for certain reasons, such as:
Communicating the organizational goals and objectives
Aligning day-to-day operations with organizational strategies.
Providing more focus on products, services and projects.
Measuring and monitoring the improvements of strategic targets (Balanced Scorecard, 2020).
The term 'balanced scorecard' has arrived from the idea of searching for strategic measures along with traditional financial measures to receive more 'balanced' overview of the performance. There are basically four perspectives of balanced score card, such as Financial, Customer and stakeholder, internal process and organizational capability. The framework of balanced score card has represented in figure 1.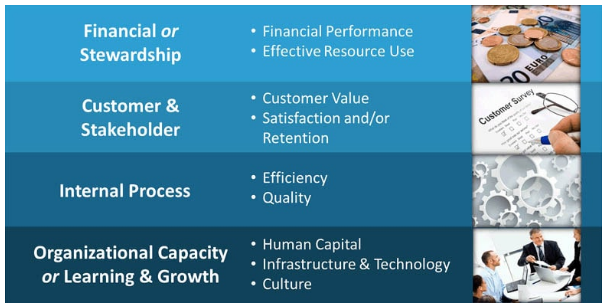 Figure 1: Balanced Scorecard
(Source: Balanced Scorecard, 2020)
Considering the balanced scorecard Coles strategic analysis, then it can be said that Coles has used this approach effectively. Now, first coming to the customer perspective, Coles has considered this very seriously. As explained before the company has several initiatives to collect customer information related to their behavior, perception towards the brand. So, increasing customer satisfaction plays significant role in Coles business. Apart from this Coles also works significantly to deliver superior brand image to hold huge amount of market share.
Coming to the financial perspective, Coles is targeted to increase and maintain its high margin revenue, such as sales revenue and return on asset. The company also significantly working towards improving the allocation of assets in its projects. The company keeps working on lowering its product prices to attract as many customers as possible.
When it comes to learning and growth perspective Coles has implemented training and development strategies for its employees across the stores. Applied extensive training strategies allow the organization to improve its employees' skills knowledge. This perspective also includes maintaining the organizational culture with the help of cultural survey.
Last but not the least when it comes to internal business process perspective, Coles is focused on increasing maintenance effectiveness with lower number of downtime and also lower number of reworks and scraps. Apart from this the company is also focused on maintaining healthy relationships with the suppliers to keep the business as smooth as possible (Balanced Scorecard, 2020).
Recommendations
Coles strategic analysis should keep its focus on cost management. As Coles is a huge company, its cost of operation is also increases rapidly. Within the operational cost, the labor cost plays a significant role for Coles. It is very important to measure the productivity of individual customers, because retailers like Coles pays a lot to its employees. So, it is very important to extract equal valued work of the amount it is paying to its employees.
Specifically for Coles strategic analysis, it is important to keep its focus more towards both long-term and short-term marketing strategy. The consumer tastes and preferences are continuously changing, and in order to address this rapidly changing consumer purchasing behavior Coles should keep its focus in marketing strategy at least five years ahead. Due to the Covid-19 pandemic experts across the globe are expecting that the consumption behavior of the global customers will be changed after this situation gets stabilized. To address such condition marketing will play one of the most important roles for a business.
Conclusion
After the Coles strategic analysis, the reason behind its worldwide success has been identified. Coming to the generic strategies, Coles adopts the most effective combination of generic strategies, such as cost leadership strategy along with product differentiation. This particular combination is considered as the most impactful generic strategy. Achieving competitive advantage is the biggest success factor for Coles, and the company has implemented its strategies in such a way so that it can earn competitive advantage from all most all types of business aspects, whether through its products, marketing, operations, sales and distributions.
Reference list
Balanced Scorecard, 2020. What is Balance Scorecard. Coles Strategic Analysis [online] Available at: <https://balancedscorecard.org/bsc-basics-overview/> [Accessed 14 May 2020]
Baruah, B. and Ward, A., 2015. Metamorphosis of intrapreneurship as an effective organizational strategy. International Entrepreneurship and Management Journal, 11(4), pp.811-822.
Coles Group, 2020.Our Strategy. [online] Available at: <https://www.colesgroup.com.au/about-us/?page=our-strategy> [Accessed 14 May 2020]
Elmas, M., 2018. Coles to invest in new strategic direction. Inside Retail [online] Available at: <https://insideretail.com.au/news/coles-signals-new-strategic-direction-201806> [Accessed 14 May 2020]
Hatch, P., 2018. Putting out fires': Coles' new plan to beat Woolies. SMH [online] Available at: <https://www.smh.com.au/business/companies/putting-out-fires-coles-new-plan-to-beat-woolies-20180306-p4z33i.html> [Accessed 14 May 2020]
MPK, 2016. Marketing evaluation on 'COLES' [online] Available at: <https://mpk732t22016clusterb.wordpress.com/2016/09/26/marketing-evaluation-on-coles/> [Accessed 14 May 2020]
STPTAX, 2020. Cost Leadership Strategy. [online] Coles Strategic Analysis Available at: <https://www.stptax.com/cost-leadership-strategy/> [Accessed 14 May 2020]