City Glaziers Case Study On Developing A Software Design
Question
City Glaziers
City Glaziers is a medium business operating in and around the Melbourne metropolitan area. The company supplies glass for windows and doors, and other structures within the Melbourne area. Glass can be ordered in bulk as part of a construction project, or in smaller quantities as replacement for broken windows, doors containing glass, bus shelters, and larger areas such as internal feature walls etc. The company began by operating in the Melbourne CBD originally, but has since expanded its operations to include most of the surrounding metropolitan area. The company has built a reputation for providing high quality glass, as well as excellent service to it customers.
Background
The owner of the company, Robert Johnston, began the company in 2001, operating a single glaziers truck from a warehouse in North Melbourne. Robert operated successfully in the Melbourne CBD, providing a high quality service to his clients. The business has steadily increased over the last 14 years, and Robert now operates a fleet of 11 glazier trucks and has expanded the operating territory to cover the entire Melbourne Metropolitan area. The Business expansion has included a move to a large warehouse and glass preparation area, with the head office located next door in a modern office block. The business seems to be expanding and Robert is now beginning to consider opening franchises in outer Melbourne areas, to be serviced from the central warehouse operation. Robert also has arranged to deal exclusively with a large glass manufacturing plant, Melbourne Glass Plant, located in an outer Melbourne suburb. By becoming a large customer of Melbourne Glass Plant, Robert gets lucrative discounts which he can pass on to customers, helping him compete in this competitive environment. The size of the business has now reached a stage where Robert can see major issues arising. As the business has grown, the operations have become more complex, and this will only become more so if franchises are added to the current operations.
Robert has decided to employ your team to investigate the business needs and to conduct an initial feasibility study into the possible options for computerizing part or all of the operations. The current system is a manual based system which has served the company well, but is now becoming outdated and causing bottlenecks due to the increased workload demand. Currently the business has two main areas, the Large Projects Section, and the Repair Section. Large Projects
Anna Fields works for Robert in heading up this section of the business. In the Large Projects section Anna and her staff put together quotes for whole jobs by responding to a construction companies RFQs (Request For Quotes). The quotes are for complete supply of glass needs for major construction projects such as new building projects or reconstruction projects on large premises.
The team begin by identifying construction projects and responding to the company RFQ. The team will contact the company to request precise specifications and put together a quote for materials, delivery and installation. If the quote is successful, City Glaziers will then develop a timeline document for approval by the company, and begin the ordering process. A timely order will be placed with Melbourne Glass Plant for the raw material, and these will be delivered to the warehouse. A Work Order is generated which includes a copy of the original quote and specifications and sent to Glass Preparation, where the work will begin in preparing the glass panes according to the specifications and delivery schedule.
Once the glass is prepared and cut to size, an Installation Order is prepared and a glazier truck booked for the delivery and installation date.
Repair
Ben Hanscom is the head of the repair section, and also manages the Glazier Truck fleet. Customers will ring in to the Repair section with requests for repair, or for replacement, and the schedules will be checked to find the closest Glazier Truck. The repair request will be slotted into the schedule of the closest truck, and usually result in a same day service. When the Glazier arrives at a customers site, they will quickly check to see if the job can be performed immediately, or if a special Work Order needs to be completed.
Each Morning, the Glazier trucks are outfitted with a standard compliment of glass sheets of varying thicknesses and sizes. Over time this standard fit-out seems to cover a Glazier for most of the day for their standard type repair jobs. The glass preparation area is responsible for outfitting the truck each day with the standard compliment of glass, based on a compilation of the completed Job Sheets completed each day by each Glazier. The only exception is when a truck is specifically booked for a large project delivery and installation. If a Glazier arrives at a repair job and cannot complete the job because they lack specific materials, then a Work Order is completed and bought back to the warehouse so the Glass preparation area can prepare the material for installation in the next day. If the Glazier can complete the Job on the same day, then after finishing, they complete a Job Sheet, detailing the material used so the Glass preparation area and replace the material used on the truck for the next days work schedule.
Payment
When City Glaziers are awarded large scale projects with successful RFQ submissions, they are given accounts with the company that awards the projects. They receive payment by direct debit after they submit invoices to the company for materials and time (as per the awarded contract). For smaller repair and replacement work, when a Job is complete, as well as filling in the Job Sheet to detail the used material, the Glazier will also prepare an invoice to give to the customer on the spot. The Glazier also returns a copy of the invoice to head office at the end of the day when they return to the warehouse. The customer can choose to pay via the terms on the invoice, 7 days payment, or receive a 5% discount and pay on the same day via credit card, or personal cheque with identification. Some Customers have accounts with City Glaziers, and will receive a monthly statement through the post. These customers have longer terms, such as the end of the month in which the statement is issued.
When a customer payment is received, a copy of the payment is sent to the head office accounts section, where the payment is matched against the invoice and a receipt will be issued through the post.
Regular reports need to be generated to list those invoices over their due dates that have not been paid.
Supply Orders
The Glass preparation area in City Glaziers is responsible for collating all the Job Sheets and Work Orders so that stock levels can be monitored and stock re-ordered when levels fall below threshold levels.
Also, large project orders will need to be dealt with quickly so that existing stock levels for the repair and replacement section is not affected
Issues
A number of issues have arisen that have prompted City Glaziers to contract you to look into the system.
• It is difficult to keep track of the Work Orders and Job Sheets to re-order stock before it falls below threshold levels.
• When Glaziers need to raise work-orders at a client site because they don't have the material, it is not till the end of the day when Glaziers return to the warehouse that these can be collated to begin preparation for the next day, resulting in some delays.
• Sometimes paperwork has gone missing for large scale projects and needs to be tracked careful to avoid delays and loss of awarded contracts
• The fleet of Glazier trucks needs to be managed better as sometimes with the paperwork double booking can occur and result in frustration and delays
• Additionally, we need to keep better track if kilometres travelled so trucks can be services in a timely manner.
• Delays in sending paperwork to our suppliers can cause delays in order processing and result in longer delivery times of stock.
• The level of paperwork is increasing and the accounts department is having trouble keeping up with the timely production of monthly statements, processing of payments and general financial reporting.
• With customers beginning to ask for different methods of payment such as email, PayPal etc, we need to look at incorporating this into our business processes somehow
Answer
Specification Document
Executive Summary: The present City Glaziers case study is focused on developing a software design. The software design is needed for a glass supplying company named City Glaziers. It is a medium sized company focused in providing glasses for doors and windows all around Melbourne city and outskirts. It is possible to place glass supply orders for huge construction sites as well as for replacements in broken windows or in small buildings and homes. Initially, company was setup in supplies for Melbourne CBD but increasing demands and quality of work helped City Glaziers to expand in the outskirts of city.
System Description: Currently, City Glaziers operate their business on paper work which is been used from the beginning. This has helped company work smoothly when it had lesser orders than today. Now that company is expanding and getting more orders hinder in operations of the company and creates bottlenecks for new orders and their supplies. Company examined in the City Glaziers case study has two major fields of operations
Large Projects
Repairs

Large Projects
Large projects include orders from contractors for construction of huge building or reconstruction of large skyscrapers. The present City Glaziers case study outlines the steps that are required to be followed by a team working on large projects:
The team first responds to the companies' RFQ (Request for Quotes).
The team contacts the company for detailed requirements of particular glass types, delivery and installation.
Once quote is approved, team provides timelines to the company. Timeline includes delivery time of glasses and their installation time as well.
Once the timeline is accepted by the company, team works on ordering process.
Team places order to the Melbourne Glass Plant for the raw materials.
Melbourne Glass Plant sends the raw materials to the warehouse.
The team then sends the specifications and approved quotes to the glass preparation team.
The City Glaziers case study also mentions that this team cuts the huge sheets of glass as per specifications of the sizes. The preparation team prepares the glasses of given specifications before the delivery period.
Once the order is prepared, a truck is allotted for the delivery and installation to the company as per date mentioned in timeline.
Repair
The customers requiring replacement or repairs will place a repair request to the company.
The repair team checks for the scheduled Glazier truck that is projected to reach the nearest site.
The replacement glass is sent with the other order that reaches the site on same day.
The readings used to develop this City Glaziers case study signifies that this installation team then visits the repair site and installs the glass.
If a repair job is requested and team cannot complete it if they are running out of the materials then the main work order is completed first and the glass is brought back to the warehouse.
The preparation team prepares the glass for next day and the truck is rescheduled to deliver and install the materials.
If a job is completed in a day, a job sheet is maintained that details the materials used for glass preparation area.
Payment
Once the RFQ is approved, the company evolved in this City Glaziers case study receives payment by direct debit when the team submits invoice for materials and time.
For, repair jobs, the invoice are generated once the material is despatched for repair site.
After installation, invoice is handed over immediately to the customer.
It is expected to pay invoice amount within 7 days of the repair.
If customer choses to pay on the same day, 5% discount is given if paid via credit card or cheque on the same day.
Some regular customers have accounts with Glaziers and receive monthly statements at month end.
Supply Orders
The glass preparation unit mentioned in the case scenario of City Glaziers case study prepares job sheets and work orders to monitor all the stock levels. Stocks are r-ordered when stocks fall below marginal value.
Large project orders needs to be sorted quickly so that repairs and replacements do not affect the work orders.
c. What is the scope of project examined in the City Glaziers case study?
There several problems identified in the City Glaziers case study in currents system that needs to be fixed. These issues triggered following the major deliverables for the project:
To provide better design of the system for developing project.
The new system needs tracking of orders and their sheets so as to re-arrange stock before threshold levels are crossed.
The company still tracks contracts on paper which may result in delays and loss; it is good to track contracts on the computer so as to get timely delivery of products.
On paper bookings of trucks can lead to major disappointments to clients when trucks have been booked twice for the different orders. This could lead to confusion and frustration. Hence, it is thought of tracking it from system itself rather than tedious paper work.
Trucks needs to be tracked so that timely delivery is ensured.
For stocks, sending orders on papers may result in delayed delivery of stocks due to processing time it requires to check the orders. It is better to use system to check and order stocks.
Using papers all over the company reduces the efficiency because, it becomes difficult to keep track of each deliverable on paper. Now that customers have increased, a system must track each and every possible thing. It becomes easier for accounts department to process payments for employees, drivers and other staff members and also when making payments for stocks.
d. Feasibility Analysis
Feasibility of the proposed system is based on following three sub sections provided in this City Glaziers case study.
Economic Feasibility: The proposed system is economically feasible as it requires software components and hardware devices those are available in affordable prices. No extra and hidden cost is involved once the system is developed and infrastructure is installed.
Technical feasibility: Hardware components required to develop the system are easily available in the market as well as their parts if need to replace in future are also readily available. Moreover, the findings used to develop this City Glaziers case study indicate that upgrading software components of the system is possible whenever needed.
Operational Feasibility: The system is operationally feasible since it reduces the tedious paper work at the maximum extent. It is good to automate human repetitive work so that humans could perform other major tasks. It is feasible to develop this system as it is going to avoid errors as well as delays in operations.
e. Requirements Specification
i. Functional
It should track orders and job sheets
Orders should also be placed from the system
Trucks bookings and tracking should be done in software
Stocks should be managed
Orders should be checked using system
System should be time efficient.
It must provide detailed view of stock to all the teams.
It should accurately send quotes and timelines to Glass Preparation Team.
No scope of duplication of orders is affordable. System must
ii. Non-Functional
System must be easy to use
Easy to maintain
Devices involved must not harm humans working around
System should be easily maintained
System should be available even after continuous hours of usage
It should be correct; there is no scope of errors since it will result in huge company loss.
f. Assumptions
Following assumptions are made in this City Glaziers case study while designing system:
There are seven important modules:
Customer Company
Large Projects Team
Repairs Team
Glass Preparation Team
Melbourne Glass Plant
Installation Team
Truck Fleet
City Glaziers Teams uses single application for each new order or repair order.
Glass Preparation Team uses a module which helps them fetch new order/repair order, its quote as well as detailed specification. On completion of order, it is noted in the City Glaziers case study that status of order is changed to done by Glass Preparation Team.
After analysing the readings used to develop this City Glaziers case study, it is stated that stock is also monitored through same application where Glass Preparation Team should add raw materials from Melbourne Glass Plant and system should deduct the number of glass sheets used up as per order completed by team.
To track trucks availability, teams uses the same application to know which truck is available and allocated accordingly.
g. Use Cases
i. Use Case Diagrams
Figure 1 Use Case Diagram for Large Project Module

Figure 2 Use Case Diagram for Glass Preparation Team and Melbourne Glass Plant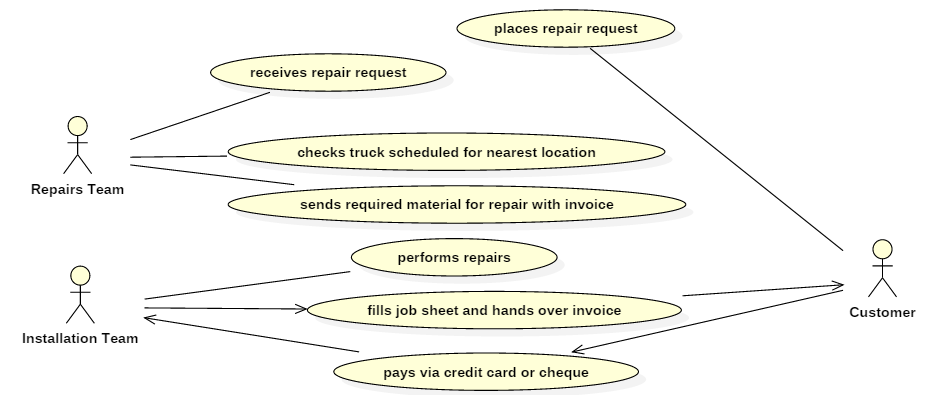 Figure 3 Use Case Diagram for Repairs Requests

Figure 4 Use Case Diagram For material delivery
ii. Use Case Descriptions
Table 1 Description of Actors
Sr. No

Actors

Description

1

Large Project Team

This team manages orders for large projects such as glass requirements for doors and windows for huge buildings.

2

Company (Customer)

The company for which City Glaziers is supplying glass windows and doors

3

Melbourne Glass Plant

Glass sheets plant from which glass of specified requirements are ordered. The large sheets are manufactured in this plant. It sends these sheets to warehouse on request of Glass Preparation Team

4

Glass Preparation Team

This team cuts the large glass sheets and inserts into panes for meeting company specifications as per quotes provided to them.

It also monitors stock in the warehouse.

5

Repairs Team

This team is responsible to manage repair requests from customers

6

Installation Team

After delivering materials to the site, this team fits the glass panes on customer site.

7

Truck Driver

Drives truck loaded with materials to the customer site

8

City Glaziers Team

Glaziers Team includes both large projects team and repairs team.
Table 2 Description of Use Cases
| | | |
| --- | --- | --- |
| Sr. No | Use Cases | Description |
| 1 | Request For Quote | Customer company sends Request for Quote for the specification of their requirements to the Large Projects Team of City Glaziers |
| 2 | respond to Request for Quote | Large Project Team responds for RFQ to the company. |
| 3 | ask for detailed specification of requirements | Large Project Team sends request for detailed specifications for the glass doors and windows |
| 4 | prepares timeline for delivery and installation | Large Project Team prepares exact timelines for each milestone such as delivery and installation of glass panes. |
| 5 | approves timelines | Company approves the timelines provided by Large Project Team |
| 6 | issue payment | After approval company issues payments when Large Project Team produces the invoice of materials. |
| 7 | receive payment | City Glaziers receive payments through direct debit. |
| 8 | sends quote and timeline to Glass Preparation Team | After receipt of payment, original quote and timeline is sent to Glass Preparation Team |
| 9 | delivers and installs glass on company site | Glass Preparation Team delivers and installs glass panes as per requirements on company site. |
| 10 | sends original quote and specification | Large Projects Teams send materials quote and specification for cut and preparation to Glass Preparation Team |
| 11 | asks for materials to complete the order | It asks for materials to meet the order requirements to Melbourne Glass Plant. |
| 12 | sends material to warehouse | Melbourne Glass Plant sends material to warehouse |
| 13 | cuts glass and prepare panes for job specifications | Glass Preparation Teams cuts and prepares the glass as per order. |
| 14 | prepares job sheets for work orders | Glass Preparation Team prepares job sheets for completed work orders. |
| 15 | monitors stock | Glass Preparation team monitors Order |
| 16 | notifies team after job completion | Glass Preparation Team notifies Large Projects Team about completion of order |
| 17 | places repair request | Customer places repair request to Repairs Team. |
| 18 | receives repair request | Repairs Team receives repair request from customer. |
| 19 | checks truck scheduled for nearest location | Repairs team check the large order trucks scheduled for nearest location. |
| 20 | sends required material for repair with invoice | Repairs Team loads material on truck with invoice to produce at repair site. |
| 21 | performs repairs | Installation Team repairs the window or door. |
| 22 | fills job sheets and hands over invoice | Installation Team fills job sheets after completion of repair work and produces invoice to customer. |
| 23 | pays via credit cards or cheque | Customer if paying same day gets 5% of discount if paying via credit cards and cheque. |
| 24 | loads ordered materials on truck for timely delivery | City Glaziers Team sends materials on truck. |
| 25 | delivers material to site | Truck driver delivers material to customer site. |
| 26 | materials if not used on site is returned to warehouse | Truck drives commutes back with extra materials not required at site. |
h. Context Model
Figure 5 below depicts context model for the current scenario of City Glaziers case study. Basic functioning is shown when large order or repair order arrives at City Glaziers.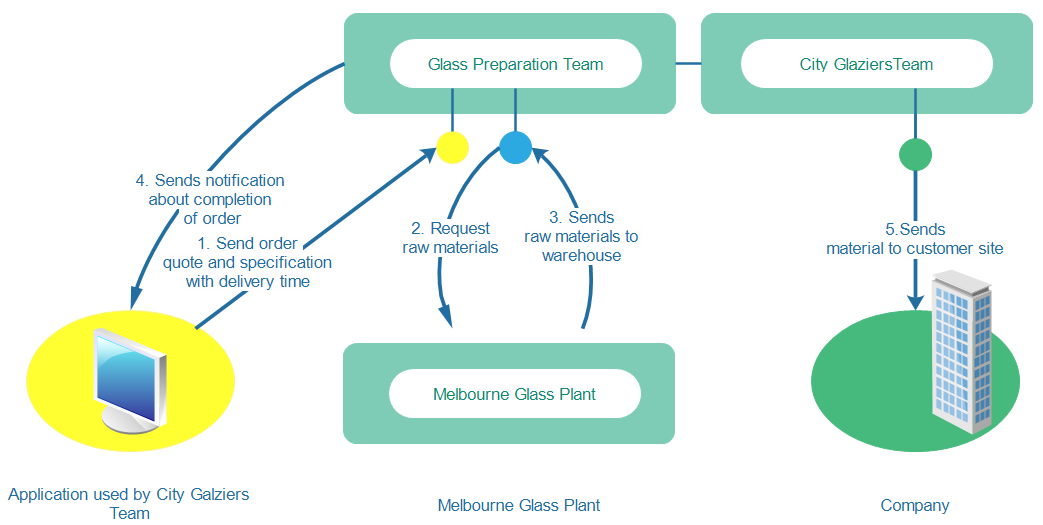 Figure 5 City Glaziers Context Model
i. Levelled Set of Functional Models

Figure 6 Data Flow Diagram Level 0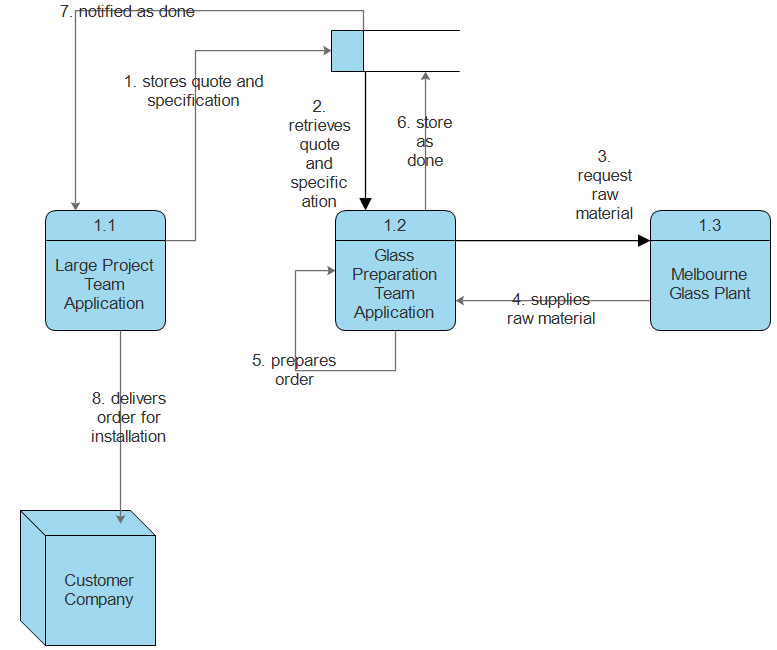 Figure 7 Data Flow Diagram Level 1 for Large Project Orders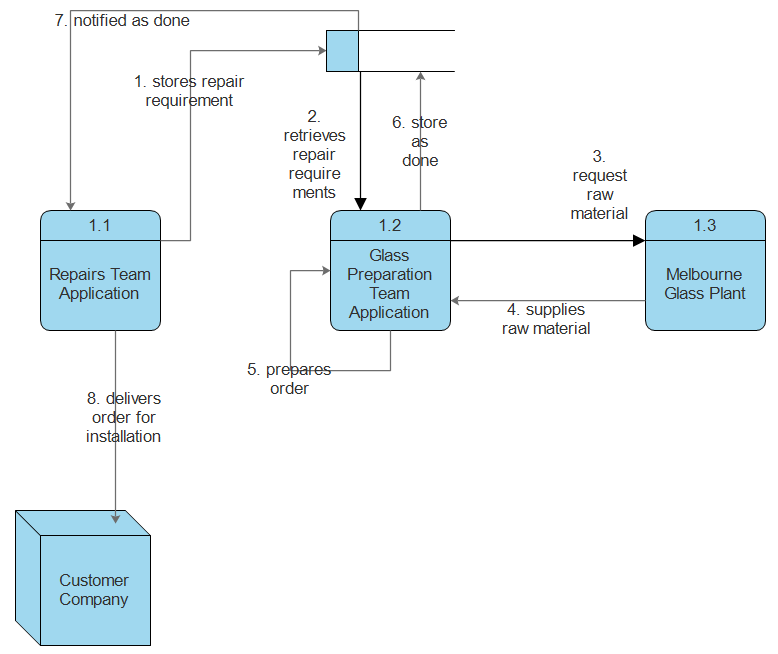 Figure 8 Data Flow Diagram Level 1 for Repair Orders
2.Design Document
Executive Summary

This section of this City Glaziers case study provides detailed design of the proposed system used. It starts by providing architectural design of the system. Architectural design shows main modules of the system interconnecting with each other to complete company requirements in timely manner. Following that, minimum hardware specifications are listed in order to get the system infrastructure laid. Then, class diagram is drawn to find the important classes, their attributes and operations. This helps in better understanding of system. Activity diagrams are drawn to depict thorough activities of actors chosen in each activity. Later, Business Process Model is also shown by using BPMN 2.0. Lastly, the City Glaziers case study also represents the various elements used in the case scenario through sequence, interaction and state diagrams in order to get insights of working system in sequence.

Architectural Design on several elements utilized in the City Glaziers case study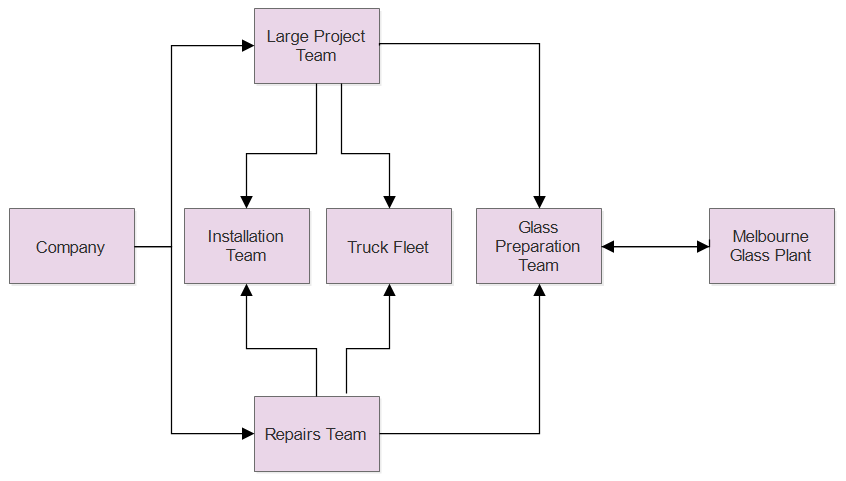 Figure 9 Architectural Design
c. Hardware Specifications
This system needs 3 PCs for different departments (Large Project Team, Repair Team, Glass Preparation Team. For each PC, minimum specifications are as given below.
Table 3 Hardware Specifications
| | |
| --- | --- |
| Processor | Intel Core i3 |
| Primary Memory | 4 GB |
| Secondary Memory | 40 GB |
| Internet Connection | Required |
| Other Hardware | No |
d. Detailed Class Diagram representing various elements used in the city glaziers case study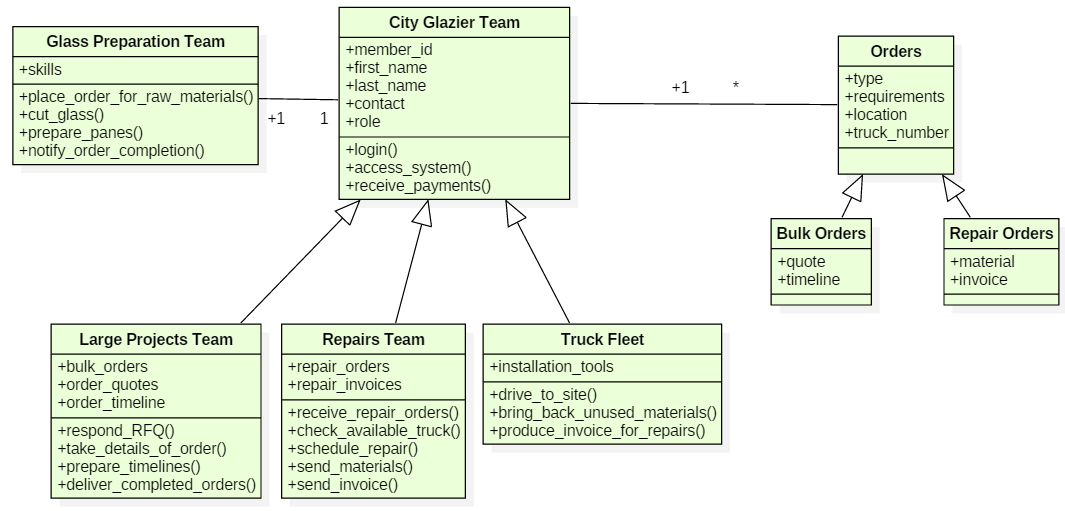 Figure 10 Class Diagram
e. Interface Design
i. Activity Diagrams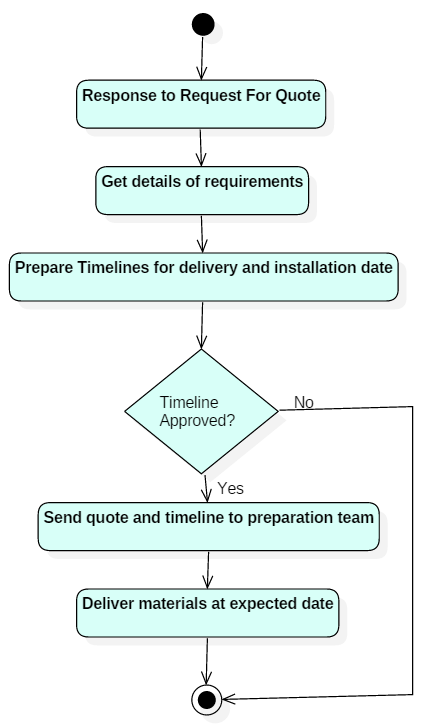 Figure 11 Activity Diagram for Large Projects Orders
Figure 12 Activity Diagram for Repair Orders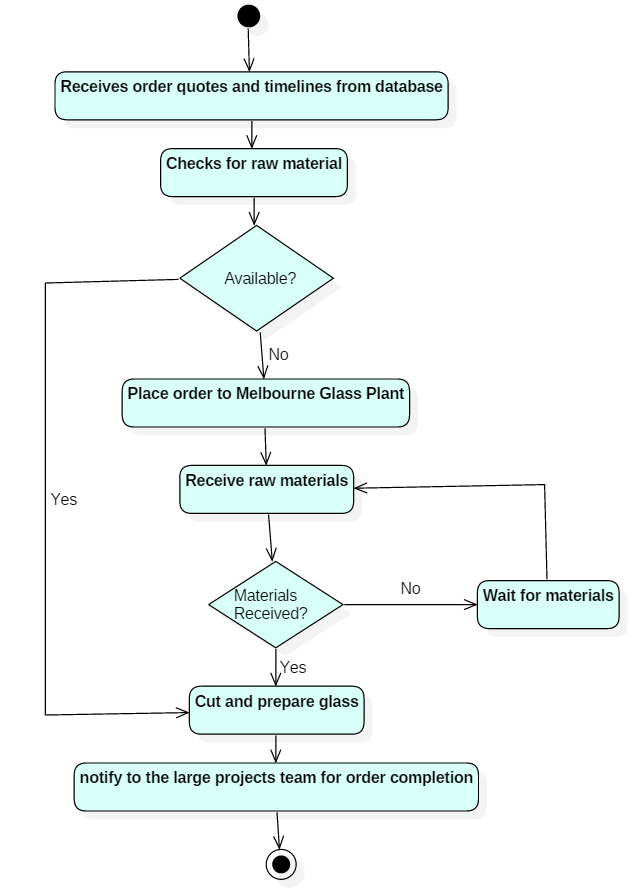 Figure 13 Activity Diagram for Glass Preparation Team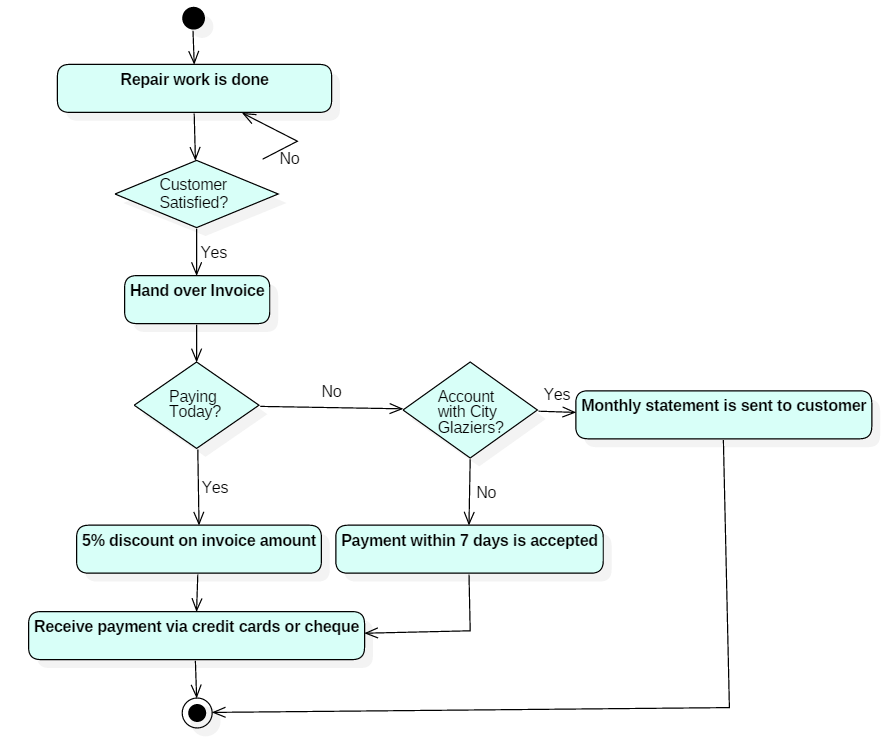 Figure 14 Activity Diagram after Repairs at Customer Site
f. Business Process Models (utilizing BPMN 2.0)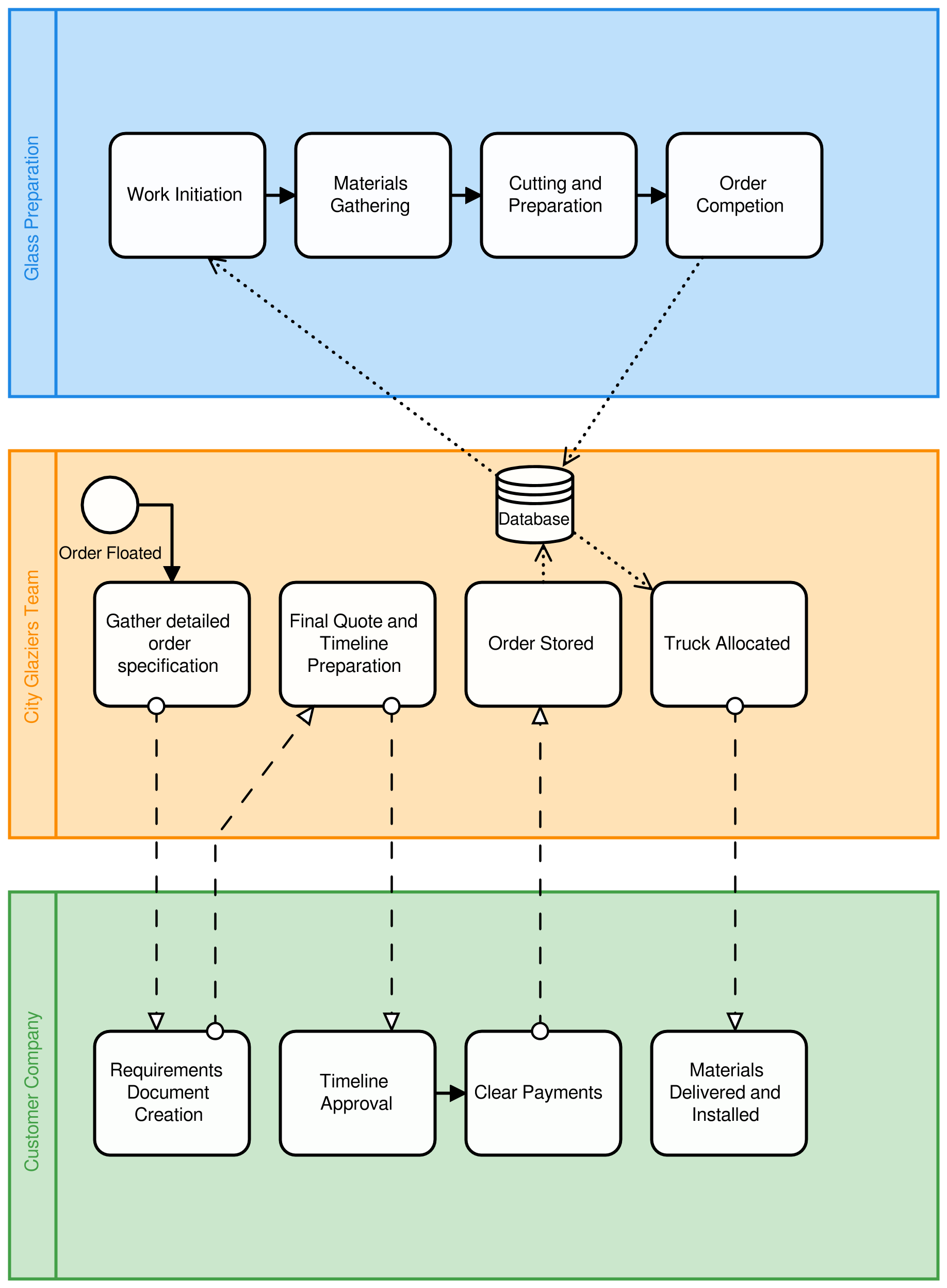 Figure 15 Business Process Model for Complete System Operations Using BPMN 2.0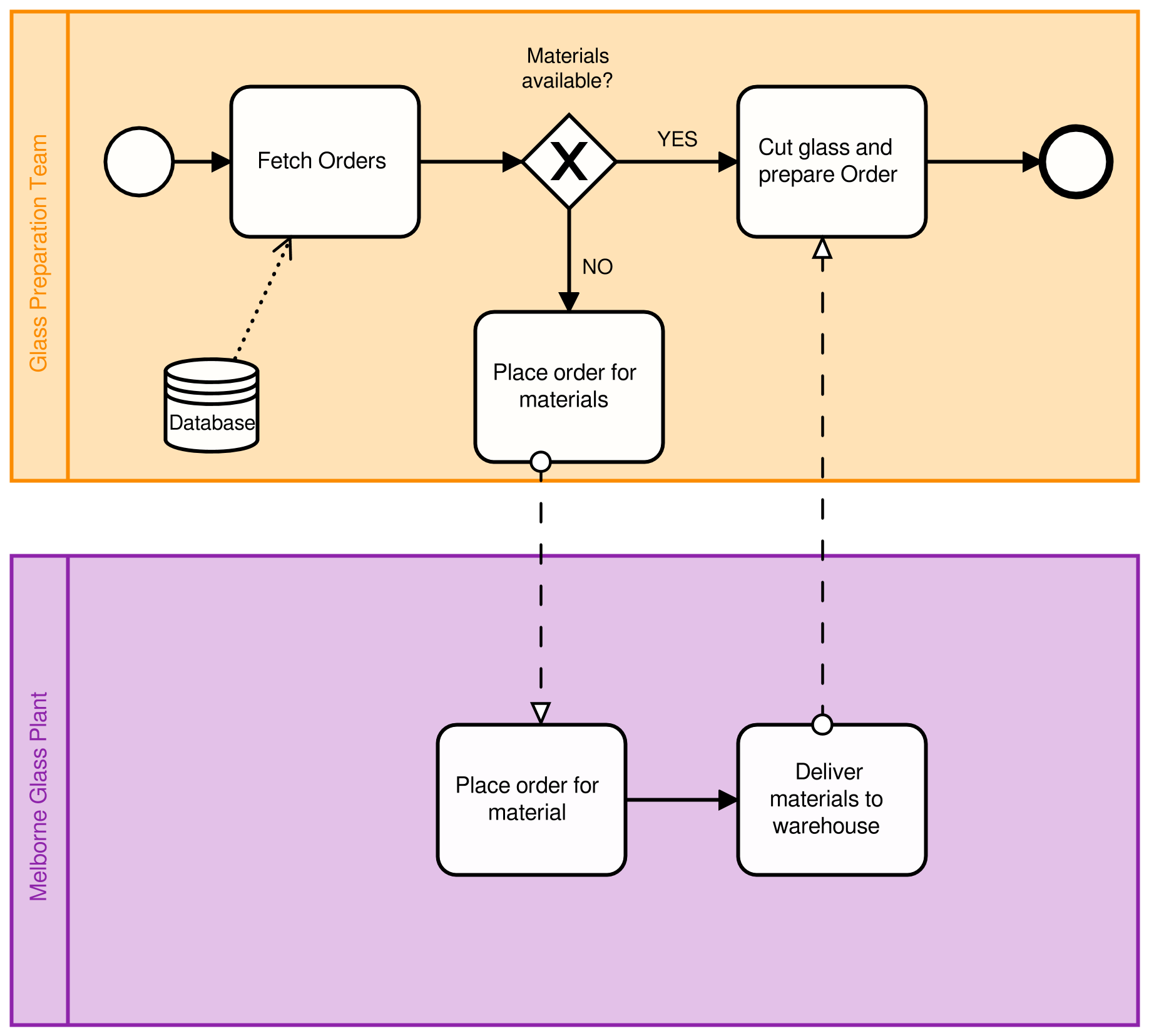 Figure 16 Business Process Model for Glass Preparation Using BPMN 2.0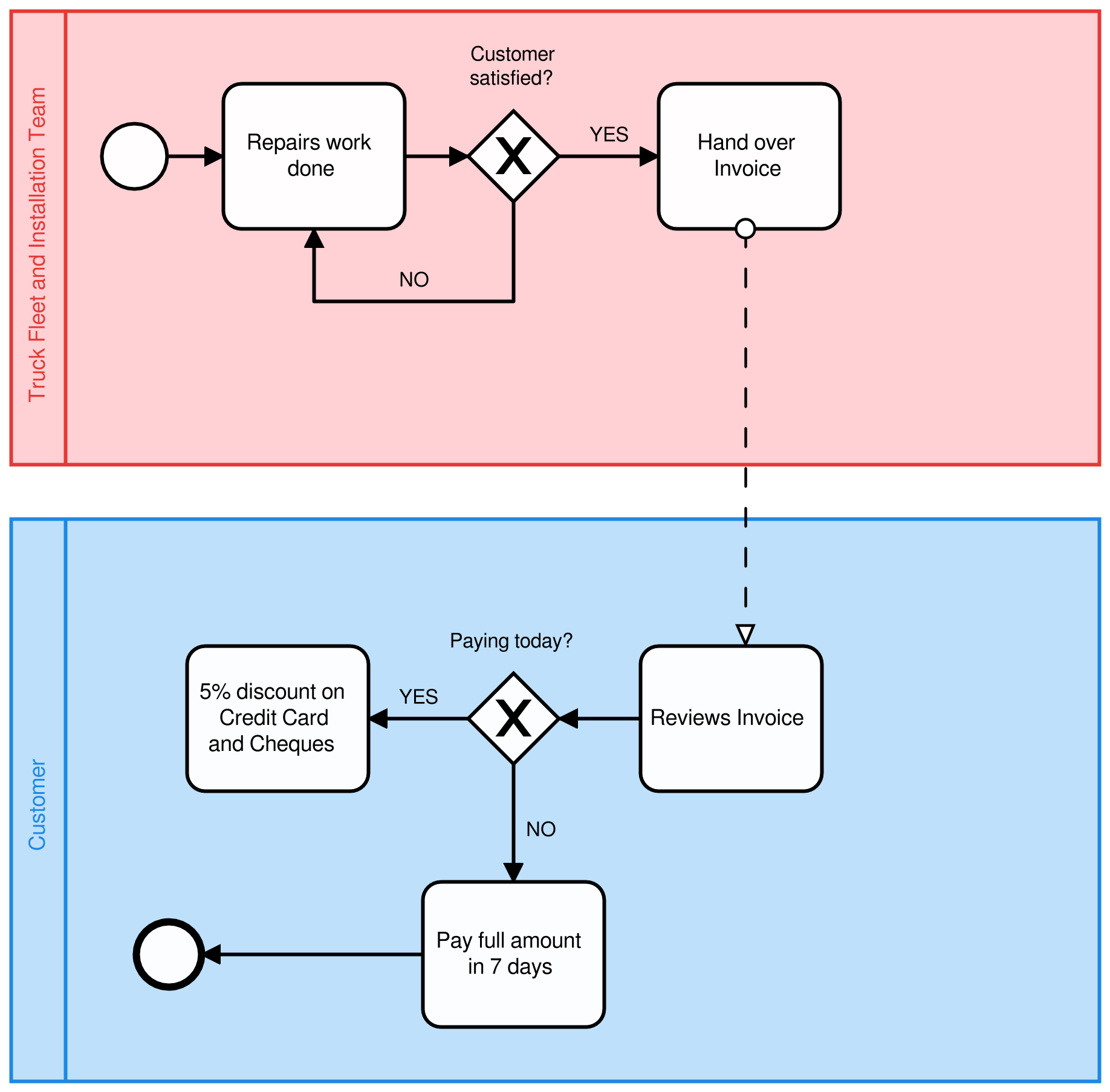 Figure 17 Business Process Model for repair work and payment using BPMN 2.0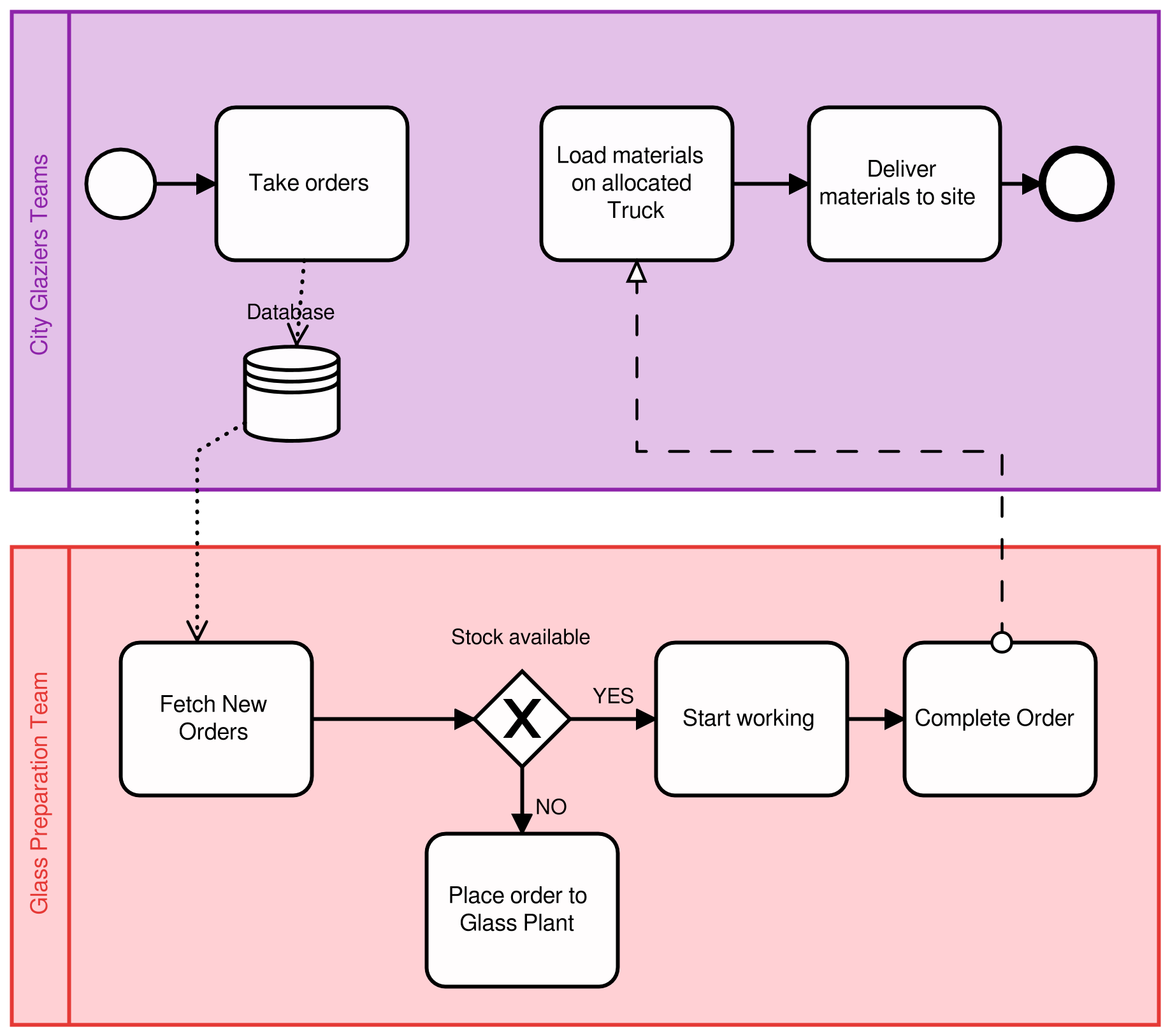 Figure 18 Business Process Model for Preparation Delivery of Orders Using BPMN 2.0
g. Sequence Diagrams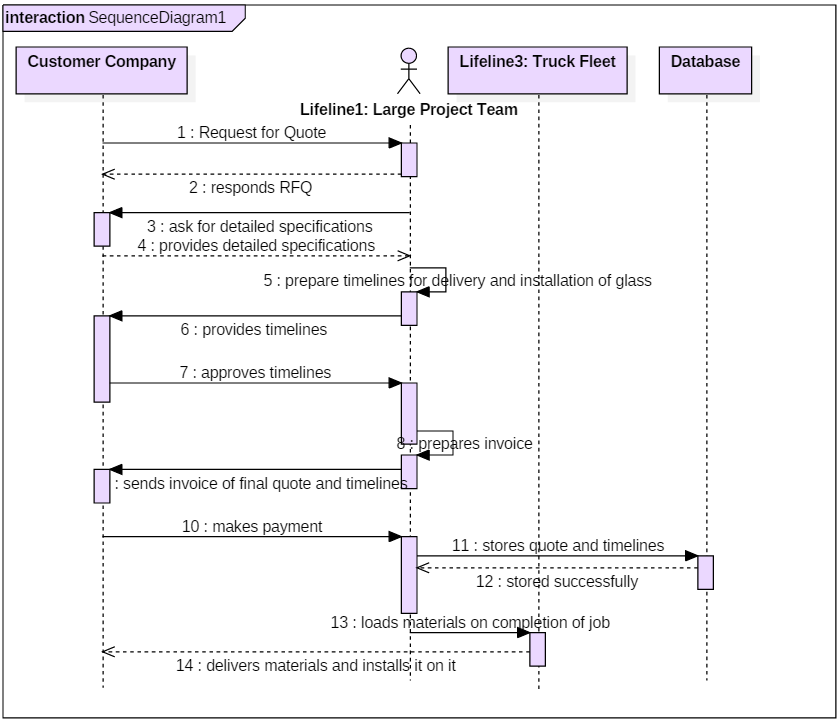 Figure 19 Sequence Diagram for Large Projects Orders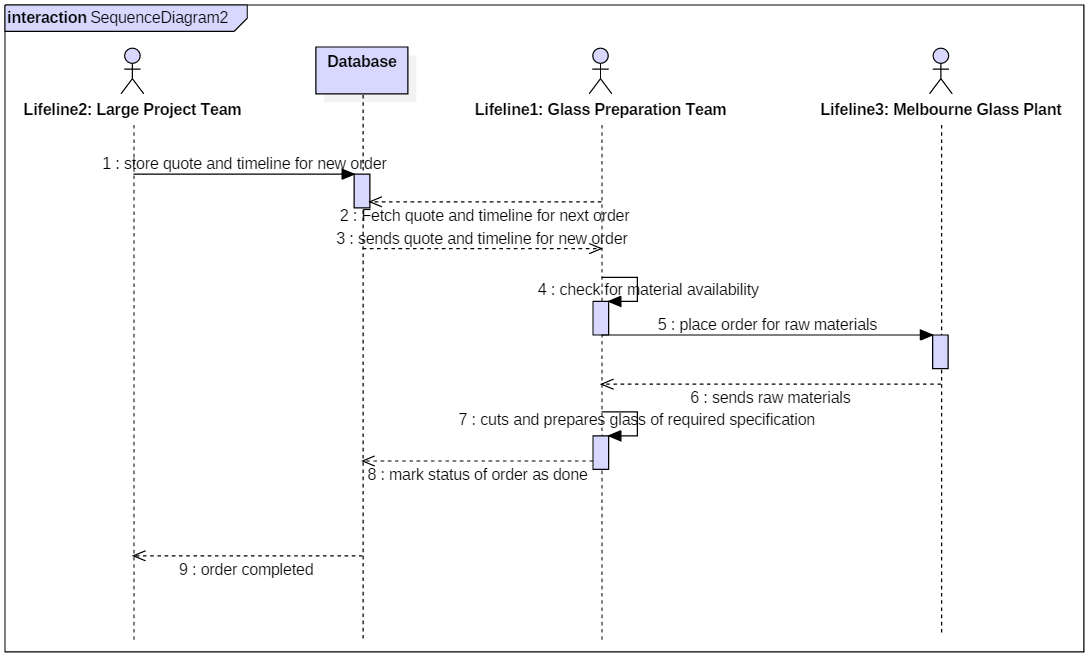 Figure 20 Sequence Diagram for Large Project Order Preparation and Completion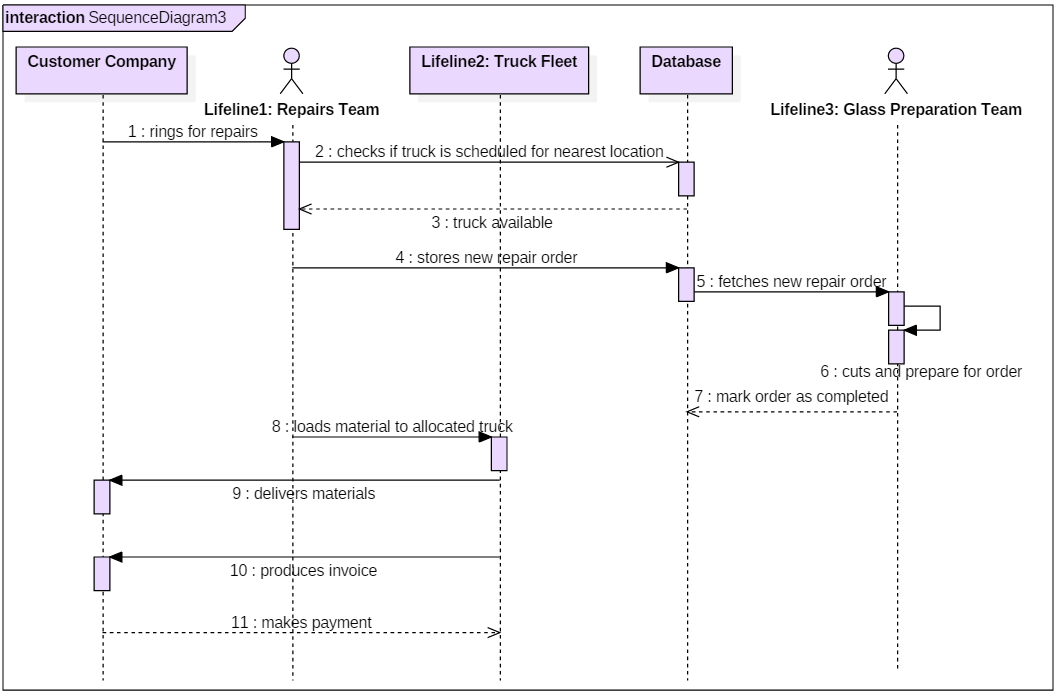 Figure 21 Sequence Diagram for Repair Orders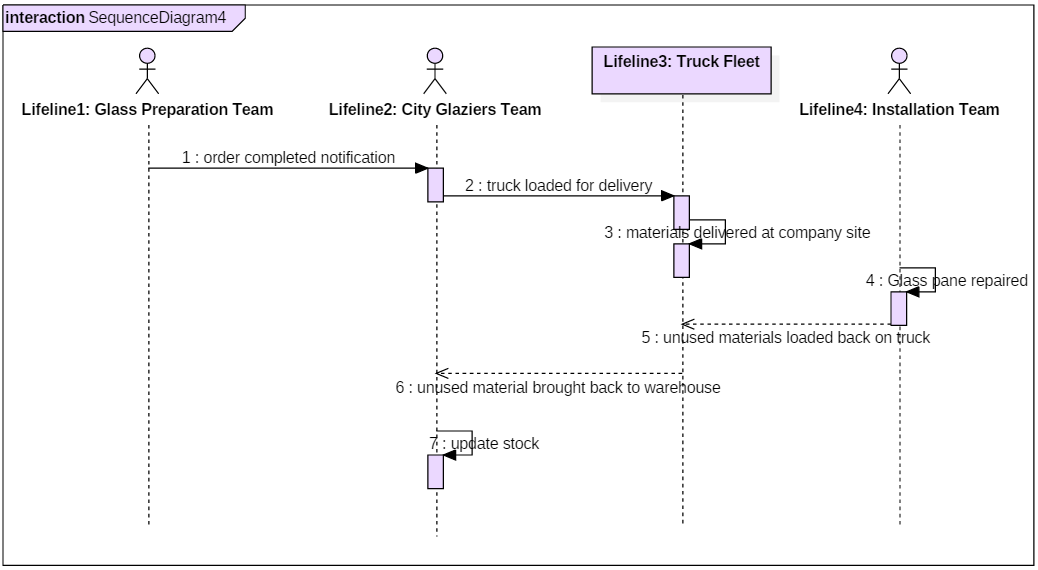 Figure 22 Sequence Diagram for Order Delivery and Installation
h. Interaction Diagrams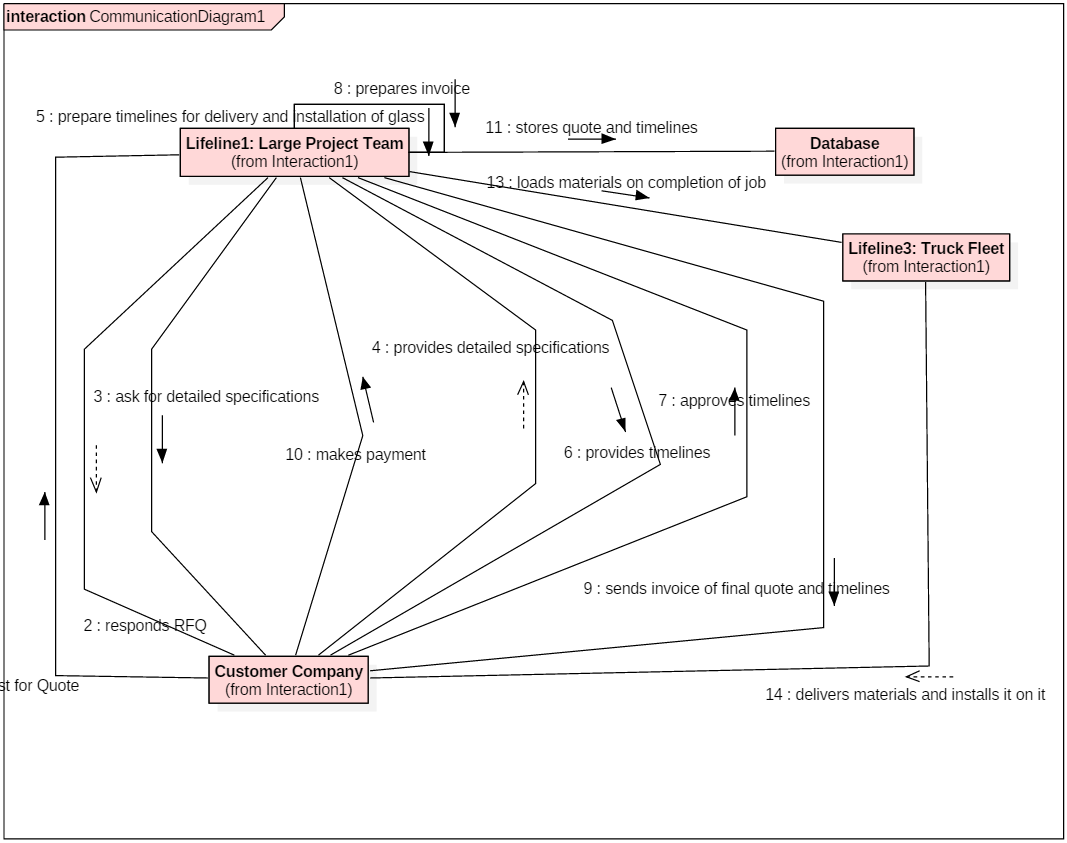 Figure 23 Interaction Diagram for Large Projects Orders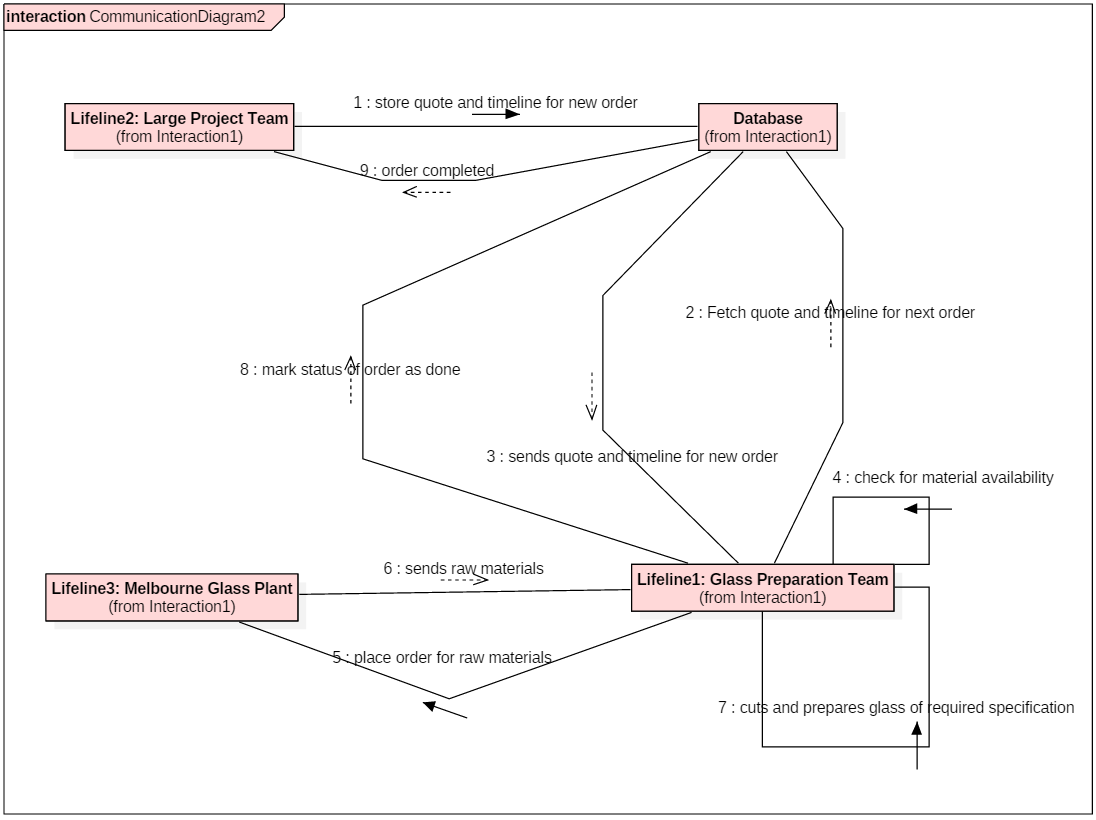 Figure 24 Interaction Diagram for Large Projects Preparation and Completion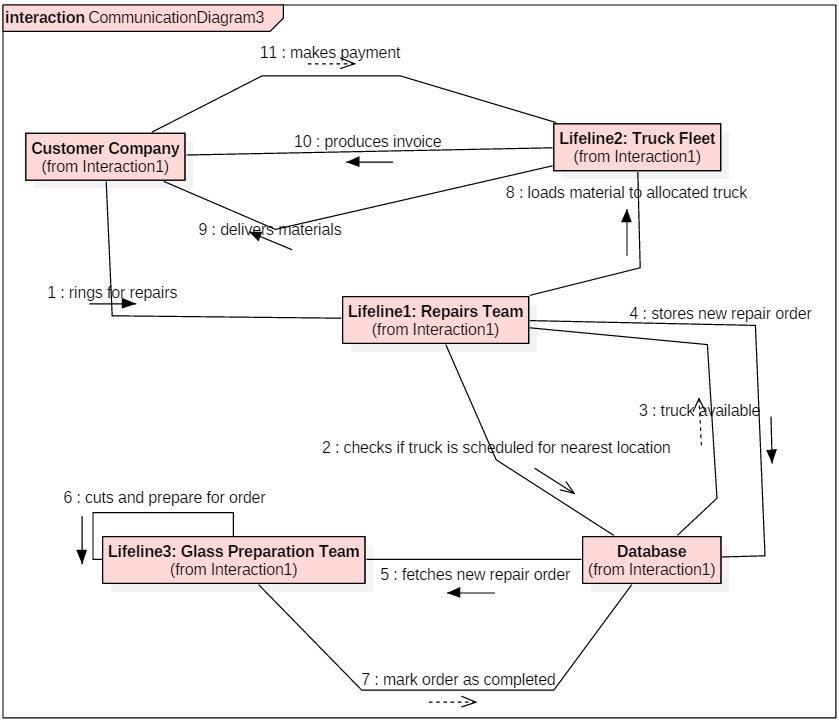 Figure 25 Interaction Diagram for Repair Orders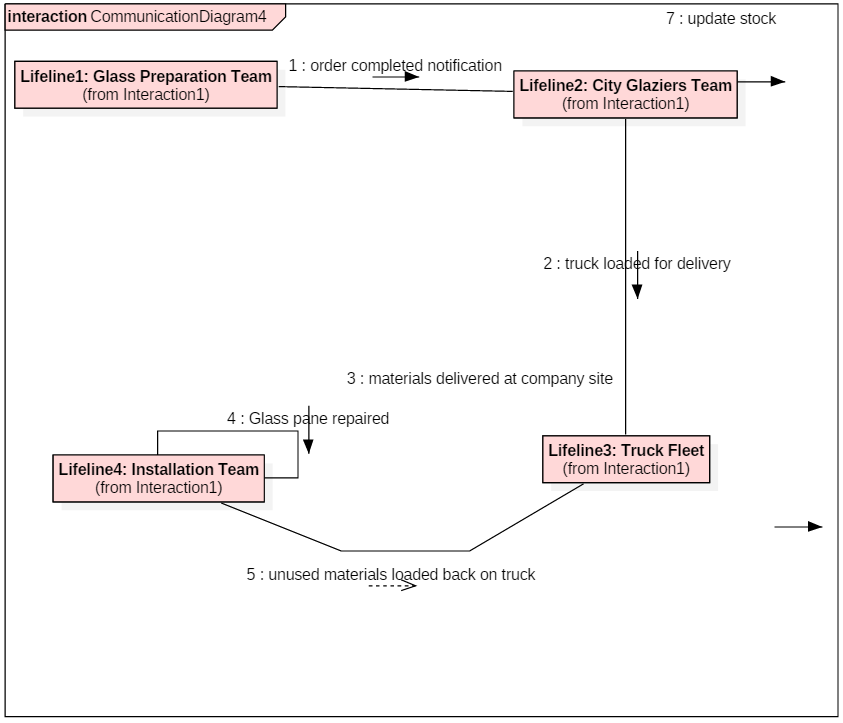 Figure 26 Interaction Diagram for Order Delivery and Installation
i. State Diagrams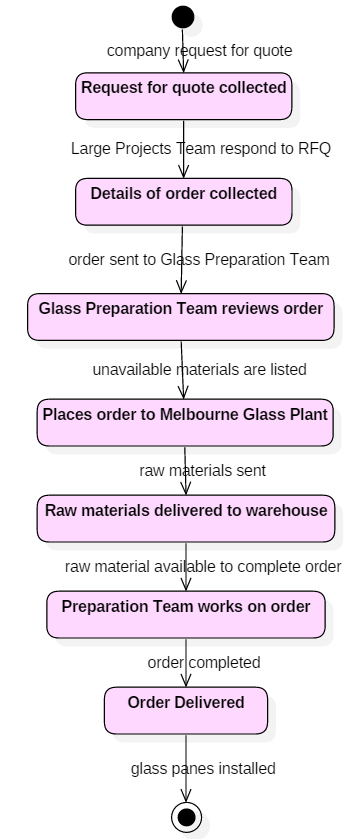 Figure 27 State Chart Diagram for Large Project Orders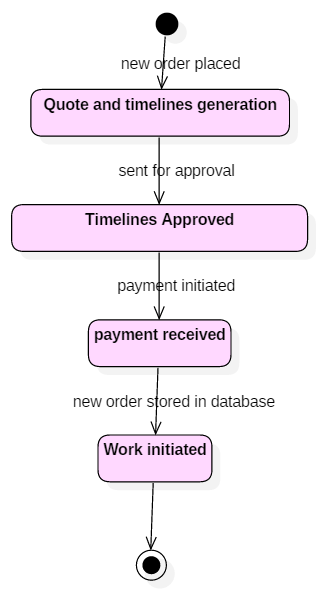 Figure 28 State Diagram for Large Projects Payments
Figure 29 State Chart Diagram for Repair Orders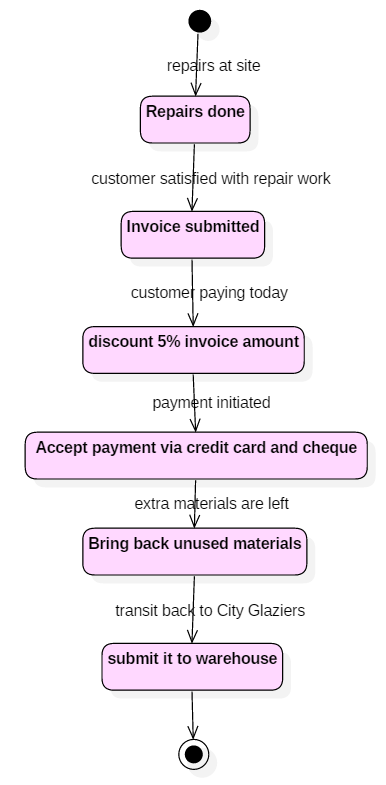 Figure 30 State Chart Diagram for Repair Works at Customer Site
References
[1] S. Winkler and J. von Pilgrim, "A survey of traceability in requirements engineering and model-driven development," city glaziers case study Software and Systems Modelling, vol. 9, no. 4, pp. 529-565, 2010.
[2] A. Zisman, G. Spanoudakis, E. Pérez-Miñana, and P. Krause, "Tracing software requirements artifacts," Proceedings of 2003 International Conference on Software Engineering Research and Practice (SERP'03), Las Vegas, Nevada, USA, pp. 448-455, 2003.
[3] E. Hull, K. Jackson, and J. Dick, Requirements engineering. Springer, 2010.
[4] I. Sommerville, "Software Engineering," Addison-Wesley, 2004.
[5] "Object Management Group Business Process Model and Notation," [Online]. Available: http://www.bpmn.org/ [Accessed on Oct 19, 2019].
[6] S. R. Faulk, "Software Requirements: city glaziers case study A Tutorial, software requirements engineering," IEEE Computer Society press, 2nd edition , 1997.
[7] IEEE. "IEEE Guide for developing system requirements specifications," IEEE Standard 1233-1998, Institute of Electrical and Electronics Engineers, 1998.
[8] N. Mehrdad, Document Engineering of Complex Software Specifications, city glaziers case study Thesis submitted in partial fulfilment of the requirements for the Master of Science degree in Computer Science. University of Ottawa, 2007.