Capstone Strategy assignment for Woodside petroleum limited Australia
Question
Task: How to use Capstone Strategy assignment research techniques to develop a capstone strategic plan for Woodside petroleum limited Australia.
Answer
Executive Summary
This Capstone Strategy assignment involves a summary of the organizational strategies of Woodside, Australia. However, apart from this, the report discusses the competitive strategy of the company. However, along with the strategy, the company's performance is measured with a solid description along with attaching a balanced scorecard of the organization based on their performance. The company has made a profit in recent years as per data. The growth strategy of the company is discussed here. However, growth strategy indicates the expansion procedure of the company. Growth strategy includes so many things such as increment of sales, building customer trust, and expanding the company nationally and internationally. Here, the growth strategy is crafted so that the company can grow its business where it doesn't enter its footprints. With the graphic representation of the balanced scorecard, it is clear that the company's running cycle is demonstrated. However, the report also involves a well-researched recommendation to grow the company's future performance.
Introduction
This Capstone Strategy assignment assesses and proposes a capstone plan for Woodside petroleum limited which is Australia's leading petroleum and Gas Company. This company is the operator of gas and oil production in Australia and it is Australia's largest independent energy company. Woodside is one of the huge companies in Australia. They have managed to supply 6% of the world's energy supply in recent years (Woodside, 2022). They are also operating globally in some countries. This report will help understand the strategy of the company better. This study will talk about the organizational strategy of the company. This study will discuss the competitive strategy and performance measurement of the company. Woodside is also known for their environmental performance in its operations. Woodside is committed to sustainable development. Woodside is also focused on developing a high performing workforce. The report about the Woodside Company will help to demonstrate the overall view of the company.
Summary of the Capstone Strategy assignment
The organizational strategy helps the business to grow more. It is long term coordination that helps the company to use the resources and operate the business activities. It is like a master plan for the company to achieve its purpose. All companies use this strategy to reach the goal of the company and develop plans. Here are a few strategies that companies use to shape their business. The Woodside petroleum company is focused to achieve its purpose through the organizational strategy. This company is focusing on developing the company as a bigger company. This company is the largest energy company in Australia (Woodside, 2022).
There are many organizational strategies that many companies use like focus strategy, growth strategy, and low-cost strategy etc. strategy. The Woodside Company is using a Growth strategy for their business. A growth strategy is where the company is trying to expand their business. This includes increasing the sales of the company or expanding the area for the sale. The Woodside Company is expanding its area of sales. They are not only selling in Australia they are selling in the market of Africa, Asia and Canada too.
The Capstone Strategy assignment research reveals this helps them to generate more profit from the business. This helps them to reach more people and sell more products. They are also trying to expand more markets in future which will help them to generate more profit and sell more products. Entering new markets brings new challenges Woodside is trying to deal with. It also brings new chances for the business and they are trying to grab those chances. They are entering the emerging markets of Asia which are profitable for them. The Asia market has many options for growth. They also have experience in the market for many times which will help them to generate profit and establish their business (David, David and David, 2021)
The Woodside also prompts sustainability which is in favor of them. As per interviews performed during this Capstone Strategy assignment, the Woodside Company says the world is changing so sustainable development is important. Woodside is focusing on sustainability to contribute to the future of the world. Sustainability will help them to make their existing and planned works successful. This strategy will help them to take advantage of the business. This strategy of the Woodside is a masterstroke. Companies and governments are focusing on sustainable development which is focused on the future. Sustainable development is important as it will help in the future. Westwood is focusing on sustainable development as it will help them to be profitable in the future. Petroleum companies are not focusing on sustainability so this is an advantage for the Woodside Company. They will surely get the advantage of this strategy.
The growth strategy is helpful for petroleum companies like Woodside, this will help them to grow in other countries and generate more profit.
Competition strategy
A competitive strategy is a long-term plan for the business. It is a marketing plan which is applicable for the long-term achievement of the business. The companies use this plan to gain a competitive advantage and defend their position in the market (Pappas and Woodside, 2021).
The competition strategy is important as there is intense competition in the market. The businesses should keep a high aim if not they can't compete with the competitions. The gas market is highly competitive so Woodside needs to have a competitive strategy for the business. The competitive strategy is built by proper analysis of the market and opponents. The strengths and weaknesses of the competitors are properly analyzed in this process. The needs, preferences and problems of the customers are analyzed to make a proper competitive strategy. If a company has a well-made competitive strategy, then they will make more good decisions and they can improve as a company. Oil and gas companies like Woodside need to have a proper competitive strategy to make the business go well. The oil and gas industry is a competitive market to deal with this highly competitive market Westwood needs to have a proper competitive strategy (ScienceDirect. 2022).
Woodside Petroleum is taking both operational and cultural strategies to gain a competitive advantage in the petroleum market. They think that it is time for giving a pace for the business. Woodside is taking on several new projects to be profitable in the market. They are focusing on the North American project as it will help them to supply the gas to the new markets. They are focusing on the African and Russian markets as it is an emerging market. They are focusing on supplying major Asian countries as a development plan (Elias et al., 2022). They are trying to adopt a strategy that is focused on maximizing the core assets of the company. They are also focused on commercializing the growth opportunities of the company. They are focusing on the marketing and commercial ability by making teams for them. They are hiring talents to get the core group stronger.
Performance measurement done on this Capstone Strategy assignment
Performance measurement is highly effective in helping organizations to keep track of their growth scale. Time to time performance management leads to better visualization of the ongoing performances which helps the organizations to find out potential gaps and fill it up strategically. Although the profit of 447 million dollars seems smaller than the usual profit, it is praiseworthy that despite the challenges faced in 2020 they have managed to grow business and gained the ability to generate funds and manage the cost in one of the most ambivalent conditions (McGrattan et al., 2021). Even in the most difficult times, they retained their ability to pay the full year total dividend of 38 cents per share. COVID-19 all over the world left a devastating impact in terms of business and its growth. All the industries across the world faced its consequences. (Jaakson, Aljaste and Uusi-Kakkuri,2019) They reported that they had to carry the loss of nearly 4,028 million as oil prices created uncertainty in the international market. Woodside here not only continued to supply but also set a new record regarding production and maximize its value in terms of its growth (Abban and Hasan. 2021). In the safety department, the Woodside Company has also achieved its best safety performance. In the year 2020, while the other companies were struggling with their performances within the market, Woodside here came up strong despite the challenges that were taking the company to its downfall. This was the year in which all the operations of the company had to go through some dramatic changes to cope with covid-19 and also had to protect their community and people. This is something very much praiseworthy in terms of performance as the conditions were beyond its control. In this risky environment, companies were getting premiums for timely decision making and also for good performance (Mohammed, Parsed and Baksh, 2021). This period was like a golden period for Woodside. That year Woodside started with a strong financial position and made sure that the company was ready to deliver all the necessary demands that the market was seeking for. Thus, they also saved the dying growth projects of the company. To make the Scarborough investment-ready, all the needed works were done and it was finally the time to hold for a year and make decisions regarding the final investments. In terms of the company's performance, they are noticing strong interest from customers in terms of export volumes that can also improve its development concept (Carter and Stickney, 2019).
On this Capstone Strategy assignment investigation, even in the year of the global pandemic when all the companies were facing difficulties and losses regarding their businesses, Woodside very bravely took the risk and came up strong. They maintained the balance sheet strong by generating about 1.8Billion dollars and managed the year with 6.7Billion of liquidity (Cycyota et al., 2020.). They also managed to gain a total profit of 447 million and all the credits go to the efforts of the entire team that worked hard in the most challenging year to improve the company's business (Woodside, 2022).
Balanced scorecard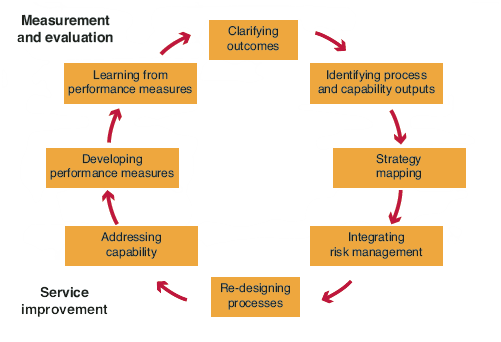 Figure 1: Balanced scorecard
(Source: Created by the learner)
This balanced scorecard has pretty much measured the aspects of their business. From clarifying outcomes, identifying process and capability outputs to re-designing processes, addressing capability, learning from performance measures etc. all can be very well understood with the help of this following diagram. This also helps in understanding their business ethics and the strategies they go through.
A summary of recommendations
The operations that Woodside undertakes are mainly characterized by strong LNG reliability, strong safety, cost discipline and the performance regarding the environment.
The strategies that Woodside should follow, must be associated with the strong foundations for the new growth of the organization and to be built strong as the future may be unfavorable.
There lie several opportunities and ways by which the company can enhance its growth in terms of performance in the future (Milkov,2022). They need to develop some attractive portfolios to attract investors and stakeholders to some of their projects.
However, the company should also be planning and getting ready for the right and correct opportunities to invest and order or to deliver new demanding products whenever the much-anticipated global market demands it.
Woodside needs to make sure that they hold a firm grip in terms of the business marketing advantages that they possess over the competition, such as operational excellence, resources in every possible field to grow the market, innovation in several technologies and in diversifying products etc. These all can come in handy and are very much helpful in growing the business overall (Pearlstein, 2020).
A project such as new gas and several energy projects in Pilbara have also been taken by the Woodside. However, these types of projects involve the overall development of the Scarborough Project, the company needs to take special care of this (Espegren, et al, 2021) these projects can help Woodside in several ways to grow its business and can contribute to the betterment of the organization as well. Apart from this, these projects will be ensuring the continuous supply related to the energy sources.
The FID (Final Investment Decisions) needs to be approved by Woodside regarding the Scarborough Project and Pluto Train 2 Project. Otherwise, the new domestic gas facilities undertaken by Woodside cannot be properly performed.
This Capstone Strategy assignment proposes that The Company should be mainly focused on providing energy solutions at an affordable price that provides value to the organization. They need to target governments, communities, stakeholders and many more. They should aim to develop a diversified portfolio by providing an energy supply chain at a low budget.
The climate strategy is another step they can take to grow and enhance their business as well. This is considered an integral part (Daowei,2022).
Woodside should understand that the world is in a necessity for low carbon energy at a low cost. This helps them to grow their business. They need to focus to grow their portfolio in terms of building new energy opportunities completely focusing on hydrogen and several ammonia projects. They also need to try to enter a market that uses carbon products and services at a lower cost. These several strategies and areas can enhance their business at a skyrocketing level and can also enhance their performance shortly.
Conclusion:
Woodside's success is mainly driven by their people and based on their culture. Woodside is committed to upholding its values of ownership, respect, sustainability and working together by retaining their diversity mentally and maintaining a high performing workforce. Their performance can easily be measured through the data of their work in the previous years. This Capstone Strategy assignment classifies Woodside as a strong example of hard work and teamwork.
References
Abban, A.R. and Hasan, M.Z., 2021. The causality direction between environmental performance and financial performance in Australian mining companies-A panel data analysis. Resources Policy,Capstone Strategy assignment, 70, p.101894.
Carter, W.R. and Stickney, L.T., 2019. A capstone for the capstone: An experiential exercise in strategic management. Journal of Management Education, 43(3), pp.233-261.
Cycyota, C.S., Heppard, K.A., Green, S.G., Heyler, S.G. and Harting, T.R., 2020. Intentionally designed capstone courses: A typology to enhance student learning. Journal of Education for Business, 95(7), pp.458-468.
Daowei, Z., 2022. Development prospects of the natural gas industry in the Sichuan Basin in the next decade. Natural Gas Industry B, 9(2), pp.119-131.
David, M.E., David, F.R. and David, F.R., 2021. Closing the Gap between Graduates' Skills and Employers' Requirements: A Focus on the Strategic Management Capstone Business Course. Administrative Sciences, 11(1), p.10. Elias, G.J., Boutet, A., Joel, S.E., Germann, J., Gwun, D., Neudorfer, C., Gramer, R.M., Algarni, M., Paramanandam, V., Prasad, S. and Beyn, M.E., 2021. Probabilistic mapping of deep brain stimulation: insights from 15 years of therapy. Annals of Neurology, 89(3), pp.426-443.
Espegren, K., Damman, S., Pisciella, P., Graabak, I. and Tomasgard, A., 2021. The role of hydrogen in the transition from a petroleum economy to a low-carbon society. international journal of hydrogen energy, 46(45), pp.23125-23138.
Jaakson, K., Aljaste, H.M. and Uusi-Kakkuri, P., 2019. Dimensions of organizational innovativeness and company financial performance in the biotechnology sector. International Journal of Manpower.
McGrattan, A.M., McGuinness, B., McKinley, M.C., Kee, F., Passmore, P., Woodside, J.V. and McEvoy, C.T., 2019. Diet and inflammation in cognitive ageing and Alzheimer's disease. Current nutrition reports,Capstone Strategy assignment, 8(2), pp.53-65.
Milkov, A.V., 2022. Pre-drill Assessments and Drilling Outcomes in Mexico in 2018–2022 and Historical Experience from Norway and the Netherlands: Lessons Learned and Recommendations for Future Petroleum Exploration. Natural Resources Research, pp.1-22.
Mohammed, S., Persad, D. and Baksh, K., 2021, June. Development and execution of Heritage Petroleum Company Limited's first offshore workover campaign-a case history of successful implementation of performance management. In SPE Trinidad and Tobago Section Energy Resources Conference. OnePetro.
Pappas, I.O. and Woodside, A.G., 2021. Fuzzy-set Qualitative Comparative Analysis (fsQCA): Guidelines for research practice in Information Systems and marketing. International Journal of Information Management, 58, p.102310.
Pearlstein, J., 2020. Team formation that models real-life: Teaching students to form better teams in the capstone and beyond. Journal of Education for Business, 95(6), pp.375-383.
Sciencedirect. (2022), Competitive Strategies: Organisational. Available at. https://www.sciencedirect.com/topics/computer-science/competitive-strategy#:~:text=Competitive%20Strategies%3A%20Organizational&text=In%20other%20words% 2C%20competitive%20strategy,competitors%20over%20the%20long%20term(accessed on 24th May 2022)
Woodside, A.G., 2020. Interventions as experiments: Connecting the dots in forecasting and overcoming pandemics, global warming, corruption, civil rights violations, misogyny, income inequality, and guns. Journal of Business, ResearchCapstone Strategy assignment, 117, pp.212-218.
Woodside. (2022). Home. available at. https://www.Woodside.com.au/sustainability (accessed on 24th May 2022)