Capstone Assignment: Understanding Organisational Strategy of Australian Post
Question
Task: You are required to write a 2000-word business report on capstone assignment in which you must apply learning's from the capstone topics to the organisation by undertaking additional research. Assuming the role of an organisational consultant, you are to write a report that clearly articulates the organisation's strategy and business model and outlines a detailed approach to Competition Strategy, how the chosen organisation's performance is/can be measured against their strategies. You will also be required to prepare a Balanced Scorecard for their chosen organisation.Attention should be paid to the use of secondary research and insights.
Answer
Introduction
This report brings out understanding of organisational strategy of "Australian Post", within potential form of organisational strategy. In this context, it brings out a clear understanding regarding their approach towards driving potential form of change in terms of lean structure with assuring potential business investment within proper organisational standards. It also states proper form of organisational approach of Australian-Post towards their competition form of strategy through incorporation of proper framework. Furthermore, it also discusses technique or organisational strategy of potential form of performance measurement of the organisation. It helps them to calculate the revue, operating income as well as their net income. Finally, is creates a balanced-scorecard for the organisation. It also provides suitable recommendations that can help in assuring creation of better organisational development strategy in Australian standards.
Organisation's Strategy
"Australian Post", previously known as "Australian Postal Corporation", comprises of a government-business enterprise that potentially delivers various postal services within Australian aspects. Their headquarters is present at Melbourne, in Victoria. Australian Post has been operating with their collective workforce of more than 50,000 individuals and works towards serving communities, corporations and businesses (Auspost.com.au, 2020). Due to advanced digitisation, Australian-Post's business has been subjected towards potential disruption making it difficult to adapt to digital era.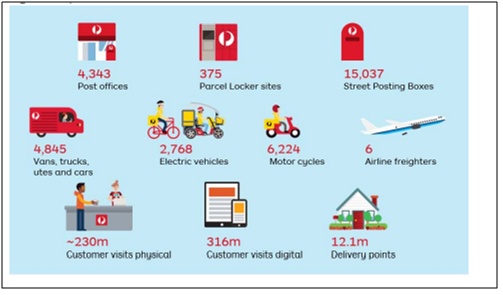 Figure 1: Operational asset-base of Australian Post
(Source: Auspost.com.au, 2020)
Their organisational strategy involves "Driving change with lean structure", along with proper language. In this context, over past four years the organisation has invested potentially in terms of technology, change culture as well as in its external and internal stakeholders. Their core business strategy remains on enhancing consumer experiences while concentrating on continuous form of innovation. For attaining this strategic approach, Australian-Post further selected as well as implemented the "Scaled Agile Framework (SAFe)", as a potential form of operating model and a change tool (Kharubet al. 2019).
Therefore, utilising this advanced strategic approach, the business leverages best possible lean as well as agile principles throughout the organisational aspects.
Their primary organisational strategic approaches are as follows
Establishing a consumer-centric culture in the organisation
Concentrating on potential metric for driving best possible business outcomes
Continuous progress for enhancing greater predictability aspects and performance
Assuring best possible stakeholder engagement and reducing business cost
Additionally, their organisational strategy also remains in "creating platform for personalised services", for their clients and consumers. It helps in suitable market and consumer segmentation within Australian standards. Through their "MyPost Consumer", a suitable Omni-channel platform, they provide personalised form of consumer services. Australian-post has been significant in terms of being "Customer centric", and works on analysing, identifying as well as fulfilling changing needs and requirements of their customers.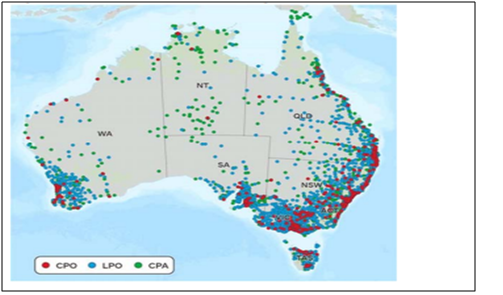 Figure 2: Post-office network base
(Source: Auspost.com.au, 2020)
Apart from the discussed above strategic approaches, Australian-Post tends towards continuously evolving along with developing aspects for fulfilling changing business requirements. It focuses on "continuous improvement", of the business and challenges itself for establishing next wave of potential trusted services for their consumers (Adelakun, 2020). Additionally, they enhance utilisation of adequate metrics in terms of enabling a high-level of transparency in business while assuring fact-based decision-making attributes to concentrate on attaining business outcomes. Apart from that their organisational strategy also works on driving "sustainable business change", through assuring better work culture in the organisation, enhancing potential technological enablement along with assuring cross-functional and long-running teams to deliver best possible consumer satisfaction within Australian delivery standards.
Organisations approach
Competition strategy
Australian-Post's business has been further disrupted and must potentially transform for incorporating proper business standards to enhance competitive advantage in the digital era. Traditional business pillars like letters have been facing persistent form of decline while organisation faces "fierce competition", but also potential scope with growth related to e-commerce aspects (Chen and Liu, 2019). For Australian-Post, their completion strategy enhances creation of potential sustainable form of competitive advantage through assuring trusted form of associations between different stakeholders. This section of the report will illustrate "Competition Strategy", of the Australian business through incorporation of "Porter's five force analysis"
Threat of New Entrains (Low)
Australian-Post has been serving their stakeholders since almost 208 years and has gained potential brand recognition. It enhances services including "Digital services, Express post" along with other financial and insurance services (Adelakun, 2020). Its diverse form of portfolio associated with parcels along with mails and unique concentration on consumer satisfaction makes difficult for new entrains to compete effectively with the organisation.
Supplier's Bargaining Power(Low)
Australian-Post involves potential suppliers and maintains social, environmental as well as ethical standards in their supply-chain. They have been working with transparency with their stakeholders, consumers as well as potential communities and includes range of different suppliers for their digital and insurance services. Thy enhance promoting ethical business along with suitable form of supply-chain practices. With relation to this, they work through maintaining and keeping an account of "United Nations Sustainable Development Goals" and are potential member of "Supplier Ethical Data Exchange (SEDEX)" (Rashidirad and Salimian, 2020). The organisation comprises of one of the oldest and positive reputation of brand in Australian context, which enhances that they can easily switch suppliers, therefore maintaining an efficient supplier-change, conducting fair work and trade while gaining a competitive advantage in market.
Buyer's bargaining power (Moderate)
The bargaining power of buyers is moderate in Australian-Post's business. This because corporate clients tends to buy or assess their postal services in large quantities, which potentially control proper access points of business. In this concern, buyers tend to threaten potential backward integration of the business, as substitutes exist in the market(Adelakun, 2020). This enhances that buyer's 'bargaining power' in this aspect happens to be moderate in this context.
Substitute Threats(Moderate to High)
It is important to note that "Substitute threats", associated with Australian-post tends to be moderate to high within the marketing standards(Chung and Kuo, 2018). This is because of substitutes such as "Pack & Send", which delivers services mostly quicker than average postal-services in Australia. Other price-friendly and local budget postal companies can lead to potential form of consumer or corporate client-switching aspects for the business of Australian-post.
Competitor's Rivalry (High)
Major competitors of Australian-post are the private-sector postal-delivery businesses such as "FedEx, Toll Holdings", and "Pack & Send", that operates in Australian standards and offers fast postal services to consumers and clients (Chung and Kuo, 2018). These companies are widely recognised in terms of their brand-reputation and tend towards marking a high business rivalry in Australian standards.
Performance measurement
Australian Post operates with revenue of 7.5 billion dollars as per DY2020. In this concern, their net business income in FY2020 has been 54 million dollars. They employ nearly 35,000 employees as per 2020 within Australian standards. Australian-Post tends to involve their front-line employees in terms of potentially facilitating quality improvement (Yinet al. 2020). It helps them to assure effecting form of business changes, which improves both consumer as well as employee satisfaction while reduce business expenses within present Australian context.
Additionally, Australian-Post assures incorporation of suitable form of business measures. It is followed through tracking and report of potential performance results through understanding their financial costs. "Suitable financial ratio analysis", conduction in the business standards, help the organisation to identify any type of extra or unnecessary costs. Australian Post assures understanding and an in-depth form of analysis regarding their financial statements and income statements. It helps them to calculate the revue, operating income as well as their net income. A proper "Financial Ratio Analysis", of their financial records help them to identify their fixed assets, selling expenses along with their interests as well as taxes.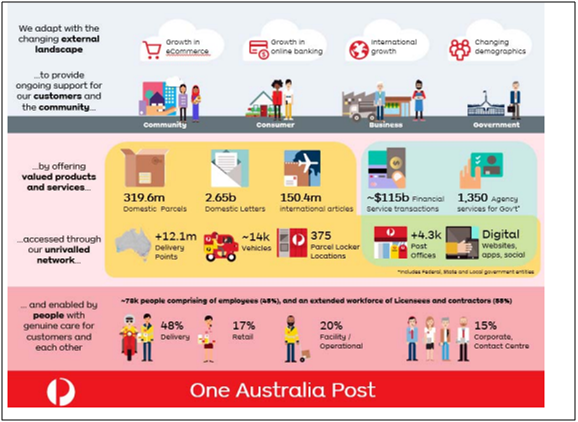 Figure 3: Operating Context
(Source: Auspost.com.au, 2020)
The organisation analyses primary factors and asserts major employee and operation monitoring and control, influencing potential performance. Furthermore, they tend to allocate best possible form of resource for driving best possible results. Australian Post tend to provide proper "Training and Development", activities for increasing employee education and skills and enhances risk-assessment (Laganàet al. 2021). The Performance of the organisation is measured trough utilising best possible financial as well as strategy analyses for identifying and properly analysing performance source (Auspost.com.au, 2016). It helps them to analyse both satisfactory as well as unsatisfactory source of performance.
Apart from the financial perspectives, organisational performance is also measured through "Industry analysis", which brings out difference between organisational strategy and industrial environment of the organisation. Finally, "Resource and Capabilities Analysis", helps in measuring the resources, which drives organisational performance, and help in providing best possible business performance within current organisational standards (Vadivel and Sequeira, 2020). thatTheir risk-management approach helps in calculating the anticipated and actual outcomes. It brings out the difference between organisational expectations, outcomes, and help in monitoring as well as potentially reporting business progress.
Balanced scorecard
| | | | | |
| --- | --- | --- | --- | --- |
|   | Objectives | Goals | Indicators | Initiatives |
| Financial perspective | Enhance long term corporate profitability for the postal-service | Enhance revenue growth and assure cost reduction (unnecessary costs) | The financial statements and ratio-analysis | Negotiate potentially with suppliers and identify extra costs while try to mitigate the same |
| Customer perspectives | Concentrate more on "Net promoter Score", and enhance better standards of consumer satisfaction | Increase postal-service efficacy and frequency | Feedback from consumers in the on-line portal and understanding consumer-turnover rate in the organisation (Laganàet al. 2020) | Enhance potential form of concentration on analysing and fulfilling consumer requirements with investing more on technological advancements, for increasing frequency of the postal delivery attributes |
| Internal Process perspectives | Providing more digital-based services and concentrating on research and development aspects within the organisation | Initiate incorporation of advanced digital technologies such as AI and VR for increasing business operation and tracking systems of the delivery | "Key Performance Indicators", and potential form of project-innovation reports within Australian Post (Vadivel and Sequeira, 2020) | Acquire best possible "software-managing products", and hiring potential IT experts for enhancing business internal-control and process-development within organisational standards. |
| Innovate & Learn Innovation Perspective | Providing awareness as well as training and development to employees | Provide potential coaching and mentoring at least twice a month by experts for enhancing employee skills within  the organisation | Assuring suitable form of assessment to employees for tracking the innovation and awareness among potential employees regarding changing business process | Tracking down internal processes while assuring strategic fluid communication within present organisational standards |
Recommendations
This section of the report provide potential recommendations, which analyses focus and opportunity regions for Australian-Post to enhance proper form of organisation performance in future aspects. It is important for Australian-Post to add critical form of network capacity as well as various capabilities that will enhance organisational flexibility (Boysenet al. 2019).It will help in analysing as well as fulfilling changing form of consumer expectations while maintaining best possible attributes of market leadership aspects. The organisation needs to strengthen their potential form of sales-capability for providing best possible consumer improved experiences. They need to, continuously rely on KPIs for investing in people as well as safety aspects. Additionally, it Australian Post needs to assure incorporation of "risk oversight and management", which will help in analysing potential risks associated with the organisation and delivery aspects (Chung and Kuo, 2018). In this concern, managing potential risks will help in providing best possible clarity to business roles as well as responsibilities for managing potential risks within organisational standards. Additionally, concentrating more on the "supply-chain management practices" will help in assuring best possible reliable suppliers (Yinet al. 2020). Focusing more on "competitors' analysis", will help in understanding their strategic approaches and help in enhancing business strategy for assuring better competitive edge in market (Laganàet al. 2021). Furthermore, wider form of delivery coverage within Australian standards will continue towards delivering faster as well as convenient service with a better coverage. It will also help in a wide consumer targeting and segmentation attributes and expanding the business.
Conclusion
It can be concluded that this report provides a clear understanding regarding Australian Post's approach towards driving potential form of change in terms of lean structure with assuring potential business investment within proper organisational standards. It also states proper form of organisational approach of Australian-Post towards their competition form of strategy through incorporation of proper framework. The organisation analyses primary factors and asserts major employee and operation monitoring and control, influencing potential performance, through enhancing proper performance measurement in the context. Finally, recommendations are provided for assuring delivering of better scopes for this organisation within Australian standards.
Reference List
Adelakun, A., 2020. Should Porters Five Forces have value in Businesses today. Computing for Business (BSC) Aston University Birmingham.
Auspost.com.au, 2016, Annual report, Viewed on 15/09/2021 from https://auspost.com.au/annualreport2016/business-performance.html
Auspost.com.au, 2020, Statement of Corporate Content, Viewed on 15/09/2021 from https://auspost.com.au/content/dam/auspost_corp/media/documents/statement-of-corporate-intent-2019-20-to-2022-23.pdf
Auspost.com.au, 2020, Tendering supply scopes, viewed on 15/09/2021 from https://auspost.com.au/about-us/tendering-supply-opportunities/general-goods-services/partner-with-post
Boysen, N., Briskorn, D., Fedtke, S. and Schmickerath, M., 2019. Automated sortation conveyors: A survey from an operational research perspective. European Journal of Operational Research, 276(3), pp.796-815.
Chen, J. and Liu, L., 2019. Profiting from green innovation: The moderating effect of competitive strategy. Sustainability, 11(1), p.15.
Chung, H.F. and Kuo, T., 2018. When and how managerial ties matter in international competitive strategy, export financial and strategic performance framework: a standardized or customized approach?. European Journal of Marketing.
Kharub, M., Mor, R.S. and Sharma, R., 2019. The relationship between cost leadership competitive strategy and firm performance: A mediating role of quality management. Capstone assignmentJournal of Manufacturing Technology Management.
Laganà, D., Laporte, G. and Vocaturo, F., 2021.A dynamic multi-period general routing problem arising in postal service and parcel delivery systems. Computers & Operations Research, 129, p.105195.
Rashidirad, M. and Salimian, H., 2020.SMEs' dynamic capabilities and value creation: the mediating role of competitive strategy. European Business Review.
Vadivel, S.M. and Sequeira, A.H., 2020. Enhancing the operational performance of mail processing facility layout selection using multi-criteria decision making methods. International Journal of Services and Operations Management, 37(1), pp.56-89.
Yin, J., Wei, S., Chen, X. and Wei, J., 2020. Does it pay to align a firm's competitive strategy with its industry IT strategic role?. Information & Management, 57(8), p.103391.