Business Studies Essay: Case Analysis Of Adidas
Question
Task:
Adidas
Adidas is a multi-national sports corporation that produces, designs, and creates sport clothing and accessories. Two German brothers, Adi and Rudolf Dassler, founded the company in 1924.
There is a vast industry involved in designing, making and distributing trainers (sneakers). It is an industry where supply chains are complex, and involve an extensive network of specialized operations, each focusing on the individual components that make up the shoes. A single part could have crossed back and forwards between several different countries before being assembled into the finished product, usually by hand. Most of the making is done in Asia, where labour costs are low compared with Western countries and where there is an immense and interconnected network of specialist manufacturers employing thousands of people. Most well-known brands have tended to concentrate on the design, marketing and distribution. Adidas, like most of its rivals, subcontracted the 'making' part of the total process (it had not run or owned its own manufacturing operations since the 1990s) but the network of suppliers it employs spreads over more than 1,000 facilities in 63 countries.
Yet, like other similar companies, Adidas faces some problems with its Asian outsourcing model. First, growing affluence in the area has resulted in rising costs. Second, the longer and more complex a supply network, the more difficult it is to oversee every single operation that contributes to the finished shoe, which opens any company to reputational damage if a supplier employs unacceptable working practices (although Adidas has a particularly thorough set of 'workplace standards' to which all suppliers must conform).
Adidas believes that people are at the heart of everything they do, and they want to empower them to exercise their rights and unlock their potential. This applies to all employees as well as the factory workers in their supply chain. Taking care of the well-being of those factory workers has been crucial to their supply chain management for decades. As a core minimum, they established 'Workplace Standards', a supply chain code of conduct. These standards are contractually binding rules applied to their suppliers' factories to cover workers' health and safety and to provide provisions to ensure environmentally sound factory operations. Drawing on international law and the International Labour Organisation conventions, they follow the model code of conduct of the World Federation of Sporting Goods Industry. First applied in 1997, they revised the 'Workplace Standards' in 2001, 2006 and 2016 in consultation with labour and human rights groups.
Although they have innovative approaches in place to systematically empower workers in the supply chain factories, in 2016 they piloted a set of new initiatives to better understand and respond to their needs as well as to develop suitable skill training programmes for them.
. You are required to write a business studies essay, to address the following:
How does environmental analysis influence Adidas in gaining competitive advantage? (Your answer should refer to environmental analysis tools such as PESTLE, SWOT and apply to case for identifying threats, opportunities, strengths and weaknesses)
What are the advantages and disadvantages of globalisation for Adidas and how might they change as a result of the COVID-19 pandemic? (Your answer should refer to Yips framework also and apply to case)
Critically analyse the influence of different types of Adidas stakeholder groups. Employees form part of Adidas stakeholder group. What is the corporate responsibility of Adidas towards employees and how might it be influenced by the COVID-19 pandemic?
Answer
Introduction
This business studies essay is going to focus on delivering environmental analysis, globalisation and stakeholder importance of Adidas with help of logical thinking and deliver possible discussion. Major importance of environmental analysis lies in analysing internal and external components, which constitutes potential influence on performance of an organisation (Adefarati & Bansal, 2019). It ascertains if goals defined through an organisation are attainable or not with present strategic approaches. Globalisation allows organisations to find lower-cost ways for producing their products (Walsham, 2017). Importance of Stakeholder concept lies in the fact that a stakeholder emphasizes active management of business environment, associations along with promotion of shared interests (Tumwebaze et al. 2021).
Adidas comprise of a multi-national sports organisation, which produces, designs as well as creates sport clothing and different accessories. They have been established in 1924 and their home country is Germany. Adidas employs 57,016 employees in global context, as per year of 2018. Total sales of Adidas as per fiscal year of 2018, has them revenue of 21.915 billion Euros (Adidas.co.uk, 2021). Their gross profit margin has been 12.293 billion Euros as per 2019. Adidas market share is in more than 160 different countries, being one of the largest footwear retailers in China, Europe and US (Adidas.co.uk, 2021).
Critical Discussion
Q1.
Environmental analysis is potential investigation of components both internal and external, which comprise of an influence on proper performance of an organisation. Success of an organisation further depends on proper environmental analysis, which leads to better decision-making ability within organisational standards in Adidas.
PESTLE Analysis
Political
UK comprises a stable government and constitutes of constitutional monarchy along with parliamentary democracy. Brexit can lead to negative impacts for companies like Adidas, that used to enjoy free trade with UK, former to Brexit (Perera, 2017). During COVID-19, "Job Retention Scheme", support for businesses can help Adidas for further growth and expansion the country.
Economic
In 2020, average form of inflation rate in UK has been 0.85% compared to 2019. Interest rates have been low to nearly 0.10% in March, 2020 whereas exchange rates have also become lower due to weakening of sterling (Pound). Gross Domestic Product", of UK has been $3.17 trillion as per 2020, thereby enhancing that the overall GDP has reduced since the previous years (Hobolt, 2018). Weakening of pound and reducing GDP negatively influences income of UK population.
Social
According to ONS, UK population is continue growing and will reach nearly 73 million by end of 2041. UK's GDP per capita income was at 40,406 dollars as per 2020 and it embraces diversity in their culture (Perera, 2017). People accept foreign brands and are great source for renowned companies like Adidas to expand their business.
Technological
UK has been incorporating best possible standards of technology and constitutes room for high-end advancing tech such as Artificial intelligence and design technology. It also incorporates digital and social media and is suitable for Adidas for assuring better outsourcing.
Legal
UK comprise of different legislations such as "Employment Rights Act, i1996", and "National Minimum Wage Act, 1998", and "Equality Act, 2010" that enables safety and equality of employees. Adidas need to adhere to these laws for assuring better business in UK's environment (Perera, 2017).
Environmental
UK government and private sector has been taking potential steps towards spreading awareness regarding recycling and less plastic waste and use of eco-friendly products and services. Adidas needs to adhere to these policies for ensuring a sustainable business.
SWOT Analysis
Strengths
Adidas consists of their huge brand reputation, which helps them to attract most consumers. Adidas's distribution network helps them in import and export and expands their business. They ensure saving up money through their Asian model (Intan et al. 2021). Their e-commerce presence enhances easy accessibility to consumers. Their best supply-chain management ensures better performance in global market.
Weaknesses
Adidas have expensive products and narrows down their customer segmentation. Their limited product line has restricted them within sports accessories. Low investments in celebrity endorsements lag them in terms of business growth (Adidas.co.uk, 2021). Their products are imitable that leads to cheaper alternatives for customers. Limitations in their product-mix restrict their business performance.
Opportunities
Adidas's investment in smart materials is better than traditional materials. Utilisation of technological advancements can assure Adidas of gaining competitive advantage (Intan et al. 2021). Global expansion helps Adidas in exploring unexplored markets. Increase in demand for premium equipment in sports can help increasing purchasing power. Finally, their effective marketing strategy can help in better branding for Adidas.
Threats
Increased competition with rival brands like Nike, Puma etc, can be troublesome for Adidas to expand their markets. Development in Asia, can lead to increase in their cost of manufacturing products. Counterfeit products, are taking up the market and can be major threat to Adidas (Adidas.co.uk, 2021). Expensive products can lead consumers to enhance brand switching. Their limited form of product line can open up market for new entrains, emerging as a potential business threat to Adidas.
Q2.
Globalisation is a potential process of interaction as well as integration among organisation, people and governments worldwide (Parlak & Uysal, 2020). It has caused a development in international trade along with exchange of potential ideologies, culture along with beliefs. Advantages for globalisation can ensure better development of international trade and assure best possible economic interaction process for Adidas. However, disadvantages will be disputes and major diplomacy growing in global context.
In present pandemic situation of COVID-19, Adidas needs to change their globalisation strategy for remaining competitive in business. Adidas's revenue decreased as of 19% in 2020. It is needed for them to rethink about their Asian outsourcing model. They need to emerge into African markets, and can ensure employment opportunities for African population that will require lesser requirements and assure "Corporate Social Responsibilities". Adidas needs to enhance "Merger and Acquisitions", with other renowned organisations beside Reebok, which will help in enhancing a collaborative approach to reach to newer consumer segments (Benevoloet al. 2020). They need to increase their sales through investing more on "Outsourcing", incorporating digital media and enhancing celebrity brand ambassadors. It will help up in regaining their popularity and assure best possible consumer attraction in global markets. Adidas needs to steer the market through sustainable sources of proper growth and profitability. Building a strong form of organisational immune system will be beneficial for Adidas rather than maximising any form of short-term profits.
Yips Globalisation Framework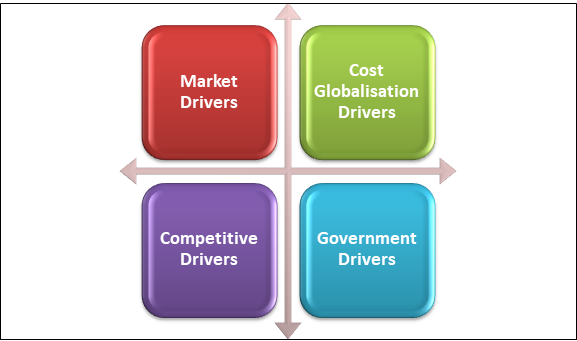 Figure 1: Yip Globalisation Drivers
According to Yip, there are four different sets of "Industry Globalisation Drivers", which underlie different conditions in every sector that establishes potential for a sector for becoming more global, therefore turning into better viability to an important global approach towards strategy. The four different sets are "Market Drivers", "Cost Globalisation Drivers", "Competitive Drivers", and "Government Drivers(Parlak & Uysal, 2020).
Market Drivers
Steady convergence related to consumer needs is first aspect of market drivers. It is important for Adidas to understand that, as customers are present in different parts of world, demand for similar sports products are rising. Cross-cultural differences must be analysed by Adidas in different parts of their operational countries, which will help in fulfilling changing requirements of consumers (Parlak & Uysal, 2020). Adidas also needs to assure transferrable form of marketing through enabling better outsourcing and digitisation
Cost Globalisation Drivers
Adidas deals with favourable logistics and assures best possible supply-management through third party supply outsourcing (Bloombergquint, 2021). Their country-specific business enables them to assure low labour expense and mark a value-based approach in developing markets.
Competitive Drivers
Primary competitors of Adidas such as Puma, Nike, Under Armour, consists of a very renowned brand image and fair market share in global context. It is essential for Adidas to adopt global strategy and go through competitive analysis for understanding their business operation (Adidas.co.uk, 2021). It will help to attract more consumers and assure business improvement. . Interdependence between their countries of operation is crucial for their business performance.
Government Drivers
Adidas needs to focus more on countries, which are within EU, which will enable free-trade policies and they can cut down excess material and labour expenses. For UK, business stores, Adidas need to employ local labour and assure adherence to UK government's policies such as equality act and non-discrimination act, which will help them achieve both sustainability and business growth.
Q3.
A stakeholder can be defined as a potential individual or a group, which consist interests in any activity or decision in an organisation (McGrath & Whitty, 2017). Government in host country for Adidas constitutes of their external stakeholders. Any change in policies and regulation influences their business in their country of operation. Suppliers are Adidas's major external stakeholders, which implies their resource material trade and assures smooth operations. Social community and banks are also external stakeholders of Adidas, which aids their finances and helps in providing better business performance. It is significant to note major internal stakeholder of Adidas is their employees, which makes up their business. Their leadership approaches influences their workforce, which in return influences their business performance (Abdollahi et al. 2019). Their internal management is their internal stakeholder, which ensures better organisational control and assures best possible audits for tracking their performance. Furthermore, most important external stakeholder of Adidas is their consumers. Analysing changing needs of consumer becomes important for fulfilling them, which brings better sales and revenues to Adidas.
Power Interest Matrix of Stakeholders
This 'power interest grid' of potential stakeholders is used for categorising potential stakeholders based on their proper power or influences and interests in project or businesses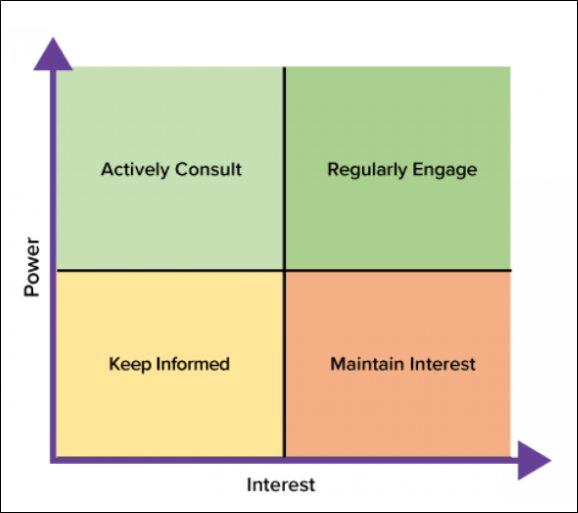 Figure 2: Power Interest Grid
Stakeholder is plotted on the grid in potential relation to power as well as interest that they contain in businesses. The plots are high power comes with high interests while high power can also come with low interests. Similarly low power can come with high interests and low power can come with potential low interests. Enhancing power-interest grid into Adidas's operation will help in developing potential stakeholder management strategies (He & Harris, 2020). Keeping informed regarding their decisions and market transparency will help Adidas to increase their power and keep their stakeholders interest high. Similarly, actively consulting with primary internal stakeholders, such as employees will result in business innovation and creativity. Actively engaging stakeholders to decision-making will enhance better leadership of the organisation (Bloombergquint, 2021). Furthermore, it is important for Adidas to analyse and maintain interests of stakeholders for assuring to retain them in order for better business performance. With developments in applications towards potential strategic management and its influence in performance, incorporation of this grid incorporation in Adidas helps it to analyse internal as well as external elements and to enable them for determining best possible strategic options, available to them.
Corporate Social Responsibility
Adidas assures "Corporate Social Responsibility (CSR)", to their employees through ensuring factory management and recording their monitoring results. They involve in transparency of their business and promote corporate transparency along with disclosure. They have also taken a "Global reporting initiative", to empower their employees and remove discrimination among their employees (Wang & Sarkis, 2017). They also motivate their employees through utilising community involvement and potential employee volunteering, thereby creating a healthy work environment that stimulates business engagement and achievement. However, due to COVID-19 pandemic situation, CSR is getting affected worldwide due to lockdown restrictions along with trade barriers (Bhardwajet al. 2018). However, Adidas unlike their competitors such as Nike and Under Armour has not announced any cuts in their workforce, thereby displaying best possible CSR attributes in spite of their worse influences to profitability margin (Adidas-group, 2021).
Conclusion
This essay has mentioned importance of environmental analysis and stakeholder concept in businesses. Globalisation is responsible for increasing global competition, cutting prices down along with establishing a bigger variation of consumer choices. It has introduced Adidas and discussed its year of establishment along with performance figures. Furthermore, it has also widened its illustration regarding external and internal environments. A proper SWOT analysis has been done, that illustrated potential strengths and weakness of Adidas. Furthermore, understanding of globalisation has been illustrated that comprehended strategies of Adidas during pandemic situation Yips framework has been illustrated and diagram has been provided. Finally, stakeholder importance is comprehensively analysed through this essay.It is counterparts to major business practices, which allows analysing and concentrate on stakeholder needs and improves business for assuring their satisfaction.
Identification of both external and internal stakeholders has been prioritised and power interest matrix associated with stakeholders is provided. Importance of CSR is illustrated and Adidas's CSR approach has been explained considering the COVID-19 pandemic situation.
Bibliography
Abdollahi, H. R., Hosseini, S. M., & Alimohammadzadeh, K. (2019). Stakeholder analysis using the matrix of interest-power in insurance industry: Case study of Hafez Atiehzasan insurance. International Transaction Journal of Engineering, Management, & Applied Sciences & Technologies, 10(7), 937. https://tuengr.com/V10/937.pdf
Adefarati, T., & Bansal, R. C. (2019). Reliability, economic and environmental analysis of a microgrid system in the presence of renewable energy resources. Applied energy, 236, 1089-1114. https://repository.up.ac.za/bitstream/handle/2263/72872/Adefarati_Reliability_2019.pdf?sequence=1
Adidas.co.uk, 2021, About Us, Retrieved on 29th June 2021 from https://www.adidas.co.uk/
Adidas-group, 2021, Adidas Online, Retrieved on 29th June 2021 from https://www.adidas-group.com/media/filer_public/2013/08/27/adidas_ser2007_online_en.pdf
Benevolo, C., Penco, L., & Torre, T. (2020). Global strategies and entrepreneurial firms: the role of the entrepreneur's features in the decision-making process. Business studies essay International Journal of Economic Behavior, 10(1), 79-95. http://ojs.uniurb.it/index.php/ijmeb/article/viewFile/2385/2133
Bhardwaj, P., Chatterjee, P., Demir, K. D., & Turut, O. (2018). When and how is corporate social responsibility profitable?. Journal of Business Research, 84, 206-219.http://orca.cf.ac.uk/125835/1/CSR.pdf
Bloombergquint, 2021, Adidas e-commerce, Retrieved on 29th June 2021 from https://www.bloombergquint.com/business/adidas-e-commerce-boom-helps-make-up-for-global-store-shutdowns
He, H., & Harris, L. (2020). The impact of Covid-19 pandemic on corporate social responsibility and marketing philosophy. Journal of Business Research, 116, 176-182.https://www.ncbi.nlm.nih.gov/pmc/articles/pmc7241379/
Hobolt, S. B. (2018). Brexit and the 2017 UK general election. Journal of Common Market Studies, 56(S1), 39-50. http://eprints.lse.ac.uk/90231/1/Hobolt_Brexit%20and%202017%20election_2018.pdf
Intan, G. N., Fitriani, L. A., Pradana, P., Kamila, R. W., & Fitra, V. D. (2021). Analisis SWOT Strategi Pemasaran Pada Produk Adidas Di Indonesia. Jurnal Manajemen Bisnis (JMB), 34(1), 174-183. https://ejournal.stieibbi.ac.id/index.php/jmb/article/download/248/72
McGrath, S. K., & Whitty, S. J. (2017). Stakeholder defined. International Journal of Managing Projects in Business. https://eprints.usq.edu.au/33158/1/Mcgrath_Whitty_AV.pdf
Parlak, B., & Uysal, A. K. (2020). The effects of globalisation techniques on feature selection for text classification. Journal of Information Science, 0165551520930897. https://journals.sagepub.com/doi/abs/10.1177/0165551520930897
Perera, R. (2017). The PESTLE analysis. Nerdynaut. https://books.google.com/books?hl=en&lr=&id=ZWpLDwAAQBAJ&oi=fnd&pg=PA2&dq=PESTLE&ots=Du91nM3yNC&sig=qPpBCOLL6vF_8dQ9AHVQiMPYTCI
Walsham, G. (2017). IT, globalisation and cultural diversity. In Information technology in context (pp. 291-303). Routledge. https://www.taylorfrancis.com/chapters/edit/10.4324/9781315187785-20/globalisation-cultural-diversity-geoff-walsham
Tumwebaze, I. K., Rose, J. B., Hofstra, N., Verbyla, M. E., Okaali, D. A., Katsivelis, P., & Murphy, H. M. (2021). Bridging Science and Practice-Importance of Stakeholders in the Development of Decision Support: Lessons Learned. Sustainability, 13(10), 5744. https://www.mdpi.com/2071-1050/13/10/5744/pdf
Wang, Z., & Sarkis, J. (2017). Corporate social responsibility governance, outcomes, and financial performance. Journal of Cleaner Production, 162, 1607-1616.https://www.sciencedirect.com/science/article/pii/S0959652617313112