Business Model Assignment: Case Analysis of Lister Hospital
Question
Task: You are required to write a 3000-word report on business model assignment on the case scenario of Lister Hospital. You must include logical and persuasive articulation of business model description; value proposition development; business operations development; supply chain development; competitive advantage; financial value capture and strategic fit.
Answer
Introduction
Every business depends on valuable customers. The profit of a business is directly dependent on the customers as well. Hence, every business organization works hard to gain the public's trust, and always tries their best to develop their products and services, to provide world-class services to their loyal customers.
From some past years, the healthcare industry is keeping increasing globally, by showing their potentiality in the life of living organisms. With the advancement of science and technology, the infrastructure of healthcare centres has developed magnificently. Not only has that, but the rate of the price of medical expenses also increased quite noticeably. With the increasing ailment of hospitals and growing population, many hospitals are now encountering numerous issues like work overload, overcrowding, and similar others. Lister Hospital, based in the UK, is not an exception at all (Lister Hospital – East and North Hertfordshire NHS Trust. 2020). The reputation regarding the ambulance facility of this hospital has gone down due to their delay cases from some past months. Even the doctors appointed within the hospital to take care of the geriatric section are also facing some troubles to meet their requirements due to the high workload.
The report has reflected on the innovative strategies, which have to be taken by an existing business organization. Here, Lister Hospital has been taken as an example to show its value proposition to mitigate the rising problems faced by them.
Business model description
A business model defines a core strategy adapted by a business organization to gain comparatively higher profit. The information regarding the products and services has been introduced by an organization to target markets, sell and other similar matters. The process of construction and modification of business models is also called business model innovation, which helps in the formation of business strategy (Carvalho et al., 2019).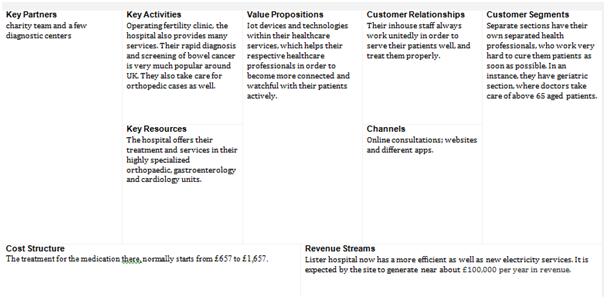 Figure 1: Business model canvas
Source: (Developed by the Learner)
The business model of Lister hospital is as followed below:
Key partners: The key partners of the hospital are their charity team and a few diagnostic centres.
Key activities: Lister hospital has become a reason for the smiles of many patients, mainly childless people. Their fertility centre is one of the largest UK's fertility clinics. Their success rate is very high in case of artificial fertilization.
Besides the main activity, i.e. operating fertility clinics, the hospital also provides many services. Their rapid diagnosis and screening of bowel cancer are very much popular around UK. They take care of orthopaedic cases as well (Carvalho et al., 2019).
Value proposition: Lister hospital introduces IoT devices and technologies within their healthcare services, which helps their respective healthcare professionals to become more connected and watchful with their patients actively. IoT devices are very much useful in the case for tracking the location of medical equipment like defibrillators, oxygen pumps, wheelchairs and some other similar medical equipment in real-time.
Key resources: The hospital offers its treatment and services in their highly specialized orthopaedic, gastroenterology and cardiology units. Along with the help of IoT devices, they offer a swift diagnosis to their patients. They also have expertise in more complex diseases like rare tumours, colorectal surgeries and some others as well.
Customer relationship: They give special care to their patients. Their in-house staff always works unitedly to serve their patients well and treat them properly.
Customer segments: As opined by Clinton and Whisnant (2019), customer segmentation is essential to separate the customers according to the same characteristics to serve them well. The Lister hospital used to separate the patients according to the age and disease of their patients. Separate sections have their separated health professionals, who work very hard to cure the patients as soon as possible. In an instance, they have a geriatric section, where doctors take care of above 65 aged patients.
Channels: Online consultations; websites and different apps are considered as various channels through which the customers of the hospitals are reached.
Cost structure: Different healthcare centres have their different individual cost structures, according to their infrastructure and patient-staff ratio. The treatment for the medication there normally starts from £657 to £1,657.
Revenue stream: As stated by Zhu, Johnson &Sarkis, (2018), after investing in the up-gradation of electric systems, which results in the inclusion of a new combined power plant and heat, Lister hospital now has a more efficient as well as new electricity services. It is expected by the site to generate near about £100,000 per year in revenue. Besides these, no such financial risks have to be faced by the hospital, as well as no upfront cost has been incurred by it to respond to the demand. They also don't have to pay any kind of penalties for this from their pocket, due to any kind of failures.
Value proposition development
The introduction of IoT devices is showing a new path to the treatment in a greater advanced manner. These devices help healthcare practitioners in a case for examination and determination of cases of different patients, which is creating a high demand in the field of healthcare service. Crucial information and data regarding health issues can be easily collected by IoT devices. This kind of innovative strategy helps in the revolution of healthcare services, by enabling the advance tracking of health conditions of different aged patients. Measuring of sugar levels, calories, monitoring of heart rate and similar other quantitative matters can be measured by IoT based devices easily and quickly as well (Moro Visconti and Martiniello, 2019).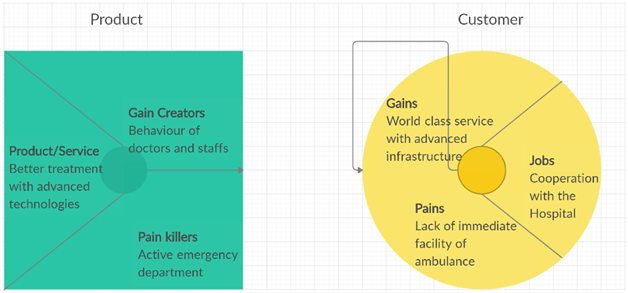 Figure 2: Value Proposition Canvas
Source: (Developed by the Learner)
The regular visiting of physicians to the house of patients can be spared by the monitoring and wearable equipment based on IoT modules. Due to its less time-consuming nature and by showing its effectiveness, it can be said that the usage of IoT based devices is known to be increased in the medical field, which can eventually open many scopes as well (Lopes et al., 2019).
Gain creator: It indicates how the services and products offered by the Lister hospital help the patients to gain. The doctors and staff behave so well with their patients and always do their best to cure them as soon as possible.
Product and services: This section implies how the new and developed products and services can create a gain of the patients as well as how they relieve the pain of the patients. The hospital provides comparatively better treatment to their patients with the help of their advanced technologies.
Pain reliever: It describes how they launched products and services by the Lister hospital that can help in pain relievers. The emergency department of the hospital always remains active to treat their patients and make them free from all disease-related pains.
Gains: It describes the benefits that a patient expects to receive and eventually which increase the likelihood of adaptation of value propositions by the hospital as well. By getting a world-class service from the hospital due to their advanced infrastructure, the patients go back home becoming a gainer.
Pains: It indicates the pain and suffering experienced by the patients, during the process of their treatments from the Lister hospital. Hence, the hospital is trying to make their ambulance facility faster and also trying to apply the proper treatment as soon as possible, so that the patients don't have to suffer much.
Customer jobs: It describes the social, emotional and functional tasks, which a patient tries to perform, to solve problems and get total satisfaction as well. On the other hand, the patients also have to try to cooperate with the hospital members as well.
Business operations development
With the advancement of science and technology, it has become necessary for the hospital industry to replace their old technologies with the new and advanced ones, to serve patients in a better way. The Lister hospital of UK also doesn't want to sit back in this era of competition. They have started to implement IoT based devices within their hospital to reduce the time taken for diagnosis and treatment. They also are looking forward to developing their ambulance facility as well (Delahanty, Kaufman & Jones, 2018).
Supply chain development
In the world of healthcare, the consumers refer to the patients and the products refer to the quality treatment they want. So, the Lister hospital has started developing its services from the ambulance facility to the indoor treatment with advanced technology to please their patients. They are trying to make their ambulance facility quicker. They are giving training to their staff to serve their patients properly with great manners (Kohl et al., 2020).
Financial value capture
The management of a hospital and its total expenses is not a matter of joke. According to the last report, the Lister hospital has recorded to expend £400 million a year.
Competitive advantage
The smart medical equipment helps physicians and doctors in providing personalized and highly accurate treatment to their patients. The modern devices help to do diagnosis quickly and more efficiently as well. These modern devices also provide themselves as cost-effective, as they help in the reduction of cost by reducing the routine check-ups from hospital-centric to home centric which eventually consume high rate of expenditures and high amount of time as well.
By showing these positive factors, the Lister hospital has now been focusing on installation on these kinds of modern devices to serve their patients in a better way.
Strategic fit
The strategic fit shows some degrees to an organization, which helps the organization to compare their capabilities and resources with the external factors and finally make decisions based on the analyses. Strategies are taken place by the comparison and matching and hence, an organization needs to have those capabilities and resources to support and execute their strategies (Oppel, Winter &Schreyögg, 2019).
Here in this scenario, Lister hospital should focus on the implementation of modern technologies, based on IoT, to save money and time both and provide the patients with better treatment and care as well.
Identification and assessment of assumptions and uncertainties
Before or during the time of implementation of some changes, it is quite obvious that the organisation needs to face some obstacles. Every new thing comes with both positive and negative sides. The implementation of IoT based devices, replacing the old technologies is not an exceptional case as well (Schultz et al., 2019).
Here in this scenario, the Lister hospital is currently facing some problems as well. They have been trying to implement IoT based devices within their hospital to save time and provide their patients with better treatment and services. However, the shortage of properly-knowledgeable technicians, to operate these advanced technologies has become an obstacle.
Phased development plan to address uncertainties
The introduction of IoT devices is showing a new path to the treatment in a greater advanced manner. These devices help healthcare practitioners in the case for examination and determination of cases of different patients, which is creating a high demand in the field of healthcare service. Hence, it is very much important for the Lister hospital to have that kind of capabilities and resources to execute and support their plans. The government of UK should open more institutions to teach more students about the usage of modern technologies and become handy for the healthcare centres. However, the Lister hospital has appointed more knowledgeable technicians to operate these modern technologies smoothly (Franco and Alfonso-Lizarazo, 2020).
Selection of innovation tools and techniques
To mitigate the uncertainties, some strategies need to be taken by the hospital. Five strategies can be adapted by the hospital in this scenario.
Firstly, the value proposition canvas has to be used to refine the existing products and services, to fight against the external factors. The second tool is the business model canvas, which helps to manage the functional sector of the hospital to make strong strategic plans to achieve goals. The third tool is the Innovation Mode, introduced by David Bland, which can help the hospital to reduce the existing risk and increase the rate of profit as well. The Quantitative Value Proposition can also be considered as the fourth tool, measured by the hospital. This tool can encourage the hospital to launch new and developed products and services in the relevant field to stay in a steady position. The last and final tool is Porter's five forces which emphasize on the five factors related to the relationship among the suppliers, hospital and their clients (Strout et al., 2018).
Candid and critical self-analysis
While considering the present report, I have gained immense knowledge. I came to understand the management of huge properties, the creation of technological demand and the importance of time and money management as well.
Conclusion and recommendation
The study has reflected the innovation of the hospital industry. To understand the crisis and demand of this industry, the Lister hospital of the UK has been taken as an example. The business model and the value proposition model have been described briefly, to know about their product and services. The strategic fit has also been described to know the matching factor between the hospital's capabilities with the external factors. The uncertainties and strategies adopted by the hospital to mitigate the uncertainties have also been discussed. Some recommendations have also been given to improve their services as well.
Recommendations
The hospital should start implementing more IoT based technologies to provide better services to the patients.
They should maintain a quick ambulance facility as well.
They should hire more knowledgeable lab technicians, who can operate these modern technologies smoothly.
References
Carvalho, J. V., Rocha, Á., van de Wetering, R., & Abreu, A. (2019). A Maturity model for hospital information systems. Journal of Business Research, 94, 388-399.
Carvalho, J. V., Rocha, Á.,Vasconcelos, J., & Abreu, A. (2019). A health data analytics maturity model for hospitals information systems. International Journal of Information Management, 46, 278-285.
Clinton, L., &Whisnant, R. (2019).Business model innovations for sustainability.In Managing Sustainable Business (pp. 463-503).Springer, Dordrecht.
Delahanty, R. J., Kaufman, D., & Jones, S. S. (2018). Development and evaluation of an automated machine learning algorithm for in-hospital mortality risk adjustment among critical care patients. Critical care medicine, 46(6), e481-e488.
Franco, C., & Alfonso-Lizarazo, E. (2020).Optimization under uncertainty of the pharmaceutical supply chain in hospitals. Computers & Chemical Engineering, 135, 106689.
Kohl, S., Schoenfelder, J., Fügener, A., & Brunner, J. O. (2020). Correction to: The use of Data Envelopment Analysis (DEA) in healthcare with a focus on hospitals. Health care management science, 23(1), 170-170.
Lister Hospital – East and North Hertfordshire NHS Trust. (2020). Retrieved 28 September 2020, from https://www.enherts-tr.nhs.uk/hospitals/lister/ Lopes, C. M., Scavarda, A. J., Vaccaro, G. L. R., Pohlmann, C. R., &Korzenowski, A. L. (2019).Perspective of Business Models and Innovation for Sustainability Transition in Hospitals. Sustainability, 11(1), 5.
Moro Visconti, R., &Martiniello, L. (2019).Smart hospitals and patient-centered governance. Moro Visconti, R., &Martiniello, L.(2019). Smart hospitals and patient-centered governance.Corporate Ownership & Control, 16(2).
Najmi, K., Kadir, A. R., &Kadir, M. I. A. (2018).Mediation effect of dynamic capability in the relationship between knowledge management and strategic leadership on organizational performance accountability. International Journal of Law and Management.
Oppel, E. M., Winter, V., &Schreyögg, J. (2019). Examining the relationship between strategic HRM and hospital employees' work attitudes: an analysis across occupational groups in public and private hospitals. The International Journal of Human Resource Management, 30(5), 794-814.
Schultz, C., Graw, J., Salomo, S., &Kock, A. (2019).How project management and top management involvement affect the innovativeness of professional service organizations—an empirical study on hospitals. Project Management Journal, 50(4), 460-475.
Strout, T. D., Hillen, M., Gutheil, C., Anderson, E., Hutchinson, R., Ward, H., ...& Han, P. K. (2018). Tolerance of uncertainty: A systematic review of health and healthcare-related outcomes. Patient education and counseling, 101(9), 1518-1537.
Tanniru, M., Khuntia, J., & Weiner, J. (2018).Hospital leadership in support of digital transformation. Pacific Asia Journal of the Association for Information Systems, 10(3).
Walker, D. M. (2018). Does participation in health information exchange improve hospital efficiency. Health care management science, 21(3), 426-438.
Zhu, Q., Johnson, S., &Sarkis, J. (2018, January). Lean six sigma and environmental sustainability: a hospital perspective. In Supply Chain Forum: An International Journal (Vol. 19, No. 1, pp. 25-41). Taylor & Francis.