Business Model Assignment: Deconstruction of Cure. Fit Business Model Canvas
Question
Task: To be completed individually, you are required to prepare a business report that deconstructs an organisation's business model and identifies the critical success factors that make the business sustainable. Your analysis will demonstrate your critical thinking skills and your ability to professionally articulate your findings. Before commencing, you must seek your lecturer's approval to undertake an analysis of the business you have chosen. The type of organisation that should be identified for study is one that is relatively new, innovative in how they operate, and have most likely been established in the last five years.
To achieve a result that meets your study objectives, please ensure the business report addresses each of the assessment criteria detailed below and which is elaborated in the marking rubric.
Answer
Introduction to CureFit
Cure. Fit is a fitness and health company providing offline and online experiences across nutrition, fitness and mental health regimes in Bangalore, Karnataka. It was founded on 1st July 2016 by Mukesh Bansal and Ankit Nagori. Fitness has been given a new meaning for people who want to lead a healthy lifestyle by Cure. Fit. It provides a wide variety of exercise classes led by trainers. It aims to make workout easy and fun, routine food tasty and healthy, mental wellbeing easy with meditation and yoga along with making lifestyle and medical care stress-free (Kashyaap,2017).
As per Crunchbase Inc(2020), the total funding raised by Cure. Fit till 23rd March 2020 is $404.6 Million. Anexclusive HRX workout with Bollywood Actor Hrithik Roshan has been launched by the company. Heis also the brand ambassador of Cure. Fit.It has also acquired fitness club The tribe, online food company Kristy Kitchen and a start up Opinio from B2B logistics. Furthermore, it has also marked its presence on the online platform by launching an app which comprised of three sections – cult.fit for being physically fit, mind.fit for mental health, eat.fit for guiding the intake of healthy and nutritious food and diagnostic centers through care.fit. The goal of the company is to build robust preventative health care facilities. Deconstruct the business model of the Cure. Fit using the nine building blocks in Osterwalder & Pigneur's Canvas Model 2010 The Business Model Canvas is used to get a comprehensive view of a business. It has been used as a tool for introducing innovations in existing and new business models. It is meant to be used by a group of people for brainstorming, developing new models or discussing, assessing or transforming the current business model. It is categorised into four elements –the offer, client, financeandresources (Nikou & Bouwman,2017).These components are further bifurcated into nine blocks; each of them is interrelated with theother as illustrated in Figure 1.
 

 

Designed for:

Designed by:

Date:

Business Model Canvas

Cure.Fit

 

XYZ

 

03/04/2020

 

 

 

 

 

 

Key Partners

Key Activities

Value Propositions

Customer Relationships

Customer Segments

It refers to a network of partners and suppliers who help Cure. Fit in creating value propositions. Its key partners and investors are its founders Mukesh Bansal and Ankit Nagori who had infused a huge investment of $3 million for its expansion. It supplies healthy food to its consumers and also helps in redesigning the kitchens which can create a hygienic environment.

 

Key actions have to be performed for creating and offering a value proposition. The complete health package of Cure. Fit consists of cult. Fit for being physically fit, mind. Fit for mental health, eat. Fit for guiding the intake of healthy and nutritious food and care. Fit for diagnostic centres. So, its unique health services are different from those provided by its competitors.

It shows what kind of value is delivered to the consumers of Cure. Fit and why they should choose their products and services over others. Cure .Fit provides an integrated model of fitness and health to its consumers.

 

It pertains to how the company interacts with its Customer Segments. It shows the relationship between Cure. Fit and its consumers. Some of the examples are the creation of a platform on which the members can share knowledge about being fit and eating healthy food and personal assistance of trainers to each member.

They are an easily accessible set of clientele having similarities in their attributes, behaviours and needs. The main customer segments in Cure .Fit are people aspiring to live a healthy lifestyle and those seeking appropriate information about mental and physical health, food and fitness.

Key Resources

Channels

These are essential assets meant for creating and offering the value proposition(Joyce & Paquin, 2016). The key resources of Cure .Fit are its fitness centres and trainers comprising of Zumba and Yoga experts, weight lifting champions, boxers and pro-fighters.

 

They are interfaces through which Cure. Fit interacts with its consumers for delivering value proposition. This process is initiated by creating awareness amongst the target audience about how to remain fit and healthy for a lifetime. It is then followed by building a health care structure and providing online and offline assistance to its consumers in the form of gyms and through Cure. Fit mobile application (Kargari & Asadi, 2017).

 

Cost Structure

Revenue Streams

The cost structure deals with the fixed and variable costs associated with training, personnel, installation and maintenance cost for providing goods and services to the consumers (Annanperä, Liukkunen & Markkula, 2015).

 

The revenue of Cure .Fit is generated from its consumers through the subscriptions, fees and advertisements.

 

 
Figure 1: The Business Model Canvas by Osterwalder & Pigneur
(Source: Business Models Inc.,2020)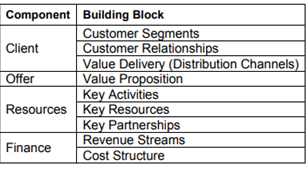 Figure 2: The nine building blocks of Business Model Canvas
(Source: Kimble, 2015)
Explain the key interrelationships that exist across the nine building blocks
The nine blocks of business canvas are interconnected to each other. The customer segments are the target audience (i.e. the consumers who aspire to lead a healthy life) whom CureFit plans to offer value propositions with its products or services. The value propositions pertain to how the consumer segments will derive value from offerings of the company and how they can be differentiated from its competitors (Hoveskog, Halila, Mattsson, Upward &Karlsson, 2018). Its fitness chain Cult. Fit offers an exclusive training model through which the trainers match various formats for delivering fitness regimes to their consumers. These are designed according to the personal needs of the consumers.
The model focuses on no machine training and trainer-led groups which can surely change the perception about the fitness industry. CureFit has several mediums to deliver its value propositions like cultfit, eatfit, mindfit and carefit. Moreover, CureFit also maintains relationships through its consumers through its online and offline platforms. The revenue of CureFit is generated through its value propositions in the form of subscription fees, services provided through its diagnostic centers and sale of healthy food. Its key resources are its fitness and diagnostic centers, equipment and trainers through which it delivers services to its consumers.
The key activities essential for the business to succeed are continuous innovations in the fitness regime by the company. They also affect the cost structure of the company. The key partnerships are obtained by the founders through establishing networks with those investors that can assist them in helping the business succeed. Lastly, the cost structure of CureFit is related to the cost associated with the delivery of services and products to the consumers as well as the maintenance charges and personnel costs of the trainers and staff (Dudin, Kucuri, Fedorova, Dzusova & Namitulina,2015). Identify and discuss the critical success factors CureFit has to get right to achieve sustainable success
The three crucial factors are essential to accomplish sustainable success viz. commitment to advancement, commitment to leverage and commitment to engagement. The commitment to advancement pertains to the consistency of measuring and reporting the innovations of business so that the scope of improvement can be identified by it. The commitment to leverage is associated with the monetary benefits aligned with enhancing sustainability( Antikainen & Valkokari, 2016). So, leveraging sustainability throughout the supply chain of CureFit in logistics and designing new products and services would help in creating a win-win solution in aspects such as consumer satisfaction, operational effectiveness and decreased costs. Lastly, stakeholder engagement is one of the aspects which are essential for the success of a sustainable business. The commitment of CureFit to access the intelligence of its employees will give it a competitive edge in assessing the sustainability areas which shall provide it with great results (França, Broman, Robert, Basile & Trygg, 2017).
Evaluate what factors might impact the success of the business model in the context of downside risk
Downside risk is the financial risk related to losses .It is the risk of receiving less actual returns as compared to expected returns. The factors related to downside risk which may impact the success of the business model of CureFit are: Firstly, there are possibilities of overestimating the potential of a particular market often based on the context of domestic markets .The target market must be first assessed ,as there could be more variations in the sales .Hence it could lead to failure of the company to achieve the targeted sales and revenue in that particular market (Naggar, 2015). Secondly, sometimes the company does not predicts or is not prepared for sudden transformations in its local economic environment which leads to creation of downside risks .These markets are often not prepared for dealing with financial losses which in turn can harm the economic interests of the company too.
Thirdly, the cost of operating the business is solely dependent upon transportation, technology, energy and financial services .These elements have a powerful impact on the value propositions and the business model of the company .So, if the costs of these elements increase, then it would lead to higher cost of operation for the company which in return shall adversely impact its value propositions.
Discuss the changes you would make to the business model if this was your business
There are certain transformations to be made in the business model considering it to be my business. Some of them are: Firstly, while, Cure .Fit is mostly inclined towards knowing the geographic locations and demographic about its consumers, it is recommended that it is essential to know about the psychographic characteristics of its consumers as well. It pertains to the challenges confronted by them and fitness goals to be achieved by them. Secondly, the business should also ascertain the value delivered by it to the consumer. Some customers look for services at affordable prices while others look for customized services. Lastly, it should not offer what its competitors are offering low prices rather it should think outside the box. Businesses succeed due to innovation and disruption (Toro-Jarrín, Ponce-Jaramillo & Güemes-Castorena, 2016).
Conclusion
This report can be concluded by stating that CureFit is using technology for conquering the regime of wellness and health. It has encouraged people to lead a healthy lifestyle through its unique and innovative goods and services. So, with the help of successful implementation of business model canvas and through its consistent innovations, CureFit shall find new opportunities for revenue generation and optimizing its existing channels.It shall also consider the downside risks while expanding its business into the new markets so that it can maximize its opportunities while minimizing those risks.
References
Annanperä, E., Liukkunen, K. & Markkula, J. (2015). Innovation in evolving business ecosystem: A case study of information technology-based future health and exercise service. International Journal of Innovation and Technology Management, 12(04), 1550015.
Antikainen, M. & Valkokari, K. (2016). A framework for sustainable circular business model innovation. Technology Innovation Management Review, 6(7), 5-12.
Business Models Inc.(2020). Business model canvas. Retrieved 1st April,2020 from https://www.businessmodelsinc.com/about-bmi/tools/business-model-canvas/
Crunchbase Inc(2020). Overview. Retrieved 1st April,2020 from https://www.crunchbase.com/organization/curefit#section-overview Dudin, M., Kucuri, G., Fedorova, I., Dzusova, S. & Namitulina, A. (2015). The innovative business model canvas in the system of effective budgeting. Asian Social Science, 11(7), 290-296.
França, C. L., Broman, G., Robert, K. H., Basile, G. & Trygg, L. (2017). An approach to business model innovation and design for strategic sustainable development. Journal of Cleaner Production, 140, 155-166.
Hoveskog, M., Halila, F., Mattsson, M., Upward, A. & Karlsson, N. (2018). Education for Sustainable Development: Business modelling for flourishing. Journal of Cleaner Production, 172, 4383-4396.
Joyce, A.& Paquin, R. L. (2016). The triple layered business model canvas: A tool to design more sustainable business models. Journal of cleaner production, 135(2016), 1474-1486.
Kargari, M. & Asadi, M. (2017). Development of a multi-tiered business model for value chain analysis for mobile nutrition counseling online system. Journal of Health Management & Informatics, 4(2), 31-39.
Kashyaap, S.(2017). With CureFit, Mukesh Bansal wants to jumpstart a fitness movement in India. YourStory Media Pvt. Ltd. Retrieved 1st April,2020 from https://yourstory.com/2017/08/curefit-mukesh-bansal-fitness-india?utm_pageloadtype=scroll Kimble, C. (2015). Business models for e?health: Evidence from ten case studies. Global Business and Organizational Excellence, 34(4), 18-30.
Naggar, R. (2015). The creativity canvas: A business model for knowledge and idea management. Technology Innovation Management Review, 5(7),50-58.
Nikou, S. & Bouwman, H. (2017). Mobile health and wellness applications: A business model ontology-based review. International Journal of E-Business Research (IJEBR), 13(1), 1-24.
Toro-Jarrín, M. A., Ponce-Jaramillo, I. E. & Güemes-Castorena, D. (2016). Methodology for the of building process integration of Business Model Canvas and Technological Roadmap. Technological Forecasting and Social Change, 110, 213-225.