Business Management Assignment: Contemporary Issues In Business & Leadership Of Bir Hospital
Question
Task: Evaluative Report on Business Management Assignment:
Section 1
Critically evaluate the influence environmental drivers have had on your organisation specifically highlighting any moral challenges they have raised in your leadership team. (circa 3,000 words)
Section 2
Based on the conclusions drawn from Section 1, draft a Management Enhancement Plan which provides justified 'practical' and resource-based leadership solutions to current and potentially future management dilemmas. (circa 1,000 words)
Answer
Business Management AssignmentSection: 1
Introduction
Business leadership is critical to meet demands of customer and business needs simultaneously. Leadership requires skills which are honed with experience in the field and teachings from seniors. Issues arise when leaders lack to communicate in fear of losing their job or bonding with their colleagues has poor execution which does not meet the necessary requirements of completing the task. Most of the leaders fail to focus gather information correctly and use it wisely to accomplish task to meet future goals. Good leaders listen to their employees first and then react which suits best for the organisation. This paper focus on the moral issues that is present within an organisation and strategies to improve it in reference of Bir hospital in Nepal.
Background of organisation
Bir hospital is one of the oldest hospitals in the capital city of Nepal Kathmandu situated in the heart of city near Kanti Path established in 1947. The hospital got its name from the then Prime Minister BirSamsher Jung BahadurRana (Hamrodoctor.com. 2022). The hospital is now run by National Academy of Medical Sciences with a proud history of commencing modern medicine for the first time in the region. The hospital currently has potential to sit 535 beds and provide medical and surgical treatment for free. The hospital provides nephrology services, burn treatments, plastic surgery, orthopaedic and dental department. Even Neurosurgery, gynaecology testing and treatments are done here (Nams.org.np. 2022).
Identifying influence of technological trends on organisational strategy
Information technology has shown tremendous growth in the field of medical sciences and that is observed through advanced healthcare systems. Advanced technology has enabled to gather big data and use it for further research analysis which was not possible before. Medical staff uses this data to analyse from past cases which reduces the margin for errors. Further cases are recorded to study and understand health system (Rohrbeck and Kum, 2018). Recording and filing patient past history has become simple which allows doctors to analyse symptoms of health problems easily. Through the use of technology, it has become easier for patients too as they do not have to carry all the files and past medical history to share with hospitals as the data is already stored in the mainframe of their computer which can be accessed any anytime. According to Rachingeret al., (2018), modern tools use integrated system where medical practitioners from all around the world are now present in a single forum. Exchange of knowledge has improved the way health treatment was done before. Through the use of technology doctors can now compare patient health problems with other thousands of past records to analyse and come to a concrete solution, thus reducing costs.
Use of technology in Bir hospital
Bir hospital is not equipped with modern machines as required to tackle the number of patients that visit the hospital every day and this increase the waiting time. The hospital has shortage of trained employees which further creates problem in treating severe cases on time. Insufficient fund supplied to the hospital is the primary reason for the poor medical services. To uplift the hospital modern infrastructure is required with shifting of skilled staff to operate and use modern tools.
Technology enhances communication and mobility
Through the use of technology doctors can now consult with other practitioner to study cases or take advice in case of medical emergency. Further communication in between staff increases which makes easier to administer the organisation. Issues of manpower handling and shortage have reduced as the management can check rush hours on real time and relocate members as per demand. As per Luthraet al., (2020), an integrated medical record has increased mobility and reduces customer waiting time. Through the use of technology doctors can take best advices from around the globe. Critical cases are heard and shared which help others to study and then take action from things learned. Through the use of technology cost of medical treatments has reduced considerably and patients do not have to go for several tests again as previous records stored in the system help doctors to diagnose checking the entire test electronically. Apart from that modern machines are more accurate in delivering true result which helps in providing better health treatments.
Evaluating the impact of environmental drivers on the Organisation
Wrong management policies are immensely polluting the environment of organisation. The regulatory body is not working as it should run. Impact of environmental disruptions directly reflects on the law and order, customers, competitors, and people depending on it (Tura et al. 2019).
Regulations: Change in the management system is required with proper filling of skilled staff. Further professionalism in the working will help to increase mobility in the internal work force.
End Users: Patients are the end user of the service for which the hospital is developed. However, miss-management is deflecting people's interest on getting treated in the Bir Hospital.
Competitors: The competitors are private hospitals and Nursing centres nearby and they are taking full advantage of the situation in Bir hospital. The patients do not have to go for long waiting time and are provided quality health services. People dependent: Most people visiting the hospital are from poor class or coming from far distant villages seeking proper medication. Wrong management policies are making the people dependent suffer.
SWOT
Strength: Strong background and direct funding from NAMS, help the organisation to function freely. Further the organisation has a strong repute for being the first multi operational hospital in Nepal
Weakness: Inefficient management policies lead to wastage of resources and procurement of inferior raw materials.
Opportunities: Sufficient man power and infrastructure if properly utilised will help to enhance medical facilities in the region. Threats: Increasing medical institutions in the region and patient's preference to private treatments over there.
Moral dilemma as a leader
The role of a bio-medical engineer is to look on the machines functioning which could fulfil healthcare services (Shao, 2019). As a leader it is the task of bio medical engineer to study critical cases and make proposals which could help to improve the medicinal treatment practice. However, improper behaviour from staff and chief administrative officer has brought down to work for the betterment of Bir Hospital.
Evaluating the impact of economic policies on business
The Covid-19 has created a significant impact for the people based on which the overall business development in the country has stalled. The health sector has been devastated with an inflaming number of infected people due to which the government of Nepal is facing a significant problem. The economic instability of the government has been prominent as huge rates of layoffs have been seen mainly in the hospitality industry. Due to increased infection rate the Nepal Government focused on systematic lockdowns which created a significant issue in the country. The International Labour Organisation engaged in micro insurance for helping the poor to cope up with the situation to a greater extent. The General Federation of Nepalease Trade union "GEFONT '' began to reach out to the workers for promoting community-based healthcare for providing better health to the companies. Based on this Medical Insurance Scheme the essential drugs can be utilised by the people based on a nominal fee (Ilo.org, 2021). Bir hospital faced a significant crisis during this phase as the organisation had to provide proper treatment to the people for decreasing the rate of Covid-19 pandemic. The financial condition of the business of Bir hospital had been shortened and the advent of Covid-19 pandemic has increased the financial issues for the organisation. However, the Nepal Government significantly supported its organisation and tried its best to increase testing for the infection. The National Health Policy 2019 focused on improving the conditions of the people as the Nepal government ensured quality health services through which it included all the citizens of Nepal under the insurance policy (Volunteersinitiativenepal.org, 2021). Depending upon these aspects, the government tried to help the people to get over the pandemic period. Thus, due to the productive government interventions the condition of the business of the organisation developed to a certain extent at the later part of the pandemic period as it was getting support from the government. However, shortage of staff in the technical areas created a massive issue for the hospital as lack of required trained staff created man management in testing processes by decreasing the rates.

Figure 1: Capital investment for Bir Hospital Nepal
(Source: mohp.gov.np, 2021)
The Government of Nepal has significantly invested in the National Academy of Medical Sciences and has made necessary budgets for the academy which is the main funding agency of the Bir hospital. It can be identified that the financial condition of the company has been stable from that perspective however the implications of the funding on management has been insignificant as there were less beds and the infected people received little care from training medical professionals. The organisation due to this perspective suffered from negative brand image as lack of management of the organisational staff was prominent. It is necessary to mention that Bir hospital is one of the most renowned organisations that provide treatment to the people at a cheap cost for supporting them in harsh physical conditions (Kathmandupost.com, 2021). The business suffered significantly at the Covid-19 times as there were limited medical professionals who were trained to treat the patients due to which the pressure of the medical staff increased to a significant extent. The government help for the hospital has been significant as the Deputy Prime Minister IshwarPokhrel mentioned that the newly built building in Bir hospital to be used for 500 beds for covid-19 (Thehimalayantimes.com, 2021). Inspite of these helps from the government, there were various management issues as there were limited resources for treating the patients. Lack of oxygen, medications and professionally trained personnel were also major reasons based on which the business suffered at a significant level. All these factors engaged in developing a negative impact on the business process of Bir hospitals.
Evaluation the impact of economic policies on leadership
The economic policies have been productive for the leadership of the organisation however there were certain challenges due to which mismanagement in the organisation took place. The increased number of patients created a major issue for the leaders as they were never trained to deal with these kinds of increased influx of infected people for treatment. The government of Nepal significantly helped the organisation through different kinds of investments. This created a major issue for the organisational leaders as they were not prepared for these changes which took place rapidly. On the contrary, the government investments have been beneficial for the organisation as it has increased infrastructure development of the organisation to a great extent. As stated by Normoreet al. (2019), strong leadership helps the workers to provide their best effort through which they can be efficient in delivering great performance as guided by the organisational goals. The government has significantly supported Bir Hospital through providing four consecutive investments to the National Academy of Medical Sciences which acts as a direct funding agency for the Bir Hospital. Apart from that, the other policies by the Government of Nepal about increasing PCR testing only in Government hospitals has created massive issues for the organisation as it is increasing the number of infected participants in the hospital (Mohp.gov.np, 2021). Increased infected participants and testing the large number of participants has increased the complications for the organisational leader of the hospital as it created a major increase in number of patients and increased the work pressure of the staff and doctors. Due to lack of trained professionals, the leader of the organisation was already facing issues related to increased patients and the policy of PCR testing only in the government hospitals for free increased the rate of the hospital. The leaders of the organisation due to this factor faced huge challenges related to testing the infected persons and providing them proper treatment at the same time. The main issue had been lacking of skilled staff that resulted in a major issue for the organisational leaders as they were unable to provide proper treatment to all the infected people due to scarcity of oxygen at the initial stage. Scarcity of oxygen, masks and sanitizers created a major issue in the health industry based on which providing the infected people actual treatment became difficult for the organisational leader due to scarcity in supplies. Developing the rule of PCR testing for Covid-19 only in the government hospitals for free increased the waves of the infected persons in the Bir hospitals. As mentioned by Nakash and Bouhnik (2021), lack of organisational management results in miscommunication and misalignment in job responsibilities creating mismatch in service providing. Lack of management was prominent at the Bir hospitals and due to this increased infected rate of people the organisational staff faced complications based on increased working hours and also risked their lives for treating the patients. Apart from that, providing free check-ups and treating the infected patients for free by the government also created issues for the organisational leader as increased waves of infected people were coming in Bir hospital for treating themselves. As opined by Ardebiliet al. (2021), increased employee work pressure creates issues for workers as they face complications in fulfilling their work responsibilities. Shortage of staff, medications, oxygen as well as beds created a panic-stricken environment within the organisation and mutual miscommunication and mistrust generated within the organisational employees. Increased employee frustrations and misbehaviour with the senior staff created a major impact within the organisations as they were all engaged in hectic work pressures that increased their tensions within the company. Thus, these impacts can be analysed as significantly negative for the organisational leader as these resulted in increased work pressure and insignificant organisational management.
Moral issues within the organisation
Unethical behaviour especially in the health sector is a serious issue as it directly dwells with the life of patients. Credibility of the organisation is reduced due to lack of guidelines and technical unavailability.
Hiding information
This is the most common issue found in most medical organisation where transparency is not maintained and health related information is not clearly communicated with the patient. The administration denies taking the responsibility for any mistake they have done. Even the family members are not informed about patient's health on time which risks life. The government of Nepal is serious about health negligence and strict laws are made to protect them. However, lack of proper execution is the result of bad treatment cases heard in the region.
Technology and privacy concerns
Wrong handling of technology leads to wastage of resources. Especially in hospital cases if the use of technology is not handled properly standard of health treatment will reduce. According to Miao et al., (2020), misuse of technology for personal gains is unethical part in health business. Patient's health information is a private affair and it is a verbal agreement between doctor and patient to not disclose it to third party. Improper use of technology disturbs the belief of patients for the hospital. Bir hospital lacks proper use of technology and most part of the documentation is physically stored including patient data. Thus, chance of losing important notes or even misplacement remains high. Data storing system in the hospital is outdated and chance of misuse is present as any staff could take it for personal gains.
Wrong charging
Hospitals are often known for charging high from patients making people to choose other options. Transparency in the billing is not done which creates confusion among patient parties. Charging for services which are free is often seen in the government hospitals of Nepal. Bir hospital has poor management system and patients are wrongly charged for products that are low in quality. Further, wrong procurement policies lead to purchase of products that are not required. This leads to shortage of emergency supplies and the funding is not utilised wisely.
Employee favouritism
Organisations where employee favouritism happens whether it is gender biased or grouping does not excel. If a leader prefers some employee without merit it causes the company to lose competitive employees to perform in the business. As per Pergertet al. (2019), in such cases employee tends to work half-heartedly which reduces the productivity. Surrounding environment in such cases is not good for talent seekers as negativity persist. The chief administrative officer of Bir hospital prefers some staff over other which interrupts the smooth running of management. Further, it pollutes the environment around as some staff favoured by the Chief tries to rule over other staff members.
Bad leadership behaviour
Bir hospital over a period of time is suffering from proper maintenance and repairment works. Unhygienic ward and patient waiting areas are a serious concern for infections to spread. In this time of Covid19 period the seriousness is high and proper cleaning of floors and objects in the hospital is required. The Chief administrative officer showcases bad leadership in terms of inspection and handling the management. Irrational approach from the leader results to lack of loyalty and punctuality in some of the staff which the officer overlooks.
Organisational strategies to enhance morale leadership
Working functions in the modern age of technology has changed and with those strategies have developed through which morale of individual and team are enhanced. Organisations keep daily records of employee movement and work performance using modern tools. Leaders use this tool to monitor each staff and provide proper assistance for their improvement. According to Shao (2019), employee when get advice from seniors or share working issues with them their productivity increases. Further positivity in the environment prevails and thus it is crucial for leaders to communicate regularly in time with their staff. To enhance leadership morale it is part of the organisation to provide proper tools require for working. Use of proper tools and getting acquainted with it help leaders to stay up to date and manage team properly.
Coaching
Management provide regular training so that employees stay up to date and properly skilled with changes in the system. Training also helps to strengthen team bonding which improves productivity as team efforts is reflected in their work. Leaders often organise group meetings which are helpful to discuss problems or issues that are arising and preferred solution to the problem. As per Lemoineet al. (2019), meeting helps to take input from the staff as their problems in working gives a better idea to leaders for a solution. Bir hospital needs proper leadership through which the overall management system can be rectified. Replacement of unskilled staff with technical employees is a primary part for the management. Proper support through tools will improve productivity. Fair treatment and professionalism in the working place will improve morale of health workers present in the system. Further the organisation requires keeping track of all the essentials and resources supplied. Proper use of resources will allow the management to use the fund wisely. Shortage of essential items will not pertain if things are ordered correctly. Equal treatment from the management will boost employee's morale and they will try to give more effort in their duty also misbehaviour from certain staff will reduce.
Conclusion
Thus, it can be concluded that the organisational leader of Bir hospital has faced various issues based on the covid-19 pandemic due to increased infected persons and providing them proper treatment. Throughout the study, various leadership complications have been discussed that provide proper understanding about the actual condition of the hospital in the pandemic period. Lack of leadership dominance and increased work pressures created frustrations within the work employees that resulted in the under development of work practises creating complications within the workplace. It is necessary for the organisational leaders to tackle a particular leadership strategy and organise the workers in order to extract proper efficiency from them for completing their job responsibilities. Increased job responsibility and pressure can develop frustrations within the employee base based on which their efforts decrease. It can be expected that the leader of Bir hospital can take necessary steps in order to improve business development at a significant extent.
Business Management AssignmentSection 2: Management Enhancement Plan
Introduction
Enhancing management of the Bir Hospital is essential as the staff management is degraded and inefficient to provide proper support to the patients as well as senior management based on which better stability in patient treatment can be provided. The plan mentions certain important strategies through which better employee engagement can be developed for the overall improvement of treatment in the hospital. This section helps in identifying certain strategies that provide information regarding the steps that can be taken by the organisational leader of Bir Hospital through which a productive future stability can be attained in the business process.
Taking strategic leadership for maintaining organisational order and power
Strategic leadership in business processes is necessary for organisations as it helps in improving better control in the organisational work practises. The leader of Bir Hospital in Nepal can focus on strategic leadership as its primary intention is dependent upon improving the growth opportunities of a business process. Strategic leadership focuses on effective planning which is done by a leader to develop a constructive strategy based on which organisational operations occur. As opined by Ali and Anwar (2021), strategic leadership in a business process focuses on critical thought development process through which better understanding in business development is developed. Strategic development process helps an organisation to clarify business operations and help in defining better roles and responsibilities of the individual employees through which better efficiency can be obtained from them. It has been identified that lack of mutual respect has been prominent within the organisation based on which miss behaviour is faced by the Chief administration officer. These factors significantly prove the lack of organisational discipline that is faced by the senior management of the organisation. Depending upon this context the organisational leader needs to focus on a strategic leadership plan as it helps in ensuring systematic order within employee work practices and securing individual tasks from hierarchical orders.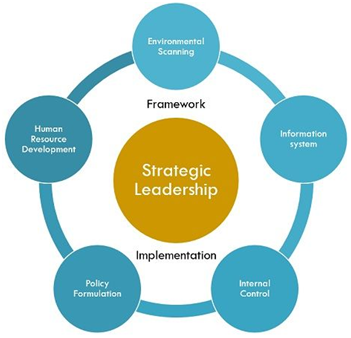 Figure 2: Strategic Leadership Model
(Source: Ali and Anwar, 2021)
Increasing employee motivation
Another important step which the organisational leader of Bir Hospital needs to focus on is providing proper employee motivation in order to improve their efficiency rates for the hospital and treating its employees in these complicated Times. The organisational leader can engage in quality communication with the junior level staff and understand their issues based on which they are facing frustrations. The organisational leaders depending upon the aspects can focus on communicating with the organisational staff for understanding their issues and providing them proper suggestions for increasing their model strength. Apart from that organisational leaders also can increase their pay scale and provide them occasional incentives through which their organisational loyalty increases and better efficiency dates can be attained. As per the views of Tear et al. (2020) organisational power and positive culture within an organisation helps in creating a positive work environment where employees work in a productive manner by providing their best efficiency dates in order to secure organisational goals. Strategic leaders in this context can focus on maintaining the steps as it helps in overall development of the organisation through getting a collective work effort from the hospital staff leading to better treatment. The leader of Bir Hospital due to this context can focus on increasing employee motivation as it will eradicate complications within the staff and ensure organisational growth and better treatment for the infected covid-19 patients.
Increasing employee participation
Cultural diversity in the workplace is significant as it helps in improving overall collective and unification of organisation through which better service can be provided to the people. The leader of Bir Hospital can focus on increasing group-based activities within its workplace through which culturally diversified people can provide for the organisation in an equal manner effective communication development with every staff contributing to the unification of organisation to a greater extent. As highlighted by the views of Jones et al. (2020) development in business process orcas based on cultural assimilation and workplace harmony as it helps in development of a unified workforce which works efficiently for fulfilling organisational goals. Group activities are beneficial in developing collective employee strength through which better employee participation can be attained by an organisation. The leader of the hospital can focus on increasing group activities of different cultures to people for increasing diversification within the organisation and maintaining organisational harmony true intercultural communication development where miscommunication and mistrust can be avoided.
Providing group training for better performance development
Providing group training is significant for the hospital staff as majority of the staff are unskilled and do not have the medical superiority to provide treatment to the covid-19 infected persons. Apart from that, it also has been identified that organisational employee training is necessary for the staff in Bir Hospital as the majority of untrained staff engaged in providing treatment to the covid-19 patients that is decreasing the quality of the treatment provided by the hospital. Organisational discipline is a necessary factor that should be present in every public or private organisation in order to ensure a stable Organisational Management (Mukmininet al. 2020). Effective training to the staff of the Bir Hospital can improve their attitude towards patient treatment and communicating with the senior management. It can be expected that after productive training the employees will be working in a dedicated manner fulfilling the organisational goals by providing proper treatment to the covid-19 patient and tackling the pandemic situation in an effortless manner.
Conclusion
Thus, it can be identified that focusing on strategic leadership style and maintaining organisational power and discipline can be the best beneficial steps that can be taken by the organisational leader through which sustainability in business processes can be attained. The main intention of the company e leadership has been focusing on attaining better reputation for treatment. However, certain negative impressions have been developed towards the organisation as an effective patient treatment due to scarcity of medical supplies. Along with that, different other misbehaviour years and staff inefficiencies also have been highlighted which can be eradicated by the strategically planned steps in order to ensure future sustainability in patient treatments maintaining organisational power and discipline.
Reference List
Ali, B.J. and Anwar, G., (2021). Strategic leadership effectiveness and its influence on organizational effectiveness. International Journal of Electrical, Electronics and Computers, 6(2). Available at: http://www.ijbmm.com/paper/Mar2020/8340436031.pdf [Accessed on: 07.01.2021]
Ardebili, M.E., Naserbakht, M., Bernstein, C., Alazmani-Noodeh, F., Hakimi, H. and Ranjbar, H., (2021). Healthcare providers experience of working during the COVID-19 pandemic: a qualitative study. American journal of infection control, 49(5), pp.547-554. Available at: https://www.ncbi.nlm.nih.gov/pmc/articles/pmc7536124/ [Accessed on: 07.01.2021] Hamrodoctor.com. (2022). Bir Hospital | Kathmandu | Appointment | Charges | no of bed. [online] Available at: https://www.hamrodoctor.com/hospital/bir-hospital [Accessed 8 January 2022].
Ilo.org. (2021).In Nepal, micro-insurance helps the poor cope with health needs. Available at: https://www.ilo.org/global/publications/world-of-work-magazine/articles/WCMS_081313/lang--en/index.htm [Accessed on: 07.01.2021] Jones, G., ChirinoChace, B. and Wright, J., (2020). Cultural diversity drives innovation: empowering teams for success. International Journal of Innovation Science, 12(3), pp.323-343. Available at:
https://pdfs.semanticscholar.org/665b/811006ae0c1d423bf495a6e4ec952187f273.pdf [Accessed on: 07.01.2021] Kathmandupost.com. (2021).Attendants to patients at public hospitals complain of lack of sleeping space, poor sanitation. Available at: https://kathmandupost.com/
health/2021/12/24/attendants-to-patients-at-public-hospitals-complain-of-lack-of-sleeping-space-poor-sanitation [Accessed on: 07.01.2021]
Lemoine, G.J., Hartnell, C.A. and Leroy, H., (2019).Taking stock of moral approaches to leadership: An integrative review of ethical, authentic, and servant leadership. Academy of Management Annals, 13(1), pp.148-187. Available at: https://journals.aom.org/doi/full/10.5465/annals.2016.0121 [Accessed 8 January 2022].
Luthra, S., Kumar, A., Zavadskas, E.K., Mangla, S.K. and Garza-Reyes, J.A., (2020). Industry 4.0 as an enabler of sustainability diffusion in supply chain: an analysis of influential strength of drivers in an emerging economy. International Journal of Production Research, 58(5), pp.1505-1521. Available at: https://www.tandfonline.com/doi/abs/10.1080/00207543.2019.1660828. [Accessed 8 January 2022]
Miao, Q., Eva, N., Newman, A., Nielsen, I. and Herbert, K., (2020). Ethical leadership and unethical proorganisational behaviour: The mediating mechanism of reflective moral attentiveness. Applied Psychology, 69(3), pp.834-853. Available at: https://iaap-journals.onlinelibrary.wiley.com/doi/abs/10.1111/apps.12210 Accessed 8 January 2022].
Mohp.gov.np. (2021).Responding to COVID-19. Available at: https:// mohp.gov.np /attachments/article/703/Responding%20to%20COVID\19,%20Health%20sector%20preparedness, %20response%20and%20lessons%20learnt.pdf [Accessed on: 07.01.2021]
Mukminin, A.A., Semmaila, B. and Ramlawati, R., (2020). Effect of Education and Training, work discipline and Organizational Culture on Employee Performance. Point Of View Research Management, 1(3), pp.19-29. Available at: https://www.journal.accountingpointofview.id/index.php/POVREMA/article/download/33/23 [Accessed on: 07.01.2021] Nakash, M. and Bouhnik, D., (2021).Challenges of justification of investment in organizational knowledge management. Knowledge Management Research & Practice, pp.1-11. Available at: https://www.researchgate.net/profile/Maayan-Nakash-3/publication/356429568_Challenges_of_justification_of_investment_in_organizational_knowledge_ management/links/619b670e3068c54fa50fbdc4/Challenges-of-justification-of-investment-in- organizational-knowledge-management.pdf [Accessed on: 07.01.2021]
Nams.org.np. (2022). NAMS. [online] Available at: https://nams.org.np/about.php [Accessed 8 January 2022]. Normore, A.H., Hamdan, K. and Esposito, M.C., (2019). A cross-cultural perspective on leadership development programmes. Business management assignmentJournal of Educational Administration and History, 51(1), pp.1-4. Available at: https://www.tandfonline.com/doi/full/10.1080/00220620.2018.1508129 [Accessed on: 07.01.2021]
Pergert, P., Bartholdson, C., Blomgren, K. and afSandeberg, M., (2019). Moral distress in paediatric oncology: Contributing factors and group differences. Nursing ethics, 26(7-8), pp.2351-2363. Available at: https://journals.sagepub.com/doi/abs/10.1177/0969733018809806 [Accessed 8 January 2022]. Rachinger, M., Rauter, R., Müller, C., Vorraber, W. and Schirgi, E., (2018). Digitalization and its influence on business model innovation. Journal of Manufacturing Technology Management. Available at: https://www.emerald.com/insight/content/doi/10.1108/JMTM-01-2018-0020/full/ Accessed 8 January 2022]. Rohrbeck, R. and Kum, M.E., (2018). Corporate foresight and its impact on firm performance: A longitudinal analysis. Technological Forecasting and Social Change, 129, pp.105-116. Available at: https://www.sciencedirect.com/science/article/pii/S0040162517302287 [Accessed 8 January 2022].
Shao, B., (2019). Moral anger as a dilemma An investigation on how leader moral anger influences follower trust. The Leadership Quarterly, 30(3), pp.365-382. Available at: https://www.sciencedirect.com/science/article/pii/S1048984317303351 [accessed on: 9 January 2022]
Shao, Z., (2019). Interaction effect of strategic leadership behaviors and organizational culture on IS-Business strategic alignment and Enterprise Systems assimilation. International Journal of Information Management, 44, pp.96-108. Available at: https://www.sciencedirect.com/science/article/abs/pii/S0268401218305747 [Accessed 8 January 2022].
Tear, M.J., Reader, T.W., Shorrock, S. and Kirwan, B., (2020). Safety culture and power: Interactions between perceptions of safety culture, organisational hierarchy, and national culture. Safety science, 121, pp.550-561. Available at: http://eprints.lse.ac.uk/90953/1/Tear_Safety-culture-and-power.pdf [Accessed on: 07.01.2021]
Thehimalayantimes.com. (2021).New building at Bir Hospital to be used for coronavirus treatment. Available at: https://thehimalayantimes.com/kathmandu/new-building-at-bir-hospital-to-be-used-for-coronavirus-treatment [Accessed on: 07.01.2021]
Tura, N., Hanski, J., Ahola, T., Ståhle, M., Piiparinen, S. and Valkokari, P., (2019). Unlocking circular business: A framework of barriers and drivers. Journal of Cleaner Production, 212, pp.90-98. Available at: https://www.sciencedirect.com/science/article/pii/S0959652618336059 [accessed on: 9 January 2022] Volunteersinitiativenepal.org. (2021).National Health policy 2019. Available at: https://www.volunteersinitiativenepal.org/news-updates/national-health-policy-2019/ [Accessed on: 07.01.2021]