Idea Assignment: Opportunity Analysis For Old Owl Shop
Question
Task: Write an Opportunity analysis (Feasibility study). Please use the template below.
1. BUSINESS OVERVIEW
Include key information points regarding your venture (write a short summary of a proposed venture including some details regarding the market, customers and competition).
2. PERSONAL SWOTANALYSIS
Carry out personal SWOT analysis. What skills and experience will you bring to the new venture?How will you minimise external threats and capitalise on opportunities.
3. MARKET RESEARCH
3.1 SWOT – Carry out SWOT analysis of your idea
3.2. PESTEL – Carry out a detailed PESTEL analysis to assess opportunities arising from changes in the environment. Why have you chosen this area of the market? Include evidence of demand (inc.  trend analysis etc.)
3.3 Competitors –Carry out the analysis of market and competition. What is your USP and value proposition? What is your key differentiating factor?
Compare your new venture to main competitors (consider competitors' strengths and weaknesses; identify how you will position yourself; decide what is your basis of competition, i.e. cost/differentiation).
4. GROWTH POTENTIAL
Compare the new venture to the ideal business.
How do you see the company growing and becoming more profitable in the future?
5. CAPITAL REQUIREMENTS
Identify your key start-up capital requirements and possible funding options.
Answer
1. BUSINESS OVERVIEW
Business Name: The Old Owl shop. Website: www.oldowl.com
Business idea explanation and services
This business idea explored in the segments of business idea assignment will include acquiring old and popular books and setting up a website to sell them to potential buyers. In this business idea assignment, the business idea will be based on online and will be looking for consumers who like to borrow books or buy. In this business, sourcing book is significant, specifically as this business will incorporate a search service. Visiting local shops and libraries to collect used books and old books will also include and keeping them in good conditions will also include in these business activities. The business will start as a home base and a single effort will be needed to start this type of business. Later, this business will include one marketing expert, delivery employees, book collector. The services will include selling old and used books and even book borrowing will also be provided. The charges will depend on popularity, condition of the books and the book borrowing service charges will depend on days consumers are borrowing them. Penalty charges will be on if consumers fail to return books on time. There will be a security deposit and registration fee of £ 10 and £8 respectively. Selling books will start from £30 to £100 and book borrowing services will be £20 for a week.
Target market and audience
The target audience for this start-up business discussed in thebusiness idea assignment will be young people (age starting from 15 to 28, both male and female). This business will start capturing the local market in London, specifically the Stratford areas and consumers there. From the current market and industry activities, it could be said in the business idea assignment that online sales have not yet offset the decline in revenue from offline stores (Steiner, 2018). Further, bookselling retailers have outlined problems in stirring more nuanced titles despite bookseller suggestions. On the other hand, current Covid-19 situation is helpful for the online services and bookselling opportunities will grow in future as more consumers are inclining towards online services.
Competition
Market competition has been accounted for to develop over the recent year. It is noted in this business idea assignment that the long unavailability of offline books due to the current lockdown has led to an increase in online books and audio library services. As per reports presented by Amazon, sign-ups to have Kindle premium services have developed effectively and application of prime reading that provides over 100 of e-books to the members at no extra charge, has also developed (ibisworld.com, 2020). Therefore, The Old Owl shop could take this opportunity effectively.
2. PERSONAL SWOTANALYSIS
Strengths

This business will include three years of experience in working in the library and dealing books

Working knowledge of what is considered as important in the rare book market will be delivered

Opportunities

Books services will be charged a minimum

Consumer preferences will be preferred

Online service will be a market opportunity and providing books in a short period to the doorsteps

Weaknesses

Developing the services for a full-time gig

Buying rare books at the initial stage will need some capital investments

Threats

The developing popularity of e-readers could be captured through availing them old books in good conditions

Threats in the market will be declined through enabling consumers to sell used books to the company so that other could afford them (Aguzzoniet al., 2016)

This way retailing chain will develop
Table 1: Personal SWOT analysis
(Source: Created by the learner) ?
3. MarketResearch for the case scenario of business idea assignment
3.1 SWOT
Strengths

Fully online communication and setup

Low price and costs of buying books

Book borrowing services

Weaknesses

Not wider market range

Lack of a wider variety of books at the starting of business

Opportunities

Developing e-learning, e-reading and online book retailing services

Threats

Intense market competition

Previous online book buying services' availability

Cost of setting up the business and sustaining for full-time business (Aguzzoniet al., 2016)
Table 2: SWOT analysis
(Source: Created by the Learner)
3.2. PESTEL
| | |
| --- | --- |
| Political | The regulations of the office of fair trading should be maintained by the Old Owl Shop when expanding the online business from local market to a national level. |
| Economic | On the other hand, current threats of economic recession should be a matter of concern in the printing business as well as for the online bookselling business (Chong et al., 2016). This organization should make financial investments and calculations wisely for a long-term aspect. |
| Social | It has been seen in the business idea assignment that the habit of visiting libraries and reading books has been decreasing. The young generation is more opt to read a book online and even purchasing those (Castillo et al., 2017). It should be remembered that consumer preferences are the main factor here to engage them with the selling and purchasing process of books. |
| Technological | Development of technology in the bookselling market has been seen for long. It could be said that it is an opportunity for the Old Owl Shop to develop their business online and developing an e-library for readers (Chong et al., 2016). |
| Legal | As per legal concerns, the business owner should clearly state the business contract with payment platforms through which consumers will pay for books and shipping partners should also get clear contract and service pattern from the business owner (Castillo et al., 2017). |
| Environmental | The old books that wound not get sold will be recycled for the purpose of reducing deforestation and business sustainability (Forge, 2018). |
Table 3: External business environment analysis (Source: Created by the Learner) 3.3Who are the competitorsof the business explored in the business idea assignment?
Name of competitors

Strengths

Weaknesses

Findings

Peter Harrington Rare Books

This organization noted in the business idea assignment has a stronghold in the online retailing market with the services of selling books to them (peterharrington.co.uk, 2020)

Though a renowned business, the cost of purchasing books are high for the students and young people

From the competitor analysis, it has been identified that,

·         The Old Owl Shop will concentrate on low prices of books so that consumers will be able to purchase as many as possible

·         The second thing that this new venture will include is developing their book categories for a wider range of consumers

Bath Old Books

This organization has a stronghold in second-hand and antiquarian book ranges for a wide range of consumers

This organization has no book borrowing services available for consumers (forreadingaddicts.co.uk, 2020)

Foster Books

Locally based, this business has popularity in children's books selling, old books and first editions to the local consumers (fosterbooks.co.uk, 2020).

Market reach is low compared to the current development of online retailing stores
Table 4: Competitor analysis for The Old Owl shop
(Source: Created by the Learner)
USP and value proposition
The Old Owl Shop online library will listen to the consumers and stock up old, used and antiquarian books at low prices so that consumer could easily afford them.
Point of parity: Will have different categories of books, can be able to satisfy different reading tastes of consumers
Point of difference: Consumers could sell books to us in good conditions, borrow books from us in reasonable charges
What is your key differentiating factor?
The core differentiating factors are listed below within this business idea assignment;
This online bookstore will ask consumers for different types of book recommendations and collect as per their preferences from the local market
Direct communication through emails and charts would be done to the consumers to gather feedback on services
The book borrowing services will be of low cost and shipping charges will also be low compared to others ?
4. GROWTH POTENTIAL
The physical book store market is facing a decrease in development over the past years. It is dedicated to the entire weak economy. It has been seen herein business idea assignment that book store sector sales develop around 3.6% for the previous year whereas the retail sales develop around 4.3% (Pettersen and Colbjørnsen, 2019). Compared to this the online bookselling business and e-book business has faced profitability over the past years. It has been accounted that competitive challenges have been aggravated as e-book retailing has developed their products and service ranges to involve both used and new books, costing them low than specialist retailers. In this respect, it could be said that The Old Owl shop will face profitability and more user engagement in the business growth in the next two years. Additionally, it has been identified in this section of business idea assignment that as consumers cut back on buying, rare and second-hand books would look more attractive to them who still what to buy books (Wischenbart, 2016). Thus, the research on business idea assignment signifies that Old Owl shop should concentrate on developing the business in this sector and achieve market share. It should be remembered that this online used and old bookstore should serve the buying population of its geographical space, however, should concentrate on the target consumer who wants to borrow and buy books at a discount price.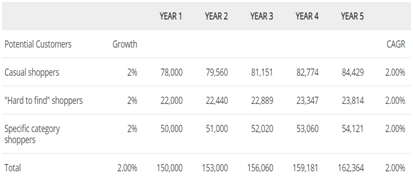 Figure 1: Market analysis
(Source: Wischenbart, 2016)
Future profitability predictions
If the free cash flow dependably sums up to around 60% of net income, while profitability and sales development run around 6%, the almost 40% of the incomes in this business would support the growth, separating the other 60% of total income available for other non-core investments in future (Wischenbart, 2016). It could be said in the business idea assignmentthat around 5% annual growth of the business would cost the Old Owl shop £0.34 each share. Over time this absolute figure would increase however; the proportion (around 17%) would remain the exact as long as the two factors-developments and return on equity, remain the same.?
5. CAPITAL REQUIREMENTS
It is concluded herein business idea assignment that the key start-up capital needs will be around £10,000. The costs will mostly include an effectively designed and professional website and acquiring books from the local market. As this business will be home-based external funding is almost not required here. The distribution charges will be £1.35 for every sale that this business will make and mark-up of £2.00 on the list cost. The shipping process will also cost £3.99. On the other hand, it is also clear on this business idea assignment that keeping books in good conditions will also need investments of around £150 for a month; it will depend on how much books need care (Forge, 2018). Shipping charges for the local deliveries will not be charged. ?
6. REFERENCES
Aguzzoni, L., Argentesi, E., Ciari, L., Duso, T. and Tognoni, M., 2016.Ex post merger evaluation in the UK retail market for books. Business idea assignmentThe Journal of Industrial Economics, 64(1), pp.170-200.
Castillo, P.A., Mora, A.M., Faris, H., Merelo, J.J., García-Sánchez, P., Fernández-Ares, A.J., De las Cuevas, P. and García-Arenas, M.I., 2017.Applying computational intelligence methods for predicting the sales of newly published books in a real editorial business management environment. Knowledge-Based Systems, 115, pp.133-151.
Chong, W.K., Bian, D. and Zhang, N., 2016. E-marketing services and e-marketing performance: the roles of innovation, knowledge complexity and environmental turbulence in influencing the relationship. Journal of Marketing Management, 32(1-2), pp.149-178.
For Reading Addicts. 2020. Bath Old Books - Bath - For Reading Addicts. [online] Available at: [Accessed 1 July 2020].
Forge, S., 2018. Not all books are created equal: GST, online bookselling and the publishing ecosystem. Kill Your Darlings, (Jul-Dec 2018), p.37.
Fosterbooks.co.uk. 2020. Foster Books. [online] Available at: [Accessed 1 July 2020].
Ibisworld.com. 2020. Ibisworld - Industry Market Research, Reports, And Statistics. [online] Available at: [Accessed 1 July 2020].
Peterharrington.co.uk. 2020. Peter Harrington Rare Books - First Edition Books, Signed, Inscribed & Collectibles. [online] Available at: [Accessed 1 July 2020].
Pettersen, C.T. and Colbjørnsen, T., 2019.Omnichannel and digital-only: analyzing digital bookselling operations in four Norwegian bookstores. Publishing Research Quarterly, 35(1), pp.108-121.
Steiner, A., 2018. The global book: micropublishing, conglomerate production, and digital market structures. Publishing Research Quarterly, 34(1), pp.118-132.
Wischenbart, R., 2016. The Business of Books 2016: Between the first and the second phase of transformation. Business idea assignmentAn overview of market trends in North America, Europe, Asia and Latin America, and a look beyond books. Frankfurt: Frankfurter Buchmesse.