Business Idea Assignment: Online Gaming In Snapchat
Question
Task:The objective of this individual( assessment submission is to learn how to develops business ides, complemented by brainstorming and leveraging the insights and skill-sets of others. Assessment comprises two parts: Please submit a 5 page briefing paper of your business idea, its essential business model components, and aspects that will influence its success. A business model canvass can he included as an appendix.
Answer
i. Introduction
Among the global acceptance of multimedia messaging apps, Snapchat is a very famous one that can be used for several purposes. Based on the idea of online game play via snapchat, this study has revealed adequate discussion based on the linking with business idea development. Initially, it has focused on the issues that presently faced by the customers and the reason behind solving it. Based on this idea, the business idea assignment has generated potential benefits that a company can gain with the help of such tool. In collaboration with a business canvas model, the business idea assignment has managed to focus on the success factors of a social media application i.e. snapchat in order to assess its market development initiatives.
ii. Issue
Snapchat has started its journey with the idea to develop as a famous messaging medium in the networking system. Barriers had created due to its features and usefulness among a lot of applications. It had previously undergone a phase of criticism due to its copying features which had similarities with face book. Apart from this issue, Snapchat did not have many users in the beginning. According to the report in the last year the app had only 178 active users on daily basis (thinkgrowth.org, 2018). In the year 2017, the revenue rate was $207.9 million which was a missing target and faced a huge loss which had estimated nearly $30 million (thinkgrowth.org, 2018). This huge loss was a major failure that decreased its market value (snapchat.com, 2018). Moreover, the firm had faced low growth of users as there were several other competitors who had already advanced features and advantages for users.
According to the viewpoint of Berg & Vance (2017:1), limitations in service quality is a major problem that can affect on the business enhancement process. Snapchat previously provided a limited experience to customers which were only one dimensional. Lack of diversity is a major drawback of this application that had created dissatisfaction among customers. Additionally, the lack of uniqueness or the differentiation has effected on its popularity as suggested by Wadhwa et al. (2016:95). Such issues are considerable enough to create barriers on its successful business approach for a long term business.
iii. Benefits generated by the idea
In order to encounter those issues the primary concept that can be implemented is expanse the user's percentage with new attractions in this application. As in this study the idea has suggested to develop its business with implementation of online gaming. Based on this concept the entire business plan has developed accordingly. This planning is relevant as the application can access several users from all ages who will love to use the messaging features. At the same time they can use the online gaming services too (Vaterlaus et al. 2016:594).
The effect of this planning can provide a better result on behalf of this business of Snapchat application. Initially, the application will access large number of overall users along with increased percentage in daily users. As suggested by Utz et al. (2015:141), facebook has a comparatively lower scope to access several games whereas, this feature in snapchat make an advanced approach to its customers. Apart from these opportunities, in long term this application can provide better service for most of the business companies. They will use this platform as a medium to enhance the business value and promotional status as well. For example, Games such as snappables is a most famous one that is a subject of fun for its exclusive outfit and fun features for the two million users in Australia.
iv. Discussion of the proposed business model (Refer to appendix 1)
According to the business canvas model, the approaches of Snapchat can be fulfilled with planning and proper execution of the planned work process. As suggested by Billings et al. (2017:10), the primary objective is to set the key partners who will deliver the games for Snapchat. This app can make partnership with Game developers Association of Australia, who are the best game developers in this country. Acquisition of game engine play Canvas has provided the scope to launch the first selfie online game, snappables (techcrunch.com, 2018). According to the factors of the business model canvas, the application has made a proper planning with its resources in order to manage the different sections at the time of implement.
Based on the key activities, it needs to set a stable resource along with easy implementation technique. Additionally, the changes must be customers friendly as they can access the games without any difficulties. The partners are efficient enough to deliver virtual game in which the user can experience uniqueness than the other game developers. Snapchat can access the majority of the share of a particular game along with its stakeholders and suppliers. In the social media platform this strategic entry can provide an exclusive entertainment source for the users (Charteris et al. 2014:389). As the people from adult age group will be the part of these games, the venture can access emails, promotional approaches in order to reach them and advertise them about these games. In order to win over the competitors the app can access an effective promotional strategy as provide virtual gifts, point collection with referring others and installing the games (Kim & Mauborgne, 2014:12). It will help to remove the competitiveness and make a different identification for this application. According to the application of the model business canvas, the potential revenue growth is expected to be 5-8% in the coming year (snapchat.com, 2018).
v. Execution idea with critical success factors
At the first point the issue needs to be stronger as it can provide a high level support for such transformation. As suggested by Alreemy et al. (2016:907), excessive urge to make changes among service can please customers and they will be interested to access the service. As for Snapchat, it will attempt to bring success with entering in a completely new business segment as in the world of virtual gaming.
Measurability is another term that can help to assess the amount of success on the business as opined by Rosemann & vom Brocke (2015:85). Additionally, team motivation is the key support that must be acquired by this application in order to access continuous development. In the next part, planning can be done on the entire section that a venture requires to achieve successfully with the help of other sources. For example, clear documentation along with project milestones can be set. It will be helpful to provide accurate knowledge to the employees about objectives they are going to achieve. The entire task must be done within a limited time as Snapchat is a business venture and it does not have enough time to implement this change. Cost estimation as to set a budget is necessary in order to understand about the expenses the company has to provide for such acquisition or transformation.
Success factors also involve continuity and collaborative approach of a project team. In the viewpoint of Halligan & Shah (2014:45), the members who are associated with a major transformation of the company need to be focused on the main activity. As in this case, snapchat needs to monitor on the employees as how much they are working to promote and reach about the new gaming advantages through this application (techcrunch.com, 2018).
On the other hand, risk management is another key success factor that can help to avoid negative factors. As it is a new approach, employees may not understand about the actual objectives they need to meet. Additionally, competitions with several others companies can create a strong barriers on the success of this application.
Financing needs: Based on the above ideas in this business idea assignment, it can be suggested that the business plan of Snapchat requires a detail financial evaluation. As it is going to implement a complete new features of online gaming the budget requirement should be developed accordingly. For example, the cost of implementation is $1323.23 and advertisement cost is $6.9. Additionally, it also needs to develop and update the features of games from time to time. It will also engage a particular cost of $13.65.
vi. Evaluation of feasibility
Snapchat has made a massive change in its service features within the past years. The effect of such changes has reflected in its entry in a better service section from a messing tool. According to Hill (2017:349), it is a better opportunity to enhance the present characteristics and develop the business scopes. As suggested by the scholar specific choice and evaluation are better to incorporate a proper business plan. As in this case Snapchat has developed itself as an independent media of social communication. Additionally, it has focused to access the online game facility in order to enhance business structure and acquire more users. Based on the report of the past statistics, Snapchat users have posted nearly 400million shots along with the online game snappables (leadrop.com, 2018). It is a greater success feature in terms of business expansion. The potentiality to reach at least 25 million users is more practical resolution that the firm acquired previously (leadrop.com, 2018).
The effectiveness of this strategy can be shown with success factors of other ventures as Taco Bell and Red Bull who have accessed this game as a medium of advertisement. In the view point of Abdulai & Ibrahim (2016:12), merging and acquisition is another support that can help the parent firm to gain best advantage from the market. Snapchat acquisition over Play Canvas is a similar one to bring the most popular online game snappables. This initiative is helpful to enhance customer's attraction with two way benefits. They can use this app in order to send messages. Additionally, they can access different games through this application.
Application of canvas business model is helpful to allow a planned approach to access such measures. Initially, the game can be played by the user's inn free of cost which is another strategy to attract customers. In the next part, it will cost a premium amount to provide all the levels and virtual gifts for the players.
vii. Conclusion
It can be concluded from this business idea assignment that incorporating a new business idea needs a clear support according to the concept of development. Initiation of such approach can be best achieved with a planning and focused on particular issues that are the reason to conduct such transformation. As in this business idea assignment, the low customer growth and revenue percentage is the reason behind its entry in the market of online gaming. Based on the canvass model it has evaluated that the firm has conducted a partnership with game making ventures in order to supply and deliver the most unique entertainment for the customers. Approaches with success factors along with feasibility study have suggested that a proper use and timely evaluation for strong establishment in market that will assist its future development eventually.
Reference list:
Halligan, B., & Shah, D. (2014). Inbound Marketing, Revised and Updated: Attract, Engage, and Delight Customers Online. Ed 1 US: John Wiley & Sons.
Kim, W. C., & Mauborgne, R. A. (2014). Blue ocean strategy, expanded edition: How to create uncontested market space and make the competition irrelevant. Ed 3 UK: Harvard business review Press.
Rosemann, M., & vom Brocke, J. (2015). The six core elements of business process management. In Handbook on business process management 1 (pp. 105-122). Ed 2 Springer, Berlin, Heidelberg.
Abdulai, M., & Ibrahim, H. (2016). Merging Cultures in International Mergers and Acquisition. Journal of Intercultural Communication, 45(41), 12-22.
Alreemy, Z., Chang, V., Walters, R., & Wills, G. (2016). Critical success factors (CSFs) for information technology governance (ITG). International Journal of Information Management, 36(6), 907-916.
Berg, L. P., & Vance, J. M. (2017). Industry use of virtual reality in product design and manufacturing: a survey. Virtual Reality, 21(1), 1-17.
Billings, A. C., Qiao, F., Conlin, L., & Nie, T. (2017). Permanently desiring the temporary? Snapchat, social media, and the shifting motivations of sports fans. Communication & Sport, 5(1), 10-26.
Charteris, J., Gregory, S., & Masters, Y. (2014). Snapchat 'selfies': The case of disappearing data. Rhetoric and Reality: Critical perspectives on educational technology, 389-393.
Utz, S., Muscanell, N., & Khalid, C. (2015). Snapchat elicits more jealousy than Facebook: A comparison of Snapchat and Facebook use. Cyberpsychology, Behavior, and Social Networking, 18(3), 141-146.
Vaterlaus, J. M., Barnett, K., Roche, C., & Young, J. A. (2016). "Snapchat is more personal": An exploratory study on Snapchat behaviors and young adult interpersonal relationships. Computers in Human Behavior, 62, 594-601.
Wadhwa, A., Phelps, C., & Kotha, S. (2016). Corporate venture capital portfolios and firm innovation. Journal of Business Venturing, 31(1), 95-112.
Hill, R. (2017). Embracing digital: Key considerations for publishers, marketers and customers. Information Services & Use [Online] 37(3), 349-354. Retrieved on 1st September 2018 Available from: https://content.iospress.com/articles/information-services-and-use/isu845
thinkgrowth.org (2018). THINKGROWTH.ORG Available from: https://thinkgrowth.org/the-problem-with-snapchat-b24aefc542b4 [Accessed on 1st September 2018]
techcrunch.com (2018). TECHCRUNCH.COM Available from: https://techcrunch.com/2018/04/25/snappables-snapchat-games/ [Accessed on 1st September 2018]
leadrop.com (2018). LEADROP.COM Available from: https://www.leadrop.com/blog/snapchats-snapbot-moving-vending-machine-technology-sparks-feasibility-in-specialty-vending [accessed on 3rd September 2018]
snapchat (2018). SNAPCHAT Available from: https://www.snapchat.com/[accessed on 3rd September 2018]
Appendices 1:
Business canvass model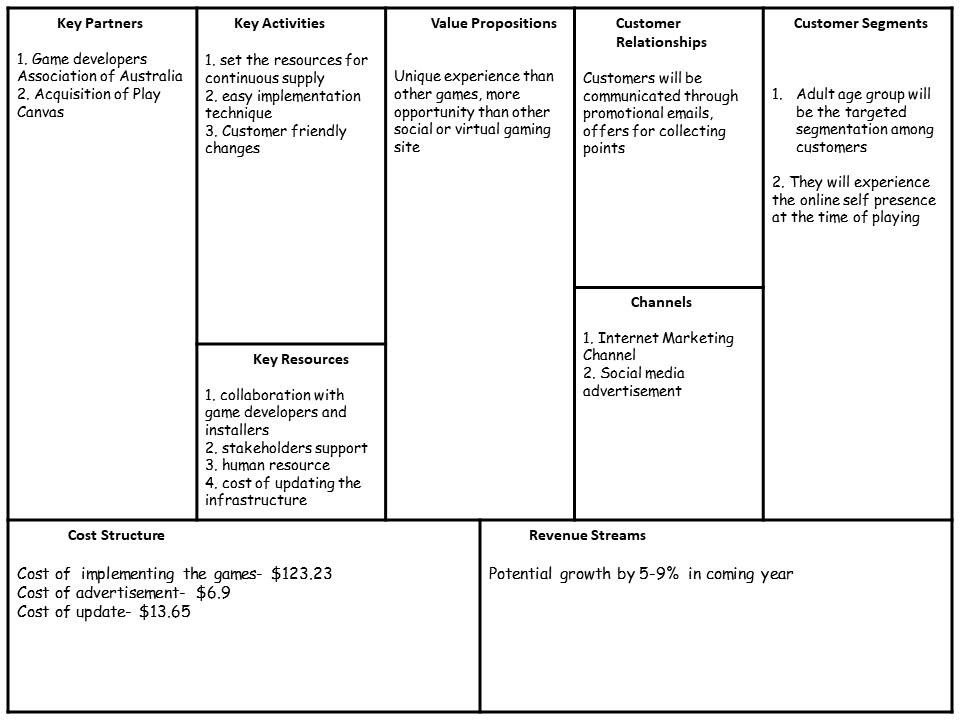 (Source: Created by author)