Business Analysis Essay: Case Scenario Of Wesfarmers
Question
Task:
Conduct a research on the organization of your choice with a focus on critically analyzing the impact of a range of internal and external contextual factors on the performance and decision making of your chosen organization.
Answer
Introduction
Wesfarmers is one of the largest companies in Australia that aims at delivering competitive goods and services to the customers and in an ethically and sustainable manner. The company is known to support the community and create long term value by proactively managing environmental impact. They operate with the aim to provide services and merchandise to the Australian farmers (Wesfarmers, 2020a). The company is also known to maintain robust corporate governance policies that is responsible for the success of the business.
The essay critically analyzes the external and internal factors that has an impact on the performance of Wesfarmers with focus on governance structure, business practices and functional departments as internal factors and potential risks and other external environmental factors.
Governance Structure of Wesfarmers and Effectiveness
Corporate governance structure refers to the distribution of responsibilities among board of directors and the procedures that is used in decision making processes (Dzinga & Bamidele Fakoya, 2017). Business organizations are formed for various kinds of objectives and include structures such as sole trader, partnership, joint venture, trust, company, cooperative and others. Each of the types of organizational structures has its own benefits because it helps in attracting investment and strengthening firm's performance (Shao, 2019). The governance structure that Wesfarmers operates is a cooperative, as the company has established itself as a farmer's co-operatives and unit holders to provide services and merchandise to the western Australian farmers. The company was formed as a cooperative company by the Farmers' and Settlers' Association of Western Australia. The cooperative is made successful and effective by the company by forming association with 65 local cooperative companies. In a cooperative governance structure is seen to be staff centered and decisions are taken cooperatively with all members that benefits them all (Klein et al., 2019). Wesfarmers is seen to maintain the effectiveness of its corporate governance by implementing and forming a strong policy for inclusion and diversity. The company has implemented inclusive workforce for delivering a satisfactory return to the shareholders and maintain the cooperative work structure where the major tasks and decisions is owned and controlled by the staffs and board of directors instead of investors (Cook & Burress, 2013). Further, Wesfarmers also complies with the ASX corporate governance council principles and manages a cooperative structure effectively. However, the company faces the disadvantages of cooperative governance structure where it reduces the return on investment and attracting shareholders is becoming difficult for the company with such governance. Wesfarmers has however been able to maintain the challenge by communicating with shareholders for attracting investment. The below diagram shows the governance framework of Wesfarmers that is closely connected with less hierarchical pattern.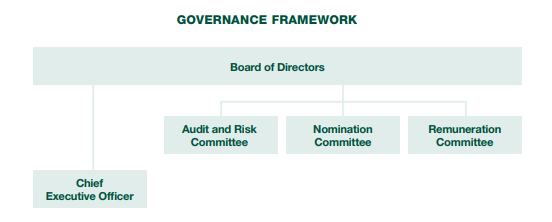 Figure- Corporate Governance
Source- Wesfarmers (2020a)
Impact of External Environmental Factors on Wesfarmers
Businesses are highly influenced by the external environmental factors and it defines the overall performance of the business (Alarmoti, 2019). This is because the external factors help in acting as a driver of change that makes an impact on the organizations. Pestel analysis is used to analyze the external environment that influence the business and is defined by six factors such as political, economic, social, technical, environmental and legal (Song, Sun & Jin, 2017).
Political- Australia is presently high on political stability with a point above 1 and a corruption perceptions index of 77 (TheGlobalEconomy, 2020). This has a positive impact on the performance of Wesfarmers because political stability and lack of corruption makes it easy for the company to source the food and staples that Wesfarmers sell. Moreover, stability is making market growth trends predictable and this has helped Wesfarmers to attract investors ad increase the profitability of the company
Economic- economic environment factor has an impact on the growth of the organization because it enables to determine the purchasing power of the people, the cost increase and the current market condition (Dubitskaya & Tcukanova, 2018). In relation to Wesfarmers it is seen that it operates in Australia that has presently faced a drop in its GDP from $1314.46 billion in 2019 to $1384.02 billion in 2020 (Statista, 2020). This means that purchasing power of Australian population has reduced due to the current pandemic and this will have negative impact on Wesfarmers by reducing its sales. Likewise, monthly employment increased by 20,200 in 2019 (Abs, 2020). This means that there is less labor available for work at lower wages due to high labor demand and will negatively impact Wesfarmers by increasing their production cost. Thus, such economic condition enables Wesfarmers to take careful decisions regarding pricing strategy and cost management.
Social- power distance in Australia is relatively low, which means that they prefer greater equality at work and less hierarchical work structure (Dubitskaya & Tcukanova, 2018). This shows that this makes it important for Wesfarmers to take management practices decision where employees are included in decision making. Additionally, it is seen that Australians highly prefers to purchase locally for their daily needs. This becomes challenging for Wesfarmers and impacts the decision of the company to make partnership decision with local firms and brands to meet the societal attitudes.
Technical- this is yet another factor that impacts the performance and decision making of Wesfarmers. Social media and information technology are growing in Australia and presently 71 percent of the population are making use of social media in their daily lives (Statista, 2020). This gives huge opportunity to Wesfarmers to alter their marketing strategy according to the marketing technological growth and design social media marketing strategy.
Environmental- Australia faces huge environmental issues related to agriculture, overfishing and pollution. Working closely with farmers it become highly challenging for Wesfarmers to work effectively with farmers and make careful decisions so that they do not cause any negative impact on agriculture or indulge in illegal fishing (Ipsos, 2020).
Legal- Australia has less law for the retail sector with the major law abiding to the Australian Consumer Law. This has positive impact on Wesfarmers because they will be able to operate effectively and take easy decisions for their business.
Impact of Potential Risks on Wesfarmers
Risk in the organization is the chances of negative situation that arises in the environment that can cause harm, loss and disrupt operations (Zakic, Papic & Radonjic, 2016). Wesfarmers is seen to face several risks in its business and this is having an impact on its performance and the kind of decisions that they are making. One of the most evident risk that Wesfarmers is facing is financial risk related to revenue that the company owns and the cost or expenses of the business. There are situations when sales of Wesfarmers might drop due to low demand and the overall cost of production is increased. This has negative impact on the performance of the company because it faces a drop in its profits and reduced success. Wesfarmers has faced such risk this year and this is seen from the recent report of the company that the total expenses of Wesfarmers has increased from $25,414 million in 2019 to $28,976 million in 2020. Similarly, the earnings of the company have reduced from $2974 million in 2019 to $2744 million in 2020 (Wesfarmers, 2020). This had negative impact on the overall performance of Wesfarmers where the profit of the company after tax has reduced from $1940 million in 2019 to $1622 million in 2020.
In addition to financial risks the company also faces non-financial risks such as lack of support from the employees, changing preferences of the customers and rise in market competition. These risks are having high impact on its decision making and increasing the responsibility of the organization. This can be seen from the fact that the risk of covid-19 was reducing the support from the employees, however, Wesfarmers were able to manage it by forming new safety and support decisions (Wesfarmers, 2020a). Moreover, the organizations also formed new decisions such as click and collect in the COVID-19 pandemic to reduce the risk of reduced demand and customers' shopping patterns.
Impact of Chosen Business Practices
There are number of business practices that Wesfarmers involves in and it has positive impact on the overall performance of the business such as inclusive work culture, employee equality and sustainable operations. Wesfarmers operates highly inclusive work culture where all employees have equal opportunity to be included in decision making. Moreover, Wesfarmers employs equality in employee engagement such as inclusion of women and indigenous people. Wesfarmers also practice sustainability in its operations such as safety for employees and customers, ethical sourcing and others (Wesfarmers, 2020). This has positive impact on the performance of the organization by increasing its demand and a healthy team.
Wesfarmers is seen to have negative or poor remuneration practice where it has been blamed for underpaying its staffs. Workers in Wesfarmers has been underpaid by $15million and this had negative impact on the overall performance of the company by reducing its productivity and high employee turnover rate (Wesfarmers, 2020a).
Extent of Support from Functional Departments
Wesfarmers has number of functional departments in its environment that helps in its daily operations such as human resource, technical, financial, distribution, research and development and marketing. The human resource team plays an important role in motivating and empowering the staffs and Wesfarmers have their own R&D team to source most safer products for the customers (Wesfarmers, 2020a). This has positive impact on the overall performance of the team as such functional areas allow the company to ensure best practices, innovation and safety of the consumers.
Even with such wide functional divisions, Wesfarmers still lags in quality management functional department to ensure safe quality. Thus, quality emerged as one of the issues in Wesfarmers and negatively affected its performance by reducing the trust of the customers and reduce demand for products against its competitors.
Conclusion
In conclusion it can be stated that Wesfarmers has been successful in implementing a highly positive and strong business with its functional areas, activities and practices. However, it faces some challenges from major financial and non-financial risks and external environmental conditions.
References
Cook, M., & Burress, M. (2013). The Impact of CEO Tenure on Cooperative Governance. Managerial And Decision Economics, 34(3-5), 218-229. https://doi.org/10.1002/mde.2585
Dubitskaya, E., & Tcukanova, O. (2018). Analysis of the influence of external environmental factors on the development of high-tech enterprises. MATEC Web Of Conferences, 170, 01027. https://doi.org/10.1051/matecconf/201817001027
Dzinga, I., & Bamidele Fakoya, M. (2017). Effect of Corporate Governance Structure on the Financial Performance of Johannesburg Stock Exchange (JSE)-Listed Mining Firms. Sustainability, 9(6), 867. https://doi.org/10.3390/su9060867
Ipsos. (2020). Australians' environmental concerns in January 2020. Ipsos. Retrieved 16 December 2020, from https://www.ipsos.com/en/australians-environmental-concerns-january-2020.
Klein, P., Mahoney, J., McGahan, A., & Pitelis, C. (2019). Organizational Governance Adaptation: Who Is In, Who Is Out, and Who Gets What. Academy Of Management Review, 44(1), 6-27. https://doi.org/10.5465/amr.2014.0459
Shao, L. (2019). Dynamic study of corporate governance structure and firm performance in China. Chinese Management Studies, 13(2), 299-317. https://doi.org/10.1108/cms-08-2017-0217
Song, J., Sun, Y., & Jin, L. (2017). PESTEL analysis of the development of the waste-to-energy incineration industry in China. Renewable And Sustainable Energy Reviews, 80, 276-289. https://doi.org/10.1016/j.rser.2017.05.066
Statista. (2020). Gross domestic product (GDP) of Australia 2021. Statista. Retrieved 16 December 2020, from https://www.statista.com/statistics/263573/gross-domestic-product-gdp-of-australia/#:~:text=In%202019%2C%20GDP%20in%20Australia,about%201.38%20trillion%20US%20dollars..
TheGlobalEconomy. (2020). Australia Corruption perceptions - Transparency International - data, chart | TheGlobalEconomy.com. TheGlobalEconomy.com. Retrieved 16 December 2020, from https://www.theglobaleconomy.com/Australia/transparency_corruption/.
Wesfarmers. (2020). 2020 Annual Report. Wesfarmers. Retrieved 16 December 2020, from https://www.wesfarmers.com.au/docs/default-source/asx-announcements/2020-annual-report.pdf?sfvrsn=67950abb_0.
Wesfarmers. (2020). Investor Engagement. Wesfarmers. Retrieved 16 December 2020, from https://www.wesfarmers.com.au/docs/default-source/corporate-governance/investor-engagement(280220-1).pdf?sfvrsn=5d670abb_2.
Zakic, N., Papic, Z., & Radonjic, S. (2016). Meeting the coming organizational risk challenges in human resources. International Review, (1-2), 109-116. https://doi.org/10.5937/intrev1602109z