Bioclimatic Buildings Assignment: Green Buildings
Question
Task:This assessment requires you critically analyse the system design process of a project using the theory and principles studied during the course. This assessment item relates to the course learning outcomes 1 to 5.
Details: Details In this group assessment, you are required to write a report which critically analyses the conceptual design phase of a systems engineering project. Projects might include designing a bridge, a dam, an environmentally-conscious building or a mechatronic system. You might not have been involved in the project personally, but some connection with the project would make the analysis more meaningful. Choose your project carefully because in assignment 2, your group will need to analyse the preliminary design and detailed design phases of the project. If you are unsure as to whether your chosen project has sufficient depth/detail, consult with your tutor. You will also have the opportunity to work on the assignment in the tutorials for the unit. Every group must do a different project. Also, projects from previous years can not be reused. The report is to analyse the following phases of the project: Needs definition Conceptual system design To demonstrate your research skills and understanding, the report must draw upon relevant sources like journals, books or reputable trade publications in analysing the project. You must also present the case study in terms of the above two lifecycle phases and evaluate the proposed conceptual design against the identified needs/requirements.
The report is to analyse the following phases of the project:
Needs definition
Conceptual system design
To demonstrate your research skills and understanding, the report must draw upon relevant sources like journals, books or reputable trade publications in analysing the project. You must also present the case study in terms of the above two lifecycle phases and evaluate the proposed conceptual design against the identified needs / requirements.
Answer
Introduction
We are providing some sample solutions of bioclimatic buildings assignment to help you in building up a concept plan in drafting the solution yourselves. Buildings used by everywhere directly affect the performance of the energy, and the use is costly in terms of damage to the environment and money. We should protect our buildings by using insulation suitably, reduce glare, as well as practice good habits such as closing the blinds and windows in the same way that we protect our bodies from the elements of nature. Bioclimatic buildings are such branch of green construction technology, which importantly curbs energy consumption and makes life comfortable and definitely affordable.
This bioclimatic buildings assignment deals with the project on the Bioclimatic Buildings. The aim of this bioclimatic buildings assignment is reducing the impacts of heating and cooling process used in the modern architectural designs. Bioclimatic buildings use the design and construction techniques based on the climate locally. The aim is to be comfortable by using the solar energy which is in abundance and also its eco-friendly sources. This type of architecture is natural restrains fighting nature, and centuries old principles.
Needs Definition
Bioclimatic architecture is the way to apply the architecture that connects to the Nature and takes into consideration the buildings and facilities design specifically the interiors and exterior, basis the local climate, also called the microclimate, with a view to provide visual and thermal comfort. It effectively utilizes the solar energy and other sources that can be renewed. Ecological and sustainable factors are the base of bioclimatic architecture. Bioclimatic design simply means design which aims to protect the environment and resources available naturally; it avoids complete dependence on supporting mechanical systems.
The following directions need to be studied, to help in understanding the importance of the bioclimatic architecture:
The difficulty in air circulation, increase in temperature, air pollutants are the problems created by the built environment, it becomes important to study it.
The choice of building materials and its toxicological effects
Building designs
Bioclimatic architecture is not a new way of architecture. The traditional way of architecture styles was aligned to the bioclimatic princi¬ples. It is not very long, when air conditioning was expensive and used rarely, and it still is in many places. Multi-seasonal considerations come in picture when the designing has to happen in accordance with nature means accounting for. For example, reduction in the heating needs with maximum sunlight naturally. It is indeed simple to understand that these techniques have worked for generations in any particular geographic region, and so clearly modern designs can benefit from the integration of these traditional principles, done carefully. It is very much possible to design modern bioclimatic housing and architecture, with the use of ventilation naturally, solar designs, and many other traditional techniques specific to the building site.
While designing a bioclimatic building there is minimal purchase and the installation of any complicated and highly expensive system, because regular architectural elements are used to increase the performance along with increased energy and natural comfort. Cost savings is another contributing factor. Bioclimatic comes with guidelines, although it is suitable to individual tastes, for e.g.:
Building site
Usage of the thermal mass
Solar accessibility and Solar shading
All these give an end product is in tune with its surroundings and much more energy efficient.
Conceptual Design
Techniques and the concept used for Bioclimatic architecture: As stated earlier it deals with building design and materials to achieve energy efficiency exclusively.
Passive solar concept: Efficient use of solar energy, in the housing design. It does not use mechanical system and hence the s the term passive, it is very close to bioclimatic architecture in concept, although the later also considers deals with other non-solar climate related elements. Bioclimatic is more general, and inclusive as well, even though they both work in the same direction.
Active solar Concept: It very obviously takes advantage of solar energy, either mechanically or/and electrically by using the systems for heating and the electric conversion through the panels. These complement a bioclimatic house.
Renewable energy Concept: Energy Sources do not get exhausted. It is incorporated by solar radiation which is renewable for cooling and heating. The other kind includes water, wind and methane generation from biomass or the organic waste.
Sustainable architecture concept: The general aim is to have a minimum environmental impact of building process, which is from materials especially the manufacturing process can enhance if packaged with other sustainability techniques in architecture.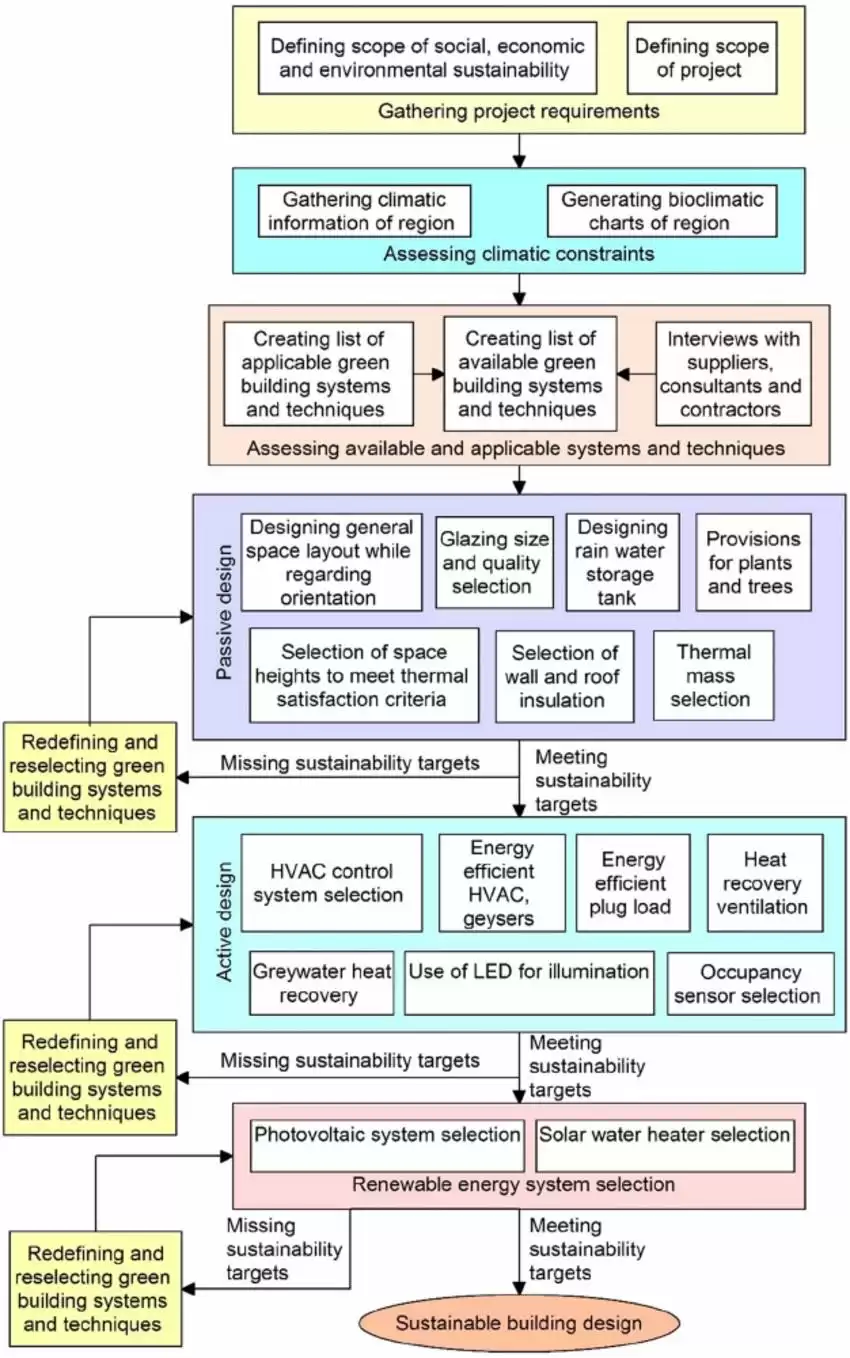 Self-sufficient house concept: Accomplished by inclusion of locally available resources and is independent of water, gas, food and electricity. For example, water available naturally from rains, wells, or rivers and streams, the sun or the wind to provide energy, sun to provide electricity, food available naturally through farming, and to produce enough energy so that grid is not required. Architecture done bio climatically cooperates with self-sufficiency regarding energy saving and is very efficient way to use the resources available naturally and in abundance.
Detailed Design- Bioclimatic buildings
The ideal bioclimatic building would be a project that would allow preserving maximum natural environment at the project site. This calls for understanding the impact of the non-sustainable buildings to the environment during their construction, operation and demolition thereafter.
Construction impact: Disturbs the animal habitat, soil erosion, trees destruction, urbanization and vehicles and its associated environmental effects, pollution from various factors eventually water quality degradation from the use of chemicals and pesticides.
Operational impact: Air pollution, depleting groundwater, increase in solid waste, the electrification of buildings and hence nuclear waste from power plants, gas from greenhouse, Water pollution and consumption pollution due to light.
Demolition: Handling demolition wastes of wood, steel, concrete, glass and metals, dust emitted during the building process, neighboring properties getting disturbed and also the fuel and air pollutants through demolition.
What do the Bioclimatic Buildings offer?
The bioclimatic buildings would be offering various types of advantages to the development of the project:
Low Cost
The utility and also maintenance costs are lower in these buildings and outperforms non-green buildings. Hence Higher market value
Lower demands, on and water means that these infrastructures do more with less dependence on utilities like water, gas and electricity.
Improves productivity as health and comfort due not get compromised.
The healthy ventilation system and no use of non-toxic building materials helps in keeping sickness at bay
Less stress and Improved quality of life
Functional organization of interiors and exteriors
Design and energy efficient factors reduce the environment impact. Eco friendly means inclusion of combination of building feature, its usage and the location, along with equipment used.
Efficient sitting and structure design: A variety of every design factor affects the environment during the building stages. The foundation during any construction is rooted in the concept and its design. The concept stage is a major step in a project life cycle, and has a large impact on the cost and eventually the performance. Here, the objective is to minimizing the total environmental impact in all stages of building project. There are variations in the from one building to the other, and never repeats.
Installing Efficient Windows and Shades: Installing windows to enable the use more daylight as natural light. Smart feature window help in control the temperature. Considering the glazed (triple) windows will ensure insulation effectively. To block heat from entering the buildings in the summer, and retaining heat during the winter by using the modern, efficient windows. Shades to be used to adjust the light and entry of heat throughout the day.
Harvesting of Rain Water: The rain harvesting system, wastewater for toilet flushing, cleaning the yard, can be prevented. Storage and reuse of rain water is great for environment, and also has the benefit of cost reduction. It is quickly easily installable, and automatic that collects rainwater, used for various systems such as power washing, toilet flushing and many more. Example provided with Solar water heating systems, or commonly known as 'solar thermal' system. Operation explained as follows:
The Sun heats the collectors installed on the roof, heats the non-toxic anti-freeze mix and triggers the pump to come in action
Pump then moves heated mix from roof down, then to heat exchanger which is located in in the basement of storage tank, and it indirectly heats the water supply. This helps the circuit to continue until heat that can be harvested on the roof top.
Hot water that gets sored in the tank pumps it to dishwashers, sinks, showers, etc. for usage
Automatic backup is integrated to provide hot water during the periods of cloudy and bad weather.
Insulation
Insulation would though look like a minor component in the building process, it is actually very critical in building energy efficient building project. If there isn't sufficient insulation, the large portions of the energy that are used to cool or heat a building shall be lost outdoors. Very well insulated building will not only save energy, by effectively lowering the operating costs, would also provide more comfort to people. As per history asbestos, cork, mud, were used as insulation. In modern times, the insulation products available more effective, especially when used along with air sealing and ventilation.
Redesigning of interior spaces
The organizing and grouping of the interior, to ensure large usage time and high temperature preference to be on the south side which is the living room, or the dining room. Spacing the areas with the least usage time and lower in temperature in the intermediate heat zone for example the bathrooms and the bedrooms. Placing the other rooms on the north side so that it functions as a thermal buffer zone in between the external environment and the heated space.
Efficient and smart designing of the rooms. To start, have good furniture, plenty lighting, and well ventilated. Recycled material furniture can be manufactured. The high-end LED desk lamps or compact fluorescents can replace the Incandescent bulbs.
Paint: To choose the best color for the building, it must be kept into consideration what is to be achieved
Green for any Creative inspiration.
Light pink/rose for being Calm and collected
Pale yellow/almond for tranquility
Furniture: The recycled furniture is best and great way to stock the buildings, these don't harm our planet way to. It is the most fantastic way to load the buildings with unique from garage sales, or the antique stores and also thrift shops. The perfect way to save the good wood from the landfill and give fantastic conversation piece is by fresh coat of paint and new hardware. To be eco-friendly and stylish gives way. Buying green, as sometimes there is no other option than buying new. Choosing furniture made of organic, sustainable, recycled materials and eco-friendly woods, like bamboo and cork.
Plants: Indoor air is always more polluted within the buildings than the outdoor air. Having the indoor plants, is a very good way to purify the air. Plant trees in the yard, around the buildings. Considering designing a roof garden or vertical garden is a good option. Planting trees helps in absorbing carbon and also other hazardous polluting factors. Plants also have the purpose for shading. Hence, the winter should have plants fall the leaves to leave the sunlight enter the space and the summers should have the leaves to prevent the sun to enter the ground space.
Electricity: The heating or cooling and consumption of power, even when we see that everything is turned off, contributes the most to the building's carbon footprint which is almost half of the building. Choice of Smart Power Strips can definitely reduce the power drains. Using Natural cooling and heating as much as possible by bringing the outside in by using the fans to cool homes and offices and sunlight to warm it up.
Evaluation: The benefits to bioclimatic buildings are manifold, and are categorized as environmental, economic, and social.

Environmental:
Emissions reduction: There is an increase in energy efficiency and reduction in harmful emissions by adopting the green building techniques like day lighting, solar powering, and also facilitation of the public transport. The reduced use of fossil fuels at the sites of buildings result in contributing lower air pollution.
Water conservation: Reduction in water use, these buildings help in minimizing the detrimental effects of water usage and its effects. The best way is to do this is by adopting the recycling of rainwater and greywater. Enhance the existing ecology by constructing on previously used properties, with measures to restore the plant life to the building areas.
Waste reduction: Building deconstruction can be an alternative demolition done on full scale results in huge decreases of waste production.
Economic
Reduced cost: The green design provides resource efficiency, and its technology helps to drastically reduce the in-operation costs which eventually offer dramatic long-term savings. These cost savings in energy are between 20-50% by various factors like orientation, integrated planning, energy-saving technologies, renewable energy producing technologies
Increased property values: Higher property values is the trend , easing out the way for high energy costs, and the low operating costs and easy maintenance of green buildings as well becomes easier.
Social
Improved environment and community: These buildings offer great value by reducing automobiles pollution and congestion and, by minimizing their carbon footprint and this fosters better neighborhood.
Improved health: Since these buildings emphasize a lot on ventilation and usage of non-toxic, low emission materials which create healthier certainly more comfortable living. Creates an aesthetically pleasing environment, as importance is given to the surroundings.
Conclusion
For conclusion of this bioclimatic buildings assignment it can be said that the environmental considerations are very important for any type of projects. The term 'green' buildings', for some people, gives an image of very uncomfortable, costly buildings that make little difference to the environment. The actual picture is not that so dramatic, creation of a sustainable and green environment is more about minimizing the impact on the environment, through reduced energy use and wastage also, by enhancing environment which would delivers a comfortable living. Slowly, people around the world are becoming aware, and things are moving forward by promotion of lot of researches on this topic and generating new laws and standards. Many bioclimatic projects are being promoted all throughout the world for a better world future. Bioclimatic buildings assignment are being prepared by our civil engineering assignment help experts from top universities which let us to provide you a reliable assignment help service.
Bibliography
Carney, C., McGehee, D., Harland, K., Weiss, M. and Raby, M., 2015. Using naturalistic driving data to assess the prevalence of environmental factors and driver behaviors in teen driver crashes.
Chen, Y., Wang, Y., Nevo, S., Jin, J., Wang, L. and Chow, W.S., 2014. IT capability and organizational performance: the roles of business process agility and environmental factors. European Journal of Information Systems, 23(3), pp.326-342.
Derguy, C., M'Bailara, K., Michel, G., Roux, S. and Bouvard, M., 2016. The need for an ecological approach to parental stress in autism spectrum disorders: The combined role of individual and environmental factors. Journal of autism and developmental disorders, 46(6), pp.1895-1905.
Fortunel, C., Paine, C.T., Fine, P.V., Kraft, N.J. and Baraloto, C., 2014. Environmental factors predict community functional composition in A mazonian forests. Journal of Ecology, 102(1), pp.145-155.
Gapp, K., von Ziegler, L., Tweedie?Cullen, R.Y. and Mansuy, I.M., 2014. Early life epigenetic programming and transmission of stress?induced traits in mammals: how and when can environmental factors influence traits and their transgenerational inheritance?. Bioessays, 36(5), pp.491-502.
Ghaisas, S., Maher, J. and Kanthasamy, A., 2016. Gut microbiome in health and disease: linking the microbiome–gut–brain axis and environmental factors in the pathogenesis of systemic and neurodegenerative diseases. Pharmacology & therapeutics, 158, pp.52-62.
Jayaweera, T., 2015. Impact of work environmental factors on job performance, mediating role of work motivation: a study of hotel sector in England. International journal of business and management, 10(3), p.271.
O'Halloran, R., Worrall, L. and Hickson, L., 2015. Environmental factors that influence communication between patients and their healthcare providers in acute hospital stroke units: an observational study. International journal of language & communication disorders, pp.1-18.
O'Halloran, R., Worrall, L. and Hickson, L., 2015. Environmental factors that influence communication between patients and their healthcare providers in acute hospital stroke units: an observational study. International journal of language & communication disorders, pp.1-18.
O'Halloran, R., Worrall, L. and Hickson, L., 2015. Environmental factors that influence communication between patients and their healthcare providers in acute hospital stroke units: an observational study. International journal of language & communication disorders, pp.1-18.