Healthcare Management Assignment: Analysing Annual Report Of Calvary Health Care Bethlehem
Question
Task:
Individually, you are required to write a 2000-word healthcare management assignment based on the annual report of Calvary Health Care Bethlehem (2019-2020).
An important skill that a healthcare manager must develop is the ability to analyze a health service or organization in terms of how well it is meeting its stated mission and objectives. Using the information from the Annual Report you are to write a formal report that investigates the central organization in terms of its:
Political and policy environment
Organizational design and coordination
Leadership and teamwork
Financial resource utilization
Attitude to, and utilization of, technology
Answer
Executive Summary
In this healthcare management assignment, the annual report of Calvary Health Care Bethlehem (2019-2020) has been studied to illustrate its political and policy environment. Moreover, organizational design, existing leadership, and teamwork have been identified and discussed thoroughly in this report. The significance of relation-based leadership, collaboration, and teamwork towards healthcare outcomes has also been mentioned properly. Details of organizational financial resource utilization have been described with its 'finance leases', finding types, and finance allocation. In addition, utilization of ICT within the healthcare sector has also been measured which has provided support in the Hospital Management system, Health Data Management, and Health Research. A short recommendation has also provided to the sector for developing existing strategies, reduce barriers in the treatment procedure and develop interpersonal relationships among caregivers.
Introduction
An effective and evidence-based Healthcare management can provide a revolutionary change in treatment plan (with an automation system, leadership, ICT), reduce medical error, promote complete documentation improve revenue and healthcare plan. In this paper, the annual report of Calvary Health Care Bethlehem (2019-2020) has been studied to identify political and policy environment, evaluate organizational design, review existing leadership and teamwork, understand financial resource utilization and measure the altitude of technology.
1. Political and policy environment
In Health Care Bethlehem, project coordinators and executives are working together to deliver a flexible work atmosphere and an effective staff learning platform. The organization is also willing to protect patient's rights and improve well-being initiatives with its extensive internal communication. Apart from that, different departments and different disciplines are used to maintain a public policy that is aligned with the sector. For resolving conflicts regarding resources, values, and rights, the organization has framed political and social understanding and set up a professional code of conduct.
The organization is following the Safe Patient Care Act 2015 (Section 40) and assuring safe patient care by reviewing feedback, recruiting efficient nurses, and providing sufficient words for patients. Health Care Bethlehem is also following the Protected Disclosure Act 2012 to extend protection to the patients via its quality and safety system administrator. Merit and Equity Principles are also followed here to provide equal opportunity to the employees and controlling diversity management performances. This policy has assured that the work environment is free of discrimination and harassment. Also, the company is promoting cultural diversity, transparency, and awareness in the workplace. As asserted by Kirya (2020), the decision-making procedure of the healthcare system must be fair, consistent as well as accessible in all circumstances. Here, the company has assured that decisions and organizational actions are free of any unlawful discrimination and bias. The company has also implemented Building Act 1993 to build safe serviceable conditions, prioritize recommendations and maintain routine inspections. Health Care Bethlehem used to monitor its waste stream to introduce changes as well as minimize its environmental footprint. Besides, the incorporation of 'organic waste bin' and 'source separation station' has assured a more effective and streamline manner of distinguishing general waste from recyclables. The company has also followed 'waste reduction initiatives and adhered to 'recyclable programs' to minimize landfill wastes. Organic waste materials are gathered and converted to high-grade compost via the 'in-vessel composting' process. As per organizational policy, caregivers used to maintain proper hygiene to control the spread of infectious disease and provide constant supervision to the patient to avoid any kind of injuries or falls (Calvary Healthcare Bethlehem, 2020).
2. Organizational design and coordination
Based on the new 'Model of Care' the organization used to build friendship and stay connected with the local community. Besides, Health Care Bethlehem is willing to maintain a safe and healthy workplace to enable individuals to live fine and fulfilled life. The precinct of the model commits accessibility of timely intervention and allows patients to choose their location if emergency services are required. For the Neuro-Palliative Care Project, the NDIS Service (National Disability Insurance Scheme) of the sector provides a span of supports to the participates to come across their goal. NDIS service is dedicated to providing occupational therapy, behavioral support, speech pathology, music therapy, and physiotherapy for carrying out progressive as well as inclusive treatment. Health Care Bethlehem is revising organizational design with a 2 year construction period and its target completion time is late 2022 (Calvary Healthcare Bethlehem, 2020). The company is emphasizing redesign and redevelopment for vast improvement of aged care services, better recreational facilities along with primary care skillfulness. Health Care Bethlehem is the first healthcare who has commenced the 'Australian group mindfulness program' to help patients to manage stress and stay positive.
The company is also following 'Consolidating a model of care for the last two years to develop clinical management and integration. Implementation of this model engages all the stakeholders in designing details and this has increased care coordination together with reducing administrative costs. The organization is also working on an 'Evaluation Framework' (that includes measuring and monitoring health outcomes) to ensure that proposed models enable them to achieve the company's objectives. Community Palliative Care Service (CPCS) of Health Care Bethlehem assures access to palliative care expertise as their staff for supporting deteriorating patients and providing advanced treatment planning. The administrative department used to conduct case-based conferences for managing symptoms, providing comfort to the patient, and evaluating essential palliative care. the organization is also having an Active Palliative Exercise Group to allow participants to enjoy the chance to become socialized, hold back independence, and overcome health challenges. Improving residential-care facilities, residential aged care facilities, and community volunteers have helped healthcare sectors to explore its effectiveness of service delivery (Patricio et al. 2020).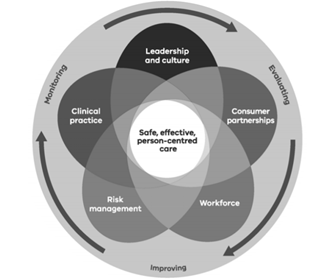 Figure 1: Safer Care Victoria, Delivering High-Quality Health Care
(Source: Victorian Clinical Governance Framework, June 2017)
3. Leadership and teamwork
As per the annual report of Calvary Health Care Bethlehem (2019-2020), the organization used to follow five important domains that include leadership and culture, customer partnership, workforce, risk management, and clinical practices for advanced reliability care. Teamwork and 'Relationship-oriented leadership' structure support the healthcare system to set expectations as well as encourage caregivers to involve proactively within development procedures and safety-oriented organizational culture (Calvary Healthcare Bethlehem, 2020). Apart from that, effective leadership is maintained in this sector for assuring continuous improvement, best practice, and demonstrable documentation of outcomes. Bethlehem has got ACHS accreditation that is for hard work and strong recognition of all staff in this sector. The leadership team and executive team always explore their opinion for the betterment of services in hospital settings. The psychology team continues their research on 'Mind-fullness-based Stress Reduction' for the patient suffering from motor neuron disease (MND) and psychological difficulties. It is evidenced that valuable leadership can result in quantifiable differences in healthcare settings (De Brún et al. 2020). In Health Care Bethlehem, leadership acts as an influential factor for shaping culture, developing strategies, and fulfilling responsibilities.
As asserted by van Diggele et al. (2020), creativity does not happen from geniuses, it can be achieved by teamwork and hence teamwork is essential for planning advanced care. Teamwork within this organization assures patient safety, a patient-centered care approach, and patients' satisfaction. 'Teamwork Intervention' strategy in Health Care Bethlehem serves as multidisciplinary teamwork and the team involves physicians, specialists, and nurses. Nurses used to communicate regularly with physicians, therapists, and patients for providing personalized care plans. This communication keeps caregivers aware regarding the treatment plan as they can supervise the health progress of the patient accurately. Here, caregivers work in a team to access palliative care, identify deteriorating patients, and develop goals for symptom management. Caregivers of the sector work together and maintain proper communication within them to provide compassionate, responsive, and quality aged care service. Teamwork and leadership support Health Care Bethlehem to improve health outcomes, quality of care and reduce treatment errors as well. Teamwork also enhances cooperation and collaboration that is crucial in crisis management within healthcare. An efficient health team can deliver an encouraging atmosphere, understand the basic needs of the patient and make a patient feel comfortable as well as satisfied.
4. Financial resource utilization
Nowadays, hospitals are experiencing huge financial challenges to provide quality services and human resources (Uyar et al. 2021). It is evidenced that for managing expenditure, healthcare organizations are facing issues like yearly potential reductions in Medicaid reimbursements, the cost increase in pharmaceuticals, and growing uncompensated client pool. The Healthcare financing system deals with the allocation, generation, and utilization of financial resources. Health Care Bethlehem has introduced innovative for balancing expenses, revenue, and capital investment. For effective financial management, the organization used to maintain key performance indicators (Adjusted current asset ratio, operating result, available cash, or Private and Public WIES activity) along with its target. The total revenue of the organization, 92% is acquired from Government funding, 4% from Non-government funding, and the rest 4% from health funds and patients (Calvary Healthcare Bethlehem, 2020).
Based on the financial report, in 2019, the finance income of the company was 56000$ and they recognized lease liabilities and lease assets in terms of 'finance leases' under AASB 117 Leases. According to the financial result of 2020, the company's net fund from transactions is 254000$ with 147000$ economic flow. The arrangement within Health Care Bethlehem and holdings give for a building utilization charge which is equivalent to asset depreciation (that may have been invoiced within the organization's financial statement has the sector retained the asset). based on 2019-2020 activities and achievements, the organization is following three types of funding that involve Subacute WIES Admitted (for rehabilitation and palliative care), Subacute non-admitted (for health promotion and health dependence program), and Acute non-admitted (for home-based enteral nutrition). Moreover, from the capital and other items (finance cost on non-financial assets), net transaction of the sanitation has become lesser in 2020 than in 2019. Understanding the healthcare financing system supports the company to evaluate available finance for health, raise funds maintain equability and spend finance for developing existing services and minimize pocket expenditure which may result in impoverishment (Refer to Appendix 1 and 2).
5. Attitude to, and utilization of technology
It is evaluated that developing technology has given rise to a monolithic and welcome change in Health Care Bethlehem. The patient can access diagnostic tools, cutting-edge treatment plans, and minimally-invasive scores in intuitive mobile applications. The organization is providing telehealth consultation, 24x7 telephone service, in-home support along with integrated assistive technology for maximizing patients' independence (Calvary Healthcare Bethlehem, 2020). For using information and communication technology, operational expenditure and capital expenditure of the company have become $1.1474 million (excluding GST). Implementation of ICT has enhanced quality care, develop patients' security and reduce operating costs (Gole, Sharma & Misra, 2017). Health Care Bethlehem uses ICT in four main departments such as health and Education, Hospital Management system, Health Data Management, and Health Research. ICT also leads the healthcare sector to run successfully by overcoming challenges and developing patients' satisfaction.
A careful, smart, and contextual integrating ICT also supports to bridge of the information gap within different departments of the organization and prioritizes strategies to meet the complex health requirements of patients. Moreover, the use of EMR (Electronic Medical Records) also provides up-to-date, accurate, and complete health information about clients concerning health conditions. ICT allows quick access to the health record of patients that supports more coordination as well as effective care (O'Sullivan et al. 2018). Using EMR also helps the company to reduce costs by decreasing paperwork and duplication in testing. As asserted by De Rosis & Vainieri (2017), technology-based communication has provided multi-modal solutions and foster collaboration among the nurses. In addition, it had mobilized the right resources, assure ongoing support and commit customized treatment. Technology-based healthcare setting has supported the sector to store patients' data safely, share as well as analyze health information and improve the potentiality of the service providers. Therefore, medical technology not only safeguard clients' safety in healthcare but also succor to maintain scheduled treatment (Jo, Hwang & Dronina, 2021) (Refer to Appendix 3).
Recommendations
Health Care Bethlehem needs to talk to its internal stakeholders to improve four business strategies such as employee engagement strategy, cost reduction strategy (for increasing wellness and prevention of resources), patient satisfaction strategy (through an audit from desks), and marketing strategy. Moreover, the administrative department ought to review interest group politics, budget politics, and beneficiary politics of the sector.
Moreover, caregivers of Health Care Bethlehem ought to focus on primary care coordination, long-term coordination, and acute-care coordination to reduce barriers in the treatment procedure. The organization needs to follow Transformational and Servant Leadership to develop trust as well as empowerment. It will also inspire changes in the sector, support to get a common goal and develop interpersonal relationships among caregivers.
For financial resource utilization, Health Care Bethlehem can perform stakeholder analysis to assure more attention, availability, increase the potentiality of the sector and improve the financial bottom line. The organization must conduct 'Featured ICT-related Projects' and implement Cloud facilitates technologies (patient portals or electronic medical records) to commit hassle-free flexibility along with scalability.
Conclusion
As per the annual report, the organization commits safety and well-being of all staff, patients, and visitors. Caregivers are following proper communication and multidisciplinary teamwork to explore effectiveness, provide better recreational facilities, and reduce treatment error. Moreover, Health Care Bethlehem has implemented the Safe Patient Care Act 2015 (Section 40), Protected Disclosure Act 2012 and Building Act 1993 to improve treatment plan (telehealth consultation, 24x7 telephone service, or in-home support), maintain ethics as well as build safe services respectively.
Reference list
Calvary Healthcare Bethlehem (2020). ANNUAL REPORT 2019-2020. Retrieved on 18th May 2021. Retrieved from https://www.calvarycare.org.au/public-hospital-bethlehem/wp-content/uploads/sites/5/2020/12/Calvary-Health-Care-Bethlehem-Annual-Report-2019-20-FINAL_WEB.pdf
De Brún, A., Anjara, S., Cunningham, U., Khurshid, Z., Macdonald, S., O'Donovan, R., ... & McAuliffe, E. (2020). The Collective Leadership for Safety Culture (Co-Lead) Team Intervention to Promote Teamwork and Patient Safety. International Journal of Environmental Research and Public Health, 17(22), 8673. Retrieved on 16th May 2021. Retrieved from https://www.mdpi.com/1660-4601/17/22/8673
De Rosis, S., & Vainieri, M. (2017). Incentivizing ICT in healthcare: A comparative analysis of incentive schemes in Italian Regions. International Journal of Healthcare Management, 10(1), 1-12.Retrieved on 17th May 2021. Retrieved from https://www.tandfonline.com/doi/abs/10.1080/20479700.2016.1219808
Gole, I., Sharma, T., & Misra, S. B. (2017). Role of ICT in Healthcare Sector: An Empirical Study of Pune City. Journal of Management & Public Policy, 8(2). Retrieved on 14th May 2021. Retrieved from https://www.academia.edu/download/56787024/Role_of_ICT_in_Healthcare_Sector_An_ Empirical_Study_of_Pune_City.pdf
Jo, H. S., Hwang, Y. S., & Dronina, Y. (2021). Mediating Effects of Smartphone Utilization between Attitude and Willingness to Use Home-Based Healthcare ICT among Older Adults. Healthcare Informatics Research, 27(2), 137-145. Retrieved on 13th May 2021. Retrieved from https://www.e-hir.org/journal/view.php?number=1070
Kirya, M. T. (2020). Promoting anti-corruption, transparency and accountability in the recruitment and promotion of health workers to safeguard health outcomes. Global health action, 13(sup1), 1701326. Retrieved on 19th May 2021. Retrieved from https://www.tandfonline.com/doi/abs/10.1080/16549716.2019.1701326
O'Sullivan, J. L., Gellert, P., Hesse, B., Jordan, L. M., Möller, S., Voigt-Antons, J. N., & Nordheim, J. (2018). Exploring attitudes of healthcare professionals towards ICT-based interventions for nursing home residents with dementia: a mixed-methods approach. Contemporary nurse, 54(1), 13-25. Retrieved on 18th May 2021. Retrieved from https://www.tandfonline.com/doi/abs/10.1080/10376178.2017.1421087
Patricio, L., Sangiorgi, D., Mahr, D., ?ai?, M., Kalantari, S., & Sundar, S. (2020). Leveraging service design for healthcare transformation: toward people-centered, integrated, and technology-enabled healthcare systems. Journal of Service Management.Retrieved on 17th May 2021. Retrieved from https://www.emerald.com/insight/content/doi/10.1108/JOSM-11-2019-0332/full/html
Safer Care Victoria, Delivering High Quality Health Care (2017). Clinical governance framework. Retrieved on 18th May 2021. Retrieved from https://www.bettersafercare.vic.gov.au/publications/clinical-governance-framework
Uyar, A., Kuzey, C., Kilic, M., & Karaman, A. S. (2021). Board structure, financial performance, corporate social responsibility performance, CSR committee, and CEO duality: Disentangling the connection in healthcare. Corporate Social Responsibility and Environmental Management. Retrieved on 18th May 2021. Retrieved from https://onlinelibrary.wiley.com/doi/abs/10.1002/csr.2141
van Diggele, C., Burgess, A., Roberts, C., & Mellis, C. (2020). Leadership in healthcare education. BMC Medical Education, 20(2), 1-6. Retrieved on 18th May 2021. Retrieved from https://link.springer.com/article/10.1186/s12909-020-02288-x
Appendices
Appendix 1: Financial Management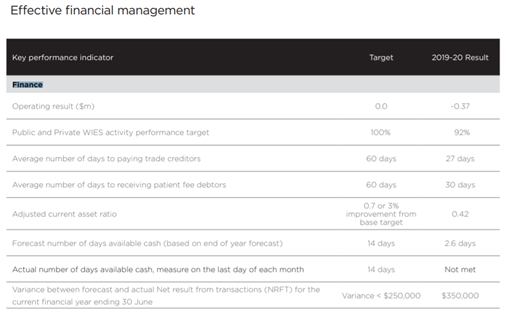 Appendix 2: Financial Result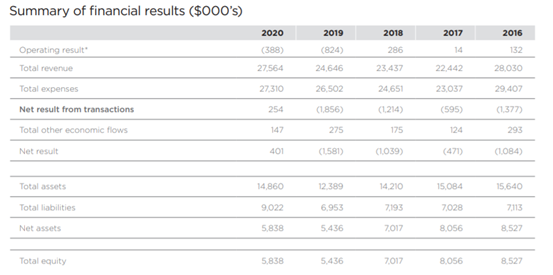 Appendix 3: Details of ICT expenditure