Critical Discussion On Amazon Sustainable Development Goals
Question
Task: Write a detailed report discussing about the Amazon sustainable development goals?
Answer
Introduction to the Assignment on Amazon sustainable development goals
The word Sustainability has gained quite a momentum in the last decade or so, and this has pushed a large number of Major Corporations to re-think and have a re-look at their businesses from the lens of Sustainability. Sustainability, in the simplest of words can be defined as something which is bearable and is capable of being continued at a certain level (Mazzocchi, 2020).For instance, Solar and Wind Energy are the example of sustainable sources of energy; on the other hand oil and gas are the example of non-renewable sources of energy. The outlook of the world especially now, is towards leveraging sustainable sources for the factors of production in business or any other activity related to business (Sturges, 2016). In this assignment, we will learn more about sustainability, Amazon sustainable development goals and how the company is embracing the sustainability issues at its business organization. The underlying objective is to develop a coherent understanding of the subject of sustainability and its related concepts.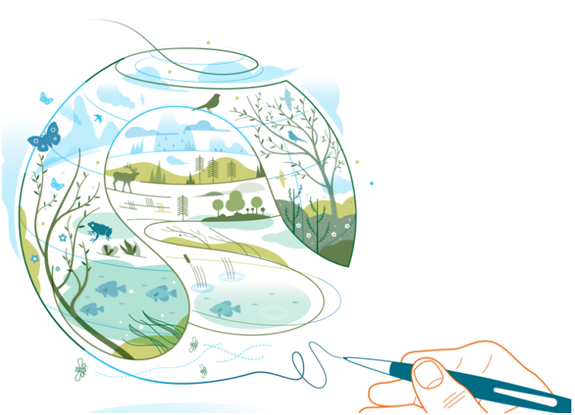 Amazon.com is the largest e-commerce organization with diversified portfolio which can be seen through the vested interest in the field of cloud computing, digital streaming and artificial intelligence and many more. The focus of the assignment however will be on the e-commerce business of the organization and how it embraces the goals of sustainability. Amazon, which started its journey as an online book seller, at present sells anything to everything on its marketplace. The company with its headquarters in Seattle, ships its goods in over 100+ countries and conducts operations in over 17+ countries (Hall, 2020). Amazon, is one of the very few companies which is steadfast on its goals of sustainability and has expedited its efforts in the particular direction.
Sustainability Amazon sustainable development goals
Amazon and its Boss Jeff Bezos are committed to build a sustainable business for its millions of customers across the globe. The company, in the year 2019, co-founded the Climate Pledge, which is its commitment to reach net zero carbon across all of its business operation by the end of year 2040, which is 10 years ahead of the Paris Agreement (Amazon, 2020). In sync with this, the company has set ambitious sustainability development goals for itself and is working with its whole heart towards the achievement of those goals. The goals are:
Renewable Energy- Powering all of the company's operations using renewable sources of energy by the end of year 2025.
Shipment Zero-The Company is committed to have net carbon zero in its shipment, of which 50% is to be achieved by end of year 2030.
Net Zero Carbon-Using technology and people to be net carbon zero across all of its business operation by the end of year 2040.
Electric Delivery Vehicle-Recently purchased over 100,000 Electric delivery vehicle to curtail its Greenhouse gases emission (GHG).
Right Now Climate Fund- The company is investing over 100 Million USD in reforestation and climate mitigation solutions.
Climate Pledge Fund- Pledged to invest over 2 Billion USD to support the development of technologies and services to preserve and decarbonize the environment.
In order to meet the above mentioned Amazon sustainable development goals, the company is taking a science based approach and has partnered with various organizations such as WRI (World Resources Institute), UNGC (United Nations Global Compact) & WWF(World Wide Fund for Nature), which have joined hands to combat the issues of sustainability through SBTi(Science based target initiative)(Amazon, 2020).
Amazon Sustainability efforts around the Globe
Amazon has recently build the largest wind farm in rural Texas and its sustainability efforts can be seen around the globe, through a map presented below: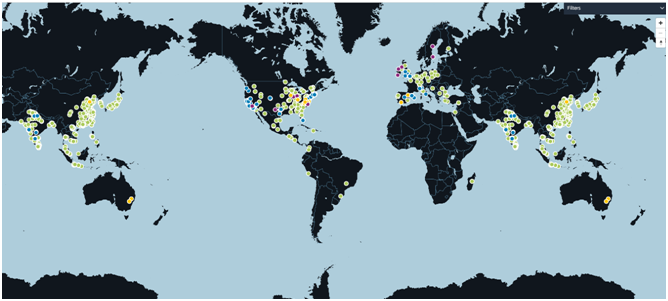 The yellow dots are a representation of company's solar farms.
The Purple dots are representation of company's wind farms
The Blue dots are representation of companies on-site solar.
This can be further summarized as:
Over 91 Global Renewable energy projects
Over 31 Utility-scale wind and solar projects
Over 60+ on-site solar projects(Polacco&Backes, 2018)
Over 1000+ suppliers of Amazon branded products.
United Kingdom-Through company's partnership with Kind Direct, over 1800+ charities received product donation in the year 2019, in line with its efforts to send less product to landfill(Amazon, 2020).
Germany-100% of the Amazon shipping is recyclable.
Japan-Over 850 sustainability ambassadors are creating a culture of sustainability in Japan.
Italy-4 of the company's operation facilities are powered by solar panels installed at the sites.
Australia-Its first renewable energy project will produce electricity which is roughly sufficient for over 23,000 average households in Australia(Amazon, 2020).
India-India, which is currently Apple of the eye for Amazon, has expanded its packaging free shipping program to over 100+ cities.
Thus, from the analysis, it is evident that Amazon is being a responsible citizen and is tackling the challenges of sustainability by various projects across the globe.
Sustainability Strategies of Amazon
Let us have a closer look on how the company is inching closer to Amazon sustainable development goals through its efforts in carbon footprint, renewable energy, shipment zero, sustainable building and lastly circular economy.
Carbon Footprint
Amazon maps its total impact on the climate which is an attributing factor of the largest activities which contribute towards this impact, the company then uses this information to reach its goal of net carbon zero by 2040. The carbon footprint of Amazon are a resultant of its third party freight, branded products, capital goods, electricity usage, business travel and many more. Through the commitment of Amazon to the Climate Pledge, the company is investing in large scale solutions to decarbonize its business, some of which will have carbon saving immediately and some are for long term payoffs(Amazon, 2020).
In the year 2019, when the net sales of the company increased by 22%, its carbon footprint increased by 22%, which is a sharp decline by 5% as compared to its previous year. The company is committed to its progress and believes that through its strategy of investing in renewable energy project, electric vehicle and many more it will achieve the net carbon zero goal by 2040. Now, the important point here is that Amazon is taking a calculative steps towards reduction of Carbon, my mapping all the major contributors to carbon in its business process, this helps Amazon to look at each component individually and address it effectively(Amazon, 2020).
Renewable Energy
By the end of year 2019, Amazon has already reached 42% of renewable energy across all of its business operation, and through its plethora of solar and wind farms, Amazon is able to generate electricity which is sufficient to power over 680,000 homes in the US, alone. The company has further announced new project in the year 2020, namely the first one in Australia, second in Sweden and Spain and its 11th in Virginia. All of these plants will together generate electricity which is good enough to power over 76,000+ homes in the US alone. The company was even ranked No.1 by the Solar Energy Industries Association for its on-site installed projects, which is a reward for the step in the right direction for the company. The company's largest wind farm until today, in Texas is able to generate electricity to power over 90,000 homes in the US for a year(Amazon, 2020). Thus, the implication here is that Amazon is taking small but significant steps by investing in plants focused on renewable energy to power its business operation and achieve Amazon sustainable development goals. Reaching 42% of renewable and clean energy is a big milestone in itself, and the company is sure to reach 100% renewable energy by the end of year 2025.
Shipment Zero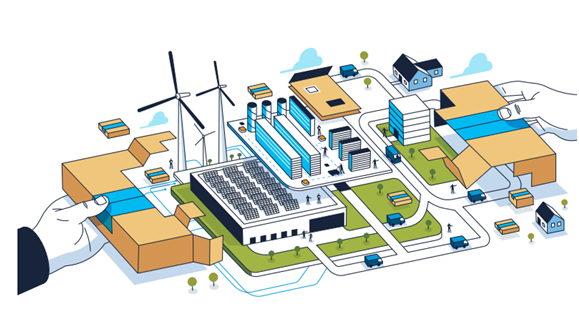 Already mentioned, that Shipment zero is the vision of Amazon to make all of its shipment net carbon zero by end of 2040, and 50% of it is to be achieved by the year 2030. In order to do so, Amazon is observing its fulfilment facilities, packaging and transportation, which are the major issues in reaching the goal. Fulfillment Facilities-It is to be noted that Shipment zero order will pass through the facilities which are using 100% clean and renewable energy. As of today, over 60 Fulfilment centers of Amazon are powered by on site solar panels, which produce 80% of the power needed for its operation,is a good number to start with(Amazon, 2020).
Packaging-The company is working with thousands of suppliers on the project which is called as Ships in own container(SIOC), which implies that its shipment zero product will have either carbon neutral packaging or no packaging at all, also it would not require Amazon boxes to ship its products. The company is further pursuing scientific programs based on optimization of size and weight of the packaging materials, recyclable mailers and more so (Amazon, 2020).
Transportation-Sustainable transportation is one of the major components of the company's business operation and a key part of its realistic plan to be net carbon zero by 2040. As per the analysis on Amazon sustainable development goals, it has been mentioned that shipment zero product will be transported through a 100% electric battery or hydrogen fueled vehicle or the delivery of the order will happen either by foot or by bicycle. The company is also working to optimize its delivery by creating delivery stations which are situation close to the hubs of Amazon customers across the globe, starting with US(Amazon, 2020).
Sustainable Buildings
Besides powering the operations in its building by renewable energy, Amazon is taking a holistic approach towards the benefit of the environment, by focusing on water and waste reduction strategies across all of its business facilities. For instance, in accordance to the Green building standards of sustainable design, the company is leveraging the third party building certification to accelerate its impact. And as of now, in the US alone, the company has 30 LEED certified facilities and over 20 BREEAM certified buildings across Europe. The company's corporate offices besides being green in order to serve the communities are also based on the biophilic design concepts which implies more and more green walls, locally sources wood for the furniture, besides energy efficient lighting, compositing and recycling facilities, renewable energy laced charging sockets and electric vehicles to drive from one point to another(Amazon, 2020).
Hence, after covering building standards of Amazon, it can be said with utmost clarity that Amazon is not leaving any stone unturned in order to reach its SGG by the end of year 2040. It's tactful and holistic approach by mapping all of its business process and activities to monitor the GHG emission is paying big time, and is a lesson which should be learnt by other major corporation across the world (Rueda, Garrett &Lambin, 2017). In the next section, we will discuss how Amazon is further embracing the concept of circular economy and circular supply chain, whilst also creating and generating jobs and driving more avenues of revenue by working in circular economy (Kashmanian, 2017).
Circular Economy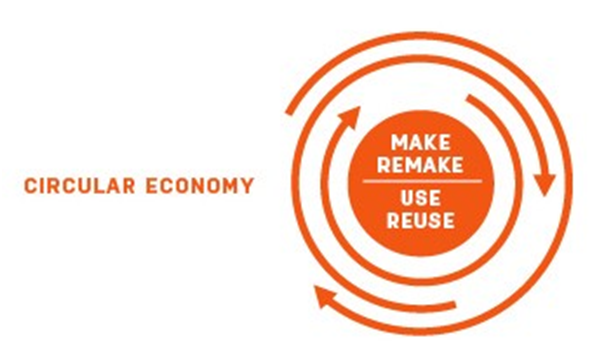 Before moving to addressing and understanding Amazon's efforts in circular economy, let's quickly develop an understanding of the circular economy business model. Unlike the linear economy model, which focusses on Take-Make-Use-Dispose, as seen in the diagram above, circular economy focus lies on Make/Remake & Use/Re-Use(Medium, 2020). The circular economy model has positive impact on the environment, society and its people. For instance, leveraging circular economy, businesses will engage in practices which focusses on putting the finished goods after its usage back into the supply chain, thereby leading to reduction in the exploitation of raw material, hence preserving the environment. The benefit for the society can be seen through the preservation of ecological system, which implies there will be resources for the future generations to come. And benefit for the people, lies in terms of job creation through the proliferation of the model of circular economy.
Circular Economy Goal of Amazon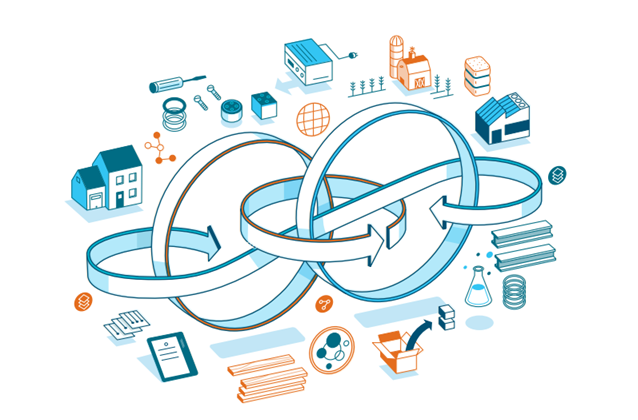 Amazon's circular economy goal can be seen in the light of the following points:
Minimization of the waste materials
Accelerate the pace of its recycling activities
Providing options in the hands of customers to reuse, repair and recycle theirproducts (Amazon, 2020).
Sending out less material to landfill
More and more material back to the circular supply chain.
Thus, with the clarity of the Amazon sustainable development goals of circular economy, the company is once again being one of the pioneers in implementation and conceptualization of the circular economy model. The company is focused on the approach of Triple bottom line, which can be understood as the equal focus of Amazon towards its planet, people and profits.
Operations & Supply Chain in terms of circular economy benefits
Recycling Infrastructure-Besides recycling cardboards, the company is working to recycle the toughest material on the planet, Plastic to recycle and is further looking across all of its operations to further incorporate the practice of recycled plastic(Styles, 2018).
Recyclable mailers-Amazon has already started with this initiative, wherein the order of the customer is covered in recyclable padded paper, which also saves space and reduces its carbon footprint on the environment.
Recyclable Partnerships-Closed Loop Infrastructure fund is where Amazon has recently invested over USD 1 Million to accelerate its efforts in product and packaging recycling and sending the product after disassembly back to the circular supply chain(Businesswire, 2020).. Thereby sending lesser and lesser material to the landfill and more into the circular economy (Shu, 2018).
Amazon Second Chance Program-Amazon's second chance program is made keeping in mind the customers, which are the most important stakeholders for the company(Watanabe, et al., 2019).Through its second chance program Amazon educates its customer on the optimum use of the material and also encourages the customers to return the product back to the company, once its life is finished and get an Amazon gift card in return. This is another innovative initiative of the company with regards to the Amazon sustainable development goals towards its contribution towards the circular economy model (Amazon, 2020).
Reduction of Paper Waste-The Company's popular FFP (Frustration Free packaging) program is designed to provide its suppliers with 100% recyclable packaging material with no need of additional boxes to put in the product. Additionally, the company is leveraging science to calculate the right size of packaging to minimize its waste(Sehnem, Pandolfi& Gomes, 2019).
Sustainable Products & Materials-Here the company is experimenting with its branded products by making them 100% chemical free and have also been using natural ingredients to replace in a lot of its food items (Amazon, 2020). Its acquisition of Whole Foods, a company pioneer in Triple Bottom line model is an initiative in the direction of strengthening its circular economy model (Kuniko, 2019).
Conclusion
The growing concern around the issue of climate change is real, and this is one of the reasons that the major contributors to Greenhouse gases emission are being looked at, and changes are being done in business process and model to make them more environmental friendly, that is sustainable in nature. Amazon which is the largest e-commerce organization on the face of planet earth, through its climate pledge has pledged to be net carbon zero by end of year 2040. In order to do this the company is focused on renewable energy, sustainable transportation, packaging, recycling material and more so. Amazon is also embracing the concept of circular economy in a scientific manner through its various programs such as closed loop infrastructure fund, FFP, Amazon second chance, recyclable mailers and more so. The impact of sustainability on the business in the long terms is highly rewarding as it will not only create more avenues of revenue generation, but would also put Amazon as a front runner or industry leader thorough the achievement of Amazon sustainable development goals.
References
Amazon. 2020. All in on Sustainability [Online]. Available on https://www.aboutamazon.com/sustainability [Accessed on 1 September 2020]
Businesswire. 2020. Amazon Invests $10 Million in Closed Loop Fund to Increase Recycling Rates across the Country [Online]. Available on https://www.businesswire.com/news/home/20181015006009/en/Amazon-Invests-10-Million-Closed-Loop-Fund [Accessed on 1 September 2020]
Kuniko, M., Tou, Y., Watanabe, C. and Neittaanmäki, P., 2019. Co-evolutionary Coupling between Captured and Uncaptured GDP Cycles: Cross Learning from Amazon and Finland Models for Sustainability. Amazon sustainable development goalsInternational Journal of Managing Information Technology, 11(2).
Medium. 2020. 4 Principles of the circular economy: Do you know them all?[Online]. Available on https://medium.com/@we_share_ventures/4-principles-of-the-circular-economy-do-you-know-them-all-2c4619b83df6 [Accessed on 1 September 2020]
Shu, C. 2018. Amazon puts $10M in closed loop fund to make recycling easier in more American cities [Online]. Available on https://techcrunch.com/2018/10/16/amazon-puts-10m-in-closed-loop-fund-to-make-recycling-easier-in-more-american-cities/ [Accessed on 1 September 2020]
Styles, D. 2018. Amazon invests to support circular economy [Online]. Available on https://www.ecotextile.com/2018101723802/fashion-retail-news/amazon-invests-to-support-circular-economy.html [Accessed on 1 September 2020]
Sehnem, S., Pandolfi, A. and Gomes, C., 2019. Is sustainability a driver of the circular economy?. Social Responsibility Journal.
Mazzocchi, F., 2020. A deeper meaning of sustainability: Insights from indigenous knowledge. The Anthropocene Review, 7(1), pp.77-93.
Sturges, J., 2016. The meaning of sustainability.In Sustainable Ecological Engineering Design (pp. 3-8).Springer, Cham.
Hall, M. 2020. Amazon.com [Online]. Available at:https://www.britannica.com/topic/Amazoncom[Accessed on 1 September 2020]
Polacco, A. and Backes, K., 2018. The amazon go concept: Implications, applications, and sustainability. Journal of Business and Management, 24(1), pp.79-92.
Rueda, X., Garrett, R.D. and Lambin, E.F., 2017. Corporate investments in supply chain sustainability: Selecting instruments in the agri-food industry. Amazon sustainable development goalsJournal of Cleaner Production, 142, pp.2480-2492.
Kashmanian, R.M., 2017. Building greater transparency in supply chains to advance sustainability. Environmental Quality Management, 26(3), pp.73-104.