The labelling theory is one of the most fundamental methods of determining the nature of a crime. Therefore, its comprehension is essential for people seeking in-depth information in various subjects, like criminology and sociology. The post will cover all you need to understand the intriguing labelling theory.
An overview of the labelling theory
According to advocates of the labelling theory, Immoral behaviour is an interactive process that involves both deviants and non-deviants. It is a collection of features that is inherent in people or groups. To understand the nature of deviant conduct, they believe there is a need to understand why certain individuals are branded as deviant in the first place.
In most cases, this designation is generally thwarted by those who embody the power of law or those who can impose the law on regular people. Thus, labels that designate deviance represent society's power system.
The influence on labelling theory
The following sociologists and their publications were influenced by the labelling theory, which was predicated on criminological literature:
he Dramatization of Evil: Frank Tannenbaum
According to the Dramatization of Evil, they inevitably become one whenever someone is labelled a criminal or deviant.
Suicide by Émile Durkheim
What is deemed a crime and delinquency, according to Émile, is that which offends society rather than that which just violates penal rules.
George Herbert Mead, Herbert Blumer, Charles Horton Cooley, W.I. Thomas, John Dewey, and others contributed to the contemporary labelling theory, with Howard Becker being the most notable. It emphasizes society's response to the criminals' actions.
According to the labelling theory, society's reaction to these acts decides whether or not they should be labelled as deviant. The labelling theory is classified alongside other theories like the differential association theory, the symbolic interactionism theory, and the control theory.
Howard Becker: Labelling theory
Howard Becker is a prominent sociologist based in the US who wrote "Outsiders " in 1963 on the Sociology of Deviance. He claimed that "deviant" is more likely a social construct than a person's natural trait.
Becker thinks that society is segregated into social groupings, with the most powerful controlling the society. Therefore, they had set the standards for what is deviance and defined who qualifies as a deviant to the criminal justice system.
In his book, Howard also talked about "Moral Panics," where he believes media, hearsay, or folklore have exaggerated modest events to generate a menace or inspire fear among the people when there is nothing to worry about.
Examples of labelling theory
Same-sex marriage
Andrew and James are two young men who have fallen in love and want to marry. They will have no trouble getting married legally if they live in Boston since the same marriage is allowed there. It is not regarded as a deviant role for them to be in a same-sex marriage. The community they reside in is likely to accept and respect their marriage as if it were any other.
Change the setting to Barbados; however, they will be arrested with "Buggery or Unnatural and Indecent Acts" and sentenced to life in jail. They will be despised by society, and they may even turn to humiliation. They'll be referred to as "deviants."
Marijuana
Ashley suffers from acute anxiety and knows about marijuana's medical qualities. So, she goes out and buys some medicinal marijuana for herself.
She will have no trouble acquiring and consuming medicinal marijuana if she resides in Illinois, where this is lawful and decriminalized. It will not be considered deviant conduct by those around her.
However, if Ashley resides in Wyoming, where marijuana usage is prohibited, either for medical or recreational purposes, others will view her acquisition and consumption as deviant conduct. Further, they'll label her a deviant because her actions go against societal standards.
How does the labelling theory explain deviance?
According to Erving Goffman's theory
of dramaturgy, individuals utilize impression management to fulfil their role in society. Individuals, according to Goffman, are actors, and society is the theatre.
When an actor deviates from their role, this is known as deviance. It's characterized as actions that aren't part of society's typical activities.
A person passes between two stages of social deviation, according to Erwin Lemert's "Societal Reaction."
When a person does not conform to social standards or does a deviant action, this is called primary deviation. There are generally no future consequences in this case while their self-perception remains unchanged.
When a person is classified as a deviant by the public due to their aberrant behaviour, this is known as secondary deviance. In this case, on the other hand, a person's self-concept starts to shift. This label will be a part of their character, and they will need to bear it for the rest of their lives.
The labelling theory states that when society classifies someone as deviant, they fall prey to their deviant nature. When somebody is called a "criminal," he begins to see himself as one and is more inclined to engage in illegal activities.
The labelling theory and its importance
The labelling theory states that no action is inherently illegal; no action can always be illegal. Therefore, such an idea is generally used to describe or explain deviant or criminal behaviour.
What makes an action or behaviour deviant? The individuals decide this in positions of authority to categorize such actions as illegal or unlawful through legislation. The understanding of those who enforce such laws, like the judiciary and the police, is crucial.
According to the labelling theory, an action is branded deviant based on societal interpretation of the crime rather than being inherent like people.
Labelling theory: Limitations
Those who oppose the labelling theory claim that it:
Ignores socialisation disparities
Ignores differences in opportunity
Failure to lay aside attitudes
Labelling theory and mental illness
Mental health has been a very vocal topic for people. However, many have started to acknowledge its significance in recent times, resulting in a more accepting attitude toward people with mental illnesses among relatives, colleagues, and workplaces.
Walter Gove noted that sociologists have long argued about using labelling theory vs psychiatric approaches to describe mental illness. It stemmed from their failure to factor in the latest developments in psychiatry, according to his paper "Labelling Theory's Explanation of Mental Illness: An Update of Recent Evidence."
Even if labelling theorists say that individuals categorized as "mentally ill" are not any different from those who aren't, data reveals that heredity plays a major role and distinguishes them, according to Gove.
Labelling theory and criminology, and sociology
In the labelling theory, social sciences serve a vital role.
For instance, some people believe that juvenile delinquency results from negative associations attached to circumstances or words that are generally viewed positively. For a non-deviant adolescent, "home" will remind him of family and affection. However, if the adolescent had a strained family relationship, the word "home" would take on a whole different meaning.
This interactionist viewpoint helps criminologists to understand an individual's behaviours and reactions.
The pros and cons of the labelling theory
It is quite a popular topic for debate. Let us look at the pros and cons of the labelling theory.
Pros:
Supporters of the idea point to the following advantages:
It makes it easy to understand deviant behaviour. In this sense, the labelling theory works great to enhance the strength of society.
They are contributing to the development of accurate forecasts. A person with a criminal record, for example, would not be able to serve on a jury and also be disqualified from voting in many jurisdictions. When searching for a job, he must disclose. The person has to bear the burden of being branded a criminal for the rest of his life. Recidivism, or the likelihood of tagged persons committing a crime again, can be predicted with the help of the labelling theory.
Creating a more empathetic atmosphere for disabled individuals. Labelling theory research helps to develop empathy for the mentally ill, people who are not only stigmatized but also fighting diseases.
Advocacy initiatives will benefit from better communication. For example, when there is a societal concern for the tagged person, the issue may be discovered and handled more easily.
Cons:
The following are some of the cons of the labelling theory:
It cannot be said that labelling causes people to become deviant. Although it was popular in the 60s and 70s, the labelling theory started to lose momentum as empirical research showed conflicting results.
Not everyone who engages in aberrant behaviour is classified as such. For example, when each state's labelling approaches vary based on the legislation made in that region.
Additional References
Here are some of the references to look at in the labelling theory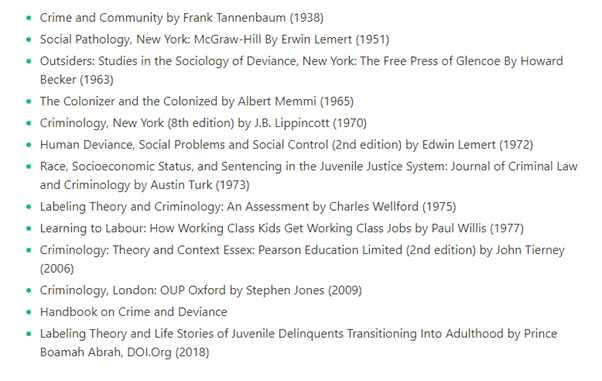 Conclusion
Howard Becker is known as the inventor of the contemporary labelling theory. The labelling theory states that no action is inherently criminal but stems from what is considered aberrant by society or those who break the rules and cause societal issues. The elite of the society has established these norms.
According to the labelling theory, people behave depending on symbolic interaction and how they are expected to perform their societal duties. Therefore, when a person acts defiantly and engages in Primary and Secondary deviation, it is natural for society to label them as such until their self-perception catches up.
Frequently Asked Questions
What is the labelling theory?
The labelling theory suggests that no act is inherently criminal but is a product of the communal outlook and government legislation.
Who is credited with the creation of the labelling theory?
Howard Becker is credited to be the father of the contemporary labelling theory.
Where is labelling theory most useful?
Apart from its numerous uses, labelling theory is mostly used in criminology and sociology.
Total Assignment Help
Incase, you are looking for an opportunity to work from home and earn big money. TotalAssignmenthelp Affiliate program is the best choice for you.
Do visit :https://www.totalassignmenthelp.com/affiliate-program for more details
Total Assignment help is an assignment help Online service available in 9 countries. Our local operations span across Australia, US, UK, South east Asia and the Middle East. With extensive experience in academic writing, Total assignment help has a strong track record delivering quality writing at a nominal price that meet the unique needs of students in our local markets.
We have specialized network of highly trained writers, who can provide best possible assignment help solution for all your needs. Next time you are looking for assignment help, make sure to give us a try.
Looking for Assignment Help from Top Experts ?
Get the best Assignment Help from leading experts from the field of academics with assured onetime, 100% plagiarism free and top Quality delivery.