If there's one thing that can be said for certain, is that 2020 has brought a major change in our lives! It has brought the whole world to a standstill. Pushing everyone indoors, and having to live our life away from society! The COVID- 19 outbreak has taught us that it is time for us to fully embrace the potential of the internet and keep moving forward with our livelihood through working over the internet. People are giving and taking work from home tips in order to help one another.
A majority of the world population has adopted the work from home lifestyle with open arms and dedicated themselves in making the best of their days! Through working from home we have been able to give time to ourselves, our loved ones and become more productive at our jobs as well.
The last one is a bit controversial, as there are some people who believe that working from home has been a blessing, whereas, there are those who are struggling to change their ways and adapt to this new standard of normal that we have been forced to accept.
This article is for both of those populations! In this article we are going to present to you some practical work from home tips, which will enable you to enhance your productivity both during and outside of your office hours!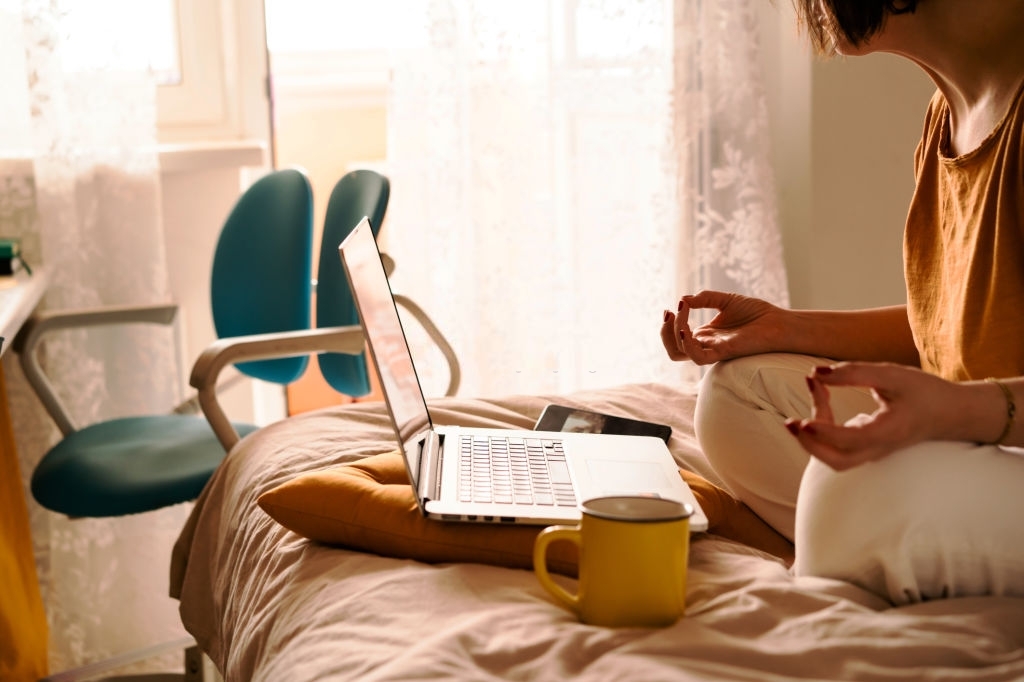 Now that people have spent a good 3 to 4 month of working from home, they have started to realise that it's not as smooth sailing as they had imagined it to be in the beginning. Working from home all of the time, does seem like a luxury but it also has some drawbacks which can have negative effects on our health as well as our productivity.
It comes as no surprise that staring at your laptop screen throughout the day can harm your eyes. Sitting in weird positions at home while working can also cause back pain and other digestive issues. By following the same routine day in and day out can make your life monotonous which affects your productivity and efficiency.
This is why we have come up with this list of practical work from home tips, to make your lives a little bit easier.
Have dedicated Work Space

This is among the most underrated work from home tips present out there. Having a dedicated work space can do wonders to your productivity especially when working from home for longer durations. The allotted space motivated to be more productive as you associate that space with only your work and not a spot to laze around, thus increasing efficiency.

Keep switching your work space weekly

If you sit at the same spot for too long it will lose its charm. You will start feeling bored and your motivation to work hard may also be effected. A simple thing like changing your work space to a different location can significantly uplift your mood and your whole outlook towards working.

Maintain a strict work Schedule

Keeping up with your work hours becomes a challenging task while working continuously from home. Ideally, working from home allows the freedom to do your work at your own pace; hence increasing productivity and reducing the time taken for the task. However, when this goes on for longer period of time, then you may find it difficult to focus and concentrate on your work and hence your working hours will increase.

Therefore, make a strict schedule, line up your goals and objectives each day and set lenient time frames for achieving each task, before moving on to the next.

Include physical activity in your daily routine

When you work in an office, your daily routine may involve more physical activity than you may realise. Even you have a desk job, walking to and from your car, and standing up from your desk for bathroom breaks also gives a chance to straighten up your spine and move around.

You don't get to do this while working from home. Therefore, it is important to keep moving and including some physical activity in your daily routine. Be it yoga, Pilates, or a morning run, or any other activity which gets your heart rate up and gets your blood flowing. This work from home tips keeps you feeling fresh and motivated to be productive throughout the day.

Avoid take outs

This is a very necessary work from home tips which most people overlook. Reduce the amount of restaurant and takeout food that you consume. When you work from home all of the time, you may feel particularly lazy to cook food, and would just want to order take out. However, without much physical exercise and consuming too much greasy and oily food can cause you to feel constantly lethargic and lazy, which can affect your work efficiency.

Keep your space clean and organised

Many studies have found that a cluttered work or study space can reduce the cognitive abilities of a person over time. It also makes them much more likely to try or avoid working at all. Having a clean and organised work space has been associated with increased work speed and enhanced productivity. It promotes free flow of thoughts and ideas and enables you to maintain higher energy levels for longer periods of time.

Take scheduled breaks in between

As with all activities, taking breaks is important. Especially when working from home for a very long time. As time goes on, you may start to neglect the importance of taking breaks, as the whole point of taking a break is to avoid over exerting yourself and relaxing. Working from the comfort of your couch or bed may have you feeling like you haven't done much to feel tired, but the fact is, in this scenario your mind gets even more exhausted and could use some fresh air and hot coffee.

So make it a point to take frequent breaks to allow you to revitalise.

Track your screen time

This is also a most important work from home tips, as our lives have become trapped around bluescreens and devices. Be it out laptops, televisions, smartphones, the screens in our cars, or even our smart watches, everywhere you look you will find a screen. Looking at the screen throughout the day can have major consequences on your eyes and brain.

Track the hours you spend on your laptop, phone and watching TV and try to include at least 2 hours a day without looking at any sort of blue screen at all. It may sound easy but its way harder than it sounds.

There are various apps and software that you can install and use in order to be aware of how much time you spend looking at the screens. Keep that in mind, and try to reduce as much of it as possible.

Put your phone out of arms range

Speaking of staying on your phones, you must never keep your phone within arm's reach whenever you're doing something very important. Even if you do no check your phone ever so often, having your phone around when trying to work can give you reduced concentration levels and inhibits you from using your full potential.

Try to keep your smartphone out of reach and away from direct eye contact. If your job requires you to constantly communicate with your co-workers, then you can use your communication platform on your laptop and keep your phone far away to avoid constantly checking it for notifications.

Maintain Constant Communication with Colleagues

This is another one of the most important work from home tips for students and young individuals who have just started out on their first jobs. When you work from home as opposed to an office, you get alienated from the office environment. Hence, it gets that much more difficult to keep in touch with your co-workers which can lead to misinformation.

It's important to stay in touch with your colleagues to create a stable channel of communication, as not all of the information can be passed through emails and memos. It is also very important to maintain your professional networking relationships and not become isolated.

Use VPN

Forget working from home, in today's world one must always use a VPN whenever accessing the internet, be it for personal use or for official work. When you work from the office network, your employer makes all the efforts keep their information safe and secure by employing security measures and reinforcing the firewall. But when you are working from home, you are using your own resources such as your laptop, mobile phones and internet network registered under your own name, you are at a major risk of various cyber security threats. One can never be too careful so it is advisable to always us a VPN and ensure that your network service is secure.

Be presentable in Online Meetings

This is the part of that work from home tips which can keep you entertained! Unless you have a meeting with the board of directors, most people don't pay too much attention to their wardrobe being professional when it comes to attend online work related meetings. As most of us have been stuck inside the house due to the pandemic, it becomes important to make the best of each opportunity you get for feeling normal. Dressing up in formal clothing for meeting used to be a normal thing. However, it is important to keep your moral up and presenting yourself in a good image among your peers whenever you attend an online meeting.

Take offs when needed

Leaves are hard to come by, and most people try to save up on them to use them later for vacations and emergencies. However, it is also important to remember that sick leaves are available for a reason. Just because you get to stay at home and work, doesn't mean your illness doesn't matter. Many people refrain from taking a leave even when they are sick while working from home, just to save up on a leave!

Avoid making this mistake, overexertion and illness can happen even without going out of the house, and rest doesn't really mean just sitting at one place.

Dedicate time to yourself and care for your health!

Look for new learning opportunities

This is not amongst the work from home tips to increase efficiency at work. However, this is a tip to help you make the most of your time and invest in yourself. Working from home, will provide you the opportunity to manage your time however you feel like. It depends on you how you would like to utilise it. So take this time, to explore a new hobby, or learn new professional skills which you can utilise later on.

Spend time with your friends and Family

It is also important to spend time with your loved ones and family. Contrary to popular belief, taking out time for oneself while working from home is actually a tough challenge. This is because the tasks which would have taken your 8 hours to complete in office settings can take a lot more time while working from home. Because, when you work from home the infrastructure is not as well built as in an office setting, proper communication of information can also cause delays, there is no supervision, and a lot more distractions, all of these factors together can increase the time taken to perform the tasks.

Therefore, it becomes important to prioritise your objectives and make time to spend with your family, friends and loved ones.

Try to get out of your home

By going out of your home, we don't advise you to go to social gatherings and mingle with people amid the Corona Virus outbreak. This simply means that being choked up inside the four walls of your home can affect your wellbeing. Therefore, focus on picking a suitable time to go out of the house with proper protective gear and be with nature. You can do this by going for a walk, cycling, or even taking a long drive inside your car.
Working from home offers us the greatest gift possible, which is the gift of time, if only one can figure out how to utilise it.
This concludes our list of work from home tips. Hope this article inspires you to bring about a change in your routine and offer you some insight into the drawbacks of working from home.
Total Assignment Help
Incase, you are looking for an opportunity to work from home and earn big money. TotalAssignmenthelp Affiliate program is the best choice for you.
Do visit : https://www.totalassignmenthelp.com/affiliate-program for more details
Total Assignment help is an online assignment help service available in 9 countries. Our local operations span across Australia, US, UK, South east Asia and the Middle East. With extensive experience in academic writing, Total assignment help has a strong track record delivering quality writing at a nominal price that meet the unique needs of students in our local markets.
We have specialized network of highly trained writers, who can provide best possible assignment help solution for all your needs. Next time you are looking for assignment help, make sure to give us a try.