The decision of leaving a job could be taken very instantaneously without thinking, but your resigning letter should be logical and should provide ample reason to decide on quitting the job. A person is being recruited or selected among a large group of people by conducting multiple steps of interviews and tests that would require a substantial amount of effort, time and money, etc. from the behalf of the employer. Whatever strong argument you may have for leaving the job, the employer would provide you with a counter-argument that would be rational to the level that you may not generate any valid response to it. If the resignation is not given validly and logically, there would be a strong probability that a strong altercation would happen in between in you and your employer. This would make a dark spot on your career and there is a strong chance that your future employer would get negative feedback from your present employer. This makes evident the significance of an efficient resignation letter template that would help in drafting an impressive and impeccable resignation template.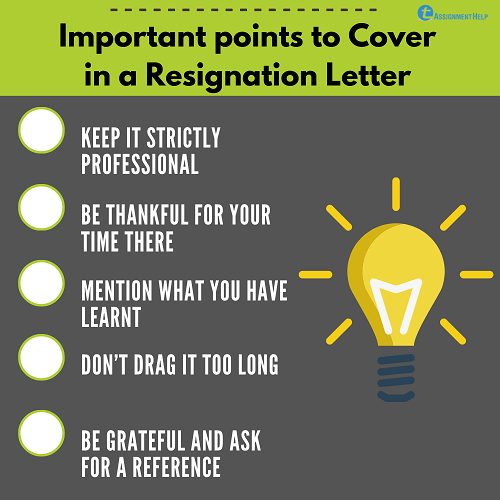 Since you may have understood that the process of how to write a resignation letter would be done with utmost diligence and cautiousness, have a better outlook on the comprehensive overview over six significant aspects.
Subscribe our YouTube channel for more related videos
A comprehensive guideline over how to write a resignation letter
For an extensive understanding of how to write a resignation letter, you should refer to some ideal model of resignation letter that is provided in the below section of this report on the resignation letter template. You could also refer to the tone presented in the resignation letter template below.
Example 1
Pivotal Context: Getting new offers and opportunities, Reference from a close person.
Respected sir/madam (Surname or last name should be used),
Here I would intend to let you know that I have decided to leave the job of IT Analyst from your company (Name of the Company), on the date of October 2. In this context, I would try to convey with great gratitude that this company had provided me with large opportunities and assistance for my career. My five years of experience in this company had generated a lot of quality and perseverance in me. I am very grateful that you have entailed me with this great responsibility even though I had no experience. I am afraid that I would get such an amiable environment or the assistance of such a professional team. The whole professional experience in your company was very progressive and jovial for me.

I have been offered the post of a Senior IT Analyst in Berlin, which seems to be a very impending opportunity for me. Though I have received great respect and the amiable environment in your company, this opportunity seems to be a great break for me which is relevant to my professional stream. Please feel free to inform me if the team needs my aid while the continuance of my conversion period. It is my responsibility to aid my team to achieve its targets and remove any hindrances in the smooth flow of the business processes. I would be ready to provide any assistance to my team during the transition period.

I hereby again would like to state that I would always be appreciative of the company since it had me able to the level I am today. Thank you for all the support and would desire all the best for the upcoming undertakings.

Sincerely,
Thomson.
Example 2
Pivotal Context: Appreciation and Impermanence
Respected sir/madam (Surname or last name should be used),
With due gratitude, I request to accept my application for resignation from the post of IT Analyst in your company (Name of the company). I have planned to discontinue the post from October 2.

I am honored to complete 5 years along with a very efficient and amiable team in your company. By standing along with my team members, I have always enjoyed making valid contributions and simultaneously dealing with the challenging tasks for the company. While helping the team in implementing modern IT technology I have learned a lot regarding my main academic stream. These five years in the company had helped me in augmenting my technical skills and hence I would be always thankful for the aids and opportunities provided for me. I would like to give most of the credit for the accrued skills to my seniors who had acted as mentors to me. I declare my availability to any sort of help in the coming period of transition to my team. Wishing you and my team all sort of luck in their future ventures.

Earnestly
Thomson.
Hope you have understood the language and format to be used in a resignation letter by referring to the examples given in the above section of this article on how to write a resignation letter. By referring to it you could draft an impeccable application and the apt language would stress on the significant points would help in the transition process of your career.
Ways to implement a valid resignation letter template
You could follow the below-given guidelines to draft a better document from a resignation letter template.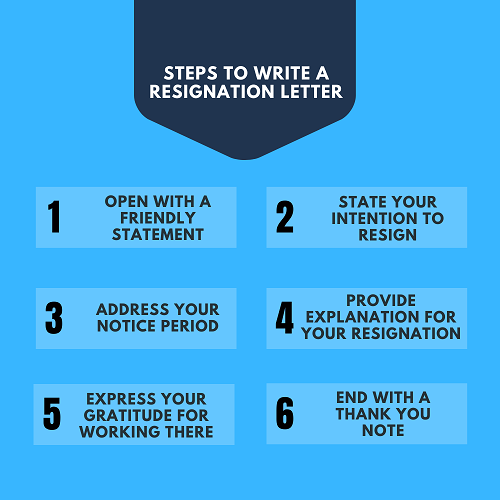 You could adopt the strategy of just copy-pasting the content to your soft copy, which may be in the form of an mail or MS Word. The online document version like Google Doc could also be used for this purpose.
While drafting the application using a resignation letter template, do not forget to include your personal contact information.
It would be better that you should paraphrase the above-given resignation letter template so that the employers wouldn't have the impression that the resignation letter is not a copied one.
Conduct an over and over proofreading of the document so that the resignation letter is devoid of any grammatical or typing errors.
Choose an online media to send the resignation letter. The channel of email would be a more secure and authentic one.
Major attributes to be considered while drafting the document using a resignation letter template
We hope that you are now well acquainted with the concept of how to write a resignation letter. Although we recommend you to invest much more time in browsing furthermore resignation letter template. You should consider various significant components while drafting the document using a resignation letter template.
Please consider the below-given points so that no components are missed.
Provide suitable salutation to the intended official.
Display your level of gratitude and appreciation.
Provide your willingness to provide aid in the transition period.
Ask for queries if there are any.
Exhibit no sign of content or complain, so that the transition process should be carried out smoothly.
Don't elaborate much, and keep the application very concise.
Instead of being too much innovative, please rely on an official resignation letter template.
Carry out strict proofreading before the resignation letter is submitted online.
It should be taken care that the above attributes are all included in your resignation template. This would help you in maintaining the apt tone and authenticity in the context of the resignation letter.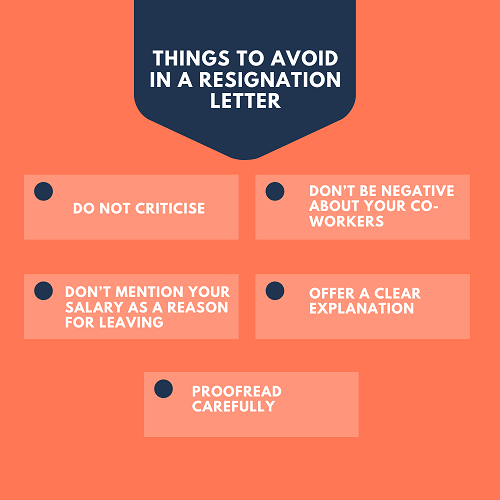 A summary of what is and how to write a resignation letter
The major intent of the resignation letter is to provide the employer with the declaration that you are intending to leave the present job. Although the information to the higher panel is conveyed verbally, the resignation letter would work as an official proof of the communication. Even though you have decided to leave the job, a well-written resignation letter would help you in continuing with a very cordial relationship with the company and its officials.
We expect that this article would help you in drafting a very effective resignation letter. Spend some time before drafting the resignation letter on browsing some resignation letter template.
External help for drafting a resignation letter
We hope that this article was very helpful in drafting your resignation letter. If you are still not much confident about drafting a resignation letter, you could also opt for our online services. You could heavily rely on the experts of total assignment help. You could search for the sample resignation letters provided by our experts on our official websites. By referring to our free resignation letter templates and examples, you could ascertain the professional ability and writing skills of our experts.
It would be a very easy task for the experts to draft a resignation who are well seasoned in drafting high-quality assignments for top universities in the world. Our expert panel is being seasoned with heavy writing from prolonged years of experience. The resignation letter needs to be drafted in a very specific tone and at the same time, some attributes should be taken into account. If these components are being missed by the employee, then the whole purpose of drafting a resignation letter would get sabotaged. An ample degree of gratitude and thankfulness should be entailed in the resignation letter. If you have any ambiguity or lack in confidence for drafting the resignation letter or any other sort of document, you could avail of the expert services provided by the extensive panel. You could also provide certain demands or guidelines as a part of document customization while drafting the document to the expert.
If you require any sort of document or writing services, please approach our website as soon as possible, since we have declared massive discounts to our customers in this academic season. To avail of our discounted rate, please visit our official website and (for further clarification contact our online marketing executive.