Inspirational messages for students are a great way to strike a chord in the student's hearts and motivate them to pursue their dreams and goals! But there's just one slight problem! Most the inspirational New Year messages available online writing on top of random images of a lion or bill gates have got little to do with the lives of a college students, so to them they're nothing but a bunch of hyped up words and phrases which they forget as quickly as they hear them.
How are inspirational messages for students important?
Every student in the entire world gets bored of following the same monotonous routine every single day. That is why, teachers, parents and any individual who wishes to guide a college student and provide them with a good career motivation, should tell them something, they can relate with.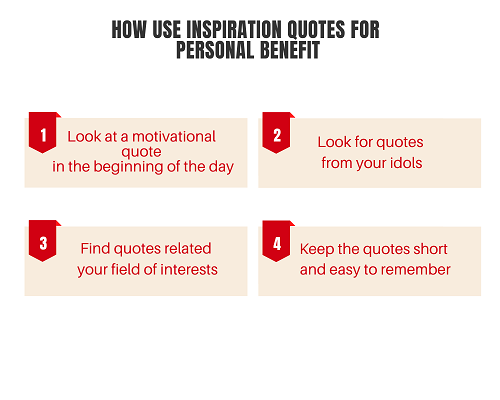 But this is a lot more easily said than done! As each student has a different mind-set and lifestyle, but thing that is common among all the college going individuals today is the internet. Students from everywhere have to use the internet as a necessity, for their curriculum, for communicating with the professors, with their friends, to do research for their assignments and to keep themselves updated with the events of the world.
This is why, if you plan on pulling a quote on them which you picked up from the internet, chances are they have already come across it and it won't even affect them. But that can work in your favour only if you know how you can pick the right inspirational New Year messages. If you don't, no need to worry, we have come up with a bunch of inspirational messages for students from popular sources such as scientists, pop culture references and famous personalities of the world which the students would related to.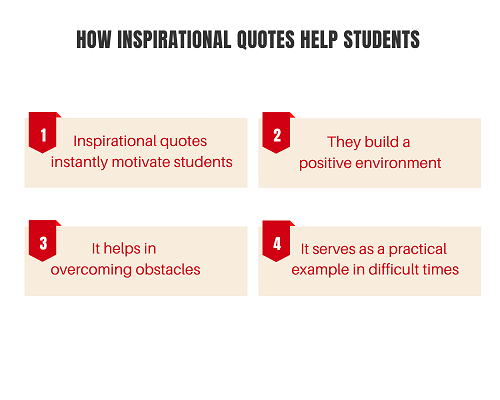 Inspirational messages for students "Carpe Diem!" by Dead Poet Society: The whole of the inspirational messages for students goes like "Carpe Diem Boys! Seize the day, make your lives extraordinary!" This quote is said by John Keating in the film, Dead Poet Society; where the phrase Carpe Diem is Latin for seize the day. This quote strikes a special chords in the students hearts because of the nature of the movie where is comes from and the inspirational New Year messages in itself. The meaning of the quote motivates an individual, to make use of every opportunity and in turn make their lives extraordinary.
If you're backed against the wall, break the goddamn thing down!- Harvey Spectre: This is a inspirational messages for students is from a popular TV show Suits, where a veteran corporate lawyer is imparting wisdom on his prodigy. The meaning of this inspirational New Year messages involves, you must never let yourself fall prey to the circumstances and instead, think out of the box and find a way out in the most spectacular manner.
"Education is the most powerful weapon which you can use to change the world" – Nelson Mandela: This inspirational messages for students by Nelson Mandela, deliver the power of education in all its might. The meaning of this quote is pretty self-explanatory and thus when delivered correctly will make sure that the students interpret it only in the way it was intended to.
"By seeking and blundering, we learn"- John Wolfgang: John Wolfgang von Goethe was a German writer in the late 1700s, this inspirational New Year messages is taken from one of his many marvellous creations which means, one can only learn through the process of finding the answers to our questions and learning from our mistakes.
You've got a friend in me- Toy Story : This is a pretty simple line from the Disney pictures' Toy Story. The line in itself is quite plain, when a professor or a teacher says it, it would mean a lot to the students as they can learn to trust their teachers and their teaching process.
inspirational New Year messages "We're all pretty bizarre, some of us are better at hiding it" by the Breakfast Club: This inspirational messages for students from the movie The Breakfast Club, explains the beauty of being one of a kind and not fall into the crowd. This inspirational New Year messages celebrates the innate individuality in people and tells us that all of us should embrace that side of us and not hide it in order to fit into the crowd.
"No matter what anybody tells you, words and ideas can change the world"- John Keating : John Keating strikes again, this character is so good, and we had to include two quotes from it. This particular quote, encourages students to learning more by telling them about the power of words and remarkable ideas, and how can potentially change the world. It also tells us that one must believe in themselves and not get demotivated by what other people might think.
"All we have to decide is what to do with the time that is given to us"- Gandalf The Grey : This quote is said by one of the most widely known fictional character Gandalf, from the fantasy novel series, The Lord of the Rings. All of the credit for this inspirational message for students goes to the great author behind this creating, J.R.R. Tolkien. This quote brings out the brilliant nature of a human being in deciding and making a better use of their choices, and to focus on the present and not go looking for what lies beyond.
"Do or do not, there is no try"- Yoda : Yoda! The wisest being in a galaxy far far away! This a inspirational New Year messages from the popular science fiction creation Star Wars, its creator George Lucas should be the one getting praised for this quote. It implies that one must always be certain of their choices and decision, and should a task with all their heart otherwise not at all.
"It is okay to lose to the opponent but it is never okay to lose to fear"- Mr. Miyagi : This is quote form the film, The karate kid, where a shaolin master in teaching his pupil. The meaning of this quote can a have a lasting effect on the mind of a student. It teaches an individual about the importance of perseverance and self-confidence. It is okay to face defeat but to accept defeat before even trying is not.
"Oh yes, the past can hurt, but you can either learn from it or run from it"- Rafiki, The Lion King : This is also a inspirational messages for students from one of the wisest beings ever created by Disney, Rafiki. This quote from the lion king, explains to an individual that the past is not something to avoid, ignore and run from, instead a one should examine his past incidences closely and learn from their mistakes and improve.
"The greatest power on earth is the magnificent power all of us possess, the power of the human brain!"- Charles Xavier, The X-Men: This is one of the most remarkable inspirational New Year messages ever uttered by a fictional character. This line, fully captures the magnificence of the human brain and what it can potentially achieve. This quote describes the human brain as the greater power present on the planet as it has the potential to change the world.
"It's your life and its ending one minute at a time" – Fight Club: This quote form the movie Fight Club, is perfect in explaining that the life is not to be taken for granted and that a lifetime is not enough to do everything you ever wanted to do, therefore one must seize every moment and look at it as an opportunity to do something great.
"Its not that I am smart, its just that I stay with my problems longer"- Albert Einstein: This quote form the great scientist Albert Einstein, explains how greatness is achieved through perseverance and persistence. This quote explains in the simplest words, that solving a problem in a small amount of time will not make you smart, but tackling a problem which requires you to use all the power in your brain can someday make you a genius.
"The cure for boredom is curiosity, there is no cure for curiosity"- Dorothy Parker: Dorothy Parker was an American writer and poet in the in the early 1900s. She was known for her wit and the ability to pen down thoughts and ideas and the most peculiar way. This inspirational messages for students from Dorothy embodies her whole existence which means, if a person is curious to learn more about something, they can never be bored, and if the person is curious then there's only one thing he can do, that is learn and nothing else!. Hence, there is no cure for curiosity.
"Live as if you were to die tomorrow, Learn as if you were to live forever"- Mahatma Gandhi: Another inspirational New Year messages is from the great Mahatma Gandhi can be used in any situation where you need to inspire people and push them to strive for knowledge and education. This inspirational messages for students implies people must live each day as if it's your last and that you will not get to live tomorrow, whereas when it comes to learning, one must learn everything they can and constantly strive to learn more as if they have all the time in the world and continue their path of learning with patience.
"Children must be taught what to think, not how to think"- Margaret Mead: Margaret Mead was an American anthropologist and an Author in the mid-1900s, this quote from her can be used to inspire children, teenagers, and adults alike. It means that instead of telling children about what they should and should not think about, and restricting their creativity, we should teach them moral and values and teach about the right way to think and learn in order to improve their development process.
"The mind is not a vessel to be filled, but a fire to be kindled"- Socrates: This is a complex quote yet a very simple inspirational messages for students form the ancient Greek philosopher Socrates, It explains that, one must not stuff their head with random thought and ideas, instead they should try to understand the basic meaning behind them and try to learn deeply about the various phenomena of the universe.
"Educating the mind without Educating the heart, is no education at all"- Aristotle: Ancient Greek philosopher, Aristotle said this quote, meaning, one must attempt to learn and educate themselves with all their heart and soul and just with their minds without proper conviction, as when a person tries to learn only in their mind without actually having the will to learn it in their heart, then that knowledge and education is not worth anything at all.
"Formal Education will make you a living, Self-Education will make you a fortune"- Jim Rohn: Jim Rohn was an American entrepreneur and a motivational speaker in the late 1900s. Among his many motivational and inspirational quotes, this one is my favourite. As the line goes Formal education will only make you a living, meaning the pre-set and structured education that one acquires from their schools and Universities, this will only make them so successful as they can manage to earn a living and get the bare necessities of life. Whereas, when one goes out and tries to learn and educate themselves through their own interests and curiosities, they are bound to achieve their pinnacle of success and earn a fortune.
"Spoon Feeding in the long run teaches us nothing but the shape of the spoon"- E.M. Forster: For the final quote in this list, we have chosen the great English novelist and writer, E.M. Forster. His works on liberation of the working class remarkable. This inspirational New Year messages form one of his creations, explains why he will forever be the greatest. It means, that if the only form of learning that you get is given by a same individual or institution, you will learn a lot less and will not know about your true potential. Instead one should thrive to learn and educate themselves for as it is the highest form of education and will give you the best results.
This concludes our article on best inspirational quotes for students. As New Year approaches, every student looks up at the coming year as a chance to start anew and be their best self in this coming year.
These quotes are all great, but as mentioned in the beginning, each student is different and thus the approach to talk to them should be different as well. All of these quotes will make a great impact on a student's life, especially if it comes from their professor or tutors.
Through these inspirational messages for students, young minds are guided by the inspirational New Year messages which are of paramount importance as, when they have a good ideology they can achieve anything.