A haiku is a small, unrhymed poem with a set structure of three lines and seventeen syllables. Although the art form has its roots in Japan, haiku is now read and written in many other languages worldwide. Haiku have slightly varied formats in each language due to the distinctive syllabic and grammatical frameworks. However, the English haiku format is the major one we'll use in this blog on how to write a haiku.
Explain a haiku
Recall your time in elementary and middle school. You were undoubtedly asked to compose one or two haiku somewhere along the line. If you can't remember the format, it consists of three lines, with the first and third lines having five and the second and fourth lines having seven syllables, respectively.
Later on, in this blog on how to write a haiku, we'll go into more detail on how haiku is organized. But, for the time being, our attention will be on defining haiku and describing their origins and development.
Short-form poetry, known as haiku, pronounced high-Koo, has its roots in Japan. Even though the haiku form has been around for hundreds of years, the name only first appeared in the nineteenth century. Haiku was first referred to as hokku and were a part of a wider poetic genre called renga. Long, interconnected, collaborative poetry called renga frequently has numerous authors. Poets started composing hokku as standalone works in the seventeenth century, and by the end of the nineteenth century, Masaoka Shiki was revising the genre while still writing in it. The term "haiku" was one of his innovations.
How are haiku unique from other types of poetry?
Haiku are typically poems about nature. Seasonal changes are a subject that both traditional and contemporary haiku writers have tackled. A haiku frequently contrasts two pictures and concentrates on a single moment in time.
You can understand how to write a haiku by having a look at this example of a haiku written by Matsuo Bash, whose work was crucial in establishing haiku as a legitimate literary form:
An ancient silent lake…
A frog leaps into the lake,
Splash! Silence once more.
How to write a haiku in modern times? Haiku has changed with time, just like other poetic and literary genres. While modern haiku frequently break from these standards to experiment with new formats and explore new subject matter, traditional haiku follows strict structure and content criteria (more on that in the section below). Check out how to write a haiku from the lines of American poet Alexis Rotella written in the 20th century: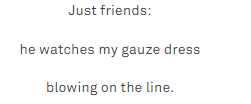 How to write a haiku despite not following the usual style? Poetic forms are frequently descriptive rather than directive. It means that a poem is frequently seen as belonging to a particular form when it satisfies its rhythm and other fundamental conditions. Prescriptive, however, denotes that only poems that precisely fit within a particular shape are regarded as belonging to that form.
It is also true of other poetry forms, such as sonnets and villanelles. As poets developed their interpretations of some forms, such as sonnets, unique subtypes within those forms also emerged. Although poets have experimented (and continue to experiment) with the format, various subtypes have not yet evolved, making haiku unique. However, if poets continue to experiment with the form, it's feasible that additional varieties will emerge in the future. As a result, you'll find in our collection of poetry quotations that poets are frequently original and insightful.
How is a haiku put together?
Haiku's short format is one of its distinguishing features. The structure in English is like this:
Line 1: Five syllables
Line 2: Seven syllables
Line 3: Five syllables
A poem isn't a haiku, at least not in the conventional sense, if it doesn't adhere to this form.
There are other guidelines for creating a conventional haiku in addition to this format. One is that there is no rhyme in the lines. Another is that a haiku is written in only one line in Japanese. Finally, it is written in the three-line format seen above in English (and in some other languages).
Hold on, we stated that an English-language haiku follows the preceding form, but how to write a haiku in Japanese?
A haiku is a collection of seventeen on (phonetic units used in Japanese poetry that are comparable to syllables), which are organized in the well-known five-seven-five pattern. A Japanese word will frequently have the same number of syllables as an English word, though this is not always the case.
The presence of at least one kireji is another feature that makes a haiku in Japanese. A kireji, which translates to "cutting word," is a grammatical class of words creating a pause or closing the sentence. Since kireji has no direct English equivalent, it is frequently represented with a punctuation mark like an ellipsis or a dash in translated haiku and other traditional Japanese poems.
How to write a haiku to fulfill the kireji role in English-language haiku? You can choose to use punctuation or onomatopoeia, although it's not necessary. If the kireji doesn't fit their chosen theme, many poets ignore it.
A kigo, or seasonal reference, is what the Japanese term "haiku" refers to. English-language haiku don't necessarily have this element, just like a kireji.
How to write a haiku in 4 steps?
Producing a haiku involves the same steps as writing almost any other type of poem or other pieces of writing.
1. Brainstorm
Before thinking about how to write a haiku, brainstorming is the initial stage of producing ideas. Do you have a topic in mind? Do you want your haiku to focus on more conventional subjects like changing seasons and other aspects of nature? Do you prefer to talk about something more recent, such as your sibling's relationship, a hot topic, or a pastime?
2. Prewrite
How to write a haiku by prewriting? In prewriting, you need to record all of your thoughts. This part of the process, known as prewriting, involves building on your brainstorming and outlining. You won't likely compose a comprehensive outline for a haiku. Still, you can note how you want to organize your haiku or experiment with alternative word combinations to meet the syllabic structure. Additionally, keep in mind the fundamental guidelines for composing poetry, such as avoiding clichés and writing honestly. Although they are not requirements, these can serve as useful suggestions for your haiku.
Choose whether you'll follow the standard haiku structure or produce a more free-form haiku during the prewriting phase. Of course, if the lines you write don't exactly follow the five-seven-five arrangement, you may always change your mind later. However, it can be useful to have a general notion of your format before you begin.
3. Writing time
Give yourself leeway to experiment with words whether or not you're using the five-seven-five pattern. To hear how words sound together, group them by their number of syllables. Whether or not you want to read your haiku aloud, do this because the rhythm and flow of a poem are important components, so make sure your beat matches your words and subject matter.
Give your draft some time to cool off after you've finished writing it. Then, after finishing your first draft, take some time to work on something else because you're a better editor when you go back to your work with fresh eyes.
4. Revise
Come back to your haiku in about twenty-four hours. Read it again loudly and pay attention to how it sounds. After finishing the draft, you can discover a difficult string of syllables or a place where you can replace a weak term. Make these adjustments to create a stronger second draft of your haiku.
You may be done at this point. If all you wanted was to create a haiku, you succeeded in your mission by completing the second draft. However, if you want to publish your work, that should be your last step. Your haiku can be shared with your network or published by you on a blog, or it can be submitted to a magazine or chapbook for publication.
Samples of Haiku
Check out these classic and contemporary haiku written by poets from around the world to understand how to write a haiku:
Nightfall—
too dark to read the page,
Too cold.
—Jack Kerouac
After killing
a spider, how lonely I feel
in the cold of night!
—Masaoka Shiki
In Kyoto,
hearing the cuckoo,
I long for Kyoto.
—Matsuo Bashō
Lily:
out of the water . . .
out of itself.
—Nick Virgilio
FAQs on how to write a haiku
What is haiku?
A haiku is a small, unrhymed poem having three lines and seventeen syllables. A haiku traditionally describes a brief time and has a kireji (a "cutting phrase") that induces a stop or sense of completion.
What are typical themes in haiku?
Haiku have historically dealt with nature and changing seasons. Over time, haiku poets started experimenting with various subjects. Both traditional and contemporary haiku frequently centre on a minor moment with a mix of images for dramatic effect.
How to write a haiku following a set rule?
A haiku often satisfies the following criteria:
There are three lines.
The first and third lines each include five syllables.
The second line contains seven syllables.
None of its lines rhyme.
It contains a kireji, or harsh word.
It contains a kigo, or seasonal allusion.
Total Assignment Help
Incase, you are looking for an opportunity to work from home and earn big money. TotalAssignmenthelp Affiliate program is the best choice for you.
Do visit : https://www.totalassignmenthelp.com/affiliate-program for more details
Total Assignment help is an assignment help online service available in 9 countries. Our local operations span across Australia, US, UK, South east Asia and the Middle East. With extensive experience in academic writing, Total assignment help has a strong track record delivering quality writing at a nominal price that meet the unique needs of students in our local markets.
We have specialized network of highly trained writers, who can provide best possible assignment help solution for all your needs. Next time you are looking for assignment help, make sure to give us a try.
Looking for Assignment Help from Top Experts ?
Get the best Assignment Help from leading experts from the field of academics with assured onetime, 100% plagiarism free and top Quality delivery.