It is very important to understand how to improve your persuasive writing techniques. Persuasive writing represents the reasons and examples used to persuade any action or thought. To be a good persuasive writer, the author needs to write the point of view clearly along with the reasons and peculiar examples that can support it. Students also require a defined set of skills to be efficient in persuasive writing. However, one challenge that students come across and find difficult to cope with, is effectively acknowledging the contradicting points of view. To excel as a reporting author, it is essential to know various styles, formats, and techniques of writing. While following the format and guidelines, the writer should be able to write in an engaging manner that can convince the reader to read the whole document.
The writer should be able to convince his / her reader that the information provided in the document is factual and accurate. By taking care of these factors, you will be able to create a niche for yourself in the field, which will make the reader follow the directions given by you. To build your understanding and persuasive writing techniques skills, read extensively and practice writing. On completion of this article, we are confident you will have developed an exclusive knowledge of convincing writing styles.
Persuasive Writing Techniques
Persuasive writing techniques are the form of writing that includes contents from a verbal debate. Because of uniqueness in this style of writing, it attracts the interest of many students. The best aspect about this style of writing is, it gives an opportunity to the writer to convince the reader that his point of view on the topic is relevant and correct. While writing in a persuasive manner, appropriate selection of words plays a crucial role. After reading the document, the reader must be able to understand exactly what the writer intends to convey. In addition, you must ensure that you add logical arguments to establish and close your argument as a strong one. It is very imperative for a student to know the different persuasive writing techniques.
Subscribe our YouTube channel for more related videos
Persuaded using a verity of techniques and win their confidence. There is a number of persuasive writing techniques and their knowledge can facilitate you in writing an influential paper. For this, you should know these techniques in detail and the reason why writing persuasively is important.
Importance of Persuasive Writing Techniques for the Students
Before knowing the importance of persuasive writing, a student must know the different types of writing styles. Persuasive writing techniques can be an effective and brilliant way to make their writing impressive on a particular topic. In addition, it is a method to know about the passion of the student. Furthermore, it gives an opportunity for the student to learn and discover more on the topic or subject of their interest.
Practicing and excelling in persuasive writing techniques may assist students in improving their overall writing skills. By following these techniques, they can enhance the writing structure and style of research. In addition, it will also assist them in finding and establishing rational conclusions and opinions based on evidence.
Best Possible Ways to Teach Persuasive Writing Techniques in the Classroom
There can be a number of ways and techniques to teach persuasive writing skills. However, to ensure proper understanding, and to start the session teachers must focus on the basics methods of the persuasive writing. The most practical and easiest way to understand is to teach persuasive writing techniques, and examples, for instance, paragraphs from newspapers, speeches' or lectures' audio clips. Along with this, teachers should motivate students to participate actively in group discussions, debates, or speeches. Furthermore, teachers must tell the main features, elements, and format of persuasive writing techniques like:
Proper usage of persuasive words.
The inclusion of various elements of persuasive writing techniques.
Proper usage of persuasive words
Persuade the reader using various persuasive words and phrases and avoid repeating the same term. The writer intends to draw the attention of the reader by making correct and impactful use of these words. Knowledge of impactful usage of persuasive words is very important for students to write persuasively. A variety of persuasive words is used by the writer in order to attract the attention of the readers likewise: because, for instance, in the instance of, to illustrate, similarly, on one hand, and on the other hand, instantly, etc. Give the Student a list of persuasive worlds to help them writing persuasively.
The inclusion of Various Elements of Persuasive Writing Techniques
The essential elements of the persuasive writing techniques are:
Introduction
This is the initial stage of persuasive writing. The writer needs to ensure an attractive introduction while writing a persuasive paper or essay. The reader should be able to understand the author's purpose and concept behind writing the paper. Introduction of any document is the important part, as this creates the base of the thesis for the reader. Hence, it is imperative that it should be simple, attention-grabbing, and clear.
Body
This includes a quantity of persuasion, it must have a logic supported by minimum three pieces of evidence. Support every argument using no less than 3 proofs. The writer explains and proves his point of view or thesis by including various examples in this section. This section must provide all the required information related to the article.
Conclusion
The concluding paragraph of the paper must focus on the major points of the thesis. Do not include new concepts, ideas, or facts to the conclussion. This section of the paper justifies the thesis. Furthermore, the writer must include a few valid and strong points to prove the concept to the reader.
Persuasive Writing Techniques
The use of persuasive writing techniques plays a crucial role in writing an impactful paper. It is important for a writer to have a thorough knowledge of these techniques. Knowledge of these techniques will facilitate the writer in persuading the readers by using different techniques. At the time of writing, writers are always concerned about how they can draw the attention of the readers or persuade them to read and like the whole document. Hence, the right selection and usage of influential words are very important. While writing, you must keep the readers perspective and expectation in mind, this will help in writing persuasively. Usage of persuasive writing techniques helps in writing persuasively.
To understand better, let us consider some of the persuasive writing techniques, and examples: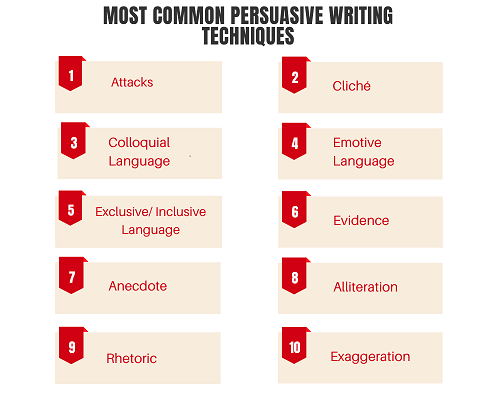 Attacks
In this the writer targets an opposite idea or opponent. The writer specifies persuasive techniques against the contradicting idea. the Persuasive technique can also used to insult or embarrassing the opponent. For example, condemning someone, who is judgmental about people based on their region, race, or community.
Clichés
This term is being overused to the limit where maximum people of the society easily and commonly understand it. For example, the phrase 'it is not the destination that matters the most, rather the journey along the way'.
Colloquial Language
This language is in a form of a word or phrase that is being used in the informal language. However, informal writing usage of these phrases should be forbidden. It is largely used while speaking than in writing, as it is easy to understand. For example, 'this incident completely freaked me out' vs 'this incident scared me out'.
Emotive Language
This language is used to purposely draw a sentimental response from the audience. The writer intentionally uses the emotive language to ensure an impact on the emotions of the reader. For example, 'in order to avoid this jeopardy, we immediately need to do something about it'.
Exclusive Language
This language is used to exclude someone by the usage of specific words. The reader can easily understand for whom it is referred by the usage of pronouns like 'they', 'them', and 'those'. For example, 'they were at fault, as it was their decision'.
Inclusive Language
This language is used while writing a statement that appears to be in the agreement of the audience's perspective. In this language, the writer uses words like; us, we, you, and ours. This helps in developing a connection with the audience and engaging them to finally agree with the perspective of the writer. For example, 'it is time for all of us to show our patriotism and stand for our country'.
Evidence
In this language, three types of evidence are being used are: Anecdotal, Expert Opinion, and Statistical.
Anecdotal
This process of collecting evidence is the informal way that majorly depends upon the personal testament. The anecdote is often preferred by the writers, as it assists the writer in supporting their argument while trying to prove the worth and credibility of their point of view. For example, 'you know, I had a dog in my childhood, it was my best companion then, I always felt that my younger days were wonderful with him'
Expert Opinion
To prove own point as more reliable, the writer uses experts' opinions, which are in accordance with the writer's argument. For example, 'children become more disobedient, as they enter into the stage of teenage, says child psychologist Mark Ruffle'.
Statistical
The data or numerical based proof is called statistical proof, it can be reflected with the help of bar diagrams, graphs, and statistics. For example, 'as per the latest survey, 90% of the students are not in the favor of the school uniforms'.
Formal Language
Usage of formal language creates an impression about the writer being very knowledgeable. Those style of language eradicates the use of any emotional content from the writing. Formal language is more wide and elite style of writing. This is widely used in persuasive writing techniques. For example, 'the lady I met in India was interested in settling down in Australia'.
Emphasis
To grab the attention of the reader, the writers prominently use three types of emphasis: Repetition, Cumulation, and Alliteration.
Repetition
In this, the writer uses a particular word a number of times. For example, 'we all have suffered a lot in the past and we will continue to suffer if we will not stop the current government, stop it in states, stop it in assembly, stop it in elections'.
Cumulation
Repeated usage of similar words within a shorter space is called cumulation. For example, 'this job needs one who has guts, willpower, determination, and commitment'.
Alliteration
In this, words with repetitive first sound are used in consecutive words. For example, 'to harm people so ruthlessly depicts Mr. Rufflao to be a crude, cruel, and calculative person'.
Rhetorical Question
In this, such questions are asked that can give a dramatic impact or establish a point instead of receiving an answer. This point is important to know that in this style the idea is not to get the answer rather to an emphasis on a point. For example, 'are we ready to give our children a world, where there is no fresh air to breathe, sufficient water to drink, and violence everywhere?'
Exaggerations or Hyperbole
It is used to express extreme exaggerations to make emphasis on a point or humor. Exaggerations help in getting the emotional reaction from the reader. For example, 'I am so much hungry that I could eat an elephant', 'His sensibility is the size of a peanut'.
Generalizations
It can be understood in the terms of stereotypes. These statements are taken from the specific cases. Generalizations are most popularly used amongst all persuasive writing techniques. For example, 'A storekeeper saw two teenagers stealing stuff from the shop and wrote a letter to the higher officials claiming that all the teenagers these days are into stealing, hence should not be trusted'.
Hypothetical Evidence
As suggested by the name, it makes claims by the statements starting with 'what if'. For example, 'what if everything would come to an end tomorrow'.
Logic and Reasoning
In this, a relevant argument that is being developed systematically and with evidence is used. In order to influence the reader, proper justification is used to support every talking point. For example, 'if we do not have sufficient resources to meet the needs of the increased populace, we cannot continue the current immigration level. It is clear'.
Metaphors and Similes
Metaphors: It is a figure of speech where a word or phrase is used to indirectly express an object or action. It expresses the direct comparison between the two states or actions, in which one is used as the other. For example, 'Her life was on the roller coaster ride, everything was upside down'. Smiles: In this, one thing is compared with the thing of a different kind to create a more emphatic description. For example, 'he is hilarious as a bunch of monkeys'.
Repetition
In this, one thing that is already said is mentioned over and over and over again. A word or phrase that is already used is repeated several times. For example, from Shakespeare's Romeo and Juliet 'Let it snow, let it snow, let it snow. Oh, woeful, oh woeful, woeful, woeful day!'.
Sensationalism
In this, such stories are presented that can aggravate interest or excitement of masses, at the cost of accuracy. It makes the reader believe that the point is important, dramatic, crucial, and severe than it is in the real sense. For example, a very surprising and exciting headlines from the newspaper, "Aspirin May Kill You," in big, bold, and black letters. While after reading the article, one will realize that the usage of the word 'may' reflects that aspirin "may kill one if one consumes 400 tons of the medicine in one go".
Pun
Witticism gives other possible meanings to a word or fact. As there could be words that may sound similar but have different meanings. For example, 'the cardiologist felt like imprisoned by his own profession. He just found himself unable to free from his bars'.
Graphs and Diagrams
One of the best persuasive writing techniques is to present the thoughts through visuals. Evidence to support your point can be represented through graphs and diagrams. For example,
Jargon
They are a collection of exclusive words that used by professionals, while other people find it difficult to understand. For example, 'you require a script before you get the medicine. (The word script is jargon in medical terms, which means prescription)' 'objection made by the counselor is overruled. (This is a legal jargon, meaning rejecting the attorney's objection)'.
Humor
It involves the use of puns, sarcasm, jokes, etc to write persuasively in order to dismiss or opposing views, give an engaging impact to influence the reader by making them involved into the humor. This quality of amusing with the comic sense is one of the successful persuasive writing techniques. For example, using 'totally artraged' instead of 'totally outraged' to express the feelings about a piece of contentious art.
Analogy
It is the type of reasoning in which one thing is compared with the other to establish a specific point. For example, 'Jennifer's hair is as black as night'.
Connotations
Connotations are referred to sentimental meanings attached to the word. The writer needs to select the words cautiously in order to ensure the best-fit connotation for the purpose. For example, 'Kill – slaughter, even though both have similar meanings usage of slaughter gives a better picture of the scenario to the reader'.
Cause and Effect
While writing, one must write the cause followed by the effect. This style specifically related to the words in one sentence. However, the concept is applicable only if it is extended throughout the sentences. For example, 'If I assist you, you will certainly attain success'.
Appeals
Amongst all other persuasive writing techniques, this one is used to persuade the readers to read the document with their logical sense, emotional quotient, and ethical values. The prime aim is to convince the reader to the point of view of the writer. The major constituents called 'modes of persuasion', of the persuasive appeal are: logos (logic), pathos (emotion), and ethos (ethics).
The major modes of persuasion are: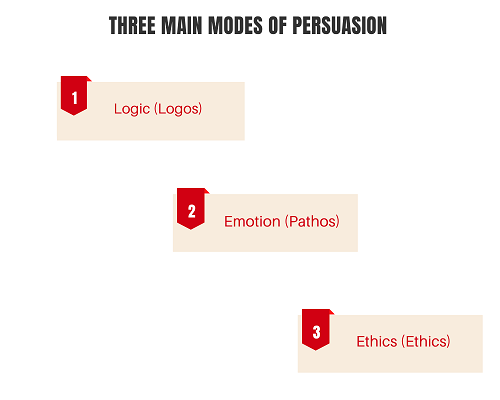 Logos (Logic):
An appeal based on logic, convinces the mind. In order to convince the reader to perform or believe something by the purposeful use of claim, proof, and merit in a logical appeal. Logos is all about to appeal to the reader based on logic and reason. For example, 'history has revealed time and again, the supreme power of masses'.
Pathos (Emotion):
An appeal based on emotion, to convince the reader of an argument by targeting the emotions of the reader and getting an emotional reaction. It helps in developing a connection with the writer and the point of view being discussed in the paper. It is a known fact that human beings are emotion driven beings, hence, an impactful and strategic use of pathos can manipulate transparently while making an emotional appeal. For example, 'if we do not take the corrective measures now, we will all die soon! How can you not see, how harmful and dangerous it is becoming day by day?'
Ethos (Ethics):
An appeal based on ethics, to convince the reader about the specific character or point of view of the writer. The aim is to establish the writer as an unbiased, ethical, truthful, sincere, reliable and objective person. For example, 'being a doctor, I am qualified to suggest to you that this treatment is the best for you and will give you assured results'.
Ten most common persuasive appeals
Different modes of appeals have been discussed above. Now let us discuss, further 10 most common persuasive appeals: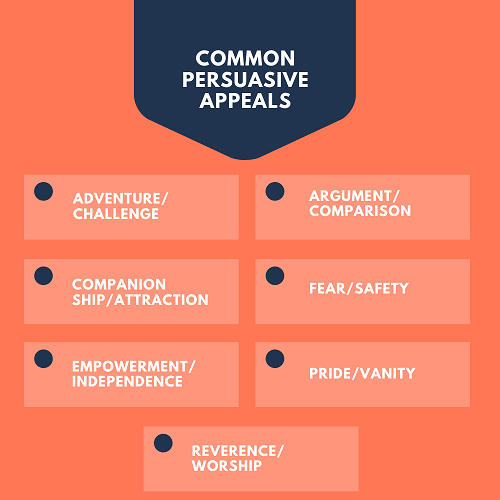 Added Value:
This type of appeal refers to the economic side. In this, we prefer to get good deals and better savings. The wish is to get the items at the lowest possible price. It also talks about the wish to collect and possess the items an individual value that include money, artistic objects, stamps, and baseball cards. Target Audiences – adults, collectors, people with scarce resources. For example, 'buy two, get one free', 'happy hours', 'don't miss out on the rare collection, we are running out'.
Adventure/ Challenge:
This appeal is used to validate or prove a particular point or fact. The writer challenges the reader about the writer's own point of view or thesis, that it is accurate. It becomes interesting and attracts the reader's attention. Target Audiences – younger people, males. For example, 'join the army, be a hero'.
Argument / Comparison:
This appeal is used in order to influence the reader's emotions, intellectual approach, or even the combination of the two. It is an effective method of addressing the issues or forces, which threatens us. Along with this, it is being used to reflect the comparison with any other product. Target Audiences – people interested in confrontations, people wish to compete with other shoppers. For example, 'why pay high, fight against shooting prices'.
Companionship / Attraction:
Human beings are social animals, as humans we tend to enjoy the association and company of other human beings. In the fundamental sense, we desire for affection. To express it in a broader meaning, humans like to be a part of a larger group. At times, human wishes to be a part of an elite society, such an appeal can be driven by emotional or intellectual part. You may often find the pictures of a group of people happily interacting with each other. Target Audience – singles, followers of camps. For example, 'the heroes, the proud, the best'.
Fear / Safety
Appeals based on fear or safety concerns make people do things that can protect them from any danger. Such appeals also encourage people to take preventive measures against the expected threat. The usage of this appeal is majorly fear driven. People experiencing or have experienced any fear, in particular, are more likely to respond, in comparison to those who have not experienced described fear. A few children would respond to a serious disease they have experienced, some to darkness or fear of the unknown, similarly people would respond more to fear of losing the job than losing a life. Target Audiences – Variable. For example, 'Wear a seat belt, stay safe', 'Know the necessary vaccination – before it's late for your child'.
Guilt
Guilt driven appeal focuses on making the reader feel guilty about not admitting the fact. The effectiveness of this appeal majorly depends upon the targeted readers. Different people have different perspectives and socially inspired guilt; hence the writer must have proper knowledge about the targeted readers. Targeted Audiences – Variable. For example, 'life insurance is not about saving money, it is about securing those who are left behind', 'cast your vote, it is not a privilege rather your moral responsibility'.
Loyalty
To make such appeals, it is considered a very wide category. Loyalty differs from person to person, but usually, people are loyal to family, friends, nation, etc. Target Audience: Variable. For example, 'Buy Australian', 'Love your country'.
Empowerment / Independence
Today we live in the era of complexity and most of the people wish to get the maximum control of their lives. This appeal is more effective on the people who wish to see deeper. In addition, it is also effective for people who see themselves as rugged beings. Target Audiences – Youth, Women, Underprivileged, Disadvantaged, Free spirited individuals. For example, 'You have come a long way', 'take complete charge of your life'.
Pride / Vanity
It is a very impactful and powerful form of appeal. It is in various aspects, self-respect, pride, reputation, and vanity. This appeal is driven by the concept, as to how the individuals see themselves and how they wish others to perceive them. This appeal works in a better way amongst teenagers and youth, who are in the phase of creating and establishing their identities. People who care about their social standing in the social groups also react well to the appeal. A few items do define social status or standing of an individual like a luxury car. Target Audiences – Social climbers, Teenage, Youth, and Adults. For example, you are the best, you deserve the best', 'why to settle for less when you can get the best'.
Reverence / Worship
In this appeal checking and credibility of the source is really crucial, as it ensures the effectiveness of the appeal. In this, a few individuals, institutions, and value systems are given importance above other things. Celebrities or specific individuals from different fields like actors, politicians, sportspersons, etc. are often selected to record testimonials. People tend to pay more focus with trust to these specific individuals and their role as doctors or parents. In addition, associating a particular item with traditions or values is a successful practice. Although, associating a product with a particular religious belief system may backfire also. Target Audience – Variable. For example, 'I aim to be like Michael'.
All the above
Mentioned persuasive writing techniques and examples are sufficient enough to provide you an exhaustive knowledge about the persuasive writing techniques. You can write persuasively if you follow these techniques, to know the better application of each technique, you must always refer to its example. This is why every technique described in the article is also supported by a relevant example.
In addition, the provided a complete list of persuasive writing techniques will assist you in writing an essay on any topic in best persuasive style. You may learn and practice more to become an expert on the persuasive style of writing and persuading your reader to agree with your point of view.