An essay is an elaborated piece of writing that supports a line of arguments or prepositions. The word essay comes from the Latin word 'exagium', which means the presentation of a case. Every essay is written with a common objective of presenting and defending a topic or an opinion to the reader.
There are many types of essays and as the title suggests, we will be reviewing the self introduction essay. So basically, an Introduction essay transfers brief understandable information of the author to the reader.The objective of the author is to narrate his/her personality after assembling all notable facts from the author's biography and describe hi/her qualities, skills, and prospect in a clear manner. At first, it might seem like it's pretty basic and simple because what you need to do is to create a listicle data of your pro's and achievements and present it to the potential audience. Well, it's not as easy as it seems.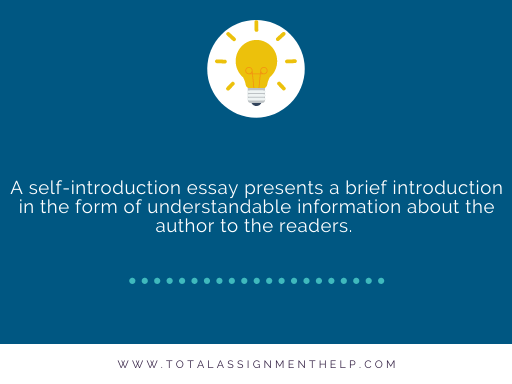 A self introduction sample introduces a number of extra requirements and specific demands. Firstly,you should introduce yourself as if you are introducing someone else i.e. describing yourself in a manner that it is from a unique perspective. Secondly, the introduction sample essay has to be written in the correct style. It has to be concise, penetrating, and precise. On contrary, it should not be boring or unreadable. Your aim should be to prove that you are an exception in the crowd with amazing personality traits, skills, habits, and talents.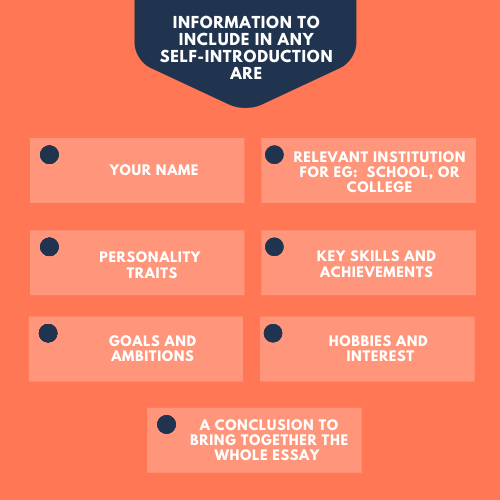 Hence, creating a self introduction essay is quite a complicated task when compared with a personal essay. In order to understand all considerable variations and notable features of this task, let us analyze a standard self introduction essay sample, this so to determine and identify the defects and faults.
My name is Pedro Moreno. I am a junior in high school. I am a sincere and determined student and I like to study. My best-loved subjects are Math, physics. and Chemistry. All my teachers and colleagues praise me for my dedication towards studies and that I am the best in my class. I have a dream to study higher education through Universities and have a well-reputed place in the society. I want to become a Professional in the field of Mathematics.
I am a person with lots of hobbies and interests. I am a very hard-working, determined, and a clever student. I like interacting with new people and making new friends. I am the source of energy for my friends. I don't think they can imagine their life without me. I believe that a good friend circle makes you the person who you are and I am very much devoted to my beliefs.
I have been studying Math for four years now; therefore, I have a broad experience of the practical and theoretical aspects of this field. I also have the knowledge of scientific methodology. Therefore, I know how to perfectly implement the principles and perform certain tests. Concluding all I said, I affirm that I am an eligible candidate and I hold a strong wish to enter the university. I want to prove that I am a responsible, civilized and educated person.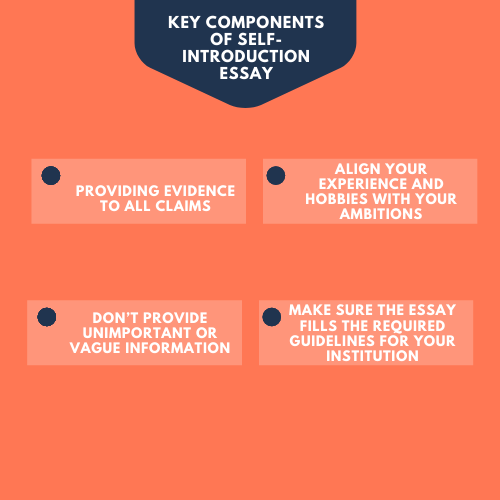 Let's now examine the above sample-
It's obvious that the essay above is not an admirable example of a perfectly created self-introduction report. An ambitious writer can easily find different samples of a better quality of essay introductions. However, it provides beginners with a significant number of don'ts examples. This will act as a resistant to all the possible writing mistakes of the essay and correct the most noticeable mistakes. Therefore, we can create a brief list of the leading errors and interpret the most unwanted concepts. Below is a detailed list of these critical mistakes:
The obvious non-appearance of the evidence base. The author tries to convince us that he knows how to implement the principles and perform certain tests but unluckily, he does not provide any evidential examples to his statements. Therefore, an alert author will never put into use such questionable statements in his self introduction essay sample. While writing an essay of this type, your primary goal, to describe yourself, should be to avoid all such inaccuracies in your statements.
Writing a self introduction speech or creating a persuasive essay will result in the development of your literary skills and give you access to keep away bad grammatical constructions.
The detectable shortage of essential details may discriminate it from all other essays. Sadly, the author was unsuccessful in presenting his literary skills; therefore, he is still an unknown person for the audience. If you really want to grow and remove all possible, complicated barriers on your way to writing a successful self introduction essay. You should focus on practicing your descriptive skills on a regular basis and achieving various tasks of the same type.