Learning is defined as the potential or process of acquiring knowledge, talents, ideas, values, and various other things. Some people believe that learning can only occur at school; however, learning is much more than only lectures and memorising lessons.
It's also about how students apply and comprehend what they've learned. Learning often includes experiences, which can lead to development. We need to keep learning. Knowledge is crucial to the nourishment of our brains, just as food is to our bodies. The Feynman technique, developed by Richard Feynman, is an example among several other learning strategies.
Anybody can use the Feynman technique, whether you are a student in high school or you have a master's degree. Anyone could benefit from the Feynman technique as it is a great strategy to improve their grades. So, who is the genius driving one of the most effective learning techniques?
Feynman technique: The basics
You can only say you have truly learned something when you could explain it to others in simple words or apply it to real-life contexts. Learning anything new is like possessing a device that you can use anytime and wherever.
As a student, Feynman usually made notes when documenting and gathering data. Rather than studying for his exams as a grad student, Feynman proceeded to MIT and created the "Notebook of Things I Don't Know About," as noted by James Gleick in his biography of Feynman.
Feynman used it to arrange, analyse, and link everything he knew and what he did not. It's a convenient way to expand your knowledge, get enthused over new ideas, and keep track of thoughts you would not want to miss. He believes that teaching what you know is preferable to teaching what the textbook says.
People who aren't adept at simply copying and remembering a book's definition employ Feynman's method. Rephrasing or describing what they've learnt in their terms proved to be more understandable for such people.
Here are the main four steps to follow in the Feynman technique
Create an idea.
Pretend that you are teaching the idea to others.
Examine your explanations for any gaps in knowledge.
Sort, clarify and make a story with your idea.
Even though most students are taught through reading, writing, listening, and memorising, it is a reality that most information taught through these methods is eventually lost. That is why Richard Feynman devised a method for learning more rapidly and effectively.
Make learning easier with the Feynman Technique.
The Feynman technique is a straightforward approach to conveying difficult topics or subjects. However, in most cases, people cannot explain their knowledge to others in the way they intend to.
As a result, it's critical to offer a straightforward explanation that everybody can understand. So how can such a complicated topic be divided up into easy and simple steps? The steps to do this are as follows:
Create an idea: Obtain a piece of paper and begin arranging your ideas. Alternatively, you might sketch your idea in your notepad. Please list all the facts, thoughts, and knowledge you have on the subject, and add new material to it as it becomes available.
It will allow you to see the idea overall, cluster those that are related and isolate those that require more explanation.
Apart from Mathematics and Science, this learning approach may be used in various subjects. There's no right or wrong method of writing down your ideas.
For instance, if you are looking to learn more about Semantics, or the reasoning that underpins word meanings, start with what you already know. Your sheet should look like this: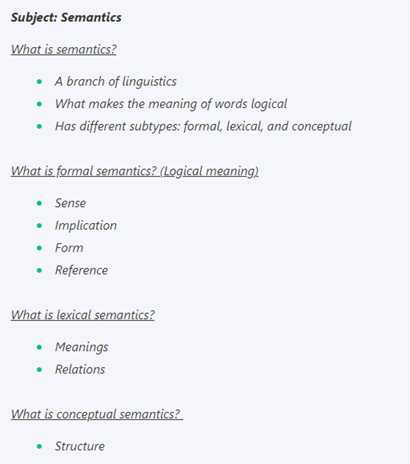 Now you should be able to expand on what you already know and gradually fill in the gaps. Feel free to skip over any areas that you're not confident about. As you'll see, your scribbling doesn't have to be very structured or planned. As long as you understand it, write in the manner you normally do.
Pretend that you are teaching the idea to others: Pretend you're coaching someone else once you've written down your idea or topic and all you know about it. Consider the case of a child. Imagine you're educating a kid who doesn't understand many words and knows just the most basic concepts.
The use of complex language is a typical cause of hardship in teaching. You don't completely grasp what you're talking about if you can't convey an idea in basic terms. As a result, your audience will struggle to understand what you're saying.
Try to add a few examples in your lesson to be confident about applying the concept in the right places.
Your note might appear like this if you adopt the example above: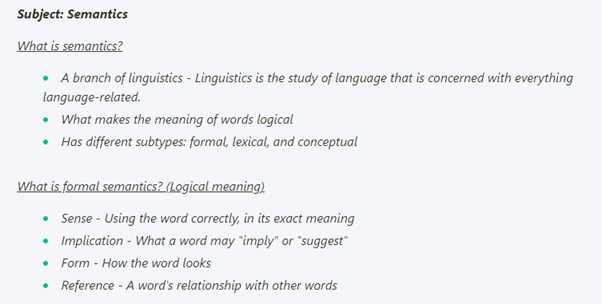 Examine your explanations for any gaps in knowledge: Go through what you've written again. Examine your document to check if anything is missing, if you've forgotten something, or if your rationale is confusing. Do something like this, particularly if you feel your explanation is weak or insufficient or abruptly come across a question or confusion that you can't resolve when attempting to explain it to yourself.
Once you've identified the gaps, return to your primary sources to get the details you need to fill in. Then you may simplify them. Since this is a knowledge gathering step for your Circle of Competence, filling in every blank is unnecessary.
So, what exactly is meant by the Circle of Competence? Warren Buffett's book The Circle of Competence discusses understanding what you know and don't. It is aware of your knowledge's limitations. One can avert pitfalls and seize opportunities by recognising their circle of competency.
Once you're satisfied with the note, you may turn it into a narrative.
Sort, clarify and make a story with your idea: Feynman's technique is based on condensing information and clarifying our comprehension via simple analogues. In this section, you'll arrange and condense all of your notes into a narrative or story. If your explanation seems difficult or unclear, return to the previous stages and try afresh. Remember to utilise basic terminology to provide the most basic explanations that everyone can grasp, even a kid.
The following is an optional step in the Feynman technique that can help you determine if you thoroughly comprehend the topic: Assume the role of a lecturer and explain your topic to one of your acquaintances or someone familiar with the issue.
Then ask for comments or recommendations or let them know ahead of time that they might pose questions while you're giving your presentation. If you can answer their questions with definitive solutions and get favourable feedback, it shows you performed well on your topic and thoroughly comprehended it; if not, try again until you achieve your objectives.
The functioning of the Feynman technique
It's not uncommon for individuals to find that they don't understand a subject until too late. Even though you think you've read and memorised the material, your memory will suddenly go empty. As a result, you won't be able to answer particular questions or provide the necessary explanations.
The Feynman Technique discourages individuals from behaving like they know everything about a subject. Instead, the four phases outlined above to assist us in identifying what we don't know, adding what we must learn, and simplifying our knowledge.
What do you mean by "Learning"?
The Feynman Technique helps you expand your learning and opens up new learning possibilities. Take your ideas apart and set out what you believe you know. Nurturing your thoughts and ideas with new information will help to refine them and give way to a fresh new understanding.
Correct understanding will aid you in explaining and imparting your experience to others.
Fun trivia about Richard Feynman
Here are a quick rundown of Richard Feynman's life, accomplishments, and achievements.
Feynman was born in New York in May 1918 and died in Los Angeles in February 1988.
In his senior year of high school, he received the award for the New York University Math Championship.
Feynman was included in the Manhattan Project as a theoretical project leader at 24.
In 1965, he was awarded the Nobel Prize in Physics.
Richard Feynman made significant contributions to particle physics and quantum mechanics.
He is credited with inventing the area of quantum electrodynamics.
Feynman's first address was attended by famed physicist Albert Einstein when he was a graduate student.
Because of his teaching technique, Bill Gates dubbed him "the finest instructor I never had."
The Feynman Learning Method emphasises a straightforward approach to learning that was influenced by Feynman's personal study habits at Princeton.
In 1963, Feynman wrote "The Meaning of It All: Thoughts of a Citizen Scientist," a book in which he discusses religious, geopolitical, and social themes of the day. He demonstrates how he assesses the knowledge, which you may use in conjunction with the Feynman technique to improve your understanding. In this book, he developed a set of "tricks of the trade" he dubbed "This Unscientific Age," in which he used his knowledge of pure sciences to address the challenges people face daily.
These include the following.
Identifying whether or not someone knows what they're talking about.
Using trustworthy sources and putting them to work to reach closer to the truth.
Continue to assess what you've learned.
Making the appropriate inquiries.
Being unable to rule out the potential of events occurring after they have already occurred.
Choosing important statistics over a series of narratives due to a lack of data, however, one does not need to be scientifically accurate.
Conclusion
A mental representation is a person's concept of how things work in the real world, and Feynman demonstrates that learning is a lifetime endeavour. The technique is designed to enhance your learning and help you understand new topics easily with just a sheet of paper.
There is a phrase that has been misattributed to Albert Einstein, yet it is reported that he said:
"If you can't explain it simply, you don't understand it well enough."
This quote seems quite similar to Feynman's quote, which is as follows:
"I couldn't reduce it to the freshman level. That means we don't understand it."
Feynman recognised the difference between comprehending an idea or topic and just remembering its name. Remembering the name does not imply that you have learned about the topic. However, if you merely know its name without understanding what it is about or its purpose, you won't be able to describe it.
People adopt the Feynman technique to completely comprehend difficult subjects, which uses simple language and reasoning. Choose your topic, act as if you're an instructor, bridge the gap, summarise, and simplify your explanations.
Frequently Asked Questions
Who was Richard Feynman?
An American born physicist, Richard Feynman is known for his contributions to quantum mechanics and particle physics.
What is the Feynman technique?
The Feynman Technique for learning is a model that uses brief concepts and simple language to impart knowledge. This strategy is based on Feynman's study habits while at Princeton.
How is the Feynman Technique beneficial?
The Feynman technique aims to help students learn more effectively by breaking down complex topics into simpler explanations.
Total Assignment Help
Incase, you are looking for an opportunity to work from home and earn big money. TotalAssignmenthelp Affiliate program is the best choice for you.
Do visit :https://www.totalassignmenthelp.com/affiliate-program for more details
Total Assignment help is an assignment help Online service available in 9 countries. Our local operations span across Australia, US, UK, South east Asia and the Middle East. With extensive experience in academic writing, Total assignment help has a strong track record delivering quality writing at a nominal price that meet the unique needs of students in our local markets.
We have specialized network of highly trained writers, who can provide best possible assignment help solution for all your needs. Next time you are looking for assignment help, make sure to give us a try.
Looking for Assignment Help from Top Experts ?
Get the best Assignment Help from leading experts from the field of academics with assured onetime, 100% plagiarism free and top Quality delivery.