Insight into why dogs are better than cats
Did you ever think about why dogs are better than cats? Have you ever fought with someone on the loyalty of dogs over cats? Well, this blog on why dogs are better than cats will address each of your concerns.
People like to keep pets with them, and dogs and cats are a few of the popular pets in the world. What if you are asked to select between these two? Well, most animal lovers cannot select one of them, and there is always a difference of opinion.
Both dogs and cats have unique qualities and attractions, but this blog will establish why dogs are better than cats. Though cats are independent and require minimum maintenance, dogs have characteristics that make them preferable pets, like active lifestyle, loyalty, and savvy.
Using a custom essay service, the essay sample written here will investigate why dogs are better than cats by scrutinizing different factors.
Benefits of keeping dogs over cats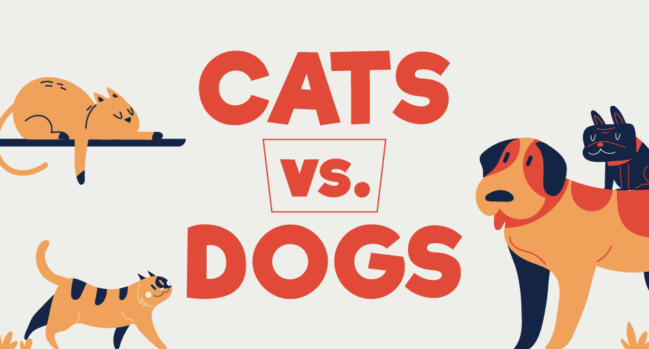 Loyalty of dog:  Loyalty is one of the best characteristics of a dog. Since their birth, apart from their mothers, owners are the ones they get attached instantly. The attachment lasts till death, a quality that is absent in cats. Dogs are often referred to as 'man's best friend.' They can remember and identify you even after a long interval of time.
Far from cats who remain aloof and independent, dogs live on human association and can perform anything to attract the attention of their owners. It is reflected in some studies that dogs can develop deep emotional connections with their owners, giving rise to the feeling of love and protectiveness.
The dog's intelligence: Dogs are known for their intelligence as they can catch complex instructions, play games, and even understand phrases and words used by certain individuals. In addition, it has been found that dogs have an admiring capability to comprehend social cues from humans and respond suitably. The dog's cognitive abilities make them superior in the debate about why dogs are better than cats.
Savvy: Dogs can perceive things faster compared to cats. They can easily read our facial expressions and understand our feelings and our wants. They truly know us thoroughly. They can also help solve our problems by utilizing trial-and-error tactics when performing something different. It helps us to train them better so they can behave in a certain way when having other animals or individuals around them. It is found that puppies constantly look at our activities to understand us better, which is missing in cats.
Protective: Cats cannot be considered guarding animals; hence it is also one of the reasons to prefer dogs over cats. Dogs are fierce and loyal toward their owners and are always ready to protect the owner or family members from danger. Their hearing power and keen sense of smell make them a perfect guard animal.
Active lifestyle: The crucial reason why dogs are better than cats is their natural activeness. Dogs are naturally active animals that live on exercise and communication with people. When dogs are taken for a walk outside, they tend to be more content than cats left alone in a house without being taken outside in fresh air. It signifies that keeping a dog would be more suitable if you are an active person.
Adaptable: Dogs have been residing with humans for many years, which has taught an adjusting nature in them. They can adapt themselves to changing situations and environments. This characteristic makes them ideal pets for growing families and families constantly moving from one place to another. They investigate their surroundings and quickly adjust themselves when given a new home.
Conclusion
In short, dogs are better pets than cats, although the latter may have some unique characteristics. Their steadfast loyalty, active lifestyle, and savvy make them an ideal addition to any family. It is believed that by selecting a dog over a cat, you gain a loyal friend and enhance your physical and mental well-being.
Tips for writing a great essay on why dogs are better than cats
Composing an essay on the topic, 'Why dogs are better than cats?' can be engaging and fun, but you must look at the writing process with the specific argument in mind. However, you can always enquire how to write an informative essay from the internet or any remarkable source.
In the next section of this paper on why dogs are better than cats, we will briefly discuss a few tricks that can help develop arguments for your essay.
Conduct research: The first thing you must do before beginning the writing process is research to ascertain arguments from both sides. It will help you develop a stronger point of view on the topic and give you insight into how people have approached the topic.
Utilize logical arguments: When writing your arguments for why dogs are better than cats, use logic. Do not just make general differences, like cats are meaner than dogs; instead, support all your claims with evidence from trustworthy sources. For instance, use statistics to establish how many people take their dogs on walks compared to people spending time with their cats. You can also share the experiences of people with both types of pets. Such evidence will convince your readers instantly.
Form an effective structure: An Effective essay structure helps to give a logical flow of ideas. Ensure that you follow this step when writing your essay on the topic, 'Why dogs are better than cats?' Begin by introducing the topic with some background information about the debate. You must provide information from both sides of the debate. In the main body paragraphs, you need to mention the arguments and counterarguments to give a convincing feel to the essay. At last, you can finish the essay by tying every piece of information and summarizing the main arguments.
Well, as stated in this paper on why dogs are better than cats, the debate over these pets has been ongoing for many years. Cats might have different characteristics and appeal; however, many reasons make dogs superior to them.
Total Assignment Help
Incase, you are looking for an opportunity to work from home and earn big money. TotalAssignmenthelp Affiliate program is the best choice for you.
Do visit :https://www.totalassignment.com/affiliate-program for more details
Total Assignment help is an assignment help Online service available in 9 countries. Our local operations span across Australia, US, UK, South east Asia and the Middle East. With extensive experience in academic writing, Total assignment help has a strong track record delivering quality writing at a nominal price that meet the unique needs of students in our local markets.
We have specialized network of highly trained writers, who can provide best possible assignment help solution for all your needs. Next time you are looking for assignment help, make sure to give us a try.