Social identity is a character trait which is determined through a person's social attributions. Social identity theory, developed by social psychologist Henri Tajfel and John Turner in the 1970s, explains the circumstances whereby group comparison becomes much more relevant than one's own personality as a person. The concept also describes the forms in which interpersonal actions can be influenced by social recognition.
History of social identity theory: Research affiliated to social favouritism
Social identity theory emerged from the previous studies of Henri Tajfel, which explored the manner where certain mechanisms of perceptions contributed to social preconceptions and discrimination. It caused a number of experiments in the mid-1970s carried out by Tajfel and his associates which are attributed to as minimal-group research.
Subjects were randomized into various classes in many of this social identity theory research. However, regardless of the fact that their social structure was irrelevant, the study found that subjects preferred the class they were allocated to, their in-group, over all of the out-group, even though they derived no private gain from their social affiliation and had no background with any fellow students.
The experiments discovered that social participation was so effective that it was necessary to explicitly categorize people into groups and make individuals think about themselves in terms of organizational composition. In addition, this classification contributed to in-group favouritism and out-group prejudice, implying that in the lack of any fierce competitors among parties, interpersonal conflict may occur.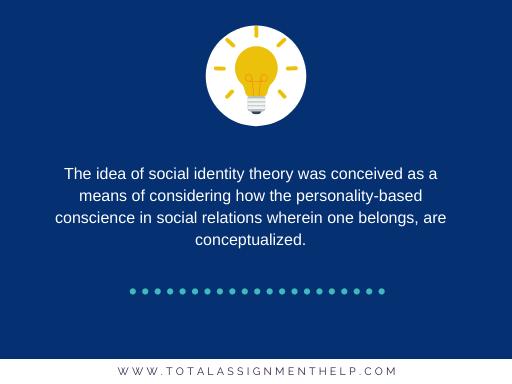 Tajfel initially developed the principles of social identity theory in 1972 based on these findings. The idea of social identity theory was conceived as a means of considering how the personality-based conscience in social relations wherein one belongs, are conceptualized.
Tajfel and his pupil, John Turner, then developed the social identity theory in 1979. The general objective of the research was to reveal both the behavioural patterns that contribute individuals to identify their social affiliations and the compulsive behaviours that encourage individuals to retain a high level of satisfaction by contrasting their social group favourably with other classes.
Behavioural mechanisms of social identity theory
Social identity theory presents three psychological processes people undergo in order to identify in-group/out-group memberships. In an attempt to comprehend our social environment, the very first operation, social affiliation, is the framework through which we organize people into social classes. On the grounds of the social groups with which we associate, this approach enables us to identify people, as well as themselves. Rather frequently than your personality characteristics, we prefer to classify individuals depending on one's social divisions.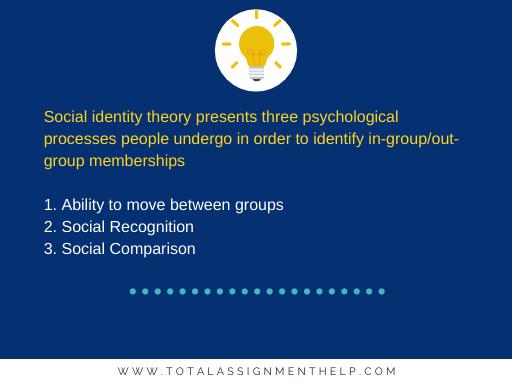 Social identity theory typically results in an insistence on the correlations among individuals in the very same party and the distinctions between individuals in different classes. One might fall into multiple social classes, but based on the social contexts, various classifications would be somewhat relevant. An individual may, for instance, identify himself as a finance director, an animal rights activist, and a dedicated mother, but such roles would only surface if they really are essential to present social scenario.
The 2nd psychological process as per the social identity theory is the evaluation criteria as a participant of a category. Socially classifying with a group causes people to act in the manner they think individuals in the population should act. For example, if a person identifies herself as an ecologist, she can attempt to reduce waste, reusing wherever feasible, and participate in global warming advocacy gatherings. Through such a mechanism, individuals are involved psychologically in their community affiliations. Additionally, the position of their communities influences their self-confidence.
Based on reputation and social position, the 3rd psychological process as per the social identity theory, social comparison, is the procedure by which individuals equate their class with other classes. One has to consider their in-group as having the highest social status than an out-group to preserve ego. For instance, in opposition to a television show host, a Hollywood actor could judge themselves positively. Yet, in contrast to a popular peculiarly trained Shakespearean performer, he could perceive himself as having a negative social position. It is essential to know that perhaps the analogy must be specific to the case, how an in-group member would not equate himself with just about any out-group.
Up-keeping a positive social status
Individuals are inspired, in a practical matter, to feel better about themselves while preserving their self-esteem. In their social identities, the psychological contributions participants create leads to their self-confidence being related to the social reputation with their in-group members. Correspondingly, a successful appraisal of someone's in-group leads to a positive individual interaction relative to similar out-groups. That being said, if a constructive appraisal of someones in-group is not feasible, people would usually use one of three approaches:
Agility of members
Whenever a person doesn't really favourably view their party, they may prefer to leave the present company and participate in one with a better sense of social status. However, this won't really change the party's position, but it may alter the individual's personal social standing.
Social recognition
By adopting a certain aspect of the inter-group correlation, in-group participants will increase the social status of their current group. This could be done by selecting a particular factor to equate the two classes, or by modifying presumptions such that what used to be regarded as detrimental is now found to be good. Another solution is to equate the in-group with some other out-group, explicitly an out-group with a lesser social class.
Social rivalry
In-group participants may try to boost the social standing of the party by functioning together to strengthen their circumstances. In this situation, the in-group explicitly goes head to head with an out-group with the goal of altering one or more aspects of the social roles of the collective.
Significant points of this social identity theory article:
Social identity theory, developed in the 1970s by psychologists Henri Tajfel and John Turner, explains the psychological mechanism linked to social individuality as well as how inter-group activity influences personal identity.
Social identity theory is based on three main psychological functions: social agility, social recognition, and rivalry of society.
Typically, people want to preserve a high level of satisfaction by retaining the favourable social status of their party over those of similar out-groups.
In-group favouritism can lead to unwanted and biased effects, but studies suggest that various situations are in-group favouritism and out-group prejudice, but one doesn't necessarily affect the other.
Prejudice with out-groups
Two components of the very same argument are recognized in this respect as in-group favouritism and out-group prejudice. The social identity theory has demonstrated that this wasn't always the reality. There is no systemic association with one's in-group favourable impression and the out-group negative influence. Helping members of the in-group when denying such support from participants of the out-group, varies greatly from deliberately trying to damage elements of the out-group.
From unfair treatment to systemic bigotry, in-group favouritism will result in adverse consequences. Such favouritism, moreover, does not necessarily contribute to animosity towards out-groups. Study shows that there are separate manifestations of in-group favouritism and out-group prejudice, and thus does not enable the delivery of the other.
Total Assignment Help
Incase, you are looking for an opportunity to work from home and earn big money. TotalAssignmenthelp Affiliate program is the best choice for you.
Do visit :https://www.totalassignmenthelp.com/affiliate-program for more details
Total Assignment help is an online assignment help service available in 9 countries. Our local operations span across Australia, US, UK, South east Asia and the Middle East. With extensive experience in academic writing, Total assignment help has a strong track record delivering quality writing at a nominal price that meet the unique needs of students in our local markets.
We have specialized network of highly trained writers, who can provide best possible assignment help solution for all your needs. Next time you are looking for assignment help, make sure to give us a try.
Looking for Assignment Help from Top Experts ?
Get the best Assignment Help from leading experts from the field of academics with assured onetime, 100% plagiarism free and top Quality delivery.