With the exception of a cover sheet that reveals certain essential information, the first item in your application file is the personal statement for college. It offers the candidate an excellent opportunity to create a positive overall impression of your personality on the interview panel. This kind of paper helps you to express your interests, preferences, and beliefs to the enrolment official who will be reviewing your personal statement for college. A noticeable statement encourages your likelihood of acquiring the wonderful confirmation email. It should be well crafted, succinct, and informative.
Subscribe our YouTube channel for more related videos
What is a personal statement?
A personal statement is a compilation of your beliefs and perspectives that convey or express to a school or university about your ideals. The main purpose of this article is to show that you will be prepared for college and university level and to demonstrate anything about you that might not be evident from the remainder of your relevant submitted documents. You connect with the evaluation panel members explicitly in your submission and hope to convince them of the feeling that you are full of enthusiasm, an intelligent person with activities that will contribute to his university.
The average length of a Personal Statement
The personal statement for a college could be anywhere between 750 words to one full page in standard formatting. If your submission is below or above the threshold, many candidates get anxious. The evaluation panel for university enrolment is not much concerned about the length of your personal statement for college. However, the committee will review it as long as it is informative and insightful whether it is almost one page, marginally below or even a little beyond. During your sophomore and senior years at school, writing a personal statement for college is the best time.
What information is included in a Personal Statement for College?
Do not get overwhelmed while writing a personal statement; you do not necessarily have to boast about your irrelevant achievements to impress the committee. Even when the simplistic accomplishments or abilities are identified with the correct phrases, the probability of being accepted is significantly improved. We generally advise that you do not get into something provocative or opinionated, such as religion, homosexuality, or racial equality, since you do not fully understand who might interpret your "personal statement for college" and where it emerges from. The essay writing style you'll be provided would be generic, and you'll be able to formulate whatever you want, certainly if you pick the subject matter of your preference. You could be covering what you have been most curious about. The most common, everyday concepts are also the simplest to deal with.
Key parameters of writing a personal statement for college
Over several years, a number of institutes have retained the same queries, whilst others modify them annually or once in a couple of years. Application forms are usually accessible from the end of July, and unless the institution adheres to the standardized test, you will easily discover the specifics of every university where you are applying. The subjects of focus at the institutions that adhere to the standardized tests are the papers you have composed. At present, there seem to be six concerns to choose from. The accompanying list is of the topics you can pick for your personal statement for college: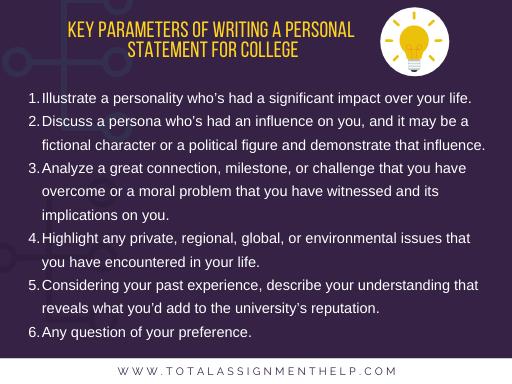 Illustrate a personality who's had a significant impact over your life.
Discuss a persona who's had an influence on you, and it may be a fictional character or a political figure and demonstrate that influence.
Analyze a great connection, milestone, or challenge that you have overcome or a moral problem that you have witnessed and its implications on you.
Highlight any private, regional, global, or environmental issues that you have encountered in your life.
Considering your past experience, describe your understanding that reveals what you'd add to the university's reputation.
Any question of your preference.
In addition to these topics, you have the freedom to adopt any other topic that you feel comfortable with and feel that it has the ability to impress the reviewing panel. As long the topic of your personal statement for college is intriguing and conveys any special aspect of your personality, which might increase your prospects of getting selected for the institutes.
Steps in personal statement writing for college
It can often be a rather challenging task to compose a personal statement for college if only you can prepare it appropriately and allow yourself sufficient time to write it. Our experts can write an excellent personal statement for college which you can submit at your university. We have focused on four basic steps that can help you compose a strong personal statement: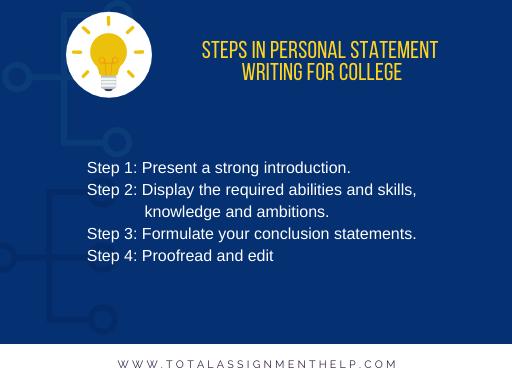 Step 1: Present a strong introduction.
Properly describe yourself and offer an overview of your persona. The presentation of a personal statement is equivalent to the first impression you have with others. Discuss your achievements, and why you should be the right person for the university you have applied for. Discuss why your aspiring program aligns with your goals and your passion for making a mark in your academic program.
Step 2: Display the required abilities and skills, knowledge and ambitions.
You must now place emphasis on yourself after formulating the introduction and why you would be successful in this endeavour. Bring up your essential talents and notable accomplishments. Describe your educational goals from and notable achievement. Discuss the activities that you think are worth noting and will assist you in impressing the committee. You should also present your passions and talents. It allows the panellists to assess your character perfectly.
Step 3: Formulate your conclusion statements.
It is the last portion of the personal statement for college; therefore, you need to bring a particular emphasis to it. It is the final section the reviewer is going to read, so ensure that you encompass all your topics for the essay appropriately. To improve your likelihood of getting picked, show a list of your educational and personal accomplishments.
Step 4: Proofread and edit
Before you submit, you must proofread your academic and technical papers. It is very crucial that your personal statement for college is clear from all glitches. Take considerable time on fact-checking and grammatical inconsistencies and other misspelt words and flaws in your personal statement and review them after completing the process. If it is full of inconsistencies, you will have a bad impact on the reviewing panel and automatically lessens the possibility of being selected.
Tips for writing a great personal statement for college
Commence jotting down your thoughts and ideas well in advance.
You should provide yourself with the opportunity to ponder over concepts, analyze them, and dismiss frivolous ones if you start writing your article early enough.
Select a topic which is enticing and unique for your personal statement for college.
There is no need to explain anything exceptional, but generally avoid a boring way of describing traditional interactions.
When you settle down to make your personal statement, speak to your family, colleagues, and professors. It is a fairly good indicator that you'll have to pursue different things if they seem disinterested.
The most challenging thing about writing is beginning the process. If you have discovered a subject, but just don't know how to pen it down, just attempt to begin composing. Write about anything that gets you to transition from planning to actually write, which will be beneficial.
Catching the reviewer's attention at the start of the essay,
The intro, body portion, and conclusion must be consistent in your personal statement for your college. If the presentation is dull, you can never attract the interest of the reviewer. You could make a negative final image if your assumption is misleading. Follow all these points and compose a decent personal statement for college.
Don't fear clearing and removing certain sections.
You might dump and pursue something else if one topic doesn't seem to perform.
Do not waste too much time on diversions to get the idea conveyed. Connect every sentence with the overall idea.
It is the toughest part to introduce anyone other than oneself. There'll never be a positive image of a personal statement for college; it is written as pretentious or false. You must convey your goals and expectations, experiences, and successes for the essay to be truly good.
How to get professionally written personal statement for college?
You can now get expert assistance on your personal statement for college! Get the ideal personal statements that are tailored to your personality by our professional academic writers in 3 simple stages!
Step 1: Explain your requirements
All you have to do is contact us through our website and speak with our representatives. One of our experienced writers will be reachable at all times. When you talk to them, inform them about you and what you'd like to address in your essay. Once we assess your specific requirements, we will provide you with a reasonable price and the deadline when we will complete your task.
Step 2: Send the cost
All you should do once we settle on the price is merely pay just 50 per cent of the total price then we'll get the personal statement for college delivered to you! If you wish to inform us about any specific requirements that our writers should focus on, you can contact us at any point, and we will get it done.
When we're done with the writing process, we will provide you with a draft version of the personal statement, which you can assess. Only if you approve, the essay will then be sent to our quality assurance team, who will evaluate the document multiple times and revise it to strengthen its quality and grammar.
Step 3: Receiving your final, personal statement
Once the final editing is done, and the end version of your essay is ready, all you need to do is transfer the rest 50% of the price, and your personal statement for college will be delivered to you which you can send to the university.
Total Assignment Help
Incase, you are looking for an opportunity to work from home and earn big money. TotalAssignmenthelp Affiliate program is the best choice for you.
Do visit :https://www.totalassignmenthelp.com/affiliate-program for more details
Total Assignment help is an online assignment help service available in 9 countries. Our local operations span across Australia, US, UK, South east Asia and the Middle East. With extensive experience in academic writing, Total assignment help has a strong track record delivering quality writing at a nominal price that meet the unique needs of students in our local markets.
We have specialized network of highly trained writers, who can provide best possible assignment help solution for all your needs. Next time you are looking for assignment help, make sure to give us a try.
Looking for Assignment Help from Top Experts ?
Get the best Assignment Help from leading experts from the field of academics with assured onetime, 100% plagiarism free and top Quality delivery.