Do you know the significance of a paragraph structure? Well, writing effective paragraphs is an essential writing skill to be learned by every student. Well-crafted paragraphs can greatly improve the readability of essays, fiction writing, news articles, and other writing genres. You can get help from an essay writing service to better understand the paragraph structure. Professional writers know the significance of proper paragraph structure and use it to write accessible and engaging written works.
Overview of a paragraph
Paragraphs are single sections of text that separate a lengthier piece of writing (academic papers, articles, novels, or stories) into smaller and manageable blocks. Framing the content in this method makes it easier to read and understand. In writing, a paragraph presents a key idea, pointed out in the first sentence, referred to as a topic sentence. As it continues, connected sentences further explain the idea. Usually, a paragraph consists of 250 words and five or six sentences; however, it can differ depending on the paper's length and purpose. They are essential in writing as they give a structure for logically organizing ideas. An organized and clear paragraph structure can help readers navigate the written piece.
Sections of a paragraph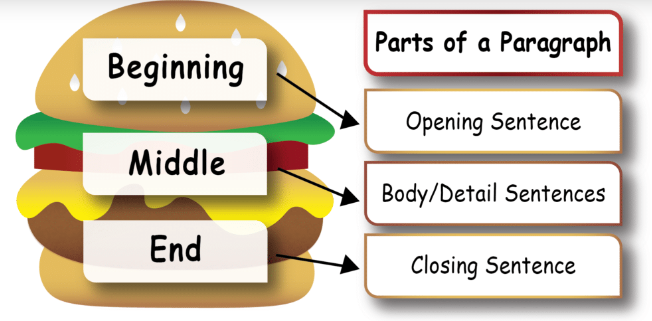 There are certain necessary components of a paragraph that must be understood to structure an outstanding paragraph. Traditionally, paragraph structure comprises three sections: the start, middle, and end. The paragraph structure includes the topic sentence, development and support, and conclusion.
Topic sentence: The main idea behind a paragraph is reflected through the topic sentence or paragraph leader. It must not describe much information; instead, it introduces the topic with a clear statement.
Example:
'Virtual learning has become popular after the coronavirus due to accessibility and flexibility.'
Development and support: The body paragraph is further made up using developing and supporting sentences. The development sentences describe the idea by including particular details apart from the topic sentence. In contrast, support sentences give opinions, examples, evidence, or other statements that support or confirm the essential thought of the paragraph.
Example:
'There is an increase in the number of colleges and universities providing learning through online mediums. The option is a better alternative to traditional learning. The versatile method allows students to study from any place by using an internet connection and a device. It provides them an opportunity to balance their studies and other personal responsibilities. In addition, online learning offers students different sources, such as online forums and pre-recorded notes, to improve their study experience and support their understanding of the content.'
Conclusion: The conclusion sums up the detail and transitions to the next section of the paper. The conclusion's content may differ depending on the type of the paragraph. Summing up a paragraph with final evidence and winding up the key idea is possible. To ensure the coherence of the work and refrain from unintentional plagiarism, it can be useful to adopt a plagiarism checker online to ascertain the originality of the writing and ensure that the work is free from any unintentional similarity with other sources.
Example:
'Normally, online learning has showcased its strength in giving education to a wider range of students, particularly those who may not be able to continue with conventional learning methods. The ease, flexibility, and diverse online learning resources have made it popular, and it is believed to remain a vital facet of education in the future.'
Writing a remarkable paragraph structure
Accurate paragraph structure meets the needs of the readers. It assists authors in organizing and describing different stages of how to frame a paragraph with examples, beginning from the introduction and moving toward the conclusion.
Define the paragraph's purpose: First, you must establish the purpose behind the paragraph. It comprises determining the main idea behind the foundation of the paragraph. If you have previously crafted an outline of the paper, you comprehend what each part will aim to acquire. One of the methods is to write a topic sentence that can reflect the main argument and set the scene for the other details of the paragraph. It must be short enough to address in an individual essay part and broad enough to enlarge across the subsequent sentences. The paragraph structure example can help you better understand how to complete the first sentence.
Example:
'The significance of physical exercise cannot be overvalued when it concerns keeping good health.'
The below attributes define a well-built topic sentence:
It presents as a connection between the previous and current paragraphs, conforming text consistency.
It clearly states the focus of the paragraph in the above example, the role of physical exercise on our health.
It aligns with the necessary thesis of the article.
It gives sufficient chances for supporting evidence and evaluation to be incorporated.
Demonstrate the relevance of the paragraph: The next step calls for showcasing the relevance of the paragraph to the paper and the overall argument. Although the topic sentence communicates the main point of the paragraph, describing the significance of the paragraph with additional details is also essential to provide context. The explanation helps to hold the paragraph's content into the wider discussion about the significance of physical exercise.
Example:
'Daily physical exercise can reduce the risk of chronic diseases, like cancer, diabetes, or heart disease.'
Supply evidence: Now, it is time to add evidence and examples in the paragraph that can support the key arguments. The kind of evidence may differ depending on the topic, subject area, and research methodology. A few examples generally utilized in academic writing are:
Direct quotes from primary sources (literary texts, interviews, and speeches)
Summaries, paraphrases, or quotes from secondary sources that provide interpretations or information to sustain your arguments
Qualitative or quantitative data you have gathered or found in present research studies
Explanatory examples of artistic or musical works, personal experiences, or events that support your argument
Example:
'A research by The Lancet disclosed that nearly 90% of premature deaths globally can be attributed to insufficient physical exercise.'
Explain or interpret the evidence: To shed light on your argument, it is essential to show the reader how the presented evidence backs your position. Contingent to the kind of evidence applied, several methods can be used, such as:
If a passage has been quoted, give your explanation of the quote
If a statistic has been incorporated, interpret its relationship with the argument
If information has been included from a secondary source, explain how it builds the point of the paragraph
The steps mentioned above may be required to be repeated several times to build your points. Utilizing transitional terms and phrases to connect with many sentences in a paragraph is vital.
Example:
'It has been shown that even a reasonable amount of physical exercise influences our health substantially. For example, 30 minutes of low-intensity exercise each day can reduce blood pressure, enhance good cholesterol levels, and minimize the risk of type 2 diabetes. In addition, physical exercise has been established to positively impact mental health and reduce the risk of anxiety and depression.'
Create a conclusion: The paragraph needs to be concluded by restating the main points and showcasing how the evidence supports your arguments.
Example:
'It can be concluded that it is apparent that physical exercise is vital to maintain good health and less amount of it can also significantly influence our well-being. Hence, including physical exercise in our everyday lives should be paramount to all.'
The paragraph mentioned above observes an expository format, where the argument (positive influence of physical exercise on health) is examined and backed by evidence and statistics.
Proofread the entire paragraph: Proofread the result to confirm each sentence flows logically and coherently from the previous one. Make sure each sentence makes a complete sentence.
But remember that not all paragraphs will observe the paragraph structure mentioned in the above section. Relying on the goal of the paper, you may look for the following:
Gather various examples that may look different but share a notable common point
Examine crucial evidence in detail with the aid of multiple sentences
Divide a group or concept into several sections to help the readers in understanding it
Types of paragraph structures used by students
To appropriately convey your ideas through writing and reveal a research paper thesis statement, it is vital to use effective paragraph types to meet your purpose. Let us discuss the types of paragraph structures.
Expository: It is commonly used in nonfiction and different types of essays. The expository paragraph aims to describe and explain a particular idea or point by underpinning evidence and facts.
Persuasive: Like the expository format, persuasive paragraphs focus on a sole point, but rather than fact, they support viewpoints with persuasive language and reasoning.
Narrative: Narrative paragraphs are utilized when telling a story. Each sentence in the paragraph discloses new information that leads to an action or event concerning the topic.
Descriptive: It is also used in storytelling to explain a specific topic, like a person or environment. Every sentence adds new information to reveal the topic most accurately.
The types of paragraphs and paragraph structure rely on the purpose of writing. For example, when writing a research paper, using a narrative paragraph structure may not be appropriate, as it will not accurately communicate the essential information in an organized and logical manner.
How do you begin a new paragraph in academic writing?
To properly convey a new idea, argument, or issue, it is significant to comprehend how to form an accurate paragraph structure and when the next one should begin. We can list a few guidelines to better understand when to start a paragraph.
Begin a new paragraph for every novel idea or a key argument. Each novel point must be explained in different paragraphs or using several paragraphs.
Write varied or contrasting opinions in a new paragraph, and frame an understandable topic sentence to communicate the key idea.
If a paragraph is complicated and lengthier, divide it into smaller parts to enhance readability. Incorporate a novel topic sentence at the start of each paragraph structure.
If you finish an introduction or conclusion, compose them as distinct paragraphs.
To make sure that the paragraph is complete, you must pay attention to the following factors:
Make certain that sentences appertain to the topic and all sentences logically link with the previous one.
Find out whether you have mentioned sufficient examples or evidence to back your point and check if each of them backs your arguments.
Check if each of the evidence in the paragraph structure is well-balanced to tell a coherent story.
Paragraphs are not lone elements but instead sections of a bigger argument that have to proceed from one thought to the next. Before beginning a fresh paragraph, make an effort to contemplate the transitions you will be utilizing to move from one point to another.
Frequently asked questions
What is a standard paragraph structure?
There are three necessary elements in a standard paragraph structure: a topic sentence at the start, one or multiple sentences backing the central idea, and a brief conclusion.
Explain the purpose of paragraphs.
The purpose of a paragraph is to convey an idea or a set of ideas in an organized and coherent manner. Utilizing paragraphs helps in shortening lengthy texts, assisting the readers in their understanding. They are essential in organizing and conveying ideas in a clear manner.
Are there any specific rules concerning the inclusion of sentences in a paragraph?
Usually, most of the paragraphs have three to five sentences, but there can be exceptions to this rule. For instance, narrative writing may have a single sentence in a paragraph. Reports and research papers have at least three sentences in a paragraph. It is to be noted that the number of sentences in a paragraph depends on the writing style adopted by the writer.
How do you begin a paragraph?
It is necessary to begin a paragraph with a topic sentence to give the readers an overview of the idea. The following sentences after the topic sentence in a paragraph structure provide readers with more information about the idea. Do not forget to observe the paragraph indentation rules when beginning a new paragraph.
Total Assignment Help
In case, you are looking for an opportunity to work from home and earn big money. TotalAssignmenthelp Affiliate program is the best choice for you.
Do Visit: https://www.totalassignment.com/affiliate-program for more details
Total Assignment Help is an assignment help Online service available in 9 countries. Our local operations span Australia, the US, the UK, Southeast Asia, and the Middle East. With extensive experience in academic writing, Total Assignment Help has a strong track record of delivering quality writing at a nominal price that meets the unique needs of students in our local markets. We have a specialized network of highly trained writers, who can provide the best possible assignment help solution for all your needs. Next time you are looking for assignment help, make sure to give us a try.