A formal letter has been one of the most important forms of communication throughout history. Throughout the globe, writing and sending formal letters is the only way to convey important messages to your colleagues or different organisations. Although, since the rise of modern technology, a large majority of people don't even know how to write a formal letter properly and get anxious when there comes a time in their lives when they have to write a letter.
In this article, we help you understand how to write a formal letter by exploring its different components and offer you some tips on how to write a formal letter with exceptional flair every single time.
However, for individual who may be a little too short of their deadline, or have too much on their plate to get to learn how to write a formal letter, such individuals can get instant help from our expert writers. We have been providing professional writing help to people of all ages and requirements. Writing academic and business documents require a lot of skill and experience which most people can't grasp overnight. It is why, with the help of our professional business and academic writers, we are able to write and deliver all forms of formal documents to people who need them.
What is a formal letter?
A formal letter is a business document, which is written in an organised and structured manner all over the world. It is to maintain uniformity and ensure complete clarity and allow the readers to understand the contents of the letter, along with additional information, about the sender, in a very accurate and precise fashion.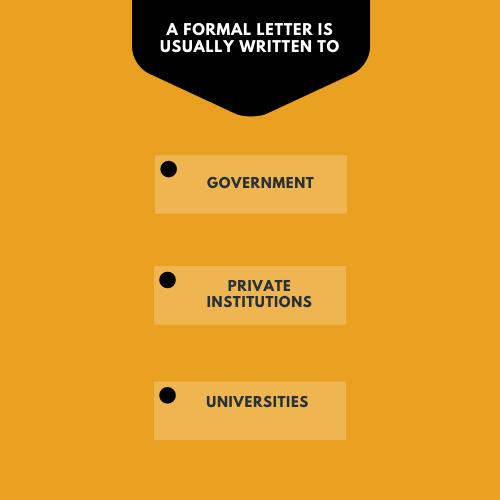 A formal letter is usually written, to the government or private institutions, or universities. Students often learn how to write a formal letter, since an early age for this reason, because while applying for colleges and universities for their undergraduate courses, applicants, will be required to write a lot of formal letters to universities, as part of their application.
In addition to colleges, formal letters are also the main method of communication in the business sector. Employees, candidates, and organisations, rely on the formal letter format, to communicate with their peers and prospective employees, or other firms.
Formal letters are often written to, HR Managers of an Organisation, customer support departments, making suggestions or addressing grievances, to the principal of a school or the dean of a university, business colleagues, governments firms, private organisations and many other instances, where a formal tone of writing is required. It is for this reason; a formal letter is not used to write a letter to your friends, relatives or family.
Understanding the key components of a formal letter
A formal letter involves various components, which are very important and cannot be skipped out. Therefore, it is necessary that you provide extra attention to them while learning how to write a formal letter.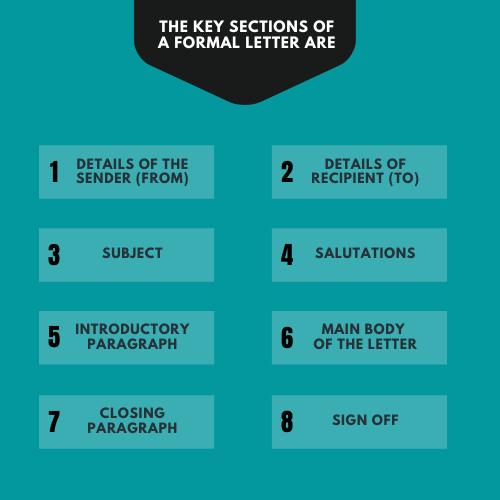 The key sections of a formal letter are:
Details of the Sender (From)
Details of Recipient (To)
Subject
Salutations
Introductory paragraph
Main body of the letter
Closing paragraph
Sign off
Let us have a look at what each of these sections actually requires:
From Section- Details of the Sender:
The section is written first, on the left-hand side of the page. It provides important details about the senders and tells them about where this letter has come from. The details you are required to provide while understanding how to write a formal letter are:
Full name of the sender
Job title
Address of the individual or the organisation
Date when the letter was written
Email Address
Phone number
Providing such information is important in a formal letter as it allows the recipient to respond to the letter much more easily as they have all the information needed to send you their response of query as an answer to the formal letter which you have sent.
To Section- Details of the Recipient
The section is also an important part of your formal letter because it ensures that the letter reaches the individual for which it was intended. It is written just below the 'From 'section and includes the following information about the recipient:
Full Name of the Sender
Designation
Their organisation of affiliation
Full Address
Subject
The subject in a formal letter is very important. It makes the letter more accurate and to the point, by laying out the main motive of the letter right in the beginning. While understanding how to write a formal letter, it is also important to understand how you should frame your subject line, in order to provide the maximum information in the least number of words.
Salutations
Proper salutations are very important in a formal letter because this is where the interaction between the sender and the recipients actually begins. In most formal letters, the most commonly used salutation is 'Dear'
'Dear Ms Karen,'
'Dear Mr. Arnold,' or
'Dear Sir/Madam,' is common formats of providing a salutation in a formal letter.
Introductory Paragraph
An introductory paragraph helps you start off the essay in a polite manner and then transition into a discussion about the main subject of the essay. It doesn't, have to be a whole paragraph, only one or two lines for introducing yourself and providing the background.
Main Body of the Letter
It is where you should put time and efforts while learning how to write a formal letter. The body is where you will be discussing all of the important facts and other information related to your subject. It is where you are required to present your writing skills and write a good formal letter, which is accurate, clear and puts the message across in a suitable manner.
Stick to a formal tone throughout your letter and avoid using casual words and informal tone. It helps to learn about your targeted recipient so that you can cater to the main contents of your letter as per their convenience for maximum effect.
Closing Paragraph
Just like an academic essay, it is also important to write a closing paragraph while learning how to write a formal letter. Just like the introductory paragraph, the closing paragraph doesn't necessarily have to be a long paragraph, even 3-4 line may do. However, it depends solely on the context and the main body contents of your letter.
Provide a closing statement, which brings all of your main points together, and end the letter formally by including a good wish or requesting a call to take action or respond to the letter.
Signing Off
It is the final section of your letter, where you will include a final greeting for the recipient followed by your name.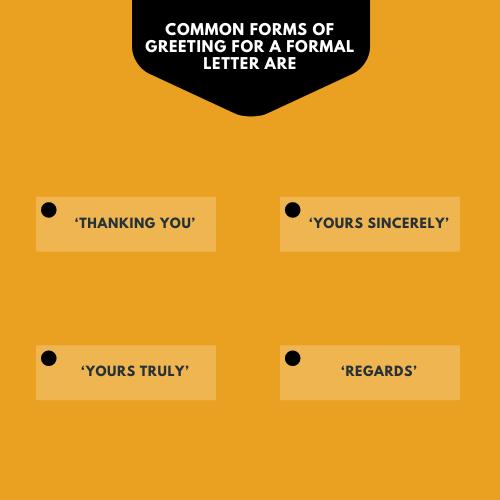 Common forms of greeting for a formal letter are:
'Thanking You'
'Yours Sincerely'
'Yours Truly'
'Regards'
We hope this article helped you in understand how to write a formal letter and enabled you to learn about its different components.
Total Assignment Help
Incase, you are looking for an opportunity to work from home and earn big money. TotalAssignmenthelp Affiliate program is the best choice for you.
Do visit :https://www.totalassignmenthelp.com/affiliate-program for more details
Total Assignment help is an online assignment help service available in 9 countries. Our local operations span across Australia, US, UK, South east Asia and the Middle East. With extensive experience in academic writing, Total assignment help has a strong track record delivering quality writing at a nominal price that meet the unique needs of students in our local markets.
We have specialized network of highly trained writers, who can provide best possible assignment help solution for all your needs. Next time you are looking for assignment help, make sure to give us a try.
Looking for Assignment Help from Top Experts ?
Get the best Assignment Help from leading experts from the field of academics with assured onetime, 100% plagiarism free and top Quality delivery.