When conducting research for an essay or a research paper, you have to explore all of the sources and go above and beyond to find important information which can be helpful for your arguments and claims. It includes books, scholarly articles, magazines, and even poems. This is why it is important for you to understand how to cite a poem appropriately in your text.
There are certain subjects and academic topics, where you may need to quote a poem in your paper. It is because poetry has always been one of the most popular channels of knowledge and wisdom. It is why; poems are a very important resource in a number of fields.
Hence, this article on How to cite a poem will be beneficial for you, because when it comes to citing and referencing your resources in any form of an academic article, most students find it challenging to grasp the innumerable guidelines.
When do you need to cite a poem?
The need to learn how to cite a poem may arise, in various academic fields such as Literature, Arts, English, and other fields of social sciences. In addition to these fields, there are various other academic assignments, such as research papers, coursework, presentations, and some specific kinds of essay which may make it necessary for you to learn how to cite a poem properly in your article.
When you quote a few lines from a poem or refer to the main idea or theme of the poem, you are obligated to acknowledge the original author of the poem. It allows you to give credit where it's due, and avoid attracting plagiarism.
Learning how to cite a poem properly will demonstrate to your audience that you have done your due diligence and understood the guidelines for citations. It also gives credibility to your article and conveys that you have conducted thorough research, and your arguments and evidence are supported with the citations you have used in your text.
Details you need before learning how to cite a poem.
As with all other types of sources, it is important that you gather up certain details related to the source of your quotation. The key details you need, in order to learn how to cite a poem is: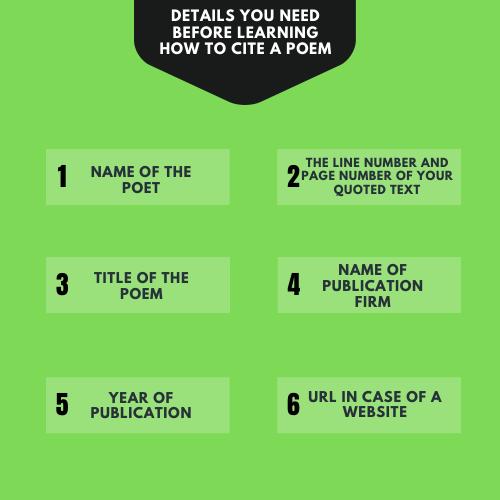 Name of the poet
The line number and page number of your quoted text
Title of the Poem
Name of Publication Firm
Year of publication
URL in case of a Website
Make sure you only quote the poem in your text, on which you have the above details. Absence of any of the above details in your citation may reduce its integrity.
Key Parameters of How to Cite a Poem
When citing a single line of a poem, use quotation marks and keep the formatting of the text close to the original.
When quoting two or more lines from a poem, use '/' to represent the line breaks, and add a space before and after the quote. Put all of the lines inside quotation marks and keep the formatting similar to the original text.
For example: "O Captain! My Captain! Our fearful trip is done, / The ship has weathered every rack, the prize we sought is won" (Walt Whitman)
The structure of most poems involves different sections called stanzas. When your quotation involves stanza break between the lines, it should be represented with the help of a '// '.
For example: "Beside the lake, beneath the trees, / Fluttering and dancing in the breeze // Continuous as the stars that shine, / And twinkle on the milky way" (William Wordsworth)
When quoting a major block of a poem, the format of citation is somewhat different than the rest. When using block quotes, start with a new line, leaving half-inch indentation from the left and no quotation marks. Keep the format of the quotation same as the original poem.
For example:
Hear the mellow wedding bells,
Golden bells!
What a world of happiness, their harmony foretells!
Through the balmy air of night
How they ring out their delight!
From the molten golden notes,
And all in tune,
What a liquid ditty floats
To the turtle-dove that listens, while she gloats.
On the moon! (Edgar Allen Poe)
While citing a few lines or sections of the poem, it is important to mention the line number in your citations as well. For example: (William Wordsworth, lines 6-9)
In case, the quotation is taken from the mid-portion of a long poem, and you need not count the line number manually; instead, you should simply mention the page number of the book where it is published. In case the page number is inaccessible, in case of online sources, you can simply put the name of the poet in brackets.
When citing more than one poem from the same poet, you must add the title of the poem in the in-text citation as well.
For example: (Edgar Allen Poe, 'The bells')
How to cite a poem from different mediums or sources: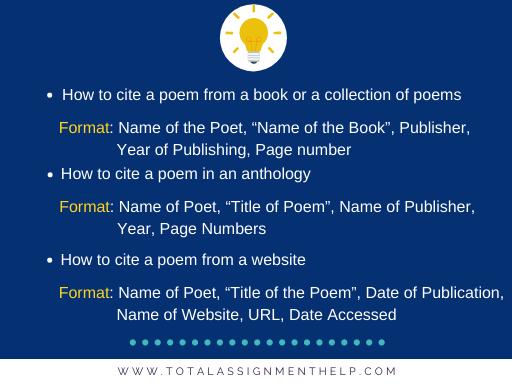 How to cite a poem from a book or a collection of poems:
Format: Name of the Poet, "Name of the Book", Publisher, Year of Publishing, Page number
How to cite a poem in an anthology:
Format: Name of Poet, "Title of Poem", Name of Publisher, Year, Page Numbers
How to cite a poem from a website:
Format: Name of Poet, "Title of the Poem", Date of Publication, Name of Website, URL, Date Accessed
We hope this article helped you in understanding how to cite a poem along with different variations!
Total Assignment Help
Incase, you are looking for an opportunity to work from home and earn big money. TotalAssignmenthelp Affiliate program is the best choice for you.
Do visit :https://www.totalassignmenthelp.com/affiliate-program for more details
Total Assignment help is an online assignment help service available in 9 countries. Our local operations span across Australia, US, UK, South east Asia and the Middle East. With extensive experience in academic writing, Total assignment help has a strong track record delivering quality writing at a nominal price that meet the unique needs of students in our local markets.
We have specialized network of highly trained writers, who can provide best possible assignment help solution for all your needs. Next time you are looking for assignment help, make sure to give us a try.
Looking for Assignment Help from Top Experts ?
Get the best Assignment Help from leading experts from the field of academics with assured onetime, 100% plagiarism free and top Quality delivery.