What is Family Branding?
Family Branding is a strategy used by organizations for marketing their items and/or products through the label of a parent brand. A stark contrast to individual branding emphasizes a particular item in a one-off manner; family branding presents the commodities underneath a parent brand. Family Branding is attributed to as a corporate marketing strategy as well. Family branding is often known under the label of its parent brand personality as the way of cataloguing various goods.
Family Branding is often regarded as Umbrella Branding, as the selling of many similar items relies on a unified brand. Family branding is often referred to as umbrella branding as the trademark owner operates under its label as an umbrella that accommodates commodities. All goods practise comparable identifying methods under the label of their brand identity and lack alternative company names or logos. Thus the family branding or umbrella branding enables a business, based on different market segments, to pursue multiple branding methods.
The important aspect of establishing a family brand
There are three steps which are essential to creating a family brand, which has been discussed below:
Founding Principles: Having good guiding principles serves as a pillar that maintains the whole system upon which the company depends. There are several simple, non-negotiable pillars on which a company manages its market credibility. When you appreciate and operate as per certain founding principles, there is also an improvement in your prospects to maintain the sector.
The Statement's Objective: The statement's purpose tends to obtain a clearer picture of the organization's primary target. It involves considerations such as tactics to guarantee your brand's longevity, the goals, and the concentration field. The degree of influence your family branding has on the marketplace or impact you bring out relies solely on you.
Innovation: To remain on top of the competition, you need to have an unparalleled sense of innovation. The capacity of a great future allows you to build a beautiful image of your business in the minds of your customers. It also describes the limits of your performance, which depends on your organization's ability.
How does family branding function?
Family branding works upon the principle of selling commodities under the umbrella of a unified parent group. In order to support any items and/or services in umbrella branding, it is necessary to recognize the quality of the brand and be consistent with its image. If the marketing strategy of the parent brand is stronger, it tends to improve the sale of its products as well. So, family branding varies from individual branding for the marketing of its products, which relies on stand-alone style. It operates on the concept of marketing under a parental or unified brand of consumer goods or services.
Examples of Family Branding
Let us have a look at some real-life examples which demonstrate the effective implementation of family branding:
1.Procter & Gamble (P&G)
Often recognized as P&G, Procter & Gamble is an American international company that sells a wide variety of consumer goods. P&G also produces specific brand products such as Pampers, as well as becoming a parent brand; umbrella branding is applied inside the specific products. Under P&G's umbrella, a few of the particular brand is described as follows:
Olay
Pantene
Oral-B
Tide
Ariel
Vicks
Head & Shoulders
Underneath the umbrella branding, P&G is among the most recognized names known for producing various goods of a particular brand. The approach enables P&G to eliminate the occurrence of brand image degradation due to the introduction of an ineffective commodity.
2.Apple Inc.
Apple Services is a prominent multinational business in the technology sector that manufactures and sells a huge range of services. Within its proprietary trademark, all goods manufactured by Apple are traded on the marketplace. Any of these commodities are offered as follows:
iPhone
iPad
iPod
Apple Watch
Importance of family branding in building brand architecture
It is possible to describe brand identity as a combination of products within an operational product. It is the strategy of distinguishing the products within a company from each other. Thus, for its consistency of visual presentation, family branding plays a critical part in determining the brand image. It can effectively create any type of relationship inside and throughout the brand family. Thus, family branding serves as a framework for a parent or an umbrella brand to develop the brand image.
Benefits of Family Branding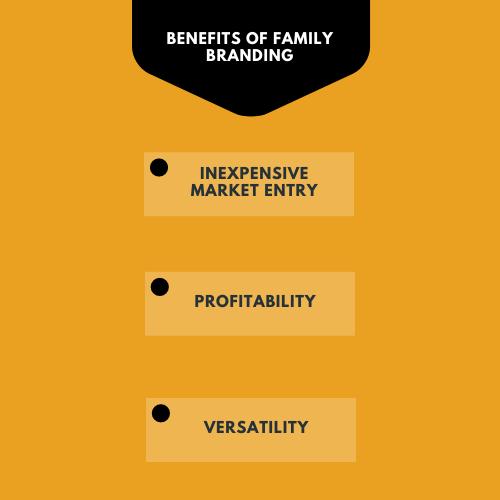 Inexpensive Market Entry: Among the most successful companies in the world is a family brand or an umbrella brand. Therefore, obtaining a proven image eliminates the expense of selling new goods. At the time of the announcement of their new product launches, this reliability of family branding creates value.
Profitability: Family branding's efficacy leads to a corporation's willingness to concentrate on cultivating a particular label. It avoids futile efforts to organize multiple campaigns for different items.
Versatility: Family branding supports you in exploring and incorporating an extensive assortment of strategy to grow your business.
Distinguish between family Branding Strategy and Mixed Branding Strategy
A family branding strategy is associated with the concept of marketing in which a business underneath the parent brand endorses its products and services. Thus, family branding is the parental label that operates under its label like a banner housing several items. All goods practice similar identifying methods under their parent brand label and neglect alternate branded products or logos.
On the other hand, mixed branding highlights the importance of making similar items while marketing to different sectors. Consequently, it is not appropriate, within mixed branding, to fit all goods under the same label.
Resources on Family Branding
• Book Title: Brand Gappa: Branding on the Go
Author: Zende, K
Publisher: Notion Press
•Family Branding and Consumer Brand Choice
Author: Joseph N. Fry
Publisher: Sage Publications
How can Total Assignment Help help you with your family branding assignments?
Family branding assignments involve a huge amount of research and dedicated time for writing. Most students struggle with family branding assignments as they do not have a thorough understanding of the various concepts and principles of umbrella branding. It leads to a lot of unwanted stress, and consequently, students have to submit poorly made assignments.
Total Assignment Help has experienced academic writers who have years of experience with writing academic articles related to business administration. Get in touch with our experts to get additional guidance and support with your assignments, and submit well-made assignments that can get you the best grades in class.
Total Assignment Help
Incase, you are looking for an opportunity to work from home and earn big money. TotalAssignmenthelp Affiliate program is the best choice for you.
Do visit :https://www.totalassignmenthelp.com/affiliate-program for more details
Total Assignment help is an online assignment help service available in 9 countries. Our local operations span across Australia, US, UK, South east Asia and the Middle East. With extensive experience in academic writing, Total assignment help has a strong track record delivering quality writing at a nominal price that meet the unique needs of students in our local markets.
We have specialized network of highly trained writers, who can provide best possible assignment help solution for all your needs. Next time you are looking for assignment help, make sure to give us a try.
Looking for Assignment Help from Top Experts ?
Get the best Assignment Help from leading experts from the field of academics with assured onetime, 100% plagiarism free and top Quality delivery.