Getting confused between Curriculum Vitae vs Resume differences is quite common since they are both required to be submitted at specific places depending on the region where you are applying. As both the documents are often required when applying for a certain employment opportunity, it is important that you understand the key differences among them in order to make an apt CV or Resume for the job you are applying for.
In this article, we are going to settle the debate behind curriculum vitae vs resume once and for all by helping you understand the key difference between both of them.
Curriculum Vitae
In order to differentiate between a curriculum vitae vs resume effectively, it is important that you understand what the words mean. More commonly known as a CV, the curriculum vitae is usually used in the UK and other European countries while applying for a job. The word, 'Curriculum vitae' hails from Latin origins, which is roughly translated to 'course of life' in English.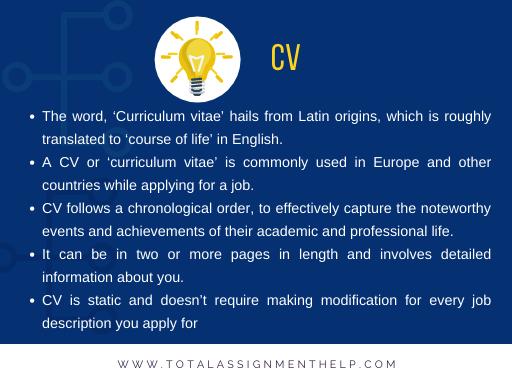 Hence, the definition of CV can be described as a document, which is used to demonstrate the entire, or specific sections, from your life and professional experience, which are relevant to the job you are applying for.
In a CV, the candidate follows a chronological order, to effectively capture the noteworthy events and achievements of their life, which can be helpful for the employer, in making a decision regarding a particular job vacancy.
It can be in two or more pages in length and involve detailed information about you, which can make you appear more suitable for the role than the rest of the candidates.
A CV is static and doesn't require making modification for every job description you apply for. Once formulated effectively, your CV should be well equipped to be sent to different potential employers.
The most important pieces of information that you are required to include in a CV are:
Contact Information
Personal Statement
Work Experience
Education
Skills
Resume
A resume is used for job applications. A resume is mostly used in the USA while applying for any job. It is important to understand the definition, so as to highlight the key differences between curriculum vitae vs resume.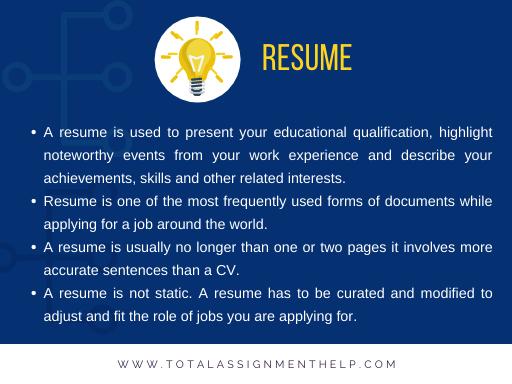 A resume is used to present your educational qualification, highlight noteworthy events from your work experience and describe your achievements, skills and other related interests.
It is one of the most frequently used forms of documents while applying for a job around the world. A resume is often accompanied with a cover letter to offer more information about the candidate to the reviewers.
When talking about curriculum vitae vs resume, it is crucial to note that a resume is considerably shorter and more concise than a CV. It involves more accurate sentences, to highlight only the most noteworthy and important achievements and instances from your professional and educational experience.
Unlike a CV, a resume is not static, which means you cannot submit the same resume to several different employment positions. A resume has to be curated and modified to adjust and fit the role of jobs you are applying for.
Since a resume is usually no longer than one or two pages, it is important to present the information so that your employer can easily identify the key bits of information relevant to the job in a matter of seconds of looking at the resume.
For positions that attract a large number of applicants, employers usually prefer a Resume over a CV, as it helps them save time and shortlist the potential candidates who may be good for the role.
Let us have a look at what information to include in a Resume:
Contact Information
Headline and Career Objective
Educational Qualification
Professional Work Experience
Skills and Interests
References
Important Differences between Curriculum Vitae vs resume
We can now have a quick recap of the key differences between the two forms of documents. The following are the specific aspects where you can find the notable variations in Curriculum vitae vs resume.
Length: The first point of difference between a CV and a Resume is in length. It is the most evident and noticeable difference between the two and can help you identify them as soon as you look at it.

A Resume is quite shorter than a CV. An ideal resume should be no longer than two pages, whereas a CV can be around 3 to 4 pages if needed.

Accuracy and Brevity: This is where you can notice a difference between curriculum vitae vs resume instantly. A resume consists of accurate, and to the point sentences, which aim to highlight and present the most important bits of information.

You will find that the different career episodes and past employment roles have been described in detail in a CV. You should ensure that the employers have a full picture of your responsibilities and your role at that firm.

Points Covered: The information which is covered in both the documents holds great importance in differentiating between curriculum vitae and resume.

A CV covers your entire career. It goes over, each and every employment role that you have had in the past, and explains your roles and responsibilities at that position.

On the contrary, a resume offers you the flexibility to select which employment position would be relevant for the job you are applying for, and you can thus choose to omit it, with good reason.

Static Nature: When differentiating between curriculum vitae and resume, it is very important to note that a CV is static in nature and doesn't need to be changed or altered for every position you apply for. Since a CV, goes over your entire professional journey in detail, employers can go through all of it, and then make the decision of whether you should be asked for a callback or not.

Whereas, in a resume, you have to modify and alter the contents of the resume, to fit the job role to which you're applying, so that the employer can identify your key skills and credibility for the position.

Customizability: And the last difference between curriculum vitae vs resume is the customizability. CV follows a strict structure that is adhered by most employers and individuals of the nation, whereas a resume offers the candidates the ability to make the changes as per their choice.
Hope this article helped you in differentiating between curriculum vitae vs resume. As a parting thought, we recommend that you make sure which one of the above two documents, is needed by your potential employer before you send in your application, as both the above documents serve the same purpose, but the process of achieving the same goal is quite different, and there are chances that it can affect your prospects of getting selected.
Total Assignment Help
Incase, you are looking for an opportunity to work from home and earn big money. TotalAssignmenthelp Affiliate program is the best choice for you.
Do visit :https://www.totalassignmenthelp.com/affiliate-program for more details
Total Assignment help is an online assignment help service available in 9 countries. Our local operations span across Australia, US, UK, South east Asia and the Middle East. With extensive experience in academic writing, Total assignment help has a strong track record delivering quality writing at a nominal price that meet the unique needs of students in our local markets.
We have specialized network of highly trained writers, who can provide best possible assignment help solution for all your needs. Next time you are looking for assignment help, make sure to give us a try.
Looking for Assignment Help from Top Experts ?
Get the best Assignment Help from leading experts from the field of academics with assured onetime, 100% plagiarism free and top Quality delivery.